Transitioning away from bottles and boobs can be such a confusing time. How do you get rid of the bottle? When do you get rid of the bottle? Do they need to eat more when you cut down on nursing or bottles? What should their daily schedule look like?! It brings up so many questions! Since most of my clients are parents of kids in the toddler age range, I've helped tons of families establish a new 1 year old feeding schedule.
This post has all the information I'd share with my clients, including sample feeding schedules and toddler-friendly meal ideas. I hope it helps you navigate this change with way more confidence (and way less doubt)!
Nervous? You're not alone.
This feeding transition can be really nerve wracking for parents, and it's because we go from being able to clearly quantify our baby's food intake (how many ounces, how many nursing sessions, and how long sessions last), to having them eat mostly meals, which is so different. It makes a lot of parents worry about whether or not their little ones are getting enough to eat, and this makes sense. How can you know if they've eaten enough when what feels like half of their food ends up on the floor! And, if they refuse a meal, are they just not hungry or do they not like it? Should you give them something else?
It's as big of a change for you as it is for them, and it can feel overwhelming. But know that you're not alone in feeling this way, and that it's not an insurmountable thing. My hope is that this post gives you the background knowledge you need to trust the process a little more– because everything will turn out okay (scout's honor!).
Confused? I can help.
As a dietitian, I have a deep understanding of toddlers' nutritional needs. In fact, my knowledge, training, and experience with feeding goes far beyond even what most pediatricians know. Very few pediatricians have up to date, robust nutrition knowledge.
As a result, lots of parents have come to me so confused by what their pediatrician recommended regarding nutrition for their one year old. Some doctors encourage measuring out toddler portion sizes, counting calories, cutting down on carbs, going low fat, or relying on protein shakes or supplements for them, which is just not ideal.
Of course, this doesn't make them bad doctors by any means– they just have a million other medical things they need to know, so nutrition isn't given priority in their education. And, some pediatricians really prioritize nutrition and know a lot. But ultimately, if in doubt, it's best to get a second opinion from a dietitian (even on nutrition recommendations that come from your child's pediatrician).
Milk For 1 Year Olds
Once your child turns 1, if they're drinking cow's milk, make sure to keep it to 16-20 oz per day. Any more than that can prevent them from getting a good variety of nutrition (because it fills them up), and can increase chances that you'll see picky eating behaviors. It can even lead to iron deficiency.
I recommend dropping bottles completely between 12 and 15 months. Instead, have them drink milk in a cup with meals. This way, we're placing the emphasis on table foods, which is developmentally appropriate once they turn one (as long as they don't have any significant developmental or feeding delays).
More reasons to wean your child from bottles are to prevent:
Tooth decay
Possible speech and oral motor development problems
Drinking more milk than they need (they drink much faster from a bottle than from a cup!)
The Best Cups for One Year Olds
When you're ready to switch your one year old from a bottle to a cup, it's ideal to practice with a water cup at meals, right from the time they start solids. Now, if you haven't done that yet, don't worry! It's never too late to start.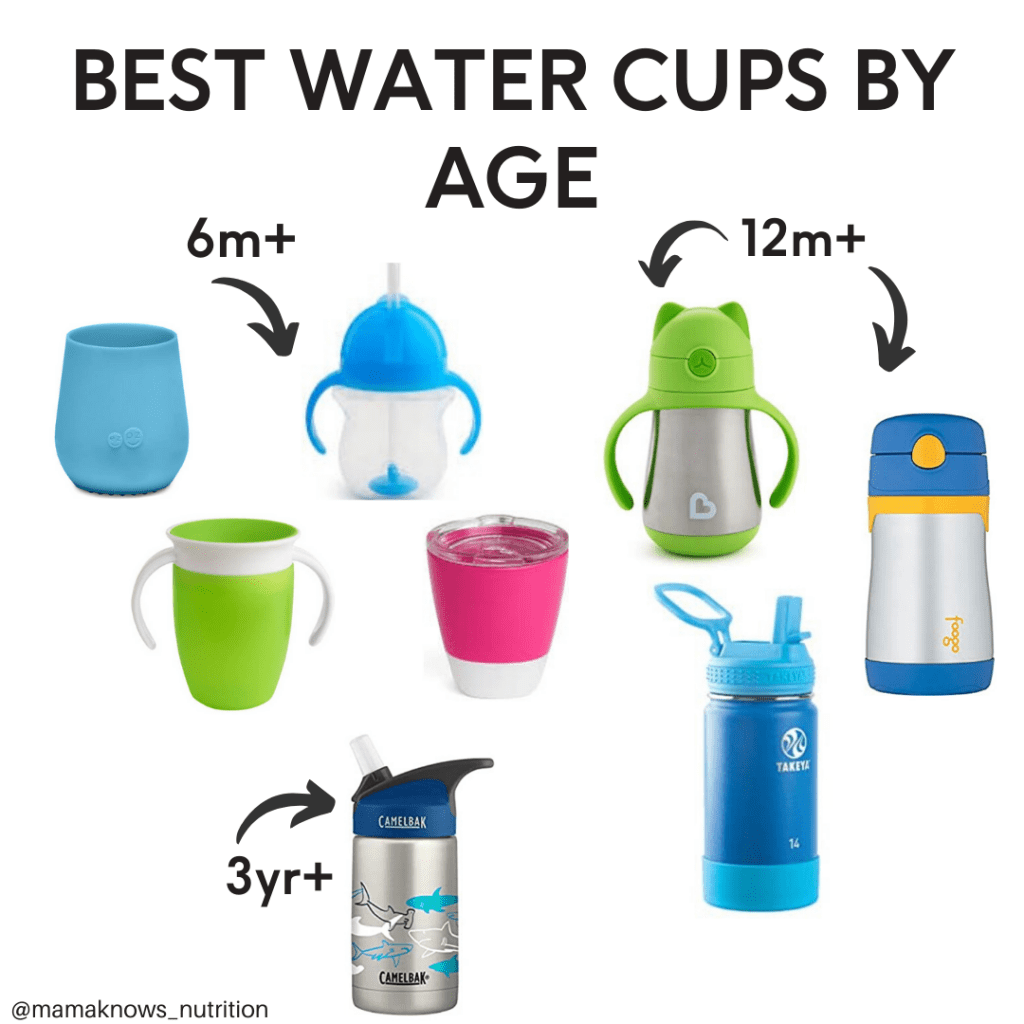 Use an open cup, a 360 cup, or a straw cup at meals. These types of cups are preferred by dentists, pediatricians, OTs, and SLPs. and me! My favorite cups are available in my Amazon shop. You can use them for water or milk.
If you'd like a little how-to tutorial on teaching your babe to drink from a straw, just press play on the video below.
How To Feed a One Year Old
Your 12-month-old should be feeding themselves vs. you feeding them. And, they can be eating most of the same foods that you're eating. Just make sure they're practicing with utensils! I really like Grabease Utensils and Bumkins Silicone Chewtensils for a one year old.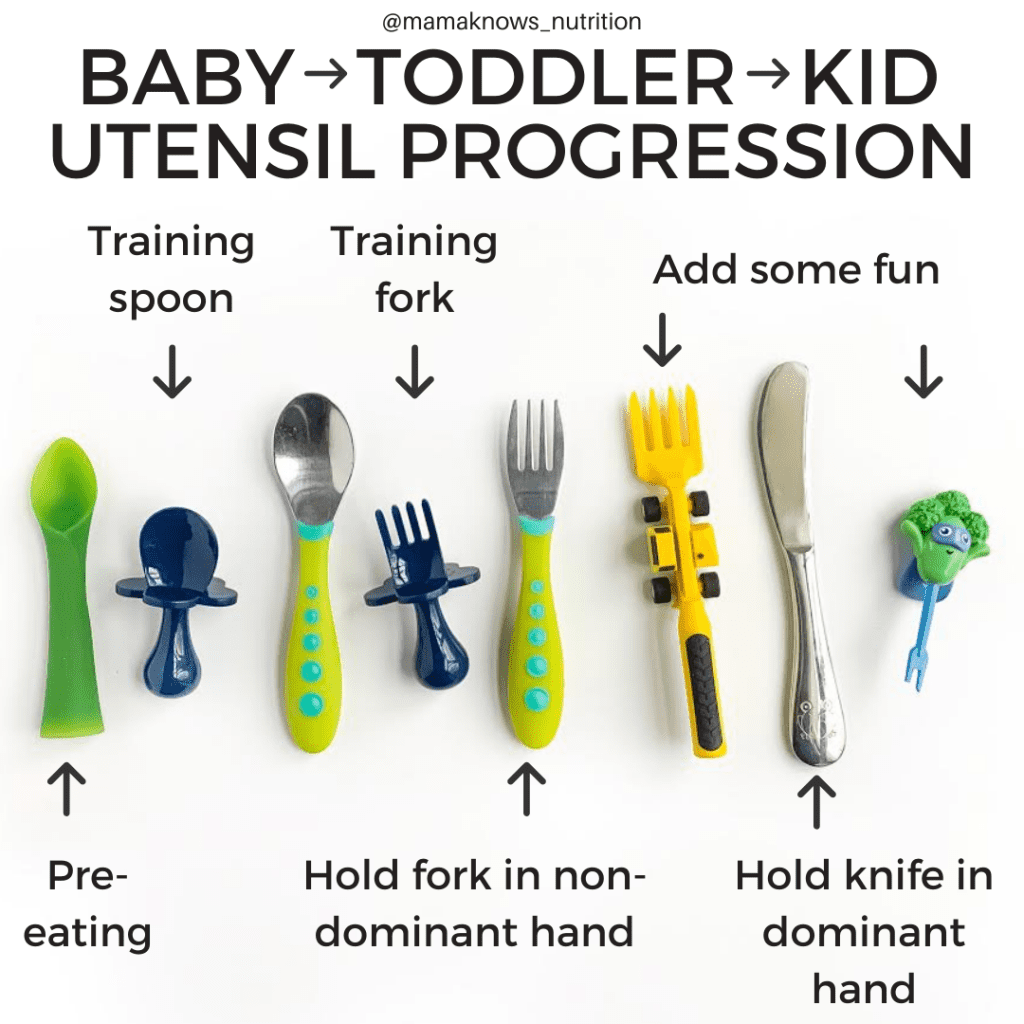 Utensil Tip: If your child has a hard time using them, guide them with hand-over-hand. Put their hand around the utensil first, then put your hand on top of theirs. Move their hand to pick up the food with the utensil and guide it to their mouth. It's great to get in the habit of practicing a little at each meal, and it's totally okay if they get tired or frustrated with the utensil and switch to using their hands.
Once they've mastered the hand-over-hand style, you can step it up by preloading their utensil for them, and letting them guide it to their mouth without your help.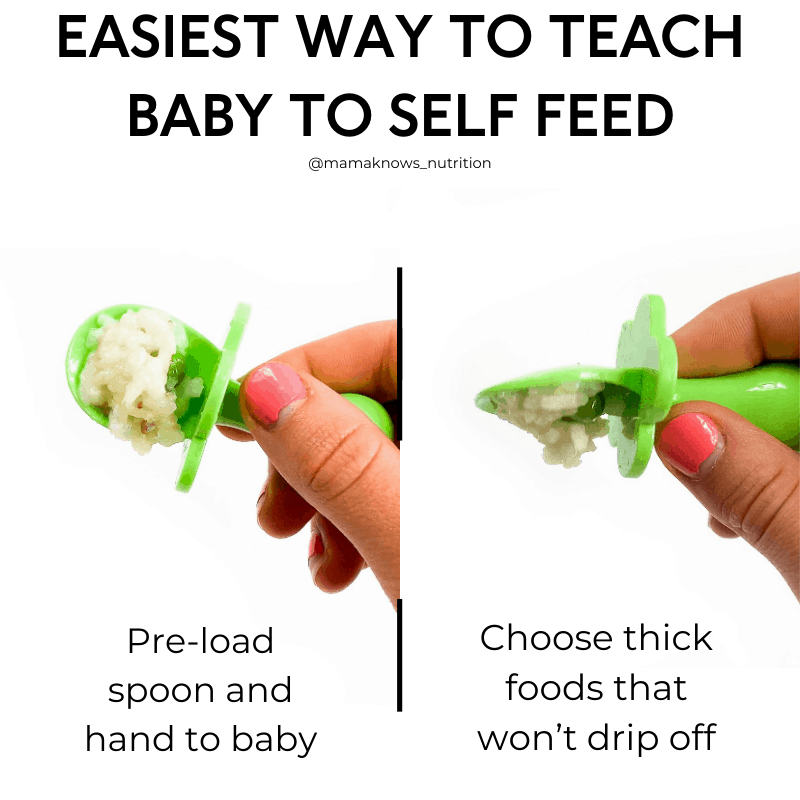 How Much Food To Give a 1 Year Old
The best way to approach "how much" is to use starter portions. This post on starter portions explains exactly how much to offer them, how to know when they need more, and how to know when they are done. This video on portion sizes for our 1 year olds should help, too.
Sample 1 Year Old Feeding Schedules
Now that we're on the same page with weaning bottles, working towards self-feeding, and sorting out portions, let's get into the feeding schedules! These are a few examples to help you wrap your head around what a day in the life looks like on a one year old feeding schedule.
For all: Remember to limit cow's milk (or non-dairy milk alternatives) to 16-20 oz. If you're breastfeeding, you do not need to limit your nursing (unless you and/or baby are ready to drop sessions).
1 Year Old Feeding Schedule: 2 Naps, Nursing
| | |
| --- | --- |
| 6:30/7a Wake up | Nurse |
| 7:30a BREAKFAST | Cup with water |
| 9:30a SNACK | |
| 10a – 11a Nap | |
| 12p LUNCH | |
| 2:30p SNACK | Can replace snack with pre-nap nursing |
| 3p – 4p Nap | |
| 5:30p DINNER | |
| 7/7:30p Bedtime | Nurse |
1 Year Old Feeding Schedule: 2 Naps, No Nursing
| | |
| --- | --- |
| 6:30/7a Wake up | |
| 7a BREAKFAST | Milk or water in cup with meal |
| 9:30a SNACK | |
| 10a – 11a Nap | |
| 12p LUNCH | Milk or water in cup with meal |
| 2:30p SNACK | |
| 3p – 4p Nap | |
| 5:30p DINNER | Milk or water in cup with meal |
| 7/7:30p Bedtime | |
1 Year Old Feeding Schedule: 1 Nap, Nursing
| | |
| --- | --- |
| 6:30/7a Wake up | Optional nursing |
| 7:15a BREAKFAST | Milk or water in cup with meal |
| 9:30a SNACK | |
| 11:30a LUNCH | Milk or water in cup with meal |
| 12p-2p Nap | Optional pre-nap nursing |
| 2:30p SNACK | |
| 5:30p DINNER | Milk or water in cup with meal |
| 6:30/7p Bedtime | Optional nursing |
1 Year Old Feeding Schedule: 1 Nap, No Nursing
| | |
| --- | --- |
| 6:30/7a Wake up | |
| 7a BREAKFAST | Milk or water in cup with meal |
| 9:30a SNACK | |
| 11:30a LUNCH | Milk or water in cup with meal |
| 12p-2p Nap | |
| 2:30p SNACK | |
| 5:30p DINNER | Milk or water in cup with meal |
| 6:30/7p Bedtime | |
What To Feed A 1 Year Old
A one year old, you really want to let go of any baby food in your child's diet, replacing it with family food. As long as you're vigilant about preventing choking with appropriate textures (nothing too hard, crunchy, or chewy), your little one can start to eat a lot of the same foods you do!
My post on food groups for toddlers goes into detail on what to make sure you are feeding your toddler.
Toddler Meal Ideas
Here are some ideas from my Instagram feed:
Note that the times listed on these images vary slightly from the suggestions I gave above, and that's okay. It's going to look a little different for each family, depending on waking and bedtimes.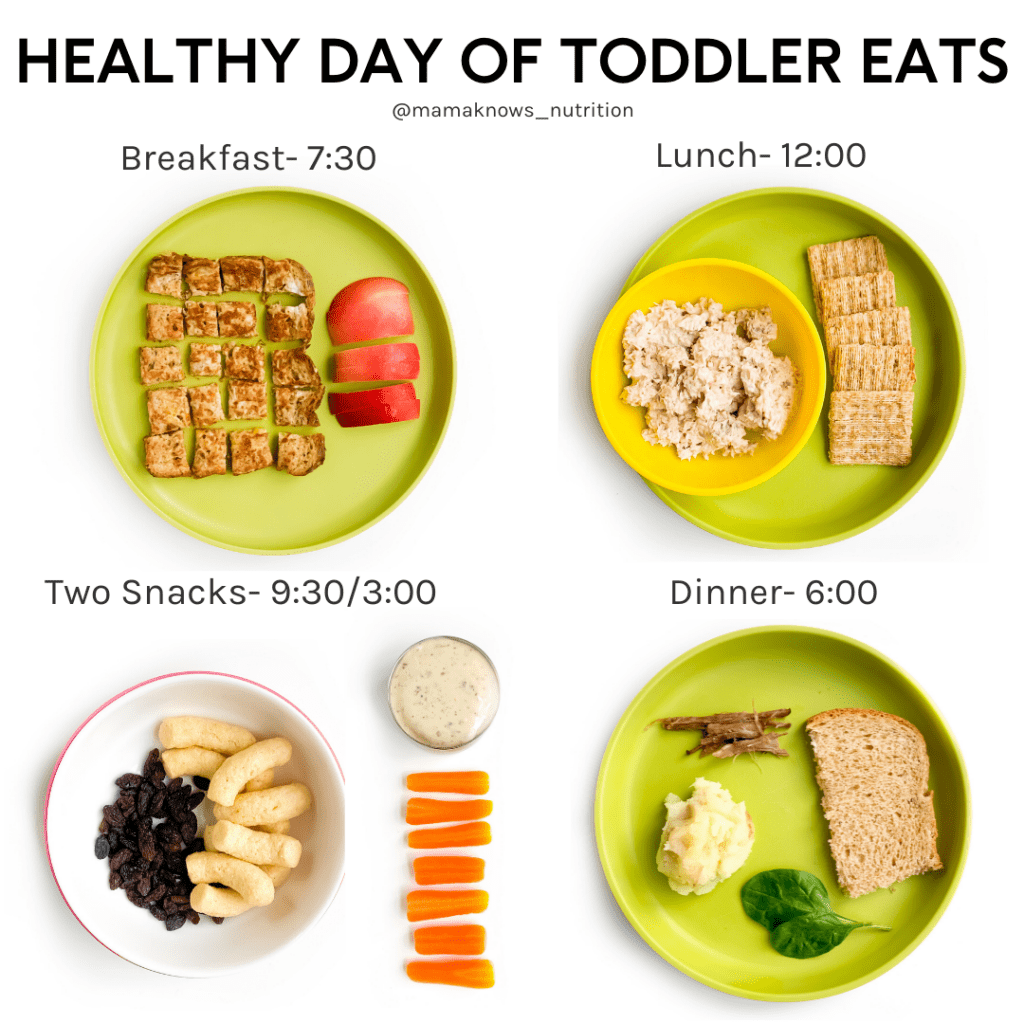 Breakfast: A slice of French toast using Dave's Killer Bread White Bread Done Right (dipped in batter of egg, whole milk, and cinnamon) cooked in butter, and apple sliced thin (the pieces look kind of big here, but I just didn't separate them all for the photo).
Morning Snack: Raisins and Hippeas. Small raisins are ok for toddlers (read: not a choking hazard).
Lunch: Canned salmon mixed with Sir Kensington's mayo, 1 tbsp of Greek yogurt, and 1 tsp dijon mustard, with Triscuits. Triscuit Thin Crisps (not pictured) are easiest for a 1 year old to manage.
Afternoon Snack: Thinly-sliced carrots with ranch dressing (I like to mix Ranch with Greek yogurt for my kids, for a little added nutrition).
Dinner: Crockpot pot roast, mashed potatoes (made with milk and butter), whole grain bread, and some plain spinach from my salad.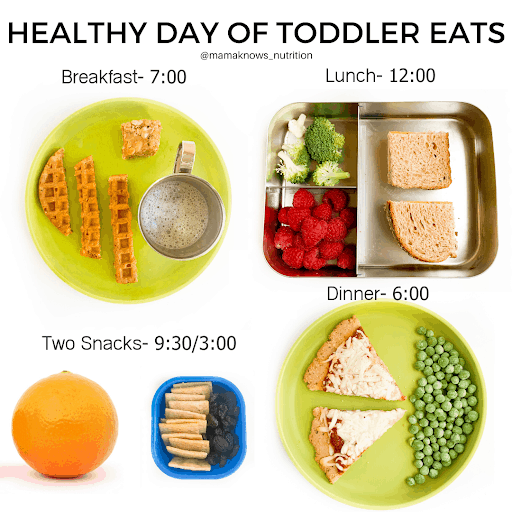 Breakfast: A random, leftover piece of Peanut Butter Oatmeal Bars I made, a Kidfresh waffle, and a blueberry banana smoothie.
Morning Snack: Orange (peeled and sliced).
Lunch at Daycare: Half of a mild cheddar cheese sandwich, raspberries, and broccoli (you can steam or roast broccoli if they can't chew it raw yet).
Afternoon Snack: Raisins and crackers (these are Simple Mills). You can dip crackers in milk if they are too crunchy for your 1 year old)
Dinner: Homemade pizza and peas.
Need more healthy meal and snack ideas for babies?
My "No Sugar, Still Sweet" Ebook is packed full of recipes that have zero-added sugar. They're sweetened with fruit alone, and they're fully approved by toddlers (and me!). Your family will love them!