These 7 meal ideas for babies will work for you as well as they work for your little one. They can be used as lunch or dinner for baby. (Lunchtime can be a great time to pull out leftovers from last night's dinner, too!)
Cooking for the Whole Family
I'm going to let you in on a little secret: meals for babies don't need to be completely separate from meals for the rest of the family. Babies can eat a lot of the same foods you are eating, and feeding them a variety of "adult foods" is as good for their development as it is for your sanity!
Of course, not everything adults eat is going to work for babies, so if you shoot from the hip on feeding baby adult foods, you might get frustrated. Salads are pretty much not going to work for baby, and neither will really salty things like pre-made sausage or most bottled sauces. But, if you can think ahead a little and plan your menu, it's totally doable.
Worried about starting solids?
If you're worried about moving beyond purees, you're not alone! I know it can feel like a big transition. The good news is, my Simply Solids guide to starting solids for babies will answer all your questions and give you the confidence you deserve to have! It explains how to serve finger foods to baby safely, and answers a lot of other common questions parents have when feeding baby.
How much should your baby eat?
These meal ideas for babies show the food you can serve, but know that they don't represent how much your baby should eat. I suggest offering your baby no more than two to three pieces of food at a time to avoid overwhelming them, to minimize waste, and to reduce the chance of them just swiping everything off their tray onto the floor! But, you can always offer more when they're still hungry.
My Top 7 Go-To Meal Ideas for Babies
#1 Pulled Pork in the Crockpot
I love serving this crockpot pulled pork with oven roasted peppers and onions, with watermelon on the side. It's such an easy way to make pulled pork– and it's a crowd-pleaser for adults. Just make sure to serve your baby a piece of meat that is very tender and soft, from the inside of the pork (without salt on it).
For the peppers and onions, put baby's portion (a few slices of each veggie) into the oven in a foil packet with some olive oil. This way, it gets steamed inside, which helps soften the veggies all the way through. Roast at 400°F for about 30 minutes, or until veggies are very soft. For adults, just roast as you usually would.
Then, slice and serve watermelon on the side– with little slivers of the fruit for baby to hold and eat.
#2 Spinach Omelet and Toast
This recipe could easily be breakfast, lunch, or dinner. I think eggs work for any meal of the day!
I make this omelet with a handful of finely chopped fresh spinach mixed in with the eggs, with toast on the side, and the whole family loves it. If I'm cooking it for a baby, I use unsalted butter to fry the omelet, and make sure to lightly toast the bread, which is also topped with unsalted butter. (Bread that's really toasted can be hard on babies' soft mouths, and it makes it too easy for them to take a bigger bite than they can properly chew and swallow.)
#3 Rice & Beans with Veggies
Rice and beans is a great, healthy go-to that tends to make the whole family happy! It's cheap to make and good for you– so I'm all for it.
To prepare this meal for baby, cook rice (either white or brown) in water and mix it with unsalted, mashed pinto beans to help it all stick together. Serve it alongside thinly sliced, peeled tomato, and avocado slice with a little peel left on, to make it easier to hold. (Or, just mash avocado right into the bean and rice mixture.)
#4 Mango & Lime Pollock
I used these ingredients to make fish tacos for myself, and set aside a few baby-safe bites at the same time! Mama and baby approved (and soo good!). I chose pollock since it's a good low-mercury choice for babies. For more low-mercury seafood ideas check out this post.
Sauté your pollock in avocado oil, cut a small, baby-sized piece, and squeeze lime on it. Serve it with a slice of mango on the side, and be sure to give your baby the piece of lime to taste it too!
#5 Tuna Zucchini Cakes
I love these Tuna & Zucchini Cakes from Baby Led Weaning Ideas. To make them, just follow the recipe in the link, and slice into little strips. Serve the strips to your baby with a peeled, ripe plum, or any other soft ripe fruit you have on hand as an easy, no-cook side.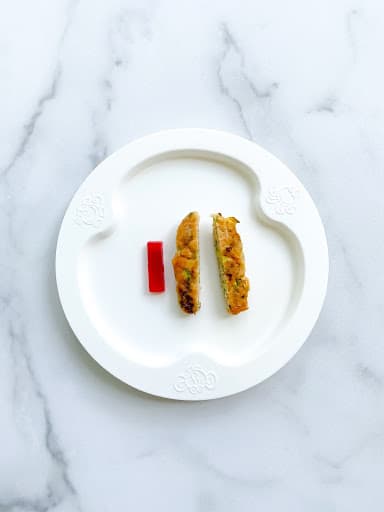 #6 Pasta & Turkey Meatballs
Who doesn't love spaghetti and meatballs? This is a great family meal, and it's an easy one to share with baby, so I love it!
For a baby-friendly version of this family favorite, make ground turkey meatballs using any standard recipe, and serve them up in no-salt-added tomato sauce with added olive oil. Serve this up with well cooked pasta that's soft– not al dente– and a slice of fruit- we had cantaloupe.
#7 Crockpot Butter Chicken
This Crockpot Butter Chicken from Peanut Butter Runner is sooo good. Just remember to add salt to the sauce after removing your baby's portion!
For LOs, serve with steamed broccoli dipped into the chicken's sauce, and a slice of fresh peeled peach on the side. For adults, serve with rice (it's hard to serve plain rice to a baby!).
Need some more baby-feeding guidance and inspo?
You're in luck! Simply Solids is my research-backed guide that will help you get your baby to 3 meals a day, eaten independently, by the time they turn one! It's perfect if you're not sure where to start with feeding your baby, you want to move past purees (but are a little afraid of choking), and– no offense to your Great Aunt Ida or anything– you would prefer to learn from an expert in the field! Best part? It costs less than a case of pre-made pouches!