This healthy pasta for toddlers recipe is going to become a staple in your house! For the little ones who LOVE their pasta but don't love their veggies and protein quite as much. This pasta recipe combines it all!
Healthy Pasta for Toddlers
If your little one is as OBSESSED with mac and cheese as mine is, you need to try this recipe to switch things up a little.
I made a simple blender sauce that is vegan, has protein, hidden veggies, and a plain white color to please all those picky toddlers who only want white food or beige food. If your toddler is in the habit of picking out any bits that they don't like the looks of – this dinner will give them nothing to complain about. And we all need a little less whining in our lives, right?
After hearing how many of you love my simple pumpkin protein pasta recipe I knew I had to come up with another kid-friendly pasta recipe that would be just as simple for you to throw together.
Making your own sauce doesn't have to be complicated. This one doesn't require any cooking or whisking. You basically just dump all the ingredients into a blender. It's pretty hard to mess up, even if. you have a baby or a toddler in one hand.
Picky Eater Tips
This sauce is meant to be fairly neutral (aka, kind of bland) with picky eaters in mind. If they don't typically like sauce at ALL, I would just keep a portion of pasta plain for them and add a few drops of sauce. You want to build up their confidence slowly. It's the kind of thing where you'll be like, I'm not really even sure if they will taste the sauce at all? That's a good starting place for a picky eater. If they're good with it, then next time you can add a tiny bit more sauce.
Though the progress feels slow, you're going to have a better end result doing it this way, vs. putting noodles fully covered in sauce in front of them the first time, if they're not comfortable with it yet.
How to adapt it for the whole family
For me, I simply add a little more salt and pepper and I'm happy. But you could also add one of these flavor boosters for the adults:
roasted garlic
caramelized onions
sun-dried tomatoes
garlic sautéed spinach
Italian sausage
And since this recipe includes protein, carb, fat, and veggies, I'm perfectly fine with it being a main course for dinner. I usually just serve some peas, carrots, and/or fruit on the side.
Why this pasta for toddlers is healthy
I always am thinking about ways to add more nutrient density when I cook for my kids. I like to add some extra vitamins and minerals from plant-based foods, since it's best for them to get it from foods (vs. a multivitamin).
While we sometimes have pasta with butter and parm, (and there's nothing wrong with that) I wanted an alternate recipe that would still feel easy to me, but would add some extra nutrients.
This sauce is cashew-based, and I just have to tell you about the amazingness of cashews. This is honestly one of the reasons I love nutrition so much, because there are SO MANY amazing things foods can do for your body. Anyway, you probably already know that cashews are a good protein and healthy unsaturated fat source. But they also have antioxidants and can majorly protect your heart.
The other main ingredient in this pasta sauce is cauliflower. It's such an easy veggie to hide and it also adds some more creaminess. Cauliflower has a huge amount of Vitamin C! So good for your littles.
This recipe is also vegan. We are not vegan, but I love making dairy-free recipes because most of our kids already get plenty of dairy, so I like to switch it up. I also know it's helpful for those who choose a vegan diet or need to avoid dairy for allergies or intolerances.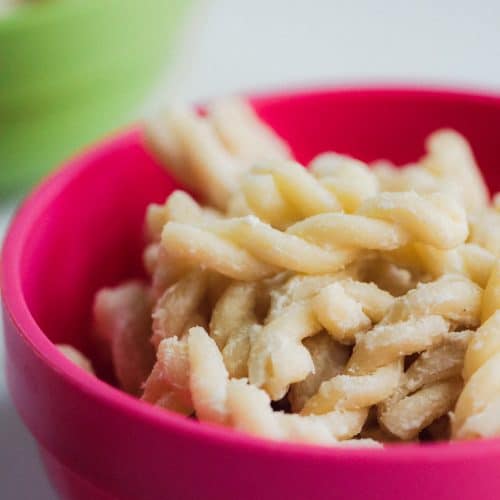 Healthy Pasta for Toddlers (Vegan)
A healthy pasta sauce specifically for toddlers (though everyone in the family will be happy with it). This is for the picky toddler who only wants to eat white foods, or doesn't want to branch out from mac and cheese. It's creamy, satisfying, and protein-rich.
Ingredients
1

cup 

cashews

unsalted

1

cup 

water

3/4

cup

riced cauliflower

fresh or frozen

1

tbsp

avocado oil

1/2

tsp

salt

1/4

tsp

garlic powder

1

lb

whole wheat pasta

(or regular)
Instructions
Pour warm water over cashews, soak 2 hours.

Drain cashews. Add cashews and remaining ingredients to high power blender.

Blend until smooth and creamy.

Cook pasta according to package instructions and strain.

Mix sauce with pasta. I use about 2 cups of sauce per pound of pasta.
Notes
This will make enough sauce for 1 pound of pasta. You can also make 1/2 pound of pasta and freeze half of the sauce for another meal.
Nutrition
Calories:
192
kcal
Carbohydrates:
19.5
g
Protein:
6.6
g
Fat:
9.8
g
Fiber:
3
g
Sugar:
1.6
g
You might also like: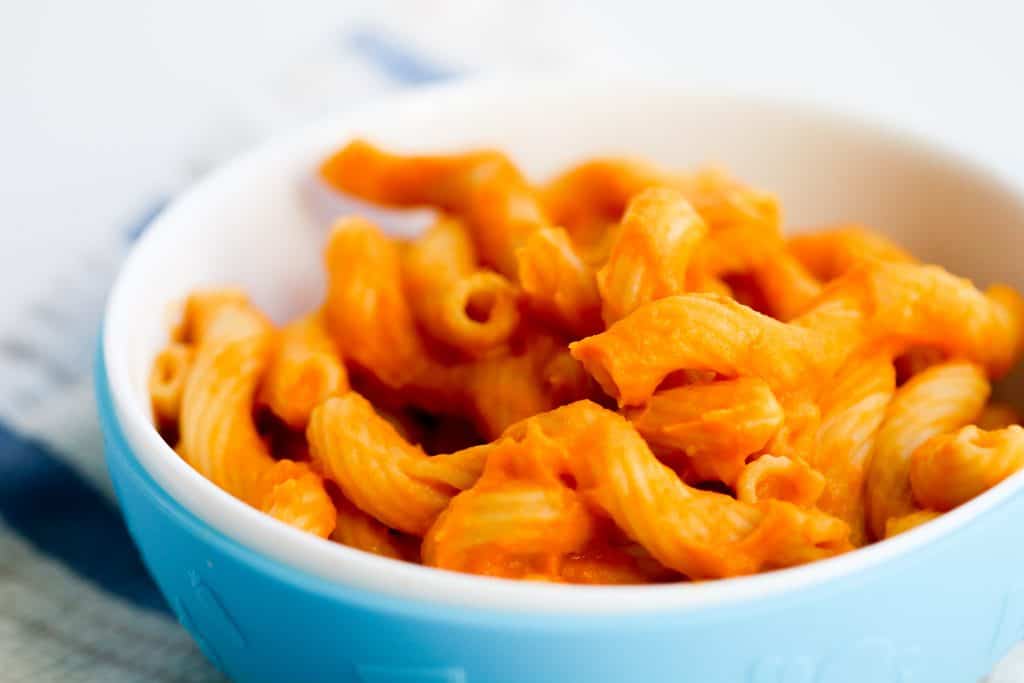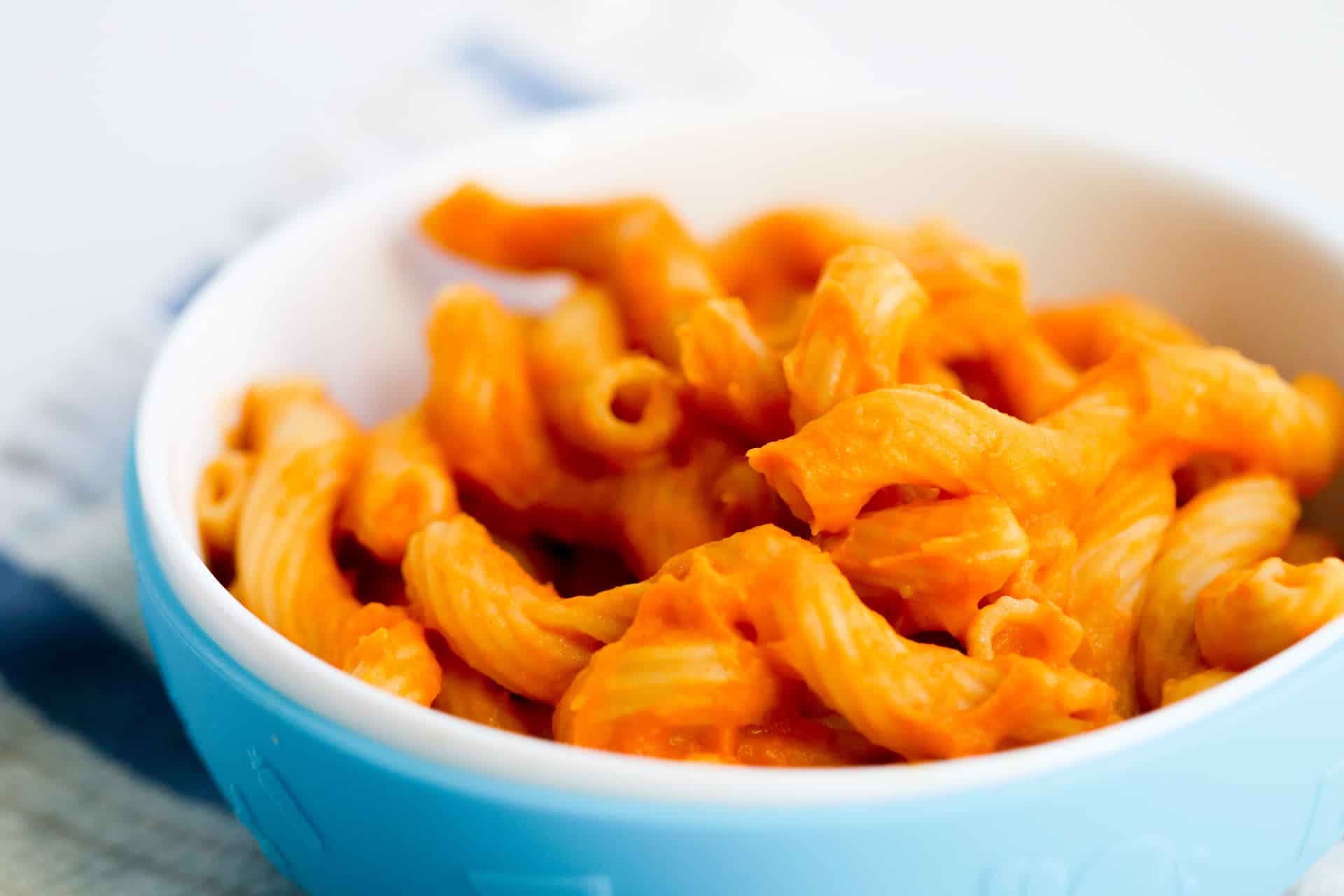 Healthy Pumpkin Pasta for Toddlers
Are you tired of picky eating?
As a mom to a previously extremely picky eater, and a dietitian who specializes in picky eating, I'm so glad you've found yourself here. I've spent hours searching for picky eating help on the internet when I was struggling with my little one, and so much of it was NOT helpful!
This post: Where to Start with a Picky Eater is my step-by-step quick start for families with a picky eater who are tired of them eating the same 3 foods over and over again!