PB&J getting a little old? Tired of waiting until 11:15am to figure out what you'll feed the kids? You're in luck! Today, I'm serving up 32 toddler lunch ideas that are easy, quick, and super doable.
The Anatomy of a Toddler Lunch
First, let's go over the general guidelines I follow when coming up with new toddler lunch ideas.
Fruit or Veggies
I always aim to include a fruit or a veggie. You totally can serve both, but you don't have to. Fruit & veggies can be fresh, frozen, canned, packaged– they all have benefits, so serve whatever you've got in the cupboard and in the budget.
Just be sure to look for fruits that don't have any added sugar. This means opting for canned or packaged fruit in 100% juice instead of syrup.
And of course, once in a while, I will serve a lunch or other meal without a fruit or veggie, and that's okay. They will survive. Just make it up at the next meal or snack (or even tomorrow if your fridge and pantry are bare!).
Whole Grains
Whole grains are the sh*t. No, seriously! They help to keep kids from getting constipated, which is why I try to include them in every meal I serve my kids.
I find that the best sources of whole grains for toddlers are whole grain breads, pastas, and crackers, so try and reach for these whenever you can.
Something New!
Toddlers often have a better appetite at lunch than they do at dinner, which makes lunch a great time to include something new in their meal! As long as they're at home, they're way more likely to try a new food at this time of day.
That said, if you're packing a lunch, you'll want to make sure it's mostly (or all) items they like. When they're out, your main goal is to get them to eat enough fuel to make it through the rest of the day at daycare or preschool, so it's unfair to them if you pack mostly unfamiliar foods or ones that you know they're not crazy about.
My Favorite Toddler Lunch Products
Once you start looking through the toddler lunch ideas included below, you'll probably notice that we rely heavily on a few go-to lunch packing items.
I'm linking all of the products I love most here, so that you can easily shop for any that happen to catch your eye!
For Lunch On-The-Go
Lunchbots Five Section Bento Box
Snack-Size Leak Proof Containers (love these for things like yogurt!)
For Lunch At Home
32 Toddler Lunch Ideas
Some of these are for my 5 year old and some for my 2 year old – I made a note when it's a 5 year old lunch because some contain foods that are choking hazards for toddlers (like whole grapes, whole nuts). For a full list of choking hazards for toddlers see this post.
1 can of salmon with about 2-3 tbsp Sir Kensington's mayonnaise and a tsp dijon mustard (I split the can between the kids) with Triscuits
 Chickpeas, hummus (she asked for some with her carrots), leftover noodles, thin sliced carrots and peppers
Plain whole milk yogurt (Stonyfield) with a bit of Crofter's Superfruit spread, frozen mixed veggies, pieces of cashews, whole wheat crackers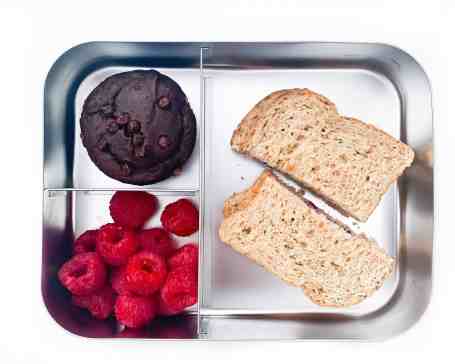 Granola butter sandwich, chocolate butternut squash muffin, raspberries
Pumpkin banana protein pudding (this recipe is based on one in my No Sugar Still Sweet ebook), broccoli, cheddar Simple Mills crackers, and some cottage cheese for cracker dipping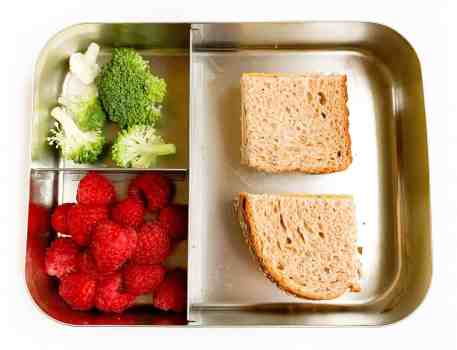 Almond butter and jelly on whole wheat, broccoli, raspberries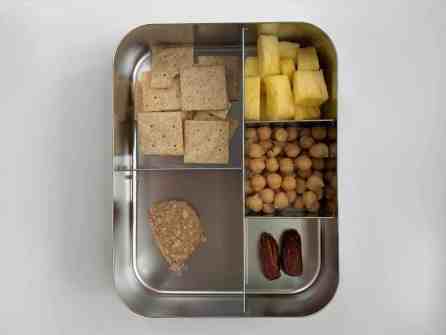 Eek bad lighting haha. Simple Mills crackers, 1/3 of a Nature Valley almond butter granola bar, pineapple, chickpeas, dates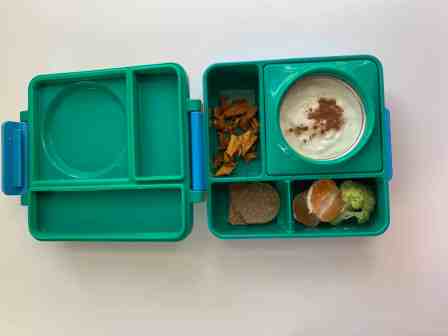 Chopped dried mango, cinammon topped yogurt, 1/2 of a Nature Valley almond butter granola bar, clementines, broccoli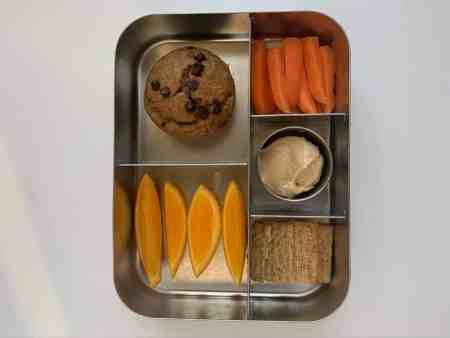 Zucchini banana bread muffins, carrots, hummus, triscuit, oranges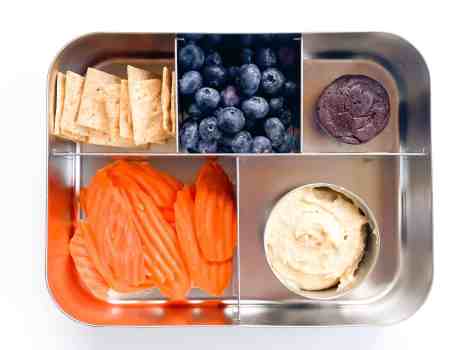 Simple Mills almond flour crackers, blueberries, mini chocolate butternut squash muffin, carrot chips, hummus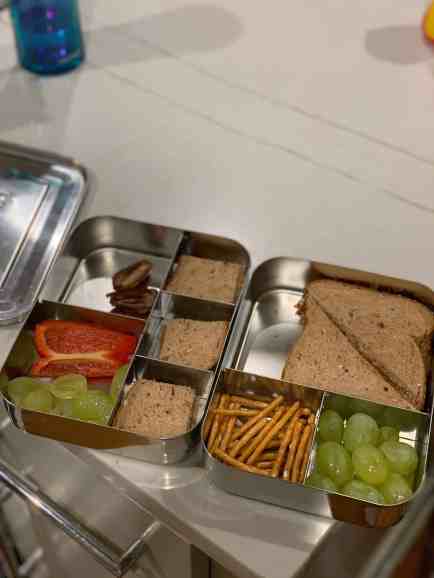 Peanut butter and jelly on whole wheat, dates, pepper, sliced grapes (for my 2 year old); pretzel sticks and whole grapes for my 5 year old
Top: triscuits, blueberries, carrots, plain whole milk yogurt, Simple Mills peanut butter cookie (5 year old) Bottom: blueberries, carrots, plain whole milk yogurt, leftover pasta (2 year old)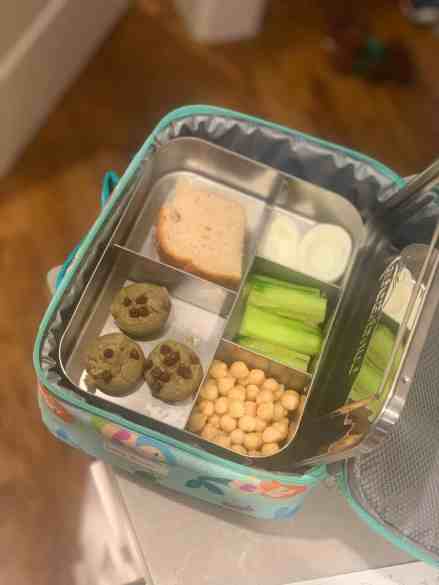 1/4 granola butter sandwich on Dave's Killer Bread White Bread Done Right, egg whites (they don't like the yolks), cucumber, chickpeas, zucchini banana bread mini muffins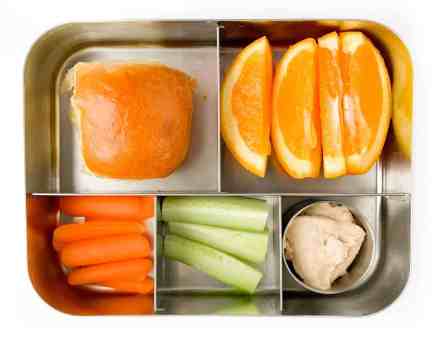 Leftover dinner roll with butter, orange, carrots, cucumber, hummus
1/2 peanut butter and jelly sandwich, Kodiak grahams bites, broccoli, dates
Safe and Fair apple pie granola (MAMAKNOWS10 for 10% off), 1/2 peanut butter and jelly, a few pretzels, carrots, grapes (for my 5 year old)
Siggi's kids yogurt pouch, peppers, raisins, Simple Mills almond flour crackers
Leftover pasta with tomato sauce, pb & j, avocado, carrots, clementines
Raspberries, cheese crackers, leftover chicken, peppers, cucumber, carrot, chickpeas
Top: gogo squeez apple sauce, strips of Lundberg thin brown rice cakes, pineapple, Kodiak grahams bites, peanut butter for dipping Bottom: gogo squeez apple sauce, grapes, strips of Lundberg thin brown rice cakes, cottage cheese
raisins, leftover chicken, egg whites, cucumber, 1/2 of an almond butter and jelly
1 tbsp canned pumpkin and 1 tsp honey mixed into plain whole milk Fage Greek yogurt, frozen veggies, oranges, Simple Mills cheddar crackers
Pretzels, clementines, hummus, veggies (plus some m&ms on bottom for my 5 year old) – this was a small lunch, I think we had a big snack that day!
Cream cheese and jelly (with T shaped cookie cutters), nutridashe food picks for the canned peaches (Teddy wanted 2 for some reason), broccoli
Some leftovers from taco night – carrots, black beans, shredded cheese; 1/2 a sandwich (can't remember what was on it!), broccoli
Top: carrot chips (they are near the baby carrots in the store), cashews and walnuts, craisins and unsweetened dried mango, carrot apple muffins (5 year old) Bottom: leftover chicken, carrots, muffin, craisins, cheerios, dried mango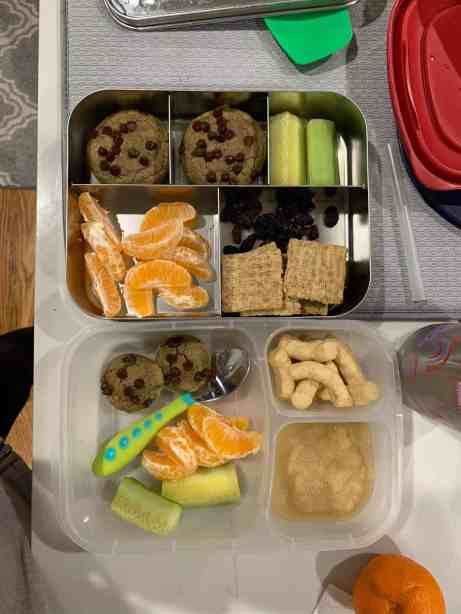 Zucchini banana bread muffins, cucumbers, clementines, raisins, triscuits (bottom has hippeas and applesauce)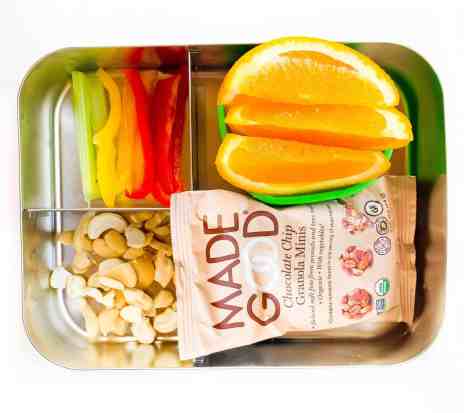 Celery and peppers, oranges, pieces of cashews, Made Good chocolate chip granola minis
Canned salmon, blueberries, triscuits (this is my go-to Saturday lunch!)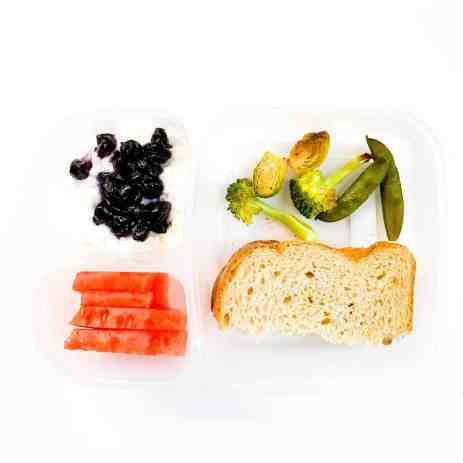 Cottage cheese with leftover blueberries that were frozen and I cooked down to make more concentrated, leftover roasted veg, 1/2 pb&j, watermelon
Avocado, broccoli, cucumbers, tortilla chips, peanuts, clementine's (this was for my 5 year old)
Need more lunch inspiration?
Grab my Healthy Packed Lunch Guide! It's full of easy, no-cooking-required lunch ideas that don't even need to be heated up. And, it's great for home lunches, too!