Healthy & Easy Preschool Lunch Box Ideas
If you find yourself racking your brain for ideas of what to make or pack your preschooler for lunch every day, you're not alone. Whether you're looking for ideas for preschool or school lunches, daycare lunches, or lunches for those long summer days at home, it feels like there is one never-ending question:
What do I feed my kid for lunch?!
In this post, I want to give you some easy, low-stress options to help you offer your preschooler a healthy meal without the headache.
Disclaimer: this post contains affiliate links. As an Amazon Associate, I earn from qualifying purchases.
Preschool Lunch Menu Ideas
Do you find that your kid is asking for a snack 30 minutes after lunchtime? If their lunchtime meal contained carbohydrates but lacked protein or fat, it might not keep them full very long.
My first goal is for your child's meals to contain a good mix of the three macronutrients- carbohydrates, protein, and fat- that will keep them energized and keep you out of the kitchen. If you want a full list of healthy, kid-friendly foods that fit into each of those macronutrient categories, grab a copy of my Healthy Lunch Guide.
Another tip is to offer variety and approachable serving sizes. Sometimes young children, especially picky eaters, can get overwhelmed by the volume of food offered to them. Offering a couple different items in moderate amounts is a great way to get variety in their diet, hit the macronutrient targets, and not overwhelm them with too large of a serving size.
In this post, I'll break down 31 easy-to-assemble preschool lunches that contain all the macronutrients for you to add to your rotation and simplify your days.
These meals are easily customizable to your child's likes and preferences, fruits and veggies can be easily swapped for other combinations, and many of these meals are already or can easily be adapted to be vegetarian.
Healthy Lunchbox Ideas for Preschoolers
The first 5 lunch ideas listed here contain meat, but right after this section there are lots of vegetarian options.
HEALTHY PRESCHOOL LUNCH #1 (Nut Free*):
A more classic take on a school lunchbox meal like this one is a great option! Half of a turkey and cheese sandwich on sourdough bread, broccoli, strawberries, and one of my favorite kids' snacks- Hippeas. My kids love Hippeas and I love that they have more protein and fiber than other crackers or chips.
HEALTHY PRESCHOOL LUNCH #2(Nut Free*):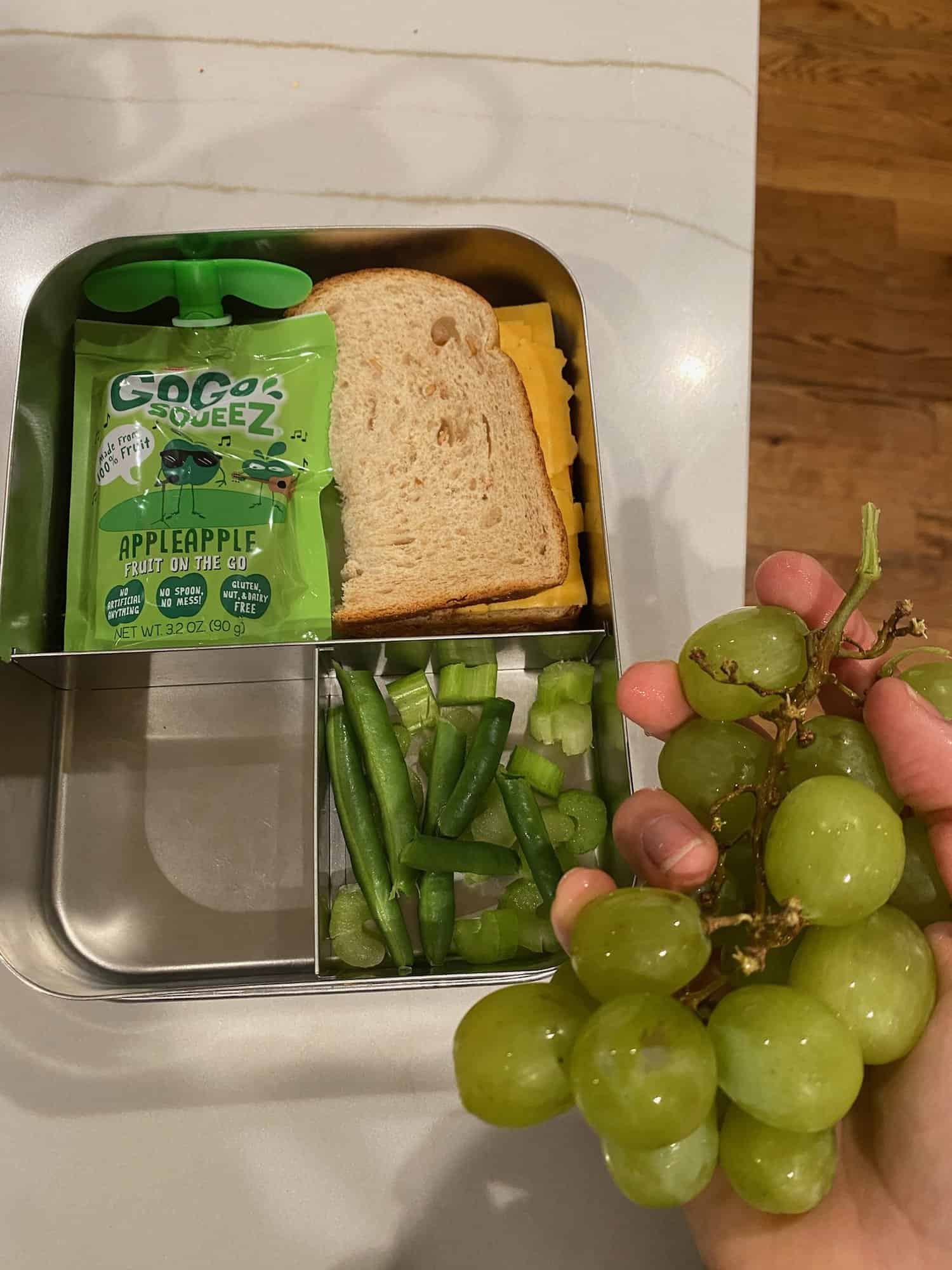 A very "green" meal! GoGo Squeez applesauce, grapes, green beans, celery, and half a turkey and cheese sandwich will give your child a fresh and balanced packed lunch. If you're packing lunches for more than one kid, whole sandwiches cut in half simplify the prep work! Be sure to cut your grapes to make them safe for young eaters if your child is under 4.
HEALTHY PRESCHOOL LUNCH #3(Nut Free*):
Think of this quick lunch as a deconstructed ham slider: a slider bun, deli slices of ham (or deli meat of your choice!), a cheese stick, raspberries, and Skout Organic (code MAMAKNOWS for 20% off) fruit bar. Your child can build a sandwich or eat the components separately- either way, they'll get all the macronutrients in a satisfying and fun combination with no prep from you! My daughter likes all the sandwich components, but not always all together so I leave them separate sometimes.
Some Skout bars do contain nuts, so make sure to check the labels.
HEALTHY PRESCHOOL LUNCH #4(Nut Free*):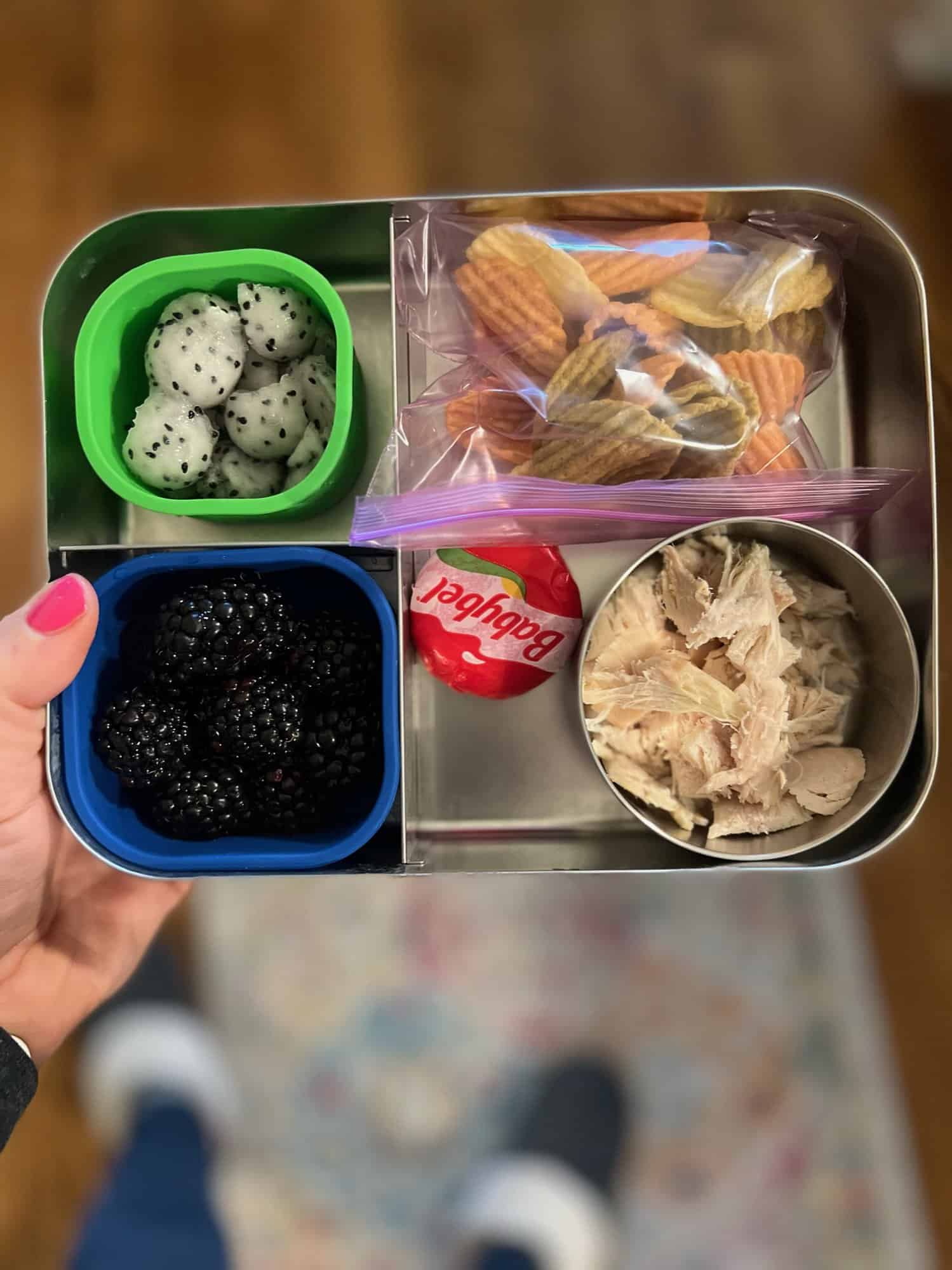 Shredded chicken is one of those easy-to-pack items that you can batch prep once at the beginning of the week and stick in lunches all week. Pair it with veggie chips, a Babybel cheese wheel, blackberries, and dragonfruit. Veggie chips are more for fun than nutrition, since they're really not that different from potato chips. We still eat them! Just wanted to clarify that since a lot of people wonder whether they are actually healthy or not.
HEALTHY PRESCHOOL LUNCH #5:
Another charcuterie-board inspired lunchbox: Triscuits, cheddar cheese, deli turkey, cucumbers, chickpeas, and a mini Jojo's chocolate peanut butter bar. Your child can have fun assembling mini cracker sandwiches or eating the items separately. Emilia always asks for "homemade lunchables" because some preschool friends bring lunchables. I did buy it for her one time but she didn't like it, so now we make our own!
Vegetarian Lunchbox Ideas for Preschoolers
HEALTHY PRESCHOOL LUNCH #6: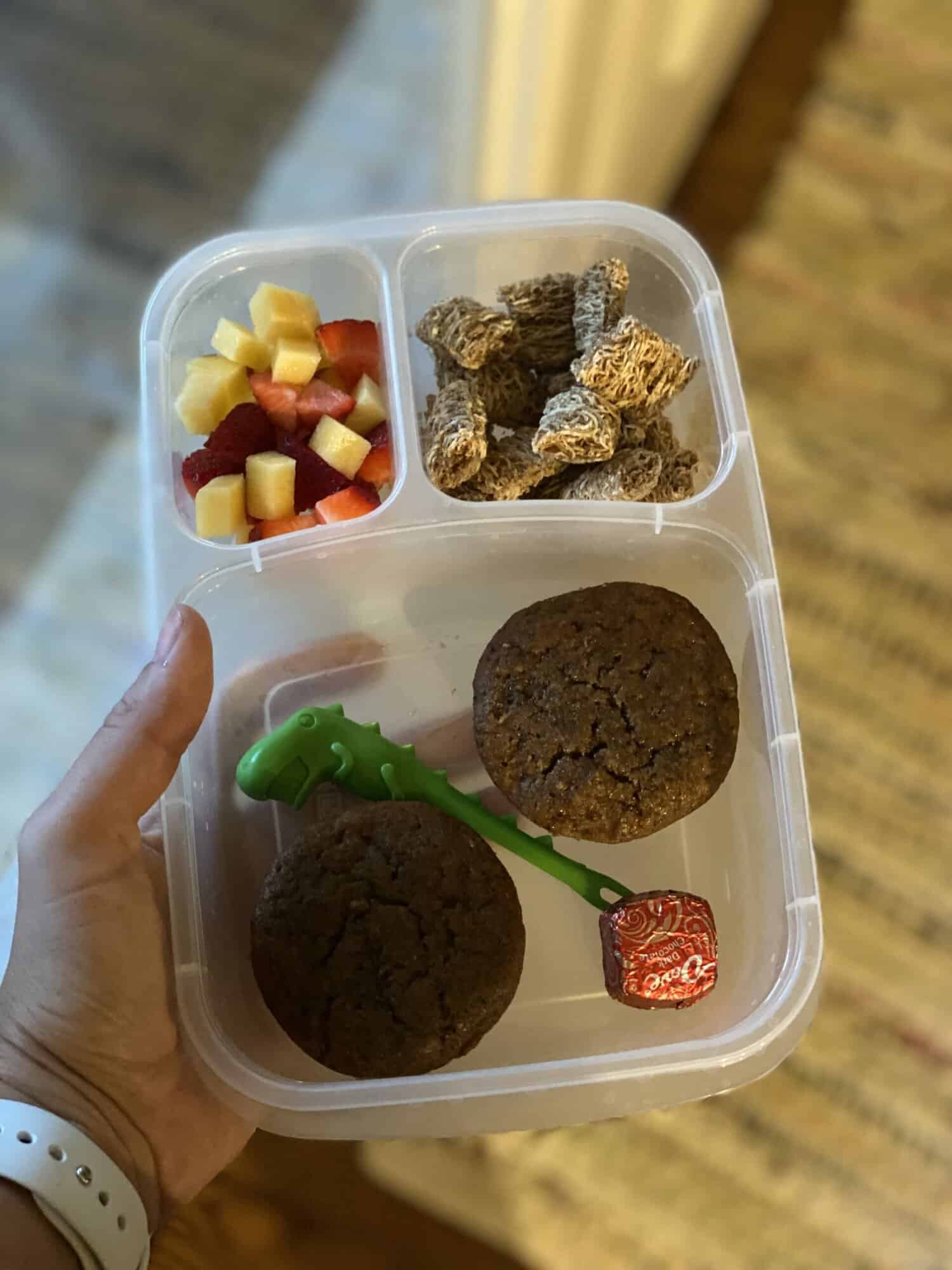 Simple Mills almond flour banana bread muffins, chopped fruit (pineapple and strawberries pictured here- but any combo of fruits is great), a handful of Kashi cinnamon harvest whole wheat biscuits, and a mini Dove chocolate as a sweet treat. A creative way to get your picky eater more excited about eating certain foods is to include these fun food picks– or choose from these ones on Amazon! It helps kids have fun with their meal and can make them more interested in trying foods that are new to them or not their favorites.
HEALTHY PRESCHOOL LUNCH #7: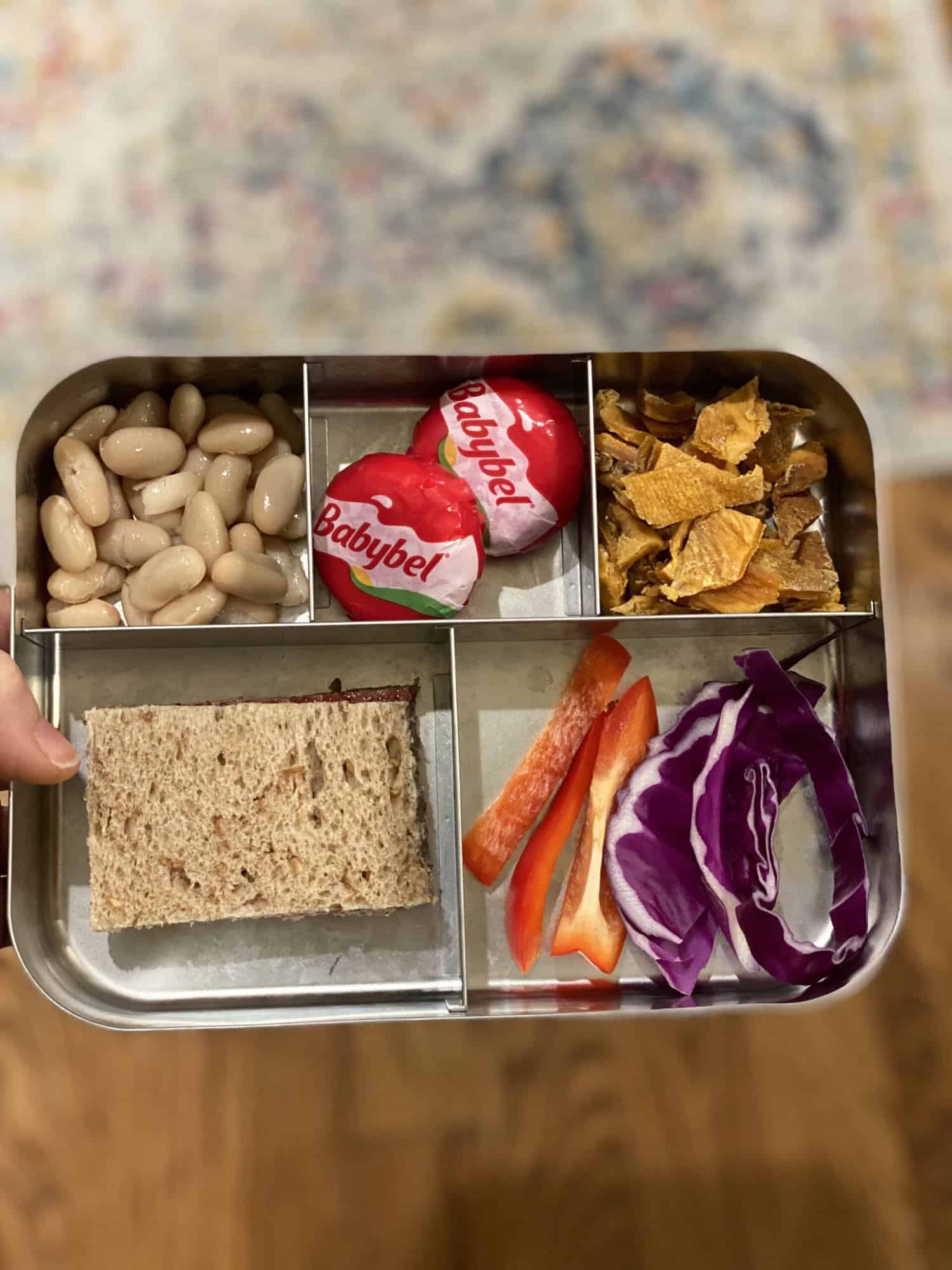 Peanut butter and jelly sandwich, dried mango (torn up into smaller pieces to make it easier for younger kids), a couple Babybel cheese wheels, chopped veggies (red bell peppers and cabbage pictured here), and white beans. Between the beans, cheese, and nut butter in the sandwich- the protein and fat choices here will help keep your child full.
I don't normally cut off the crusts of a sandwich but I did this time just so it would fit in the container.
HEALTHY PRESCHOOL LUNCH #8: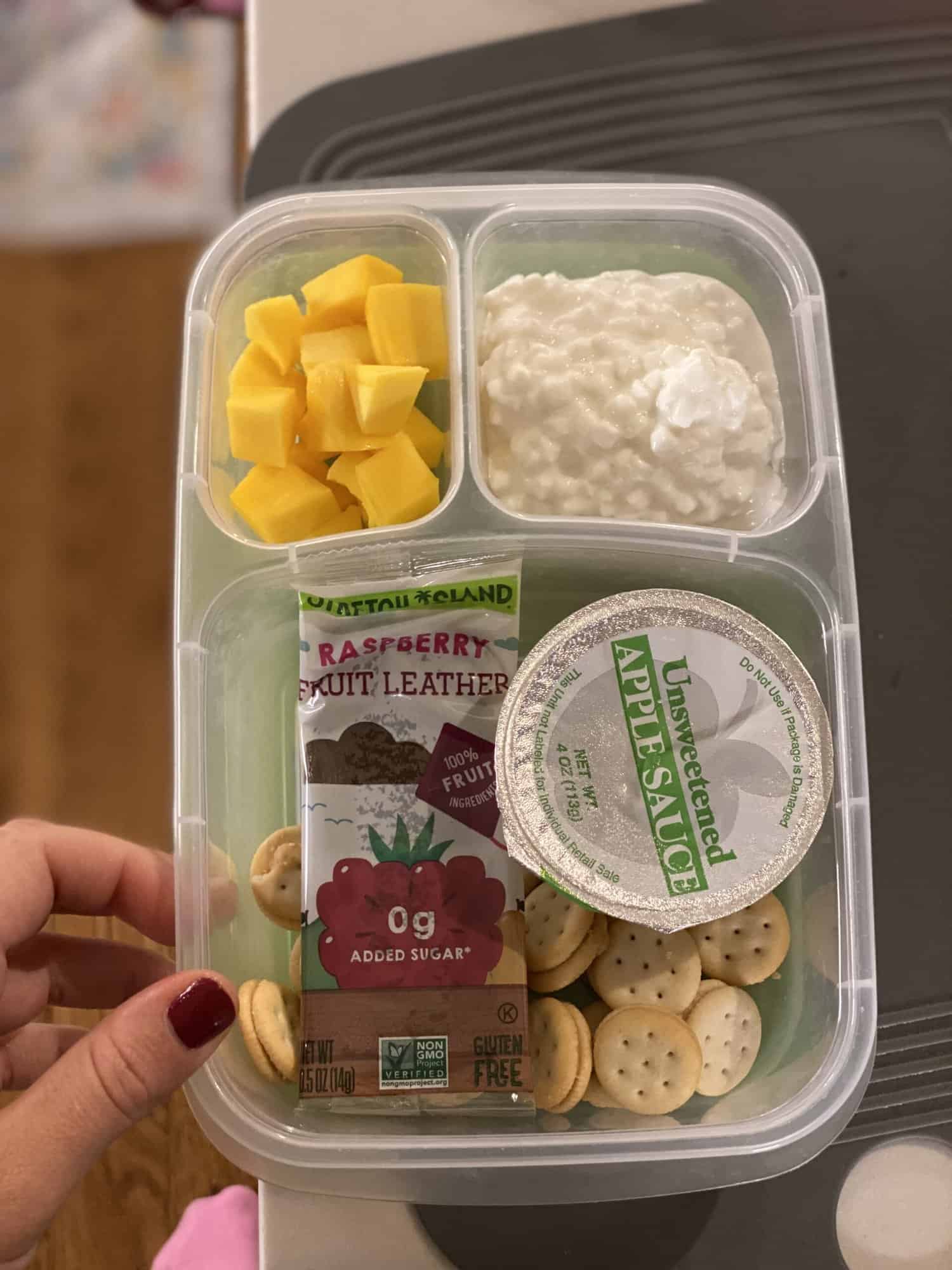 Cottage cheese, diced mango, unsweetened applesauce, mini peanut butter crackers, and fruit leather make up this easy meal. Cottage cheese contains protein and fat that make this meal satisfying, and the variety makes it easy for your toddler to find something they love. I prefer serving low-fat or whole milk cottage cheese to kids instead of non-fat.
HEALTHY PRESCHOOL LUNCH #9(Nut Free*):
Zucchini banana bread muffins, shredded cheese, carrots and broccoli, a Pure Organic layered fruit bar, and orange slices. This low-prep meal still features all the macronutrients and a good amount of variety as well. Making a batch of muffins is an easy one-step-prep activity that will give you lunch add-ins or snacks for a week, and they are usually a crowd pleaser.
HEALTHY PRESCHOOL LUNCH #10(Nut Free*):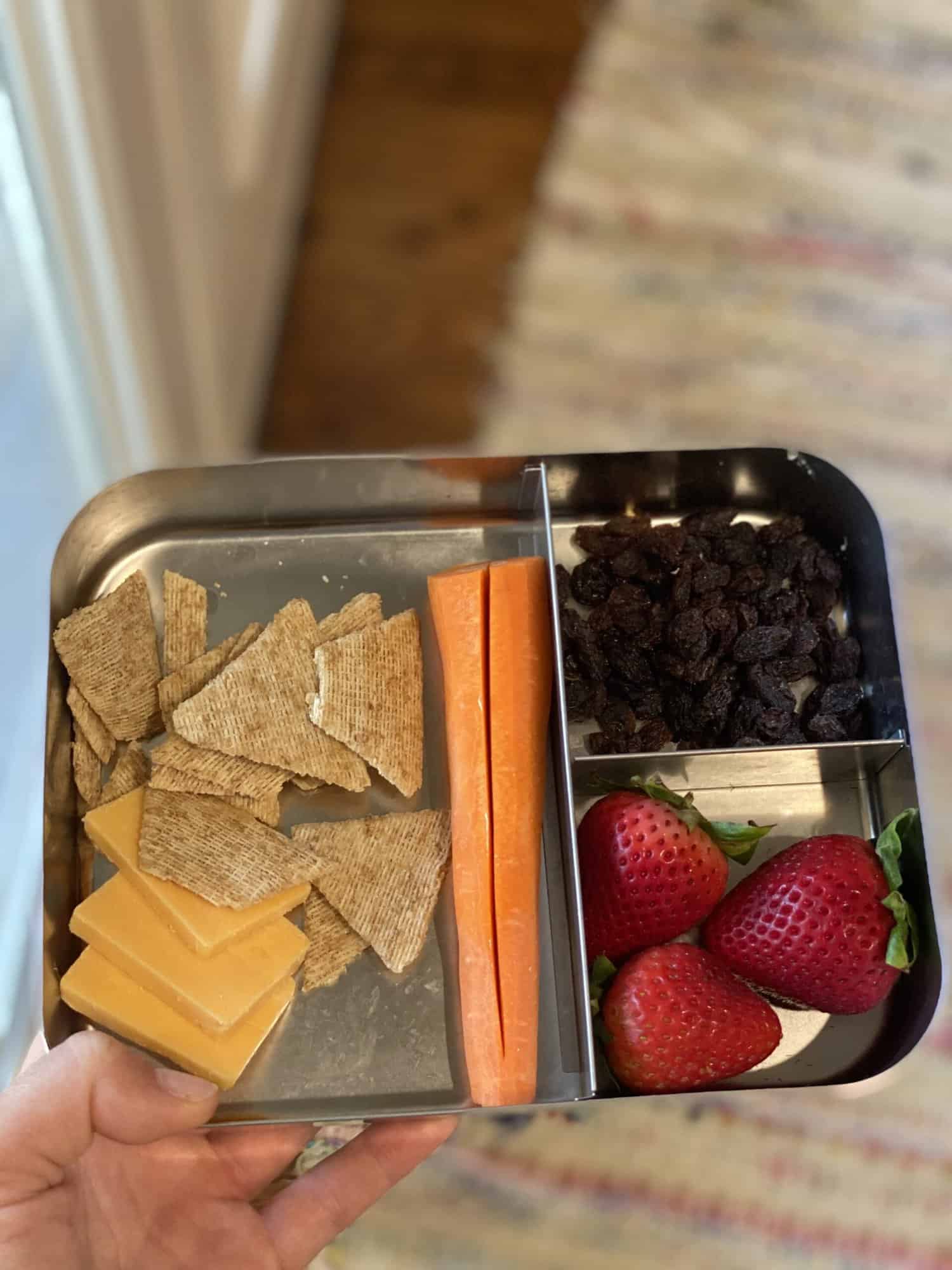 This kid-friendly take on a charcuterie board includes triscuits and cheddar cheese, raisins, carrots, and strawberries. Think of it as a leveled-up, customizable Lunchable- you can include any meats or cheeses you choose, and I love Triscuits as a kids snack! The Thin Crisp Triscuits are great for toddlers, as well, since they are even easier to chew.
HEALTHY PRESCHOOL LUNCH #11(Nut Free*):
This no-cook meal can be thrown together in less than a minute, and still contains all the nutrients your child needs. I packed this for a travel day! A GoGo Squeez applesauce, cottage cheese, a brown rice cake, and sugar snap peas cover all the bases and can be thrown in a lunchbox when you are low on time or fresh produce. These items are easy to keep on hand in the fridge or pantry and can come together to make a great meal in a pinch.
HEALTHY PRESCHOOL LUNCH #12(Nut Free*):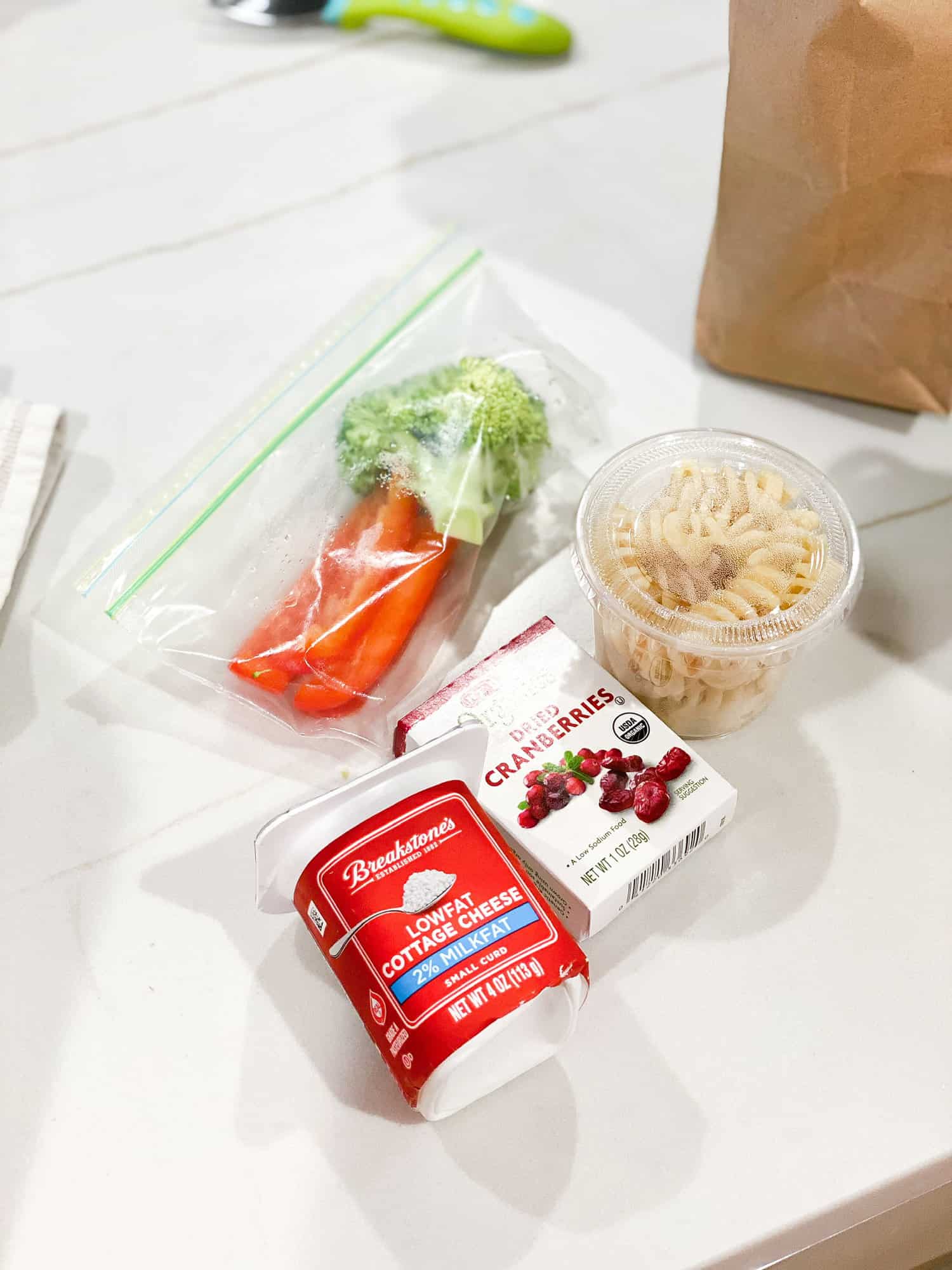 This is another great option for travel days or picnics where you need disposable items. Dried cranberries, cottage cheese, fresh veggies (broccoli and bell peppers are pictured here, but any combination of vegetables works!), and leftover whole wheat pasta noodles in olive oil. A batch of noodles is another great staple to keep in the fridge for a week of toddler lunches. One quick pasta boil gives you a great option that can be eaten hot or cold. Toddler lunches don't have to be fancy or complicated to be nutritious and satisfying!
HEALTHY PRESCHOOL LUNCH #13: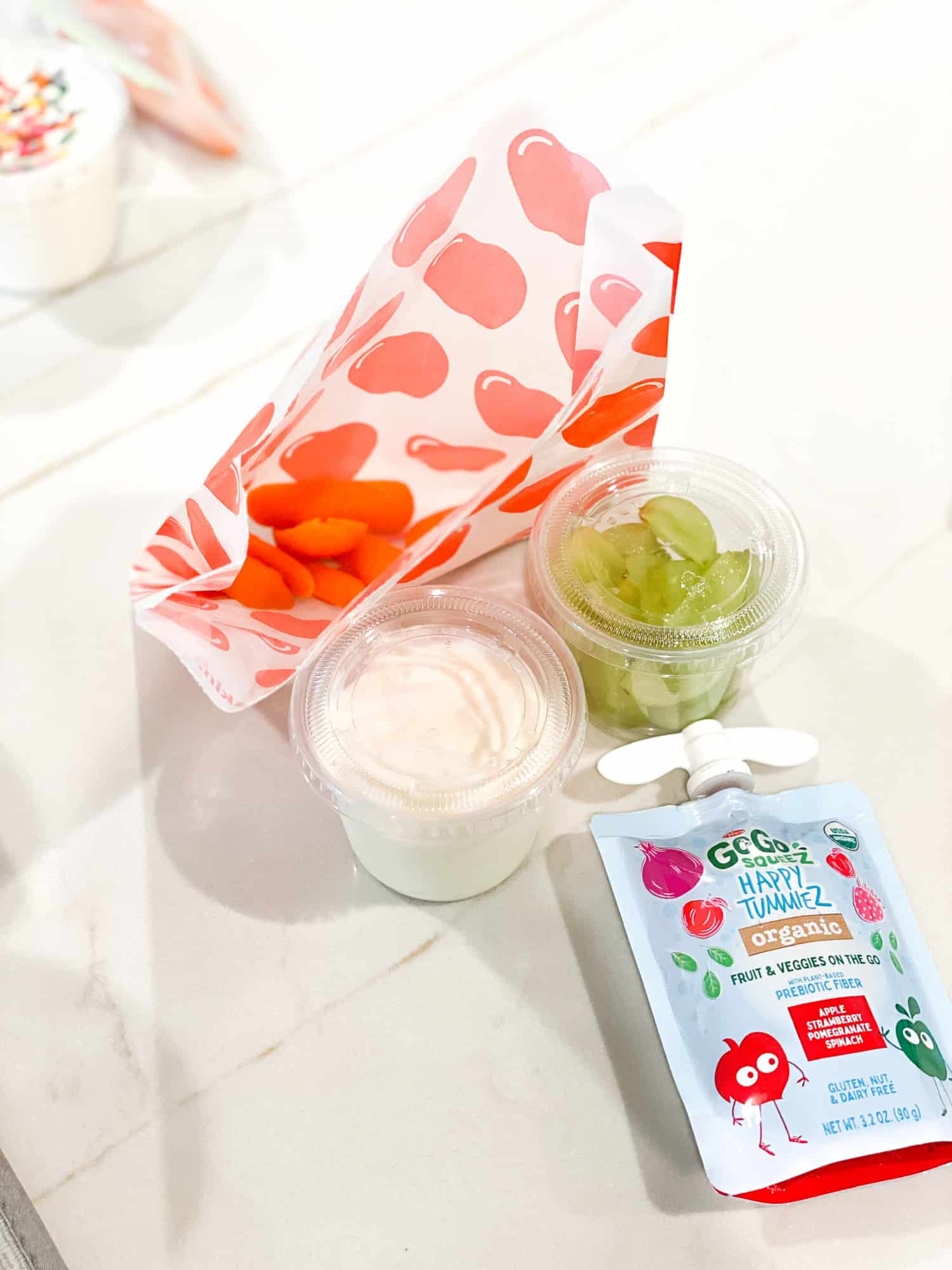 This simple meal is made up of grapes (cut to appropriate size as grapes are a choking hazard until age 4), baby carrots, plain whole milk yogurt, and a GoGo Squeez fruit and veggie pouch. Another satisfying, nutritionally adequate preschool lunch that takes no thinking and very little time to prepare!
HEALTHY PRESCHOOL LUNCH #14: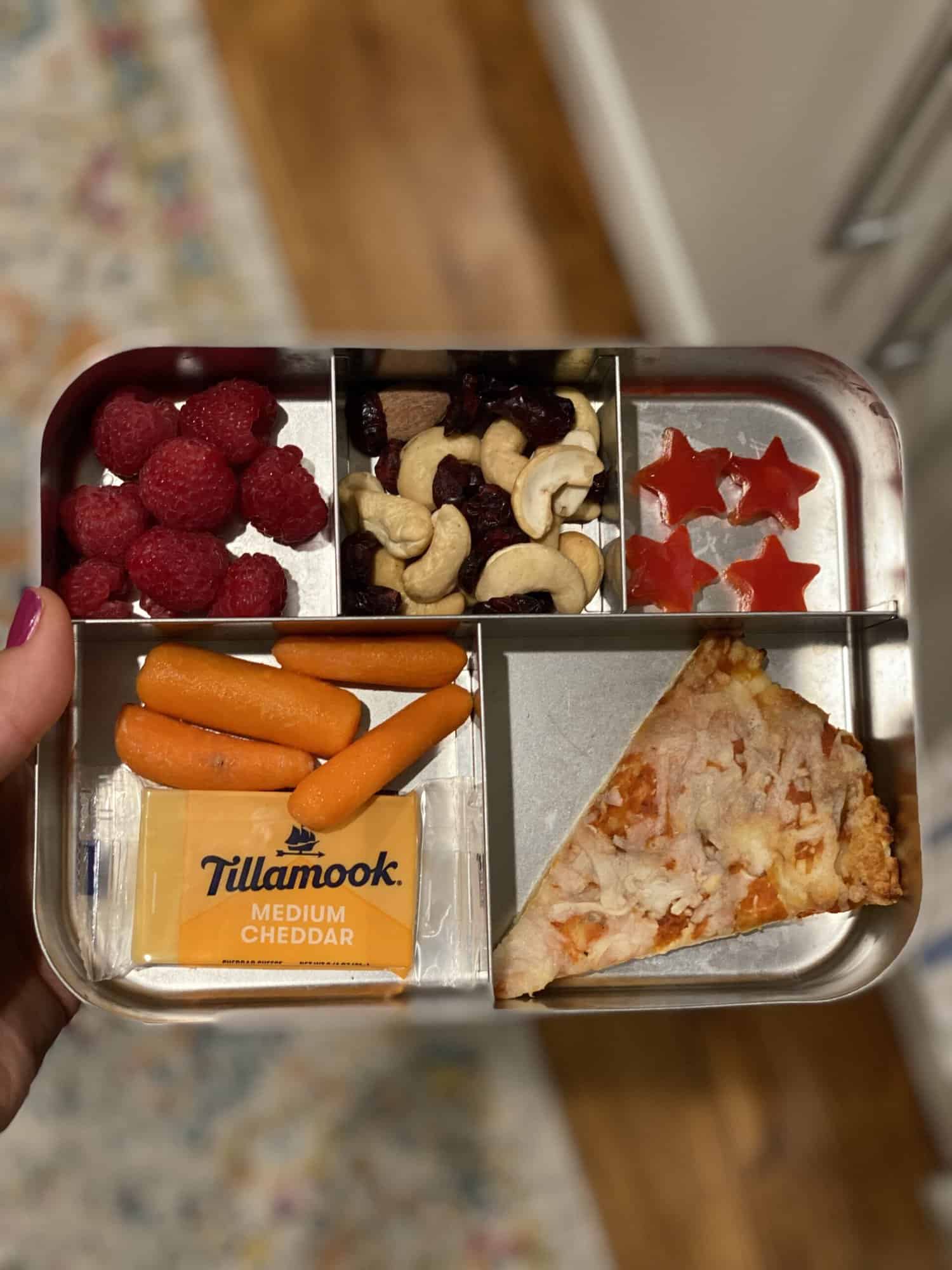 Leftover pizza makes a great addition to a kiddo's lunchbox. Frozen pizza is a great way to prep in a pinch- cook it once and you have several single servings that can easily be reheated or eaten cold for a daycare or preschool lunch. Pair it with fresh fruits and vegetables (raspberries and baby carrots pictured here), a cheddar cheese square, some mixed nuts and dried fruit, and some red peppers cut into star shapes to make them more fun to eat. I use these veggie cutters all the time!

You might notice the pizza has cheese and I included another serving of cheese. I mostly did this in case she didn't want the cold pizza since it can be hit or miss for her!
HEALTHY PRESCHOOL LUNCH #15:
Another great no-cook idea is this vegetarian lunch! Fresh strawberries, cashews, Kashi whole grain cinnamon harvest biscuits, and Siggi's yogurt provide all the macronutrients and can be thrown together in a flash for a nutritious combo. I love Siggi's yogurt because it has a great protein content and isn't too high in sugar- making it a great option for growing kids.
Remember to slice cashews until they are 4 years old since whole nuts are a choking hazard for toddlers.
HEALTHY PRESCHOOL LUNCH #16(Nut Free*):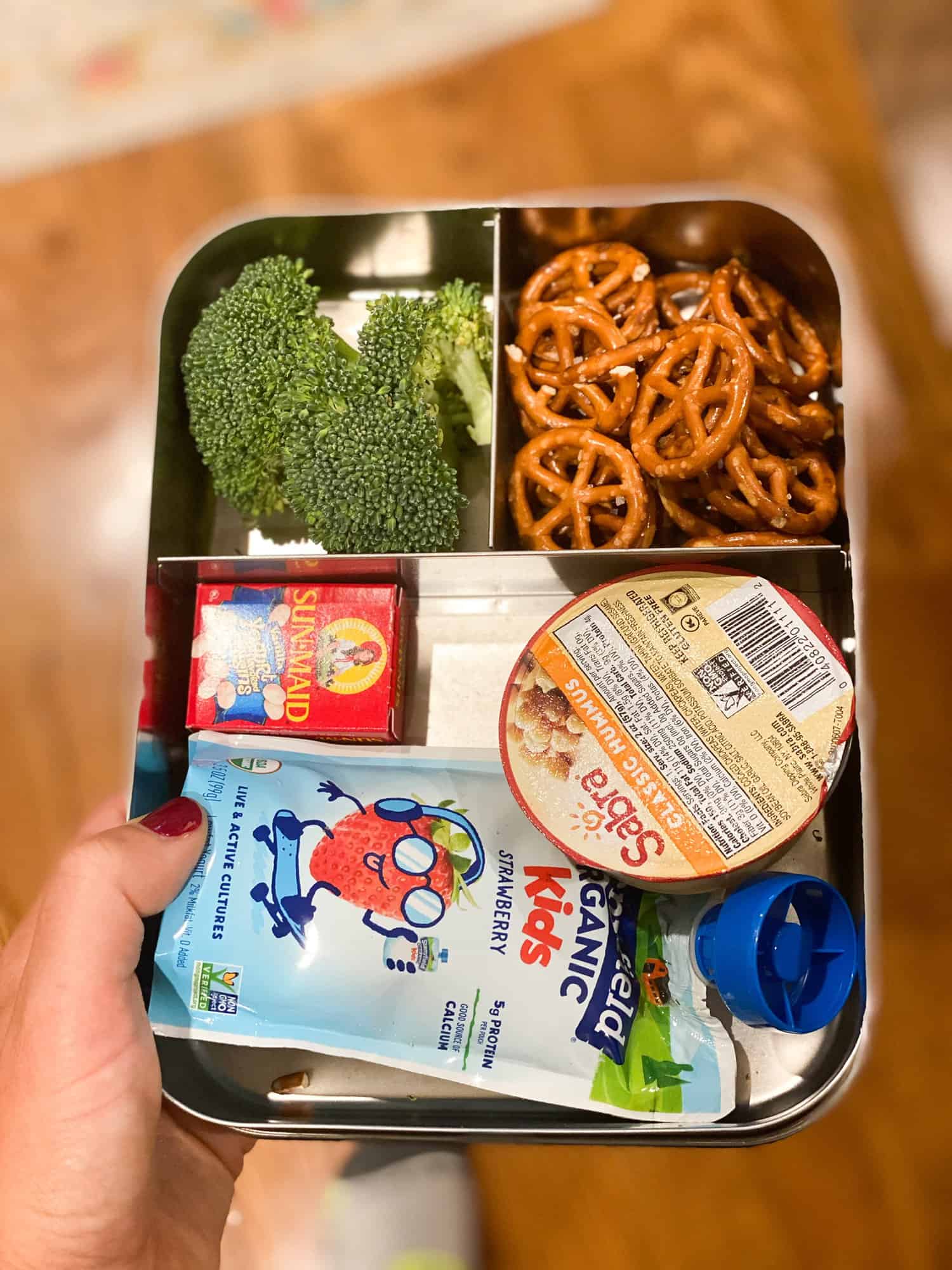 Pre-packed foods to the rescue for this no-fuss preschool lunch box idea. An individual serving of Sabra hummus with pretzels and broccoli for dipping, a Stonyfield yogurt pouch, and Sunmaid yogurt covered raisins is a fun combination that packs a nutritional punch and can be pulled straight from your pantry and fridge.
HEALTHY PRESCHOOL LUNCH #17(Nut Free*):
This was for a day camp when my kids could only bring disposable items. I packed plain whole milk yogurt, blueberries, nilla wafers, and mashed avocado on whole wheat buns. This is the plastic-free sandwich bag I used.
HEALTHY PRESCHOOL LUNCH #18(Nut Free*):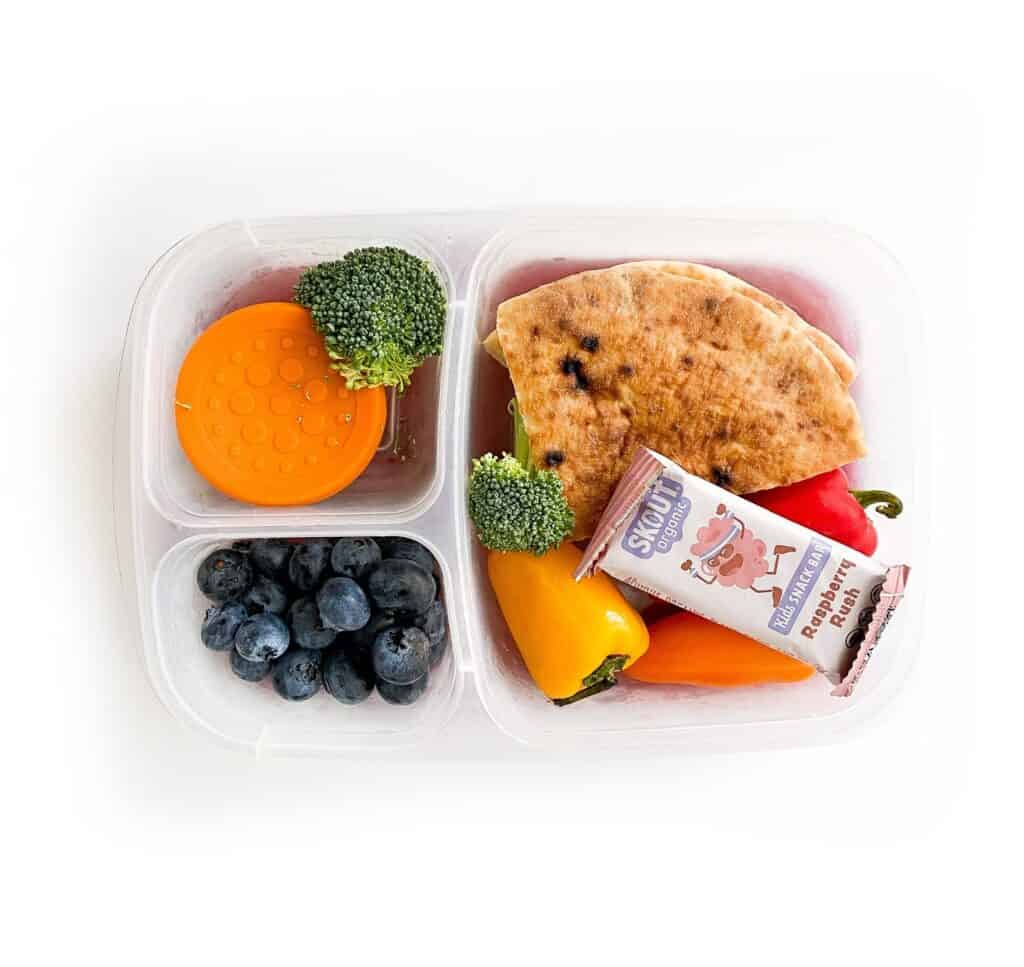 This Mediterranean-inspired preschool lunch idea combines fresh produce like mini bell peppers and broccoli with some childhood favorites like pita bread, hummus, and blueberries. I also threw in one of my favorite kid snacks- Skout Organic (code MAMAKNOWS for 20% off) fruit bars.
Some Skout bars do contain nuts, so make sure to check the labels.
HEALTHY PRESCHOOL LUNCH #19(Nut Free*):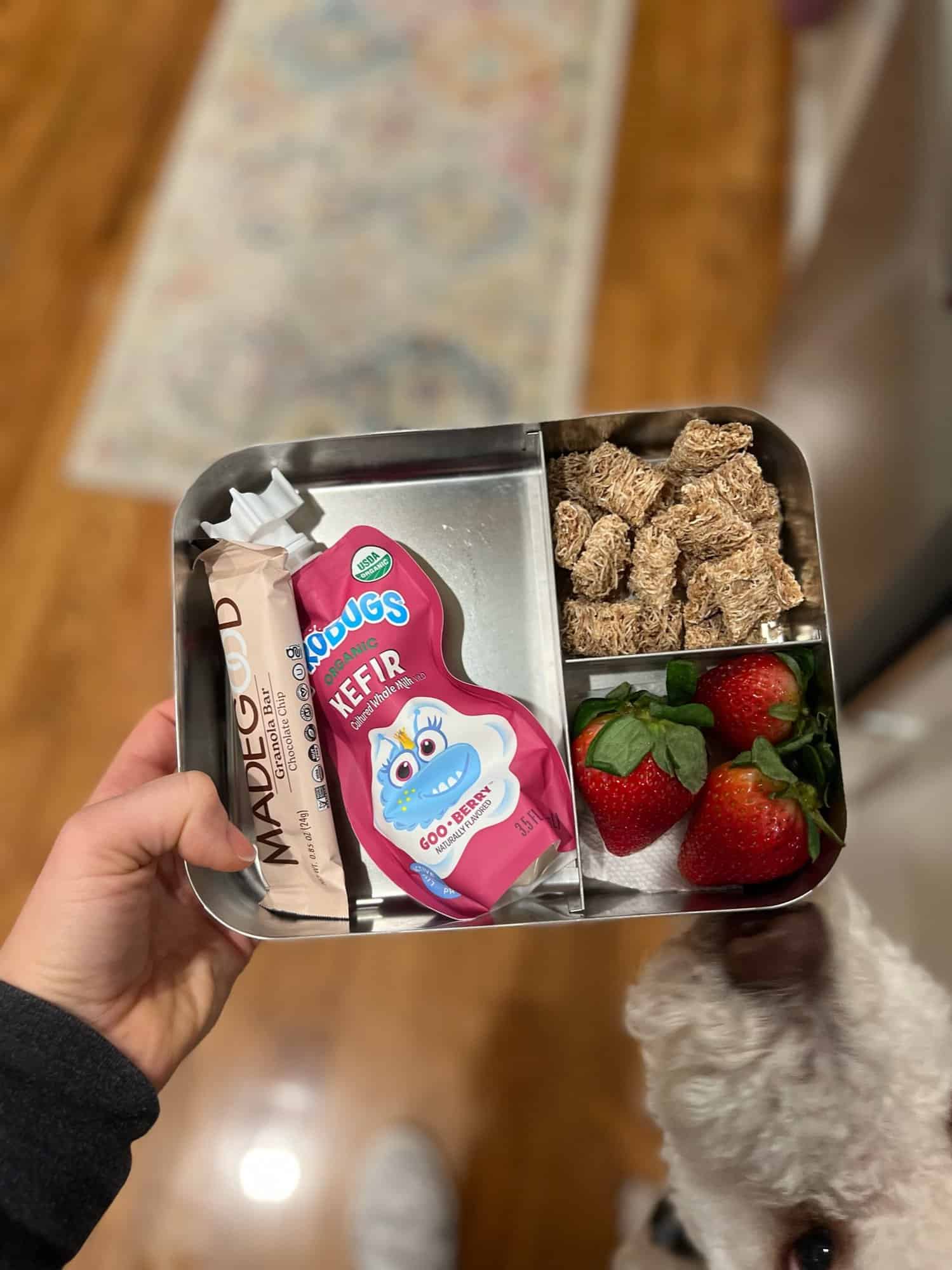 This combo is the "I woke up late and need to get you ready for school in under 3 minutes" special. A handful of dried cereal, a handful of fresh strawberries, a MadeGood chocolate chip granola bar (nut-free), and a Probugs Organic kefir pouch. I like kefir because it packs even more of a probiotic punch than yogurt, so it's great for digestive health.
What should be in my child's lunch box?
If you're unsure about how much food they need, I would err on the side of packing too much rather than too little, so you can make sure they get enough to eat, even if they don't want every item that you packed. That's why I like to pack a variety of items.
How much should they eat at lunch?
There's no set amount that is best – every day will be different. Some days my preschooler eats everything, some days she barely touches her lunch. It's normal for their appetite to vary, so I wouldn't assume that they don't like something just because it comes home uneaten.
Here's a look at some before and afters of lunches I sent for my 4 year old daughter.
HEALTHY PRESCHOOL LUNCH #20: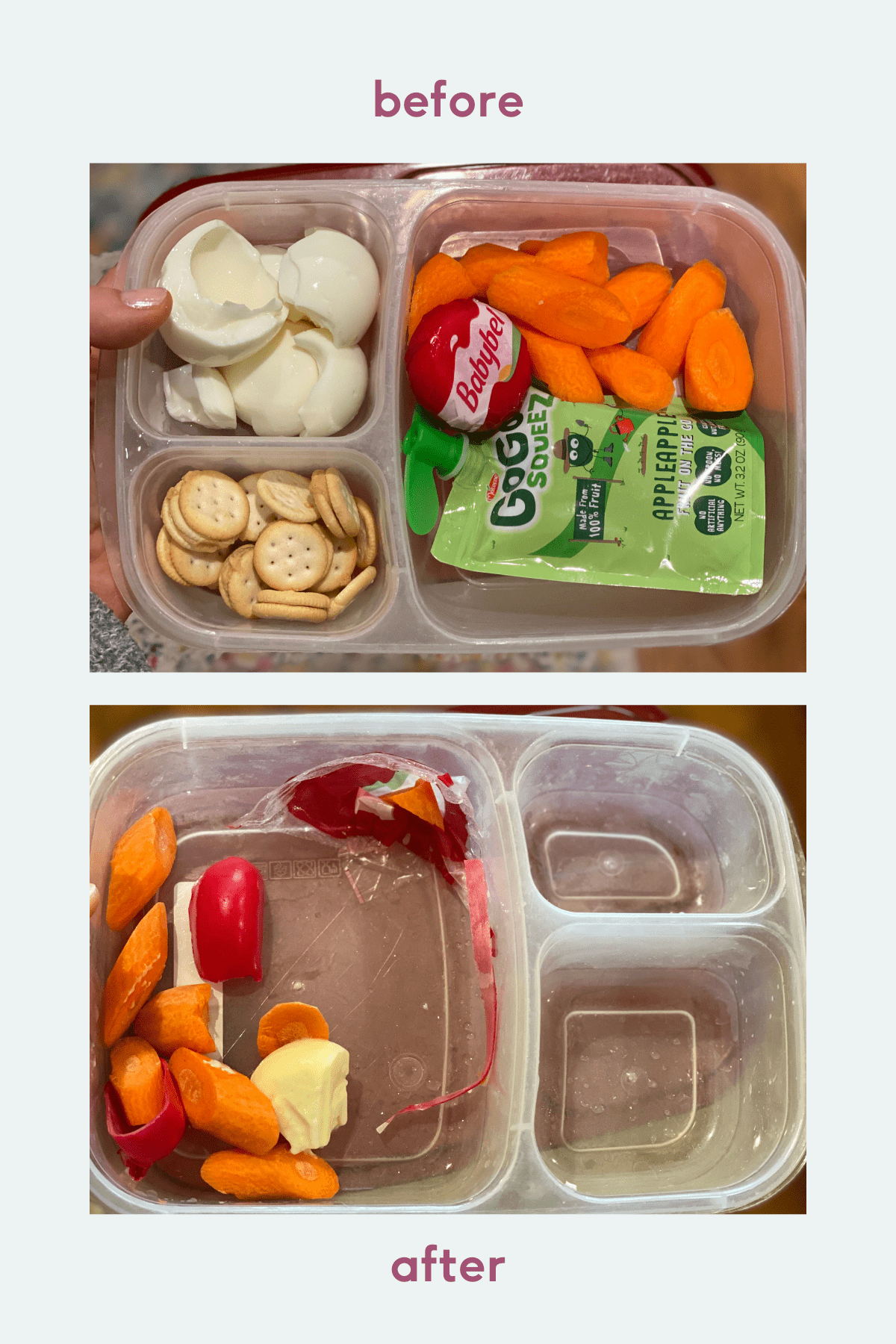 Mini peanut butter crackers, hard boiled egg whites, baby carrots (cut into smaller pieces), a Babybel cheese wheel, and GoGo Squeez applesauce. Feel free to include the whole egg with the yolk included- my kids just don't prefer them. This is also a great vegetarian lunch box idea for preschoolers and older children.
Why just the egg whites? Because my daughter says she "doesn't like the yellow balls that taste nothing." I'd happily give them to her if she would eat them!
HEALTHY PRESCHOOL LUNCH #21:
This meal is as easy as popping a bagel in the toaster and slicing up an orange! Pre-packaged apple slices are a great, easy addition, when whole apples don't fit in their lunch box, and slicing them at home turns them brown. as well Plus a handful of peanuts for protein. You can add cream cheese, nut butter, or whatever spread your child might like on a bagel! This was a One Mighty Mill whole wheat mini bagel.
HEALTHY PRESCHOOL LUNCH #22(Nut Free*):
This meal comes together with no prep and no cooking, and includes a variety of options that touch on all the nutrients your kid needs: a handful of black beans, mini bell peppers, string cheese, carrots, an applesauce pouch, and a few chocolate covered pretzels. All these elements are easy to keep on hand- in your fridge and in your pantry- and are fresh and low-mess.
HEALTHY PRESCHOOL LUNCH #23(Nut Free*):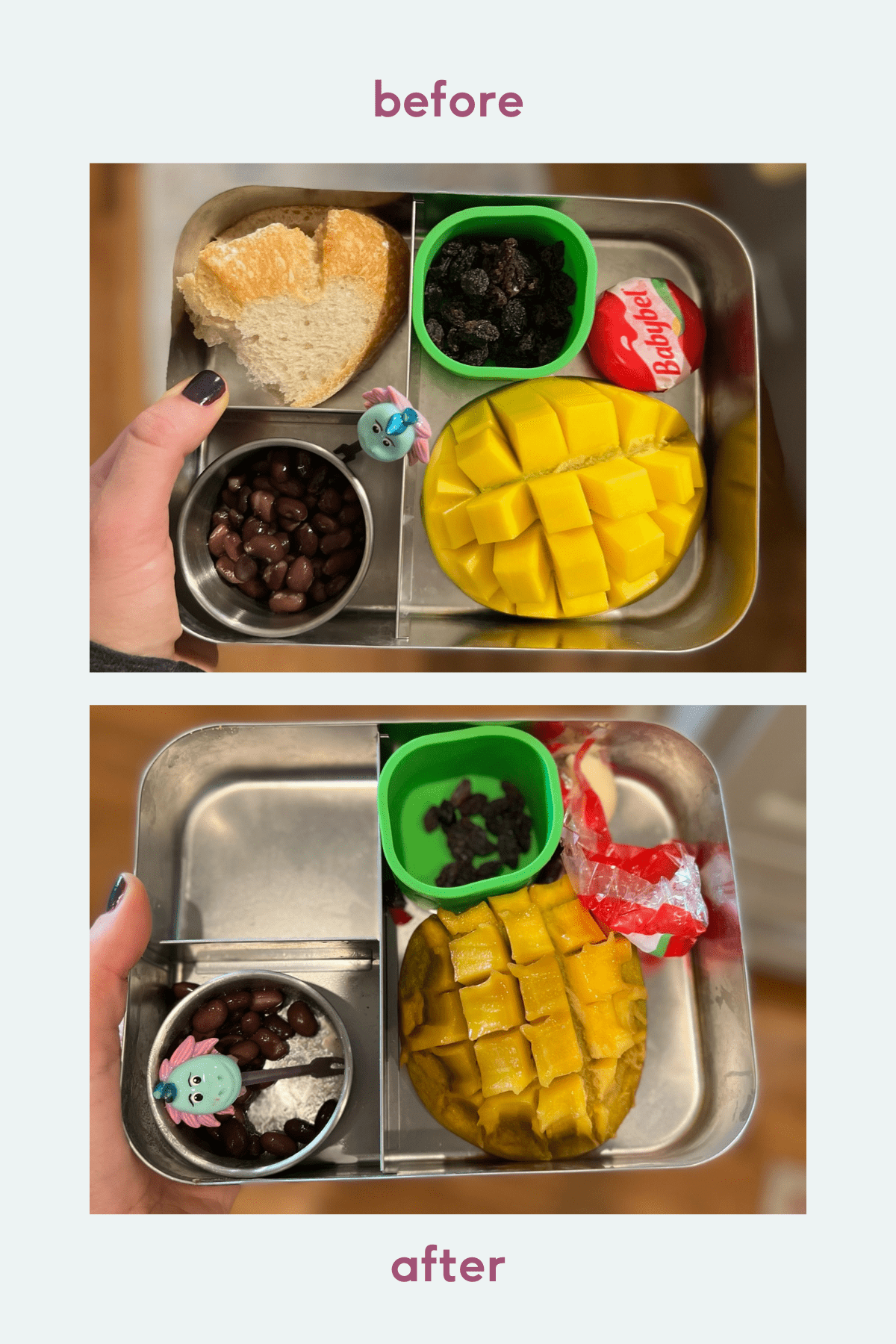 This is another low-prep, low-mess meal you can compile in a pinch. A can of black beans can go a long way in toddler meal prep- it can provide you with a few days of a fiber-rich, protein lunch addition. Pair the black beans with raisins, sourdough bread, a Babybel cheese wheel, and half of a sliced mango for a fulfilling, preschool-friendly lunch.
HEALTHY PRESCHOOL LUNCH #24: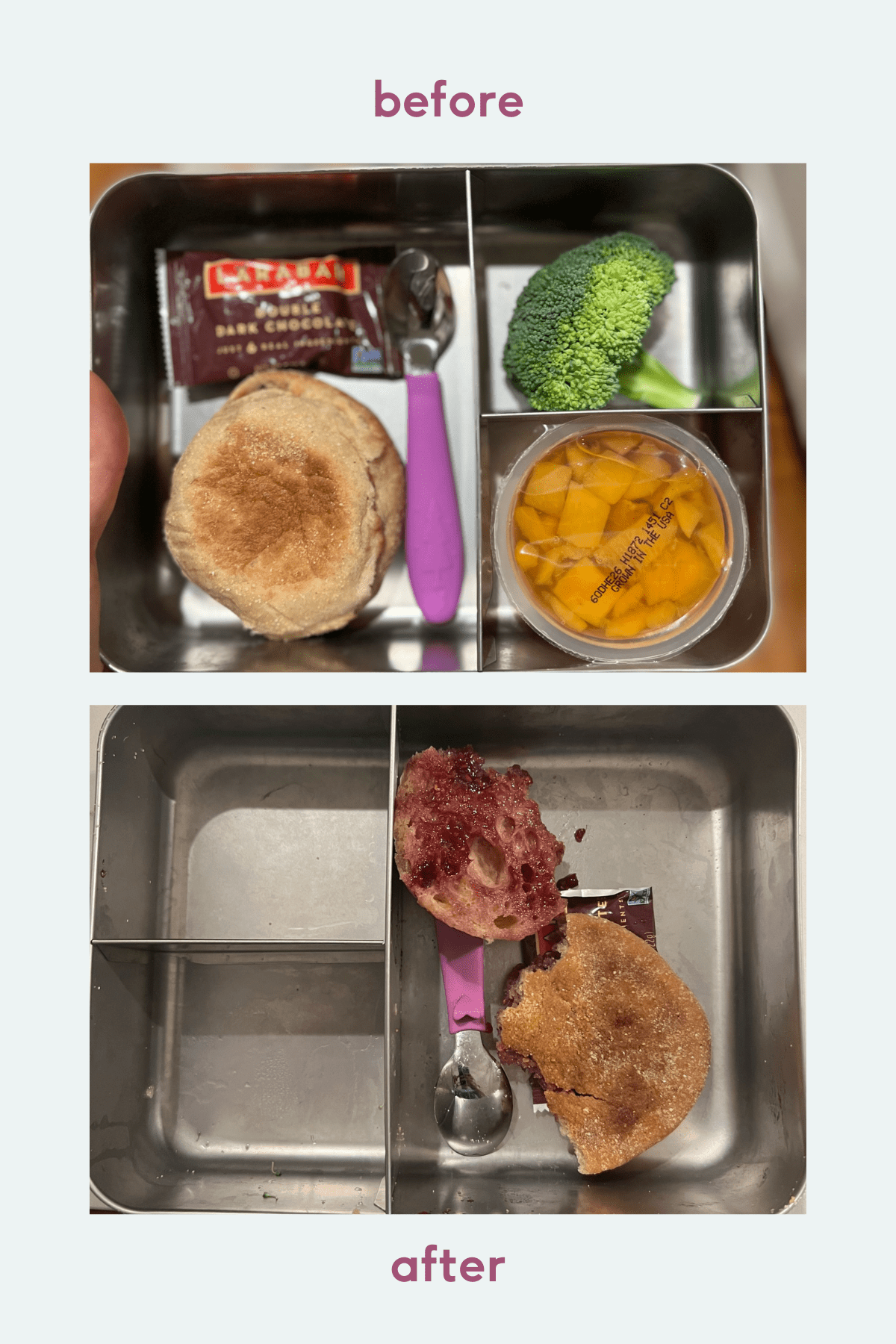 This balanced lunch consists of a Dave's Killer Bread English muffin with Crofter's All Fruit Spread, a mini Lara Bar, a piece of broccoli, and a fruit cup of peaches. I like the fruit cups that are in 100% juice because they are (can't remember what Kacie said in her recent post!) Also, feel free to make this English muffin into a PB (or any nut butter!) +J if your child likes that combo!
HEALTHY PRESCHOOL LUNCH #25: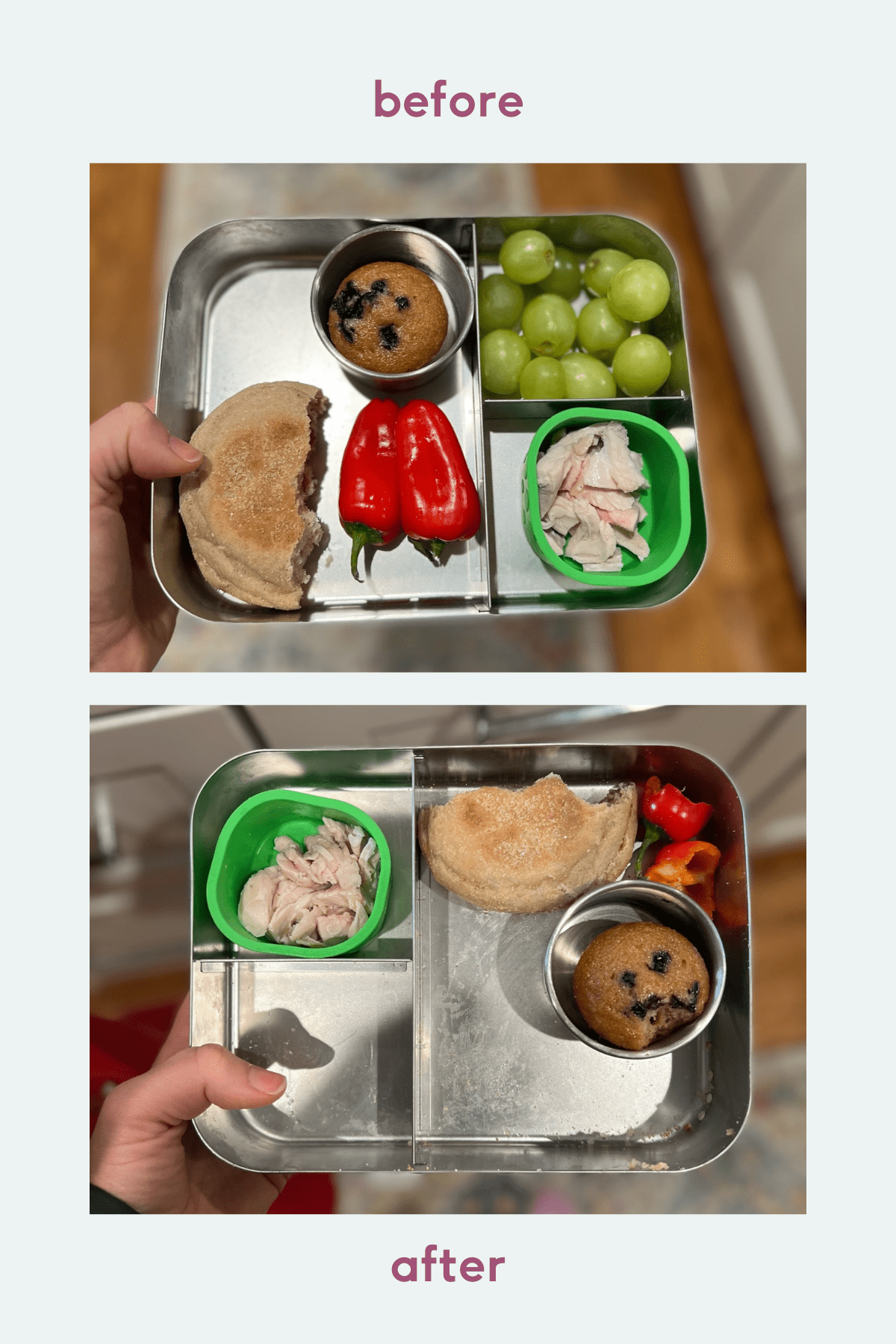 This meal features an Abe's mini blueberry muffin, half of a Dave's Killer Bread English muffin with peanut butter, a couple mini red bell peppers, shredded chicken, and green grapes. Shredded chicken is a great option to prep once at the beginning of the week and add a handful to your child's lunches. Also, remember to cut grapes into smaller pieces for children under 4 as whole grapes are a choking hazard.
HEALTHY PRESCHOOL LUNCH #26(Nut Free*):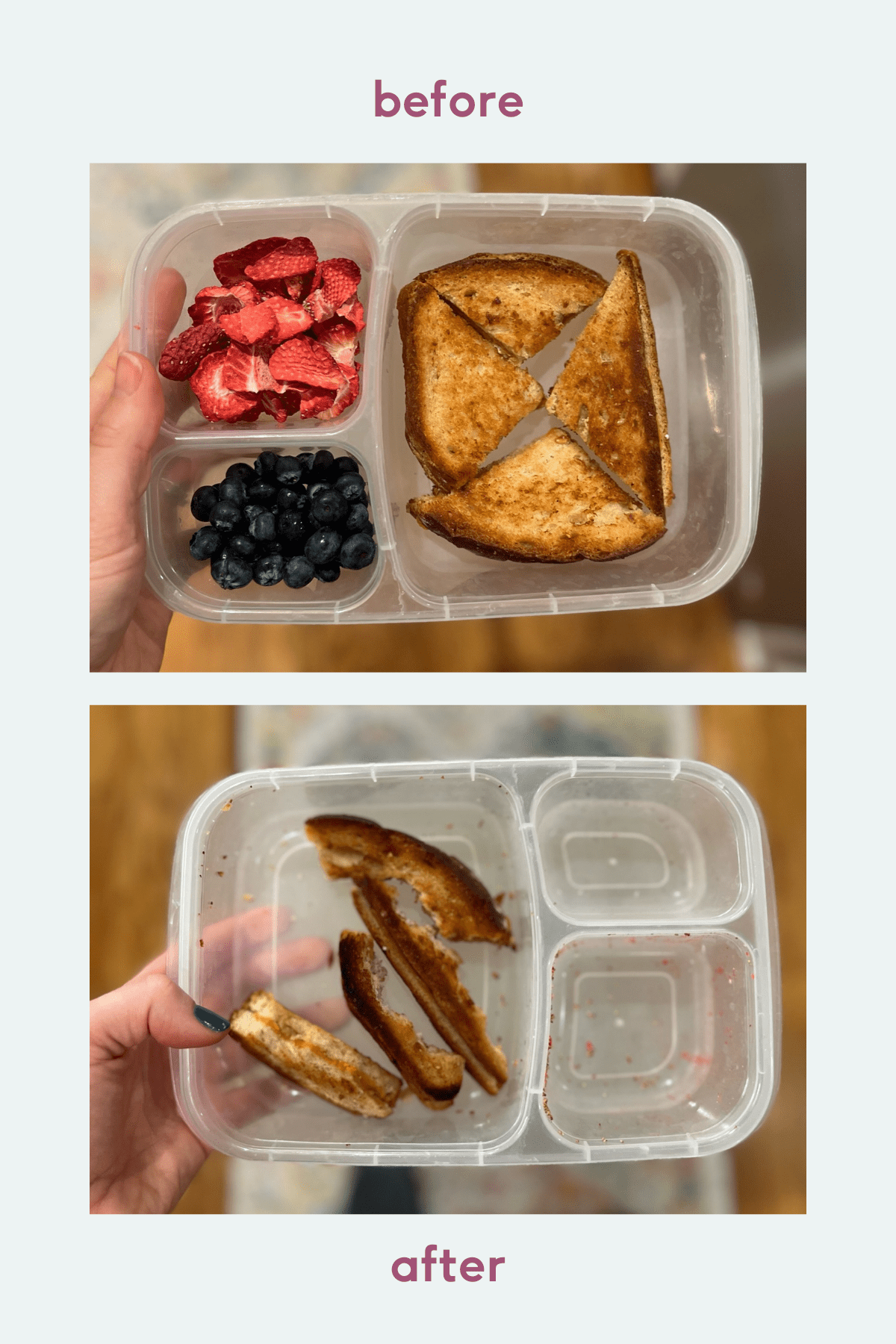 This lunch features a grilled cheese made with American cheese on Dave's Killer White Bread Done Right and two different fruits- freeze-dried strawberries and fresh blueberries. Fresh produce can be hard to keep on hand at all times, so freeze-dried fruits are a great option to throw in their lunches too- they still have tons of great nutrients.
HEALTHY PRESCHOOL LUNCH #27(Nut Free*):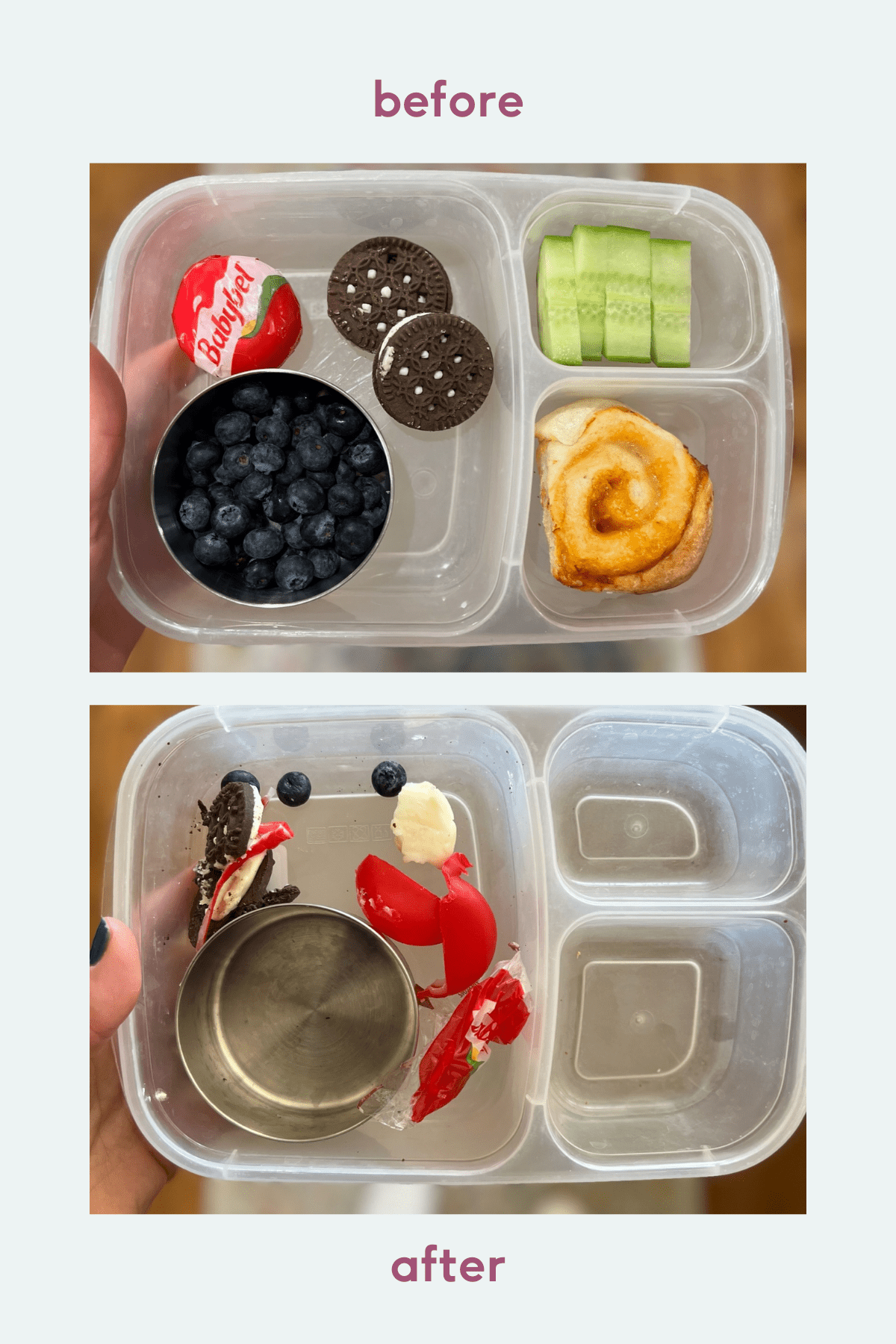 Homemade air fryer pizza (click here for the recipe!), sliced cucumber, blueberries, a Babybel cheese wheel, and 2 Catalina Crunch cookies make up this balanced kids meal. This lunch covers the bases on all nutritional components, and I love the Catalina Crunch cookies as a lower sugar dessert option for kids.
HEALTHY PRESCHOOL LUNCH #28(Nut Free*):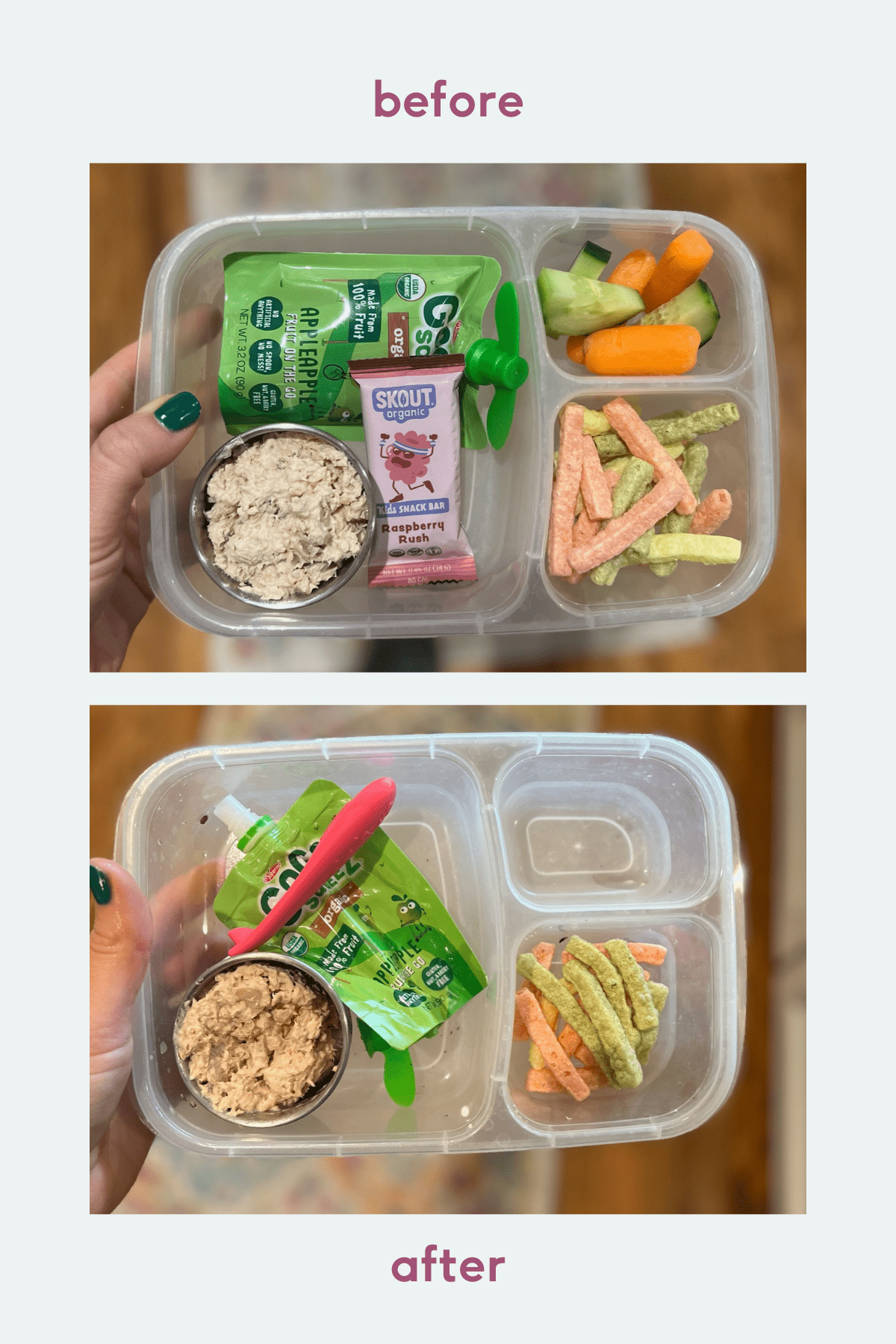 This meal includes a simple, quick take on a protein-packed salmon salad: canned salmon, Sir Kensington's Mayo, and a dash of dijon mustard. I paired it with some fresh veggies, a handful of veggie straws, one of my favorite Skout Organic fruit bars(code MAMAKNOWS for 20% off), and a GoGo Squeez applesauce packet. You can turn the salmon salad mix into a sandwich or serve it like I did with veggies as a dip.
Some Skout bars do contain nuts, so make sure to check the labels.
HEALTHY PRESCHOOL LUNCH #29(Nut Free*):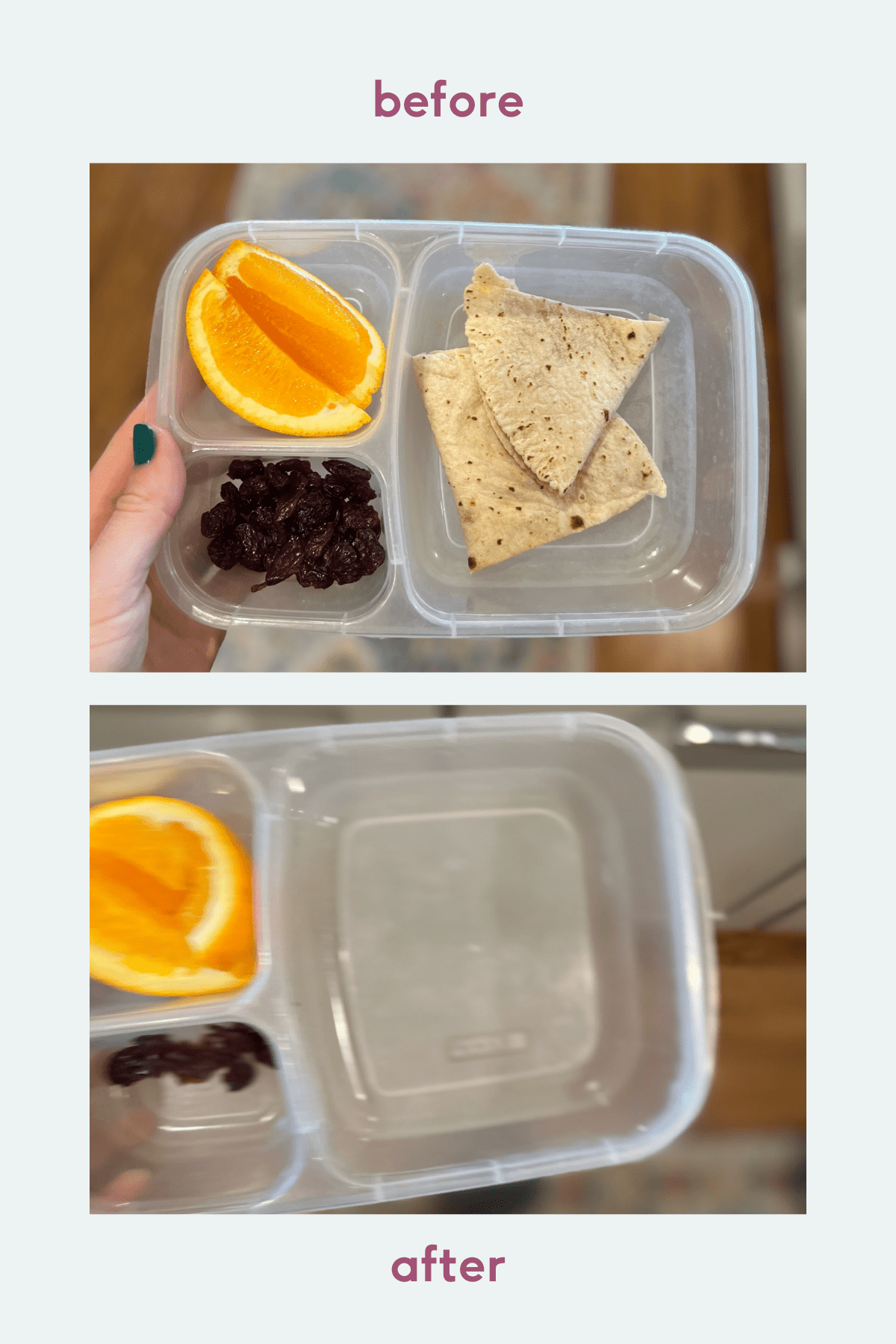 Here's a take on a quesadilla to add in some great fat and protein sources- tortilla with white bean and avocado. Beans are great for fiber, iron, and protein, and avocado adds a good dose of heart-healthy fat. I paired it with some fresh orange slices and raisins for a easy, low-prep meal.
HEALTHY PRESCHOOL LUNCH #30(Nut Free*):
This lunch comes together in a flash: half a bagel and butter, chopped celery, carrots, slices of cheddar cheese, and a Skout Organic fruit bars(code MAMAKNOWS for 20% off). Feel free to sub your child's favorite spread on the bagel; the bread is a great source of carbs, but adding a spread with some fat/protein will help keep them fuller longer!
Some Skout bars do contain nuts, so make sure to check the labels.
HEALTHY PRESCHOOL LUNCH #31:
This lunch is a little bit like a deconstructed parfait! I started with Chobani Less Sugar yogurt, and added in a side of cashews, apples, and a couple of medjool dates. Kids will love this lunch with the option to mix them all together to build a parfait or eat the elements one by one. Remember that apples and whole nuts are a choking hazard for young kids, so be sure to chop them up and offer them in safe pieces.
---
Want even more preschool lunch ideas?
Grab a copy of my Healthy Toddler Lunch Guide that includes even more easy lunch ideas, tools and lists to make lunchtime a total breeze. I find that the less decisions I have to make in a day, the better! So I love using the guide as a way to know that you're getting your little one a healthy meal, without having to spend time thinking or stressing over it!
Note:
*The lunch ideas with the notation NUT FREE mean these lunches do not contain nuts, so they should be okay for a nut free school environment. But if your child has a nut allergy you should always check the labels to make sure they are completely nut-free. This is true for all food allergies; please always check the label or check with the manufacturer to ensure it is safe.