Jump to Recipe
This homemade air fryer pizza roll recipe is an easy way to shake up the weeknight dinner routine while still making something that your picky eater will actually eat! If you love the doughy deliciousness of cinnamon rolls, chances are you're going to love pizza in this form, too!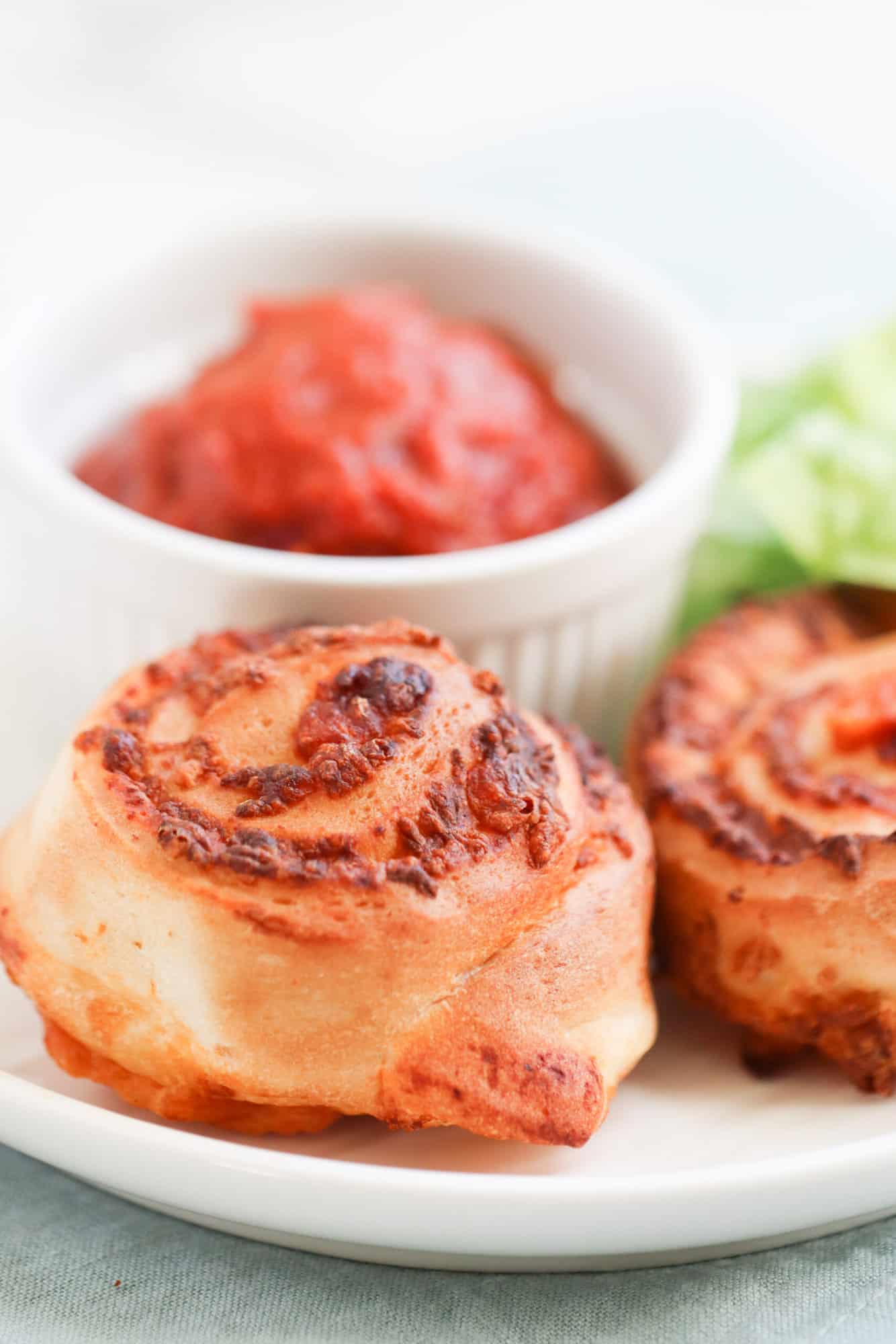 Why I love these homemade pizza rolls
First of all, the air fryer just makes weeknights outrageously easy. There's nothing I love more than NOT having to wait forever for my oven to preheat on a busy night. And honestly, my 4 year old made these pizza rolls. You could do it with your eyes closed.
Since I'm always looking for ways to help picky eaters break a little bit out of their comfort zone, this new way of making pizza really fit the bill.
Cheese pizza rolls in air fryer
If you're thinking of the frozen Annie's pizza rolls or Totinos pizza rolls – this is not the same thing. Those are more like tiny bite size pizza pockets. These cheese pizza rolls (in the air fryer) are more like turning cinnamon rolls into dinner. And in my opinion, these are way better!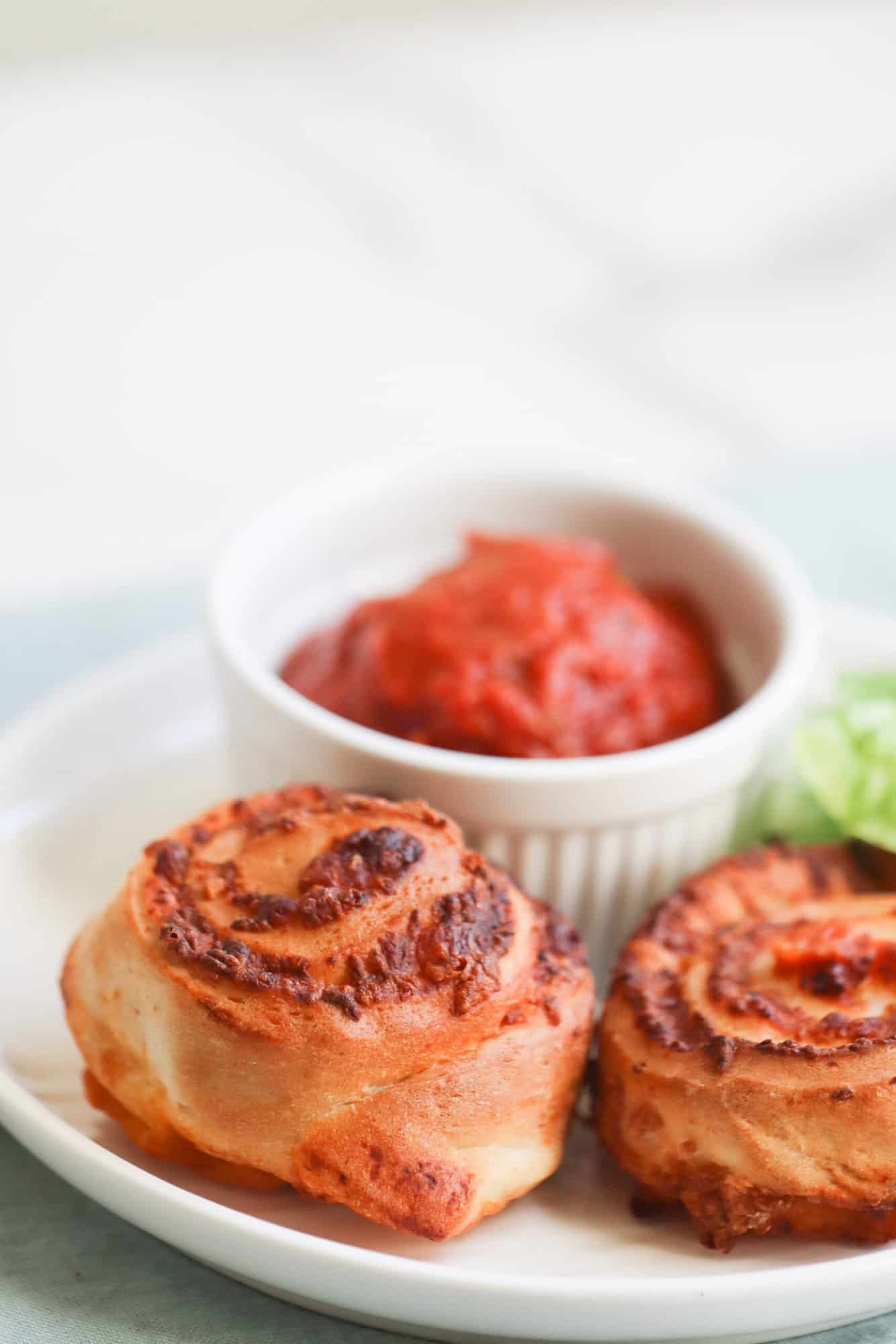 Ingredients needed for cheese pizza rolls recipe
It's a short ingredient list for you! Just refrigerated pizza crust (I used pillsbury because it was the quickest to roll out), pizza sauce, and shredded italian cheese. Or you could do a combination of shredded mozzarella cheese and some parmesan or parmigiano reggiano.
That's literally it! You could add meat or veggies in if you want to, but I was aiming for total simplicity here.
How to cook pizza rolls in air fryer
I found they came out best when cooked at a lower temperature, at 325*F. I added a small piece of parchment paper underneath the rolls to make it extra easy to slide them out.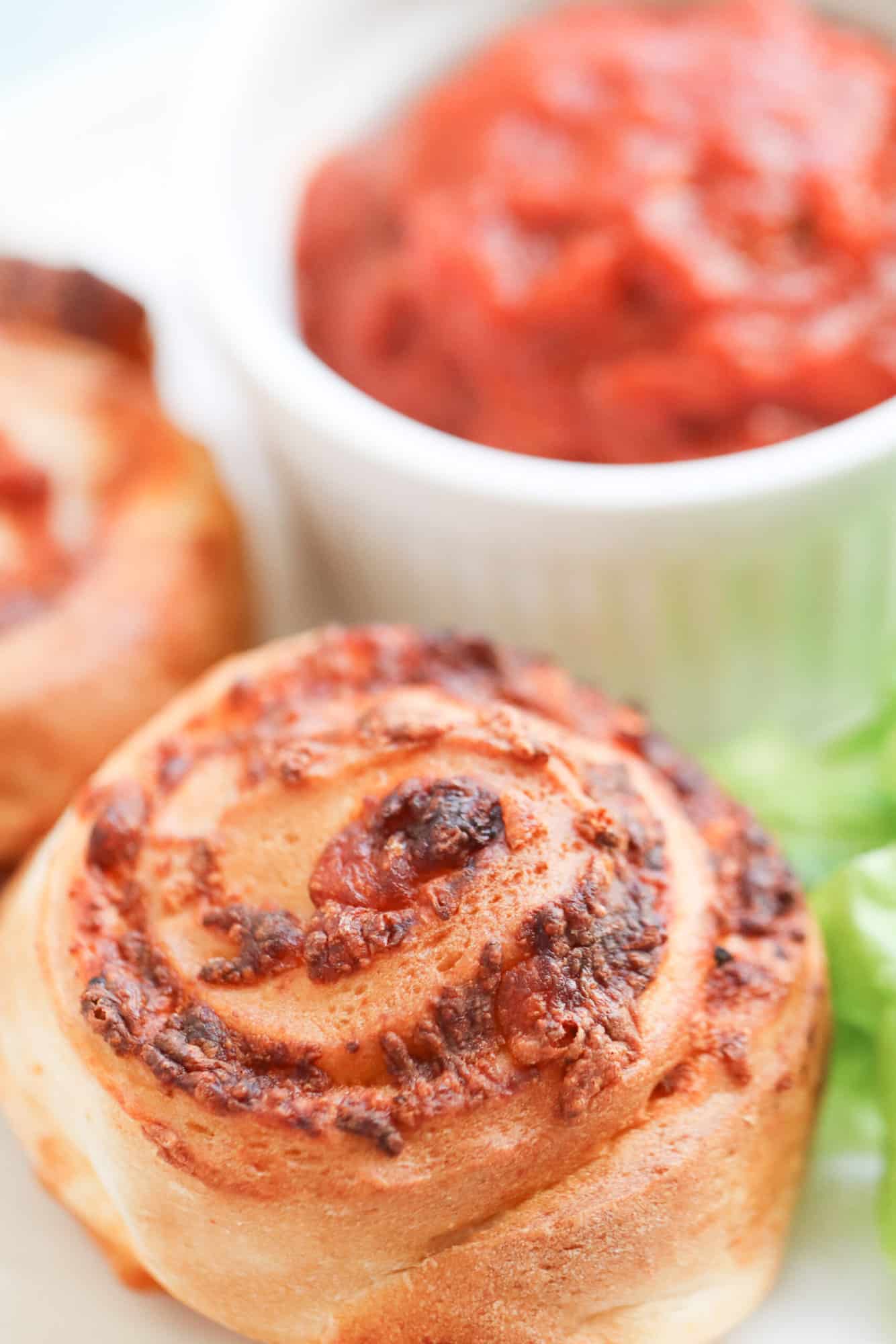 Air frying pizza rolls FAQs
How long to cook pizza rolls in air fryer?
For me it only took about 8-10 minutes total, but it will depend on how thick you slice your rolls. Just check on them until they look nice and golden brown!
Can you add other toppings?
Yes, I just wouldn't add anything with too much moisture, like fresh tomatoes. I'd stick to toppings like pepperoni, small pieces of ham, meatball, chicken, or diced cooked mushrooms.
Can you make vegan air fryer pizza rolls?
I'm sure you could, with vegan shredded "cheese" and a vegan pizza dough. The Pillsbury pizza dough I used is vegan.
Gluten Free Pizza Rolls
If you need to make yours gluten free, I would recommend trying the Wholly Wholesome Gluten Free Pizza Dough in place of regular pizza dough.
Other recipes you might like
Trail Mix Pita Pizza (great for lunches!)
Turkey Meatballs for Baby and Toddler
Homemade Air Fryer Cheese Pizza Rolls Recipe
Homemade Air Fryer Cheese Pizza Rolls
These pizza rolls are so easy and the whole family is going to love them!
Ingredients
1

tube

refrigerated pizza dough

¼

cup

pizza sauce

1 ½

cups

shredded italian blend cheese
Instructions
Place a large piece of parchment paper on top of a large cutting board.

Open the pizza dough and roll out to approximately 14×10 inches.

Spread pizza sauce over the dough then top with the shredded cheese.

Roll up to form a log. Then slice the log into 1 to 1-½ inch thick slices.

Preheat air fryer at 325°F for 3 minutes.

Place a piece of parchment paper in the basket of the air fryer.

Set the pizza rolls in the basket leaving about an inch of space between them so they can rise. I had to do 2 batches.

Cook for 6-8 minutes and check to see if the dough has risen, the cheese is melted and the rolls are golden brown. If they're not ready, add 2-4 minutes until ready.

Serve with pizza sauce, marinara or ranch on the side.
Video
Nutrition
Calories:
424
kcal
Carbohydrates:
51.5
g
Protein:
20.8
g
Fat:
12.8
g
Saturated Fat:
8
g
Cholesterol:
30
mg
Sodium:
635
mg
Fiber:
2.5
g
Sugar:
1
g