Protein is an essential component of any balanced diet. It helps us build muscle, promotes healthy growth and development, helps our bodies heal wounds, and it's a precursor for lots of important hormones and enzymes in the body. It also makes for some really filling snacks for kids. So it's definitely a nutrient I want you to include in your child's day!
But while it is important, I don't want you to think protein is necessarily more important than any other nutrient. Protein has a "more is better" reputation, but it's actually on very equal footing with carbs and fats. So instead of thinking of protein as something to prioritize, I want you to think of it as something to balance. That's why in this post, I'm not only sharing my favorite protein snacks for kids—I'm sharing my favorite balanced protein snacks for kids!
Let's get into it.
Note: as an Amazon Affiliate I earn from qualifying purchases at no extra cost to you.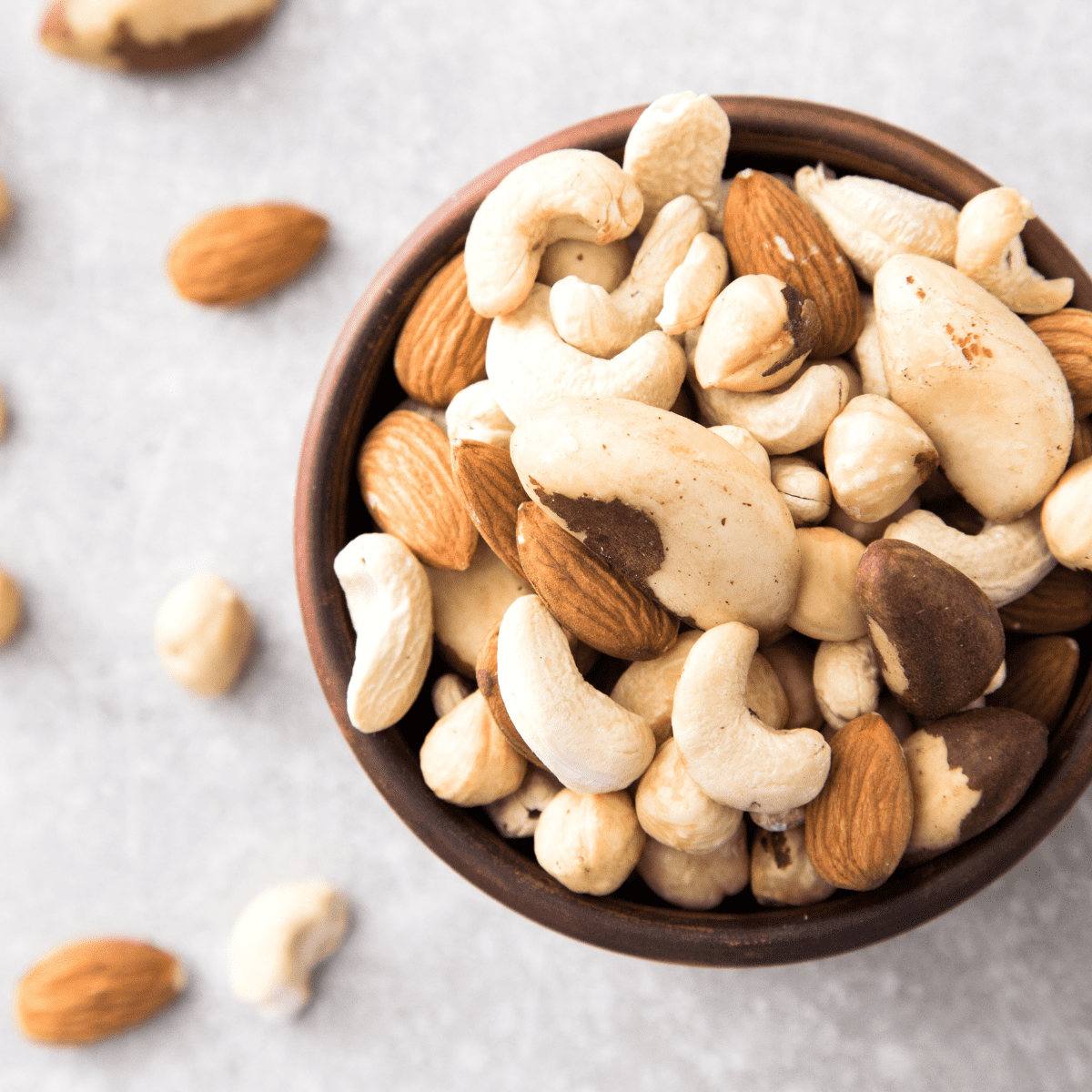 Daily Protein Requirements for Kids
How much protein do kids need each day? Honestly, less than you think! Every child will be a little bit different, but these amounts are a good baseline.
Ages 1 to 3: 13 grams
Ages 4 to 8: 19 grams
Ages 9 to 13: 34 grams
When it comes to preparing high-protein snacks for kiddos, I like to aim for 2-3 grams of protein in a snack for a toddler and 5-7 grams for a snack for a school-aged child.
Related: How Much Protein Does A Toddler Need?
Generally speaking, kids can meet these protein needs easily. A few servings of lean meat, Greek yogurt, or a meat alternative each day is all it takes. Protein-rich snacks are a great addition too because they keep kids full and energized in between meals!
If Your Child Isn't Getting Enough Protein
True protein deficiencies are very uncommon in kids. Most children—even picky eaters and vegetarian kiddos—eat plenty of protein each day. It's actually easier for a child to have too much protein than it is to have too little, especially in the United States!
But if you're worried, just be intentional about making sure you're offering protein options at most meals and snacks. To make this easier, I'll give you some snack-specific ideas with good protein content further down in this post, to help you make sure your child's protein intake meets their needs.
If Your Child Gets Too Much Protein
Remember that, especially when it comes to kids, more protein isn't better. Too much protein can be pretty hard on young digestive systems and kidneys. So unless your doctor specifically recommends it, I don't recommend giving your kids protein powders meant for adults until they're older. (But a few sips of your protein smoothie is okay! I just don't want them to necessarily have a full serving.)
If your child is experiencing growth issues you suspect are related to a lower protein intake or you're worried about their growth and development, always talk with your pediatrician before supplementing.
Related: Protein Powder for Kids & Toddlers (Safety Tips)
Kid-Friendly Protein Sources
Most protein food sources that are good for adults are also good for kids. So common sources like meat, dairy products, eggs, nuts, beans, and nut butter are all great options for your little ones. 
If your child doesn't or can't have dairy, it's worth noting that some non-dairy alternatives have very similar protein contents! Not all of them are created equal though. Almond and coconut milk products are often very low in protein, whereas soy milk and soy products are often almost identical to cow's milk in terms of protein content. So just be sure to check the label. (Or, read this blog post where I compared nut milk labels for you!)
Adding hemp seeds to meals can also increase your child's protein intake. One tablespoon of hemp seeds contains 3g protein! Add it to oatmeal or sprinkle on breakfast cereal or avocado toast.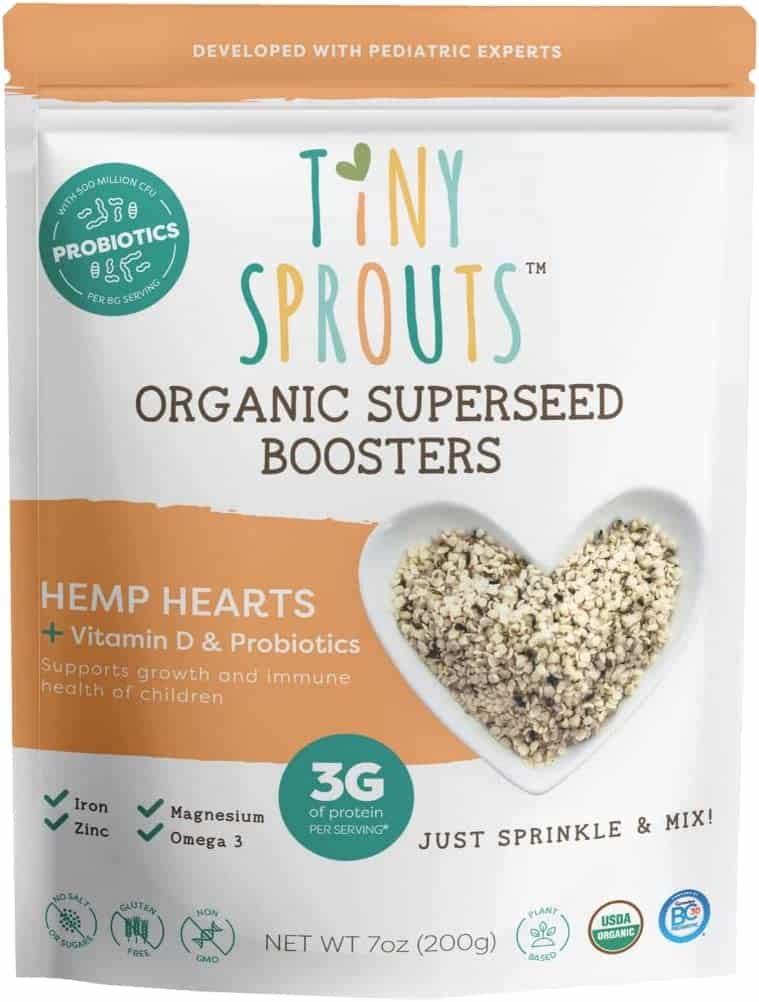 (Also, in case you jumped down to this section of the post, just a reminder that I don't recommend supplementing with protein powders or high-protein bars for kids!)
23 Healthy, High-Protein Snacks for Kids
We've broken the protein-rich snacks in this list down into categories. We've got high-protein snacks that are nut-free, dairy-free, and even veggie and vegan. So you'll easily find what you're looking for even if you're working with dietary restrictions or food preferences!
Just remember that protein isn't the only thing to worry about nutrition-wise. And it's not all these snacks have going for them, either! They're also just all-around healthy snacks for kids at school or home. And many make the perfect healthy toddler snacks for on the go.
Protein Snacks with Meat & Fish
Chicken Sausage: Prep them ahead on the stove and slice into chunks small hands can grab!
Chicken & Cheese Quesadilla: To make it snack-sized, fold one tortilla folded over with shredded chicken and cheese.
Turkey & Cheese Roll-Up: Roll half a wrap or a single tortilla with one piece of turkey and cheese for a snack-sized portion.
Tuna & Crackers: Tuna is often canned or in a convenient pouch, so it's easy to prepare. Serve it on crackers mixed with mayo or avocado for a balanced, protein-rich snack.
Serenity Kids Beef Pouch: My kids loved these pouches as toddlers! They sell them at Whole Foods, too.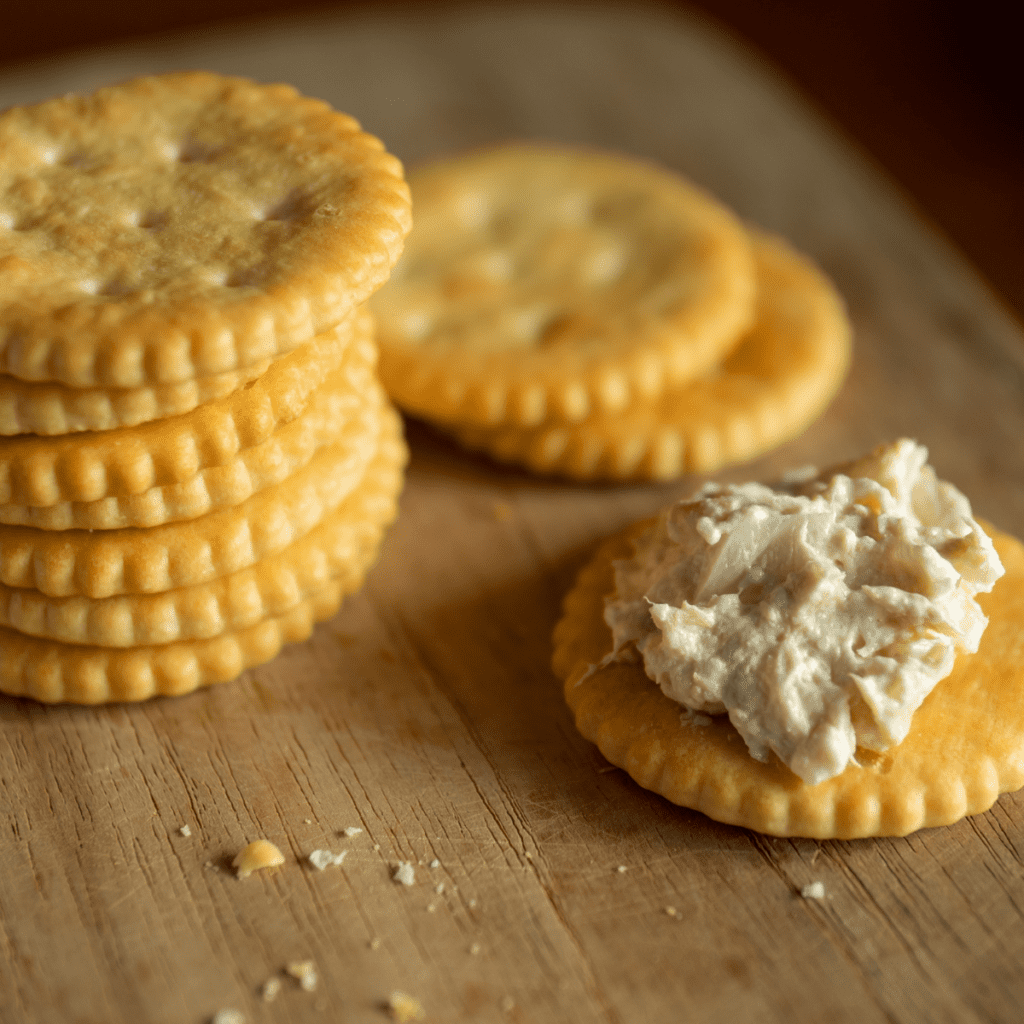 Vegetarian Protein Snacks for Kids
Smoothie: Combine any fruit with nut butter, spinach, and cow's milk or yogurt.
Cottage Cheese: ½ cup is perfect! My kids loved it mixed with applesauce.
Greek Yogurt with Berries: ½ cup is a good portion size to start with.
Hard-Boiled Eggs: Any preparation of eggs is great actually, but hard-boiled are easiest to batch-prep ahead of time and eat on the go.
Cheese Stick or Round: I like string cheese, Babybel cheese, and the Tillamook cheddar squares (I find them at Costco) for easy to grab items.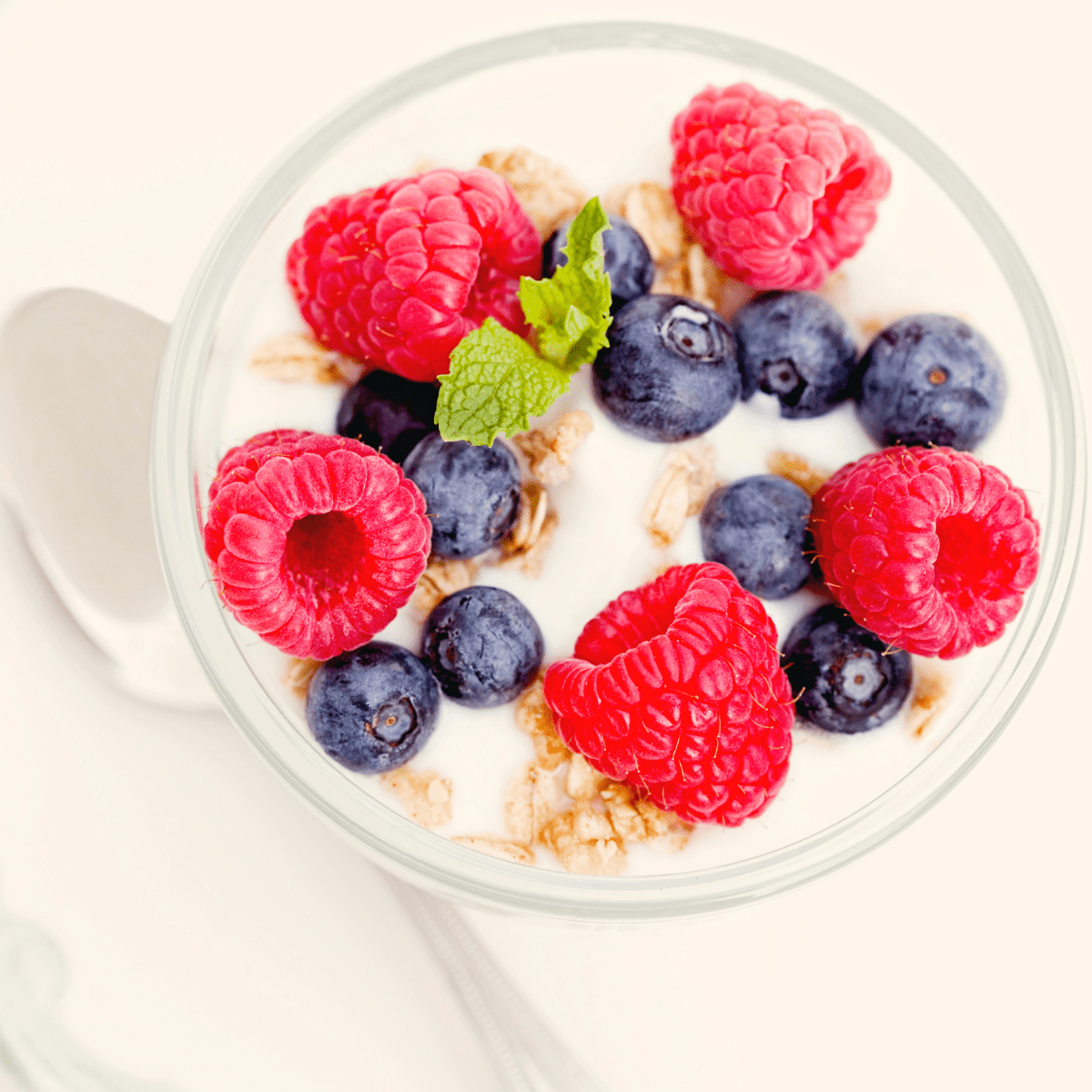 Nut-Free Protein Snacks for Kids
Hummus & Veggies: Look for a hummus that doesn't contain tahini if you need allergen friendly. Many brands exclude it but you can also make your own at home! You could also try a black bean dip.
Pumpkin Seeds: I like offering raw or roasted pumpkin seeds as a nut alternative for kids with allergies. Make sure they're 4+ if you want to serve whole nuts or seeds.
Banana with Sunflower Butter: Sunflower butter is a common swap for kids with nut allergies and it still has a great protein content.
(Many of the vegetarian, vegan, meat- and fish-based snacks in this list are nut-free, too! Just check labels or adapt if needed to make sure they're safe for your little one.)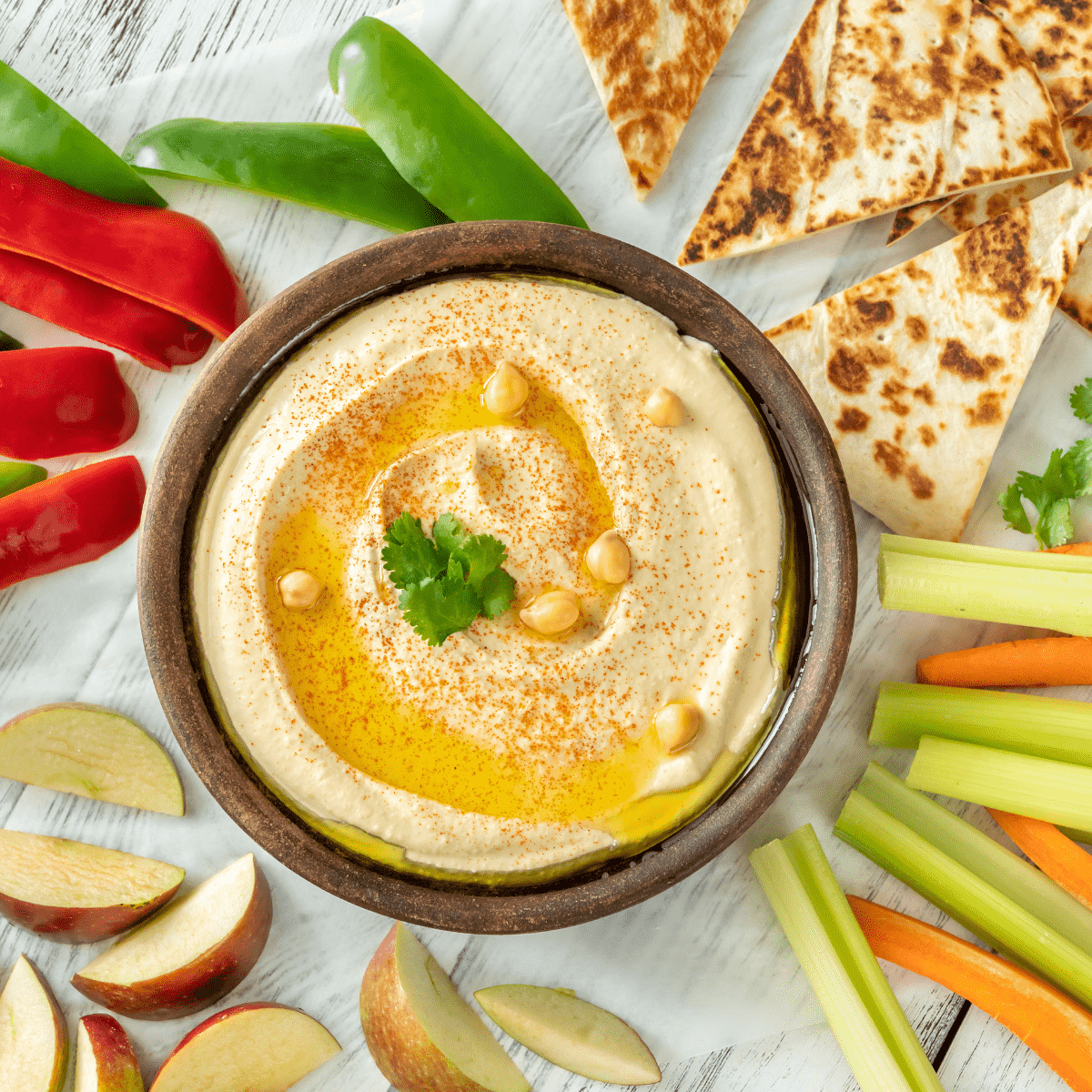 Dairy-Free Protein Snacks for Kids
Non-Dairy Yogurt: Soy-based yogurts usually have a protein content that's very similar to dairy products! Check the label on your favorite non-dairy brand to compare. These are my non-dairy yogurt top picks.
Hippeas Chickpea Snacks: I'm personally obsessed with this healthier version of cheetos.
Larabars: They're made from dates and nuts so they have some protein from the nuts. Plus they have lots of kid-friendly flavors like chocolate chip!
Chips & Black Bean Dip: Beans are a great protein source and have a good dose of fiber in them, too. (Fiber is great for kids!)
Trail Mix: I like that trail mix is easy to customize and gives kids a good serving of protein. Just skip this snack if you have a toddler, whole nuts are a choking hazard for kids under 4.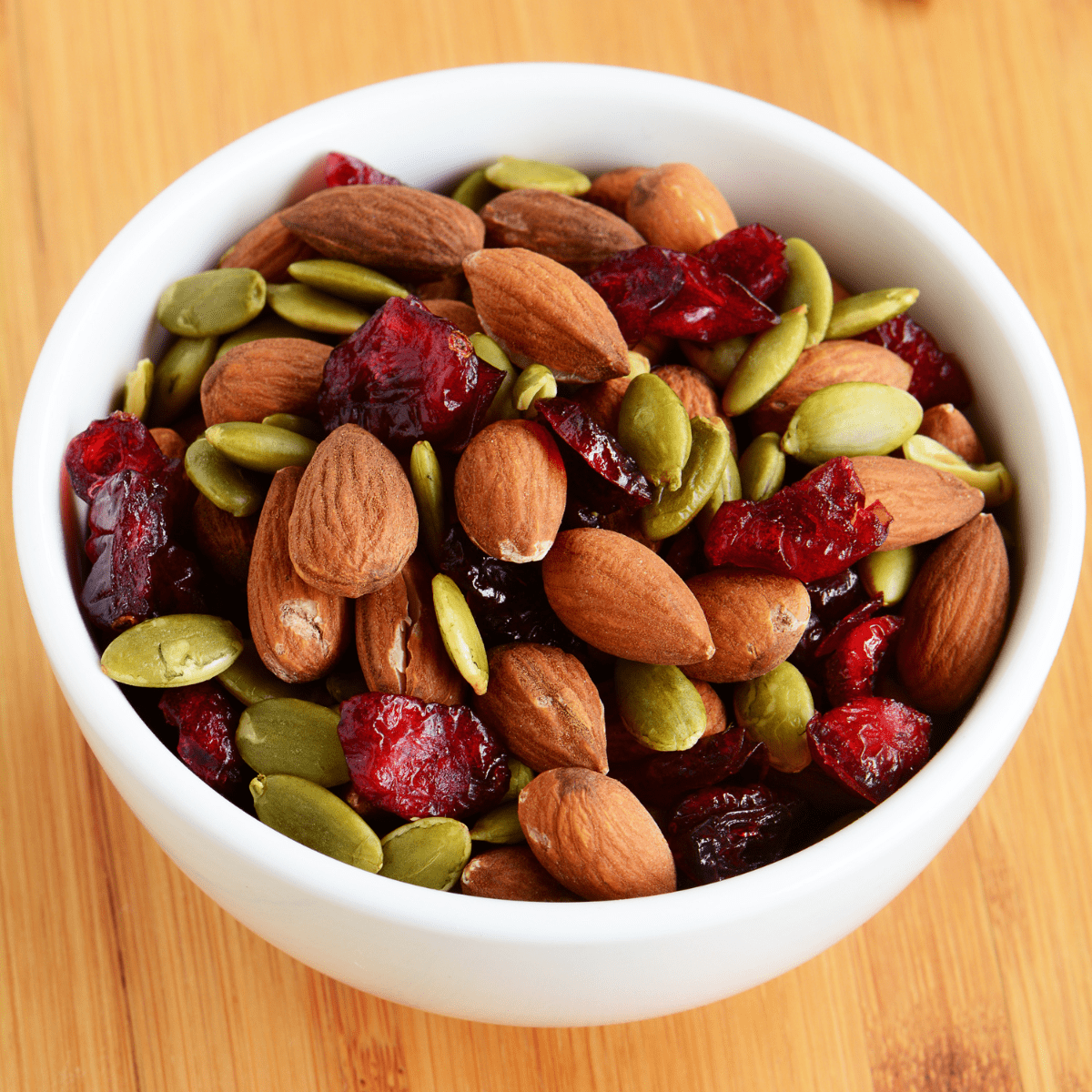 Vegan Protein Snacks for Kids
Vegan Smoothie: Any combination of fruit with nut butter, spinach, and plant-based yogurt or milk.
Steamed Edamame: Edamame is soybeans, and soy is a great vegan protein source!
Apple Slices & Nut Butter: Peanut butter is a classic, but most types of nut butter have a great protein content.
Roasted Chickpeas: Season them your favorite way and soft roast in the oven for easy snacking.
Chia Seed Pudding. This easy-to-make pudding combines dry chia seeds with the alternative milk of your choice. Mix in any flavor boosters you like too, like vanilla, mashed fruit, or maple syrup.
Other Ways To Get More Protein In Their Diet
If you want to be intentional about getting more protein into your child's diet, on top of serving up these protein-rich snacks, you can:
Serve 1 or 2 meals a day with a side of dairy (if your child likes it)
Serve meat or a meat alternative once or twice a day
Serve cow's milk or soy milk as a beverage once or twice a day
Three or four combined servings of any of these things should ensure that your child is getting enough protein. But weaving in some of the protein-rich snacks on our list can help a lot, too!
My Advice: Serve Protein, But Keep It Balanced!
Most kids meet their daily protein needs easily and there's no advantage to giving them more protein than they need. If you're worried your child isn't getting enough protein or you just want to be intentional about getting enough into them, these high-protein snacks are a great way to sneak a few extra grams in here or there (and to keep them fuller for longer!). But please don't feel any pressure to always choose the highest-protein option. Kids need carbs and fats, too!