Choosing healthy yogurt for your toddler is way more challenging than it should be because the yogurt aisle has SO many options.
Yogurt is a great source of nutrition with protein, calcium, fat (necessary for brain growth and development), and probiotics.
I'll share my favorites with you and what you should look for on labels when picking out yogurt for your little ones.
Added vs. Natural Sugar
Sugar is the ingredient that varies the most between different yogurts. For our little ones, it's important to limit their added sugars because it doesn't add any nutrition to their food. And it contributes to cavities, which I'm sure you know already!
All dairy yogurt will have naturally occurring sugar, because it's made from milk, and milk has naturally occurring sugar called lactose. This is the same type of sugar found in breastmilk! You don't need to avoid this type of sugar for your baby or toddler.
The problem is that most flavored yogurt adds sugar. And to make it more confusing — most labels don't tell you how much sugar is natural and how much is added.
How Much Sugar is Natural?
To know how much is added, you need to first know how much occurs naturally.
4oz whole milk plain yogurt: 5g
8oz whole milk plain yogurt: 11g
7oz single serve whole milk plain GREEK yogurt: 6g
8oz whole milk plain GREEK yogurt: 7g
You'll notice there is less sugar in Greek yogurt than original. That doesn't mean you have to buy Greek instead of original. Choose whichever one your little one prefers- they are both healthy options!
How Much Sugar is Added?
Some labels will explicitly show you, but many won't. And I'll be honest- it is REALLY hard to try to figure this out, especially while you're standing in the grocery store. You don't want to be analyzing every single container.
What makes it even more frustrating is that even just figuring out the serving size can be a challenge. Some will list ounces, some will list grams, and you're going to be like, "JUST TELL ME HOW MUCH SUGAR IS ADDED!!"
So I'll give you some helpful tips here to choose healthy yogurts that are free of added sugar or lower in added sugar.
Healthy Yogurt: What to Look For
When choosing healthy yogurt for your toddler, I suggest looking for the following:
No added sugar
Whole milk (aka full fat instead of low-fat or non-fat)
100% grass-fed
Greek or original (either one is good!)
Plain Yogurt I Recommend
For babies and young toddlers, I recommend introducing them to plain yogurt first, and flavoring it yourself so you can make it a little different each time. This helps them learn and accept new flavors and reduce picky eating. I also like to just serve it plain sometimes, too!
I typically buy Stonyfield Organic Yogurt in the big tubs, because I like the taste and consistency and it's easy for me to find, but you can buy any kind that you have at your store.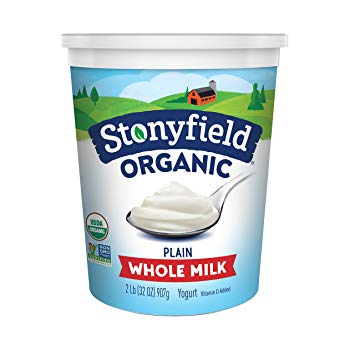 Wallaby is another brand I like with a similar consistency and nutrition profile as Stonyfield! It also comes in a big tub and you can serve it plain or throw it in smoothies or even bake things like muffins with it!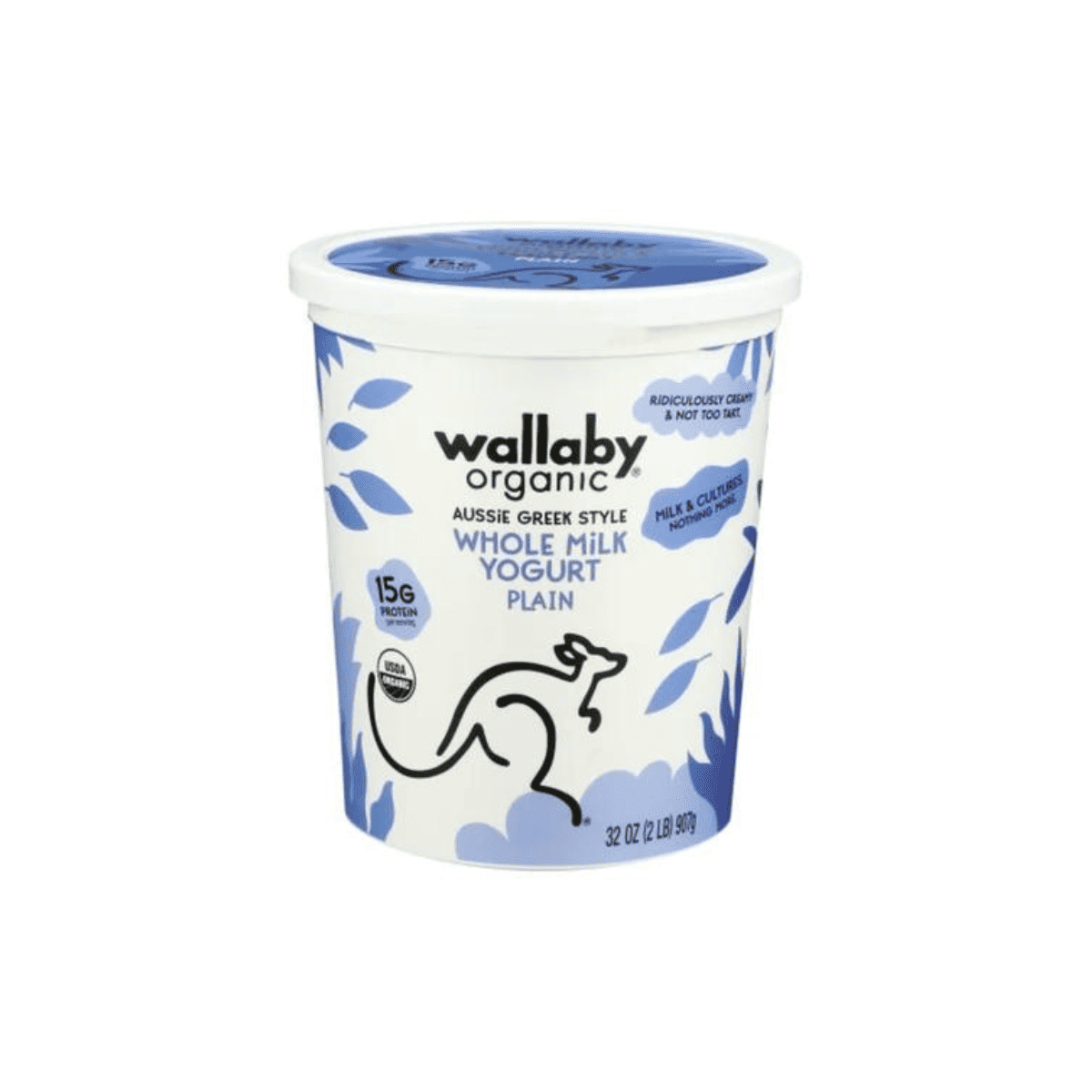 Maple Hill Organic Plain Whole Milk Greek Yogurt: we generally use this is a substitute for sour cream! Sometimes I buy Fage, as well. I like that this one is 100% grass-fed, giving it a slightly better nutrient profile than regular. Grass-fed is more expensive though, and it's okay if you don't want to prioritize it in your grocery budget. There's still LOTS of benefit from the non-grassfed kind!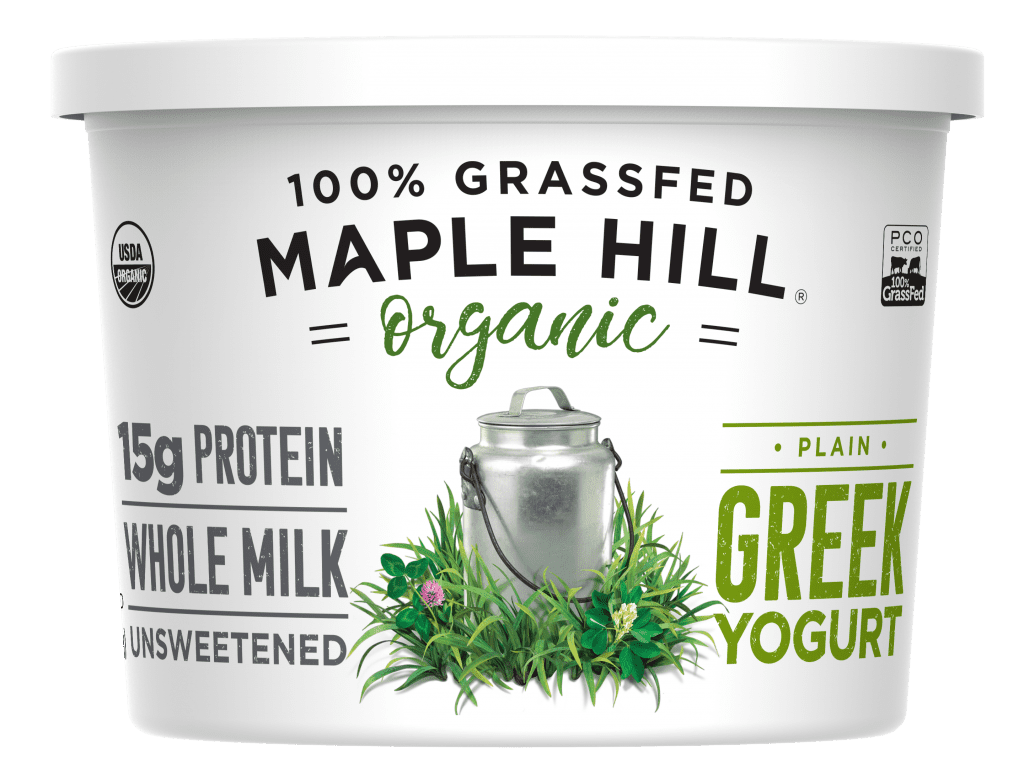 Flavored Yogurt I Recommend
Stonyfield Baby is relatively low in added sugar, so if you are going to go the flavored route, this is one to try. However, for a baby under 12 months, I would stick to plain yogurt and only flavor it with fruit that you mix in.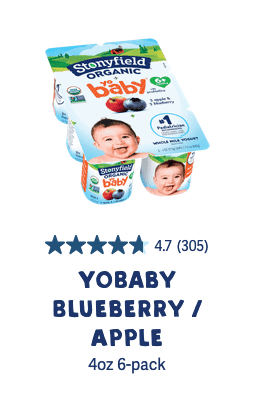 Siggi's has flavored skyr (a thicker, creamier type of yogurt) that is lower in sugar than traditional flavored yogurts. For example, Siggi's Vanilla has 5g added sugar in a single serve cup, compared to 14g added sugar in Yoplait French Vanilla.
All of the Siggi's 4% flavors are similarly low in added sugar.
Chobani Less Sugar: These still have sugar added but it's much less than other sweetened yogurts.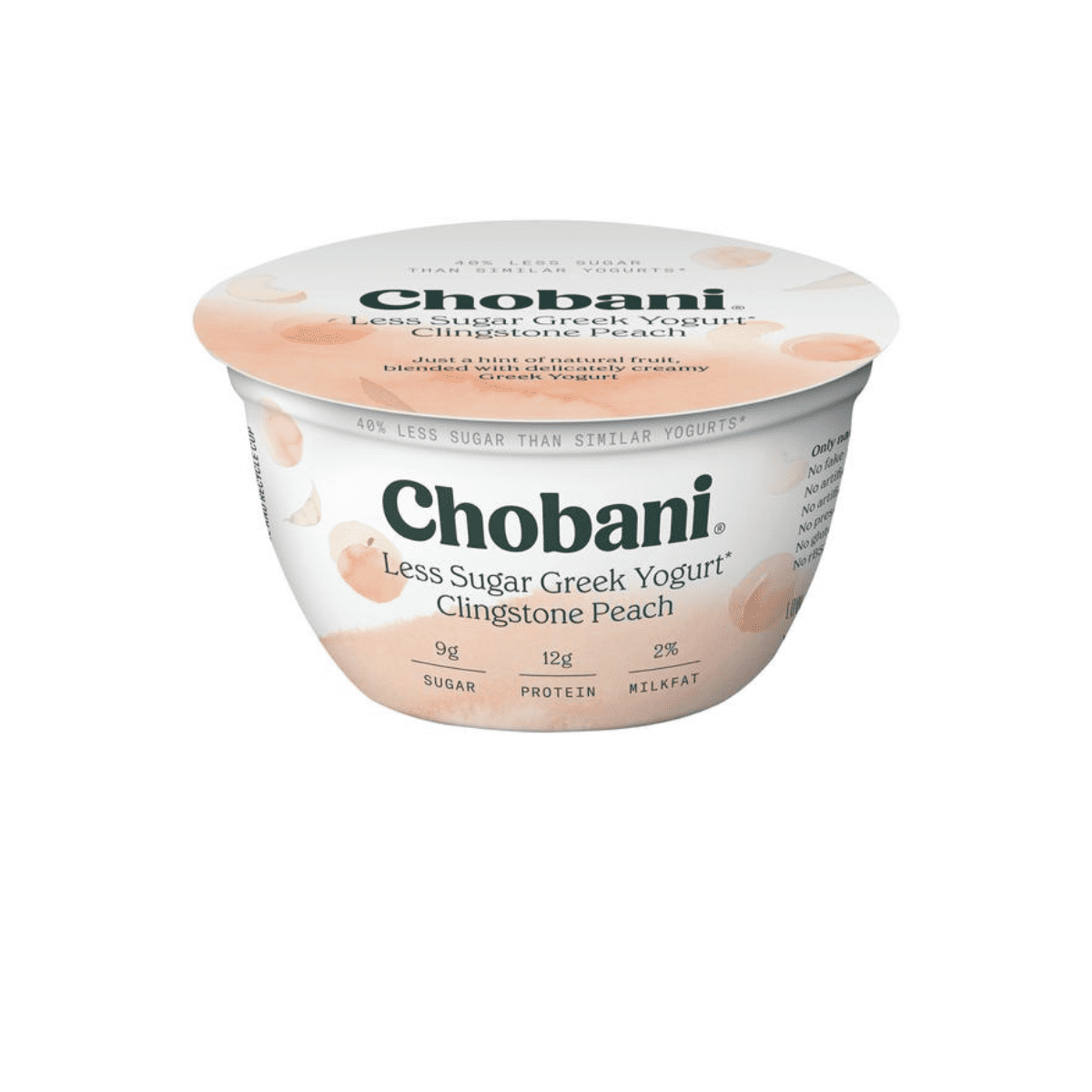 Non-Dairy Yogurt
Non-dairy yogurt doesn't always have the same nutrition benefits, so you'll want to choose wisely! Here are my top picks, or click here for a review on 12 different non-dairy yogurt brands and flavors:
Silk Almondmilk Yogurt Alternative: this one has great nutrition. It has a good mix of protein, fat, fiber, calcium, and vitamin D. While there is added sugar, it's not as high as most flavored yogurts.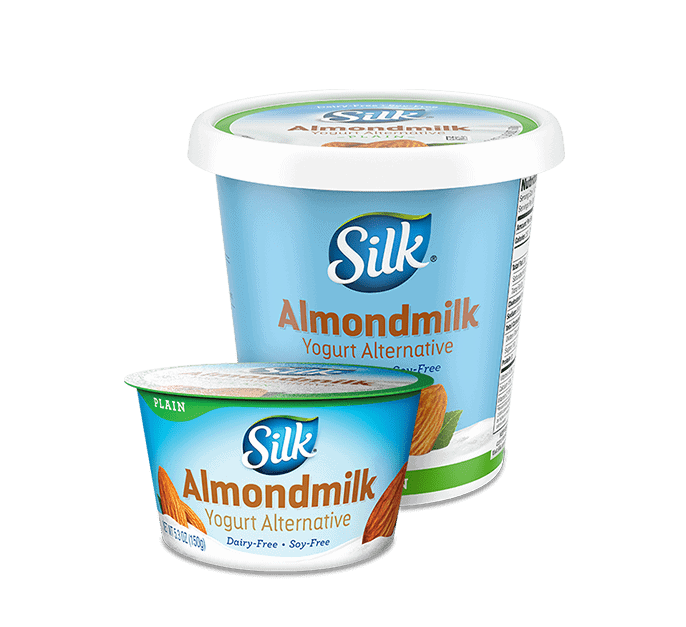 Cocojune Pure Coconut: Only has 2 grams of protein and very little calcium. I do love this brand because it's tasty, has no added sugar (although it's worth mentioning that their flavored versions only have 4g added sugar which is not too bad at all!), and it's not too tart, but it doesn't have quite the nutritional punch as some of the dairy options. Try to pair with a protein and a non-dairy calcium source.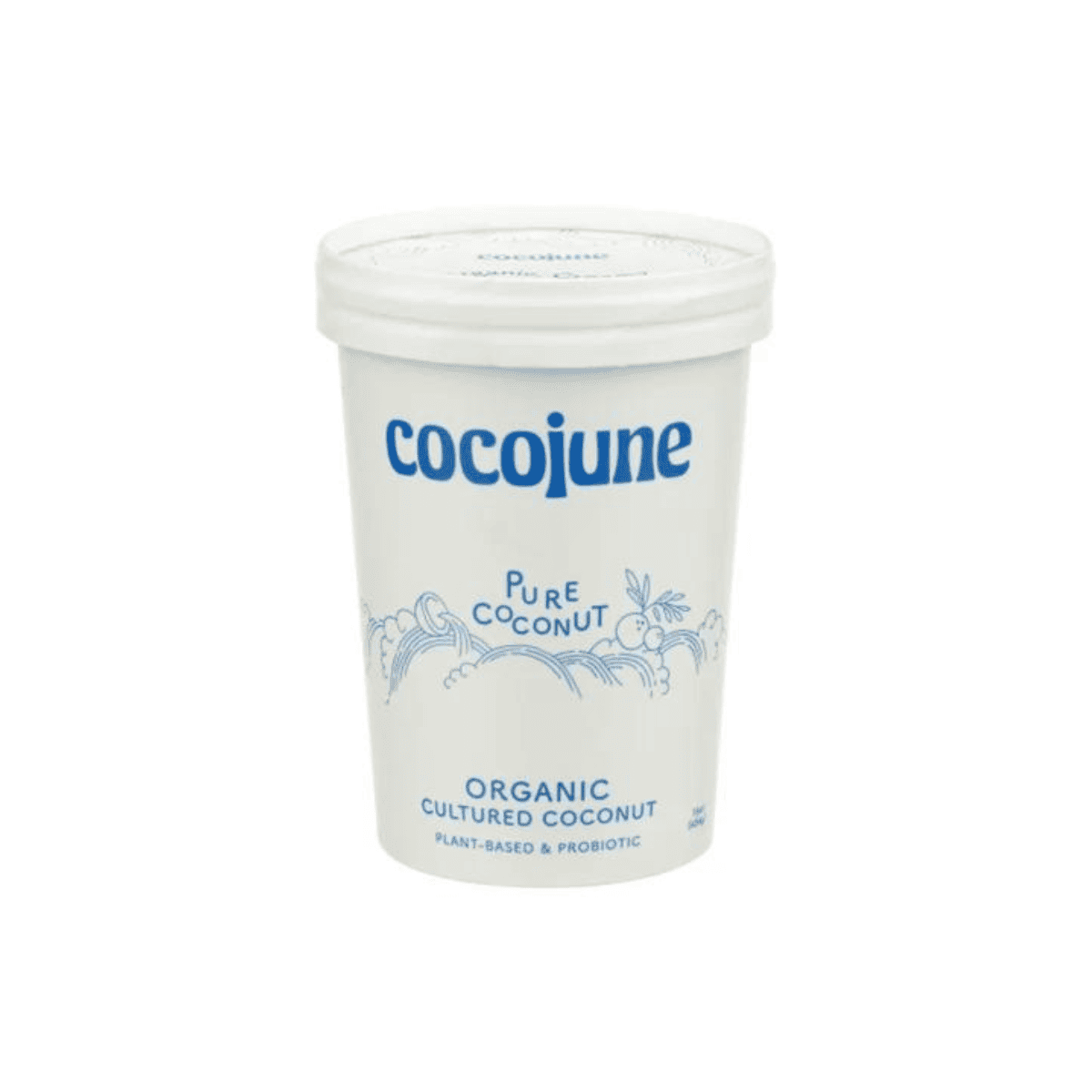 Culina Plain & Simple is another non-dairy option I like. Extremely simple ingredients and no added sugar, but definitely a little more on the tart side. It, like other dairy-free options, lacks protein and calcium, but is a great fat source and still a delicious option.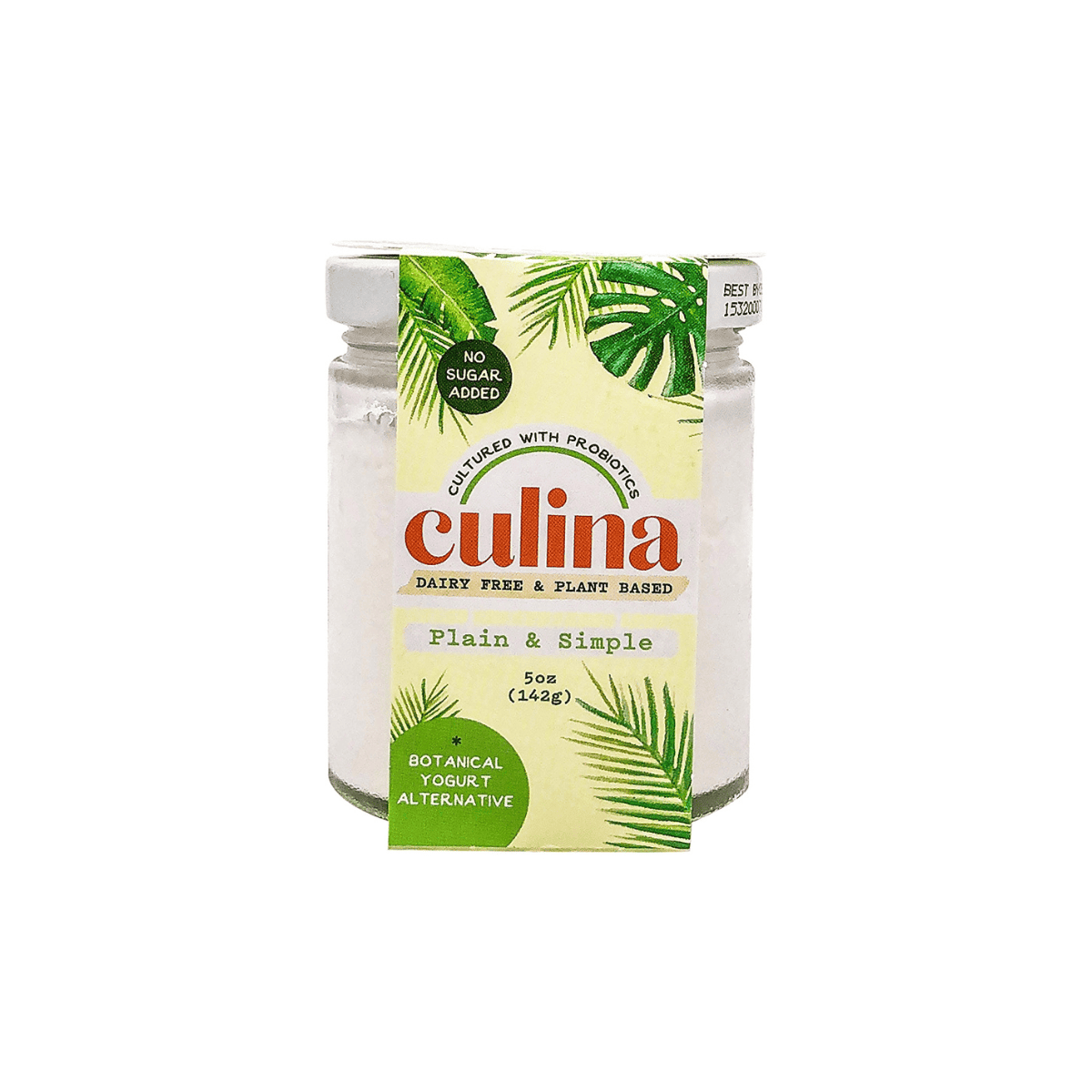 Nancy's Oatmilk Non-Dairy Yogurt: If you're looking for 0 sugar, try this one! It is low in fat though, so I'd add some coconut cream or nut butter.
How to Reduce Sugar in Yogurt
If your little one is eating a flavored yogurt that has more sugar than you'd like, don't freak out. You can try just switching to plain and see how it goes, or you can try one of these options:
Mix their flavored yogurt with plain. Over time, decrease the amount of the flavored yogurt and increase the amount of plain.
Sweet add-ins for plain yogurt:

Fruit purée from jar or pouch
Mashed banana
Mashed berries
Applesauce and cinnamon
Light drizzle of honey or maple syrup
Defrosted frozen fruit (can cook on stovetop to concentrate down)

My son's favorite: stir in some canned pumpkin, a teaspoon of maple syrup, and some cinnamon
You can easily make healthy yogurt for your toddler with any of these naturally sweet mix-ins.
Here are some other ways to serve yogurt to toddlers and babies
6 Ways to Serve Yogurt to Babies
Healthy Greek Yogurt Popsicles for Kids