6 Ways to Serve Yogurt to Babies is sponsored by Stonyfield Organic; all opinions are my own.
Most babies LOVE yogurt. And as a parent, you should love it for them too!
Babies can start eating yogurt when they have started solids, around 6 months old. As a Registered Dietitian, I encourage parents to move beyond baby cereals and plain fruit and veggies to get a wider variety of nutrition.
There's no reason a baby needs to exclusively eat baby cereals for any extended period of time.
Yogurt provides calcium, Vitamin D, protein, and probiotics. These are all excellent nutrients for your baby to get every day!
Plain yogurt is great on its own, and it is also a great blank canvas to add other flavors to. Babies will often surprise you with the wide variety of foods they will eat. Once you are comfortable with baby eating soft solids, try out some of these yogurt variations to add additional flavor, nutrition, and texture to their daily yogurt.
1. Cup with 2-3 spoons to promote self feeding
This first idea is just to help with self-feeding a food that tends to get pretty messy. I like to use at least 2 if not 3 spoons when serving yogurt to babies. Here's why. They can get impatient! This way, while they have a spoon to feed themselves, you can use one to spoon the next bite of yogurt.
What's the third spoon for? Some babies just like to hold one in their other hand. Is your baby like that? I used to get mad when my son would steal the spoon away! So I realized it's best to just have an extra they can hold.
We love Stonyfield Yobaby yogurt in my house. It's so smooth and creamy, and it's what Teddy loved best as a baby. We've stuck with it since then!
2. Cup with mashed fruit stirred in
You can buy flavored yogurt cups, but I also like stirring in mashed fruit to plain yogurt. This is a texture advancement for them since it won't be completely smooth. I prefer doing this to putting fruit in a mesh feeder.
Some easy fruits to mash up with a fork and stir into yogurt for baby:
Peach or nectarine (remove skins)
Mango
Banana
Cantaloupe
Pear
Kiwi
Papaya
Plum
Apricot
Strawberry
3. Yogurt cup with oatmeal
Since baby oatmeal is already fully cooked and ready to serve right from the package, you can mix a tablespoon right into a cup of yogurt. Baby oatmeal is fortified with iron, an important nutrient for babies.
If you're already making a pot of oatmeal for the family, yogurt is also a great add-in to a bowl of oatmeal! I often use a few spoonfuls of yogurt to cool down a bowl of cooked oatmeal.
4. On a strip of toast, pancake, or waffle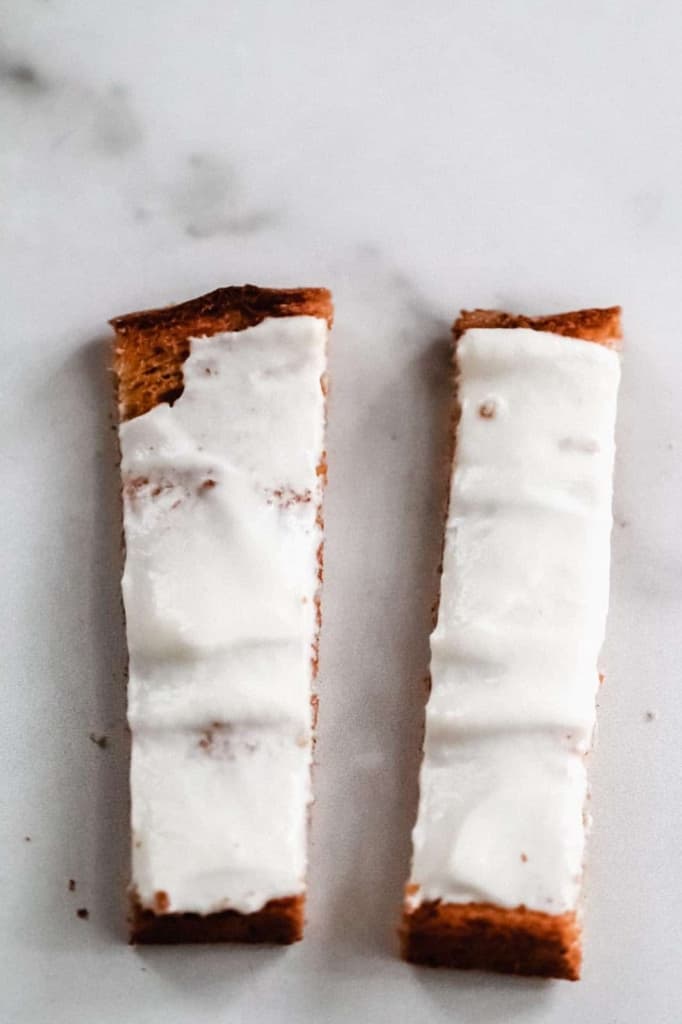 I am always looking for ways to bump up the nutrition when serving a carb-based breakfast food. Adding yogurt as a spread on top is a great way to do this!
I try to avoid pancake syrup as long as possible since it adds so much extra sugar. So using some yogurt instead is a more nutritious pancake or waffle topper for baby.
Toast may seem too hard to serve to baby. But a thin slice that is lightly toasted will smush up and dissolve in their mouth. Avoid thick and very crunchy or sharp feeling pieces.
For pancakes and waffles, just make sure they're not too dry. Even though the yogurt on top adds some moisture, it can still be a little challenging if there's too much dryness.
5. With quinoa
Quinoa is hard to serve to babies. All those little tiny pieces are impossible to easily scoop up. But yogurt is a great binder for quinoa!
Quinoa is a good source of several minerals including zinc, copper, magnesium, and phosphorus.
Stir in about a tablespoon of quinoa into a baby cup of yogurt to try it out.
6. With smooth peanut butter
If your baby has a big appetite, peanut butter in yogurt will add an extra calorie boost to keep them full. It's also a great way to expose your little one to peanut butter. If you haven't introduced peanuts yet, you can check with the pediatrician about doing so.
This also works great with other smooth nut or seed butters that do not have any chunks or whole seeds in them.
Pin this post to save it for later!
Here are some other ways to serve yogurt to toddlers and babies and how to choose
How to Choose Healthy Yogurt for Your Toddler
Healthy Greek Yogurt Popsicles for Kids