Jump to Recipe
Add the word "pie" and suddenly yogurt becomes a new exciting treat, and this Pumpkin Pie Yogurt will not disappoint!
If your little one was delighted by their first taste of Thanksgiving pumpkin pie, like mine was, or they just light up at the sound of a treat, you need to give this easy recipe a try! It might just become a staple like it has for us.
Note: this post contains affiliate links. As an Amazon Associate I earn from qualifying purchases at no extra cost to you. Thank you for helping support Mama Knows Nutrition.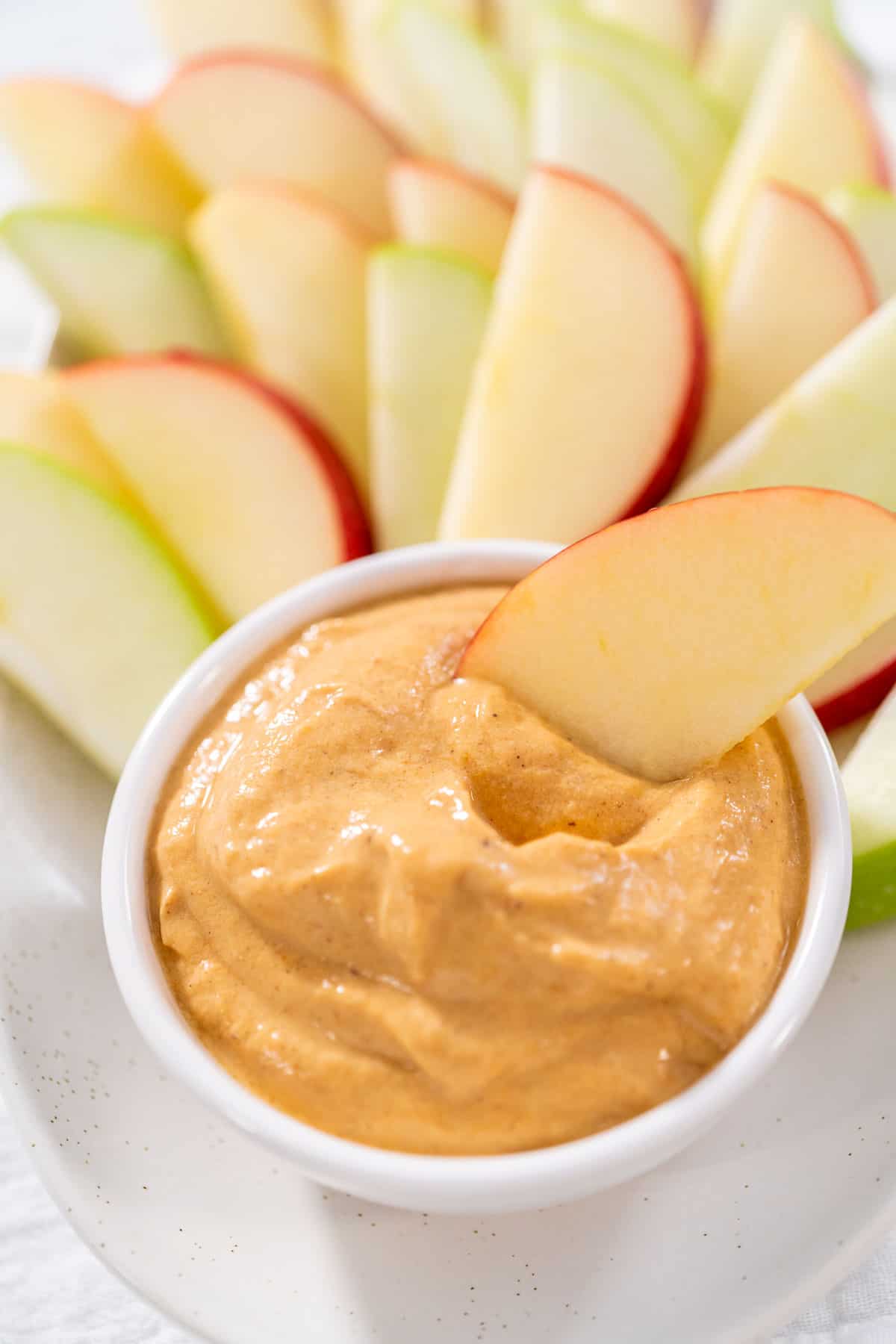 Why I love this recipe
My husband makes amazing pumpkin pie, so even just the smell of pumpkin pie spice makes me think of cozy holidays at home when he bakes. While this yogurt isn't as decadent as the real deal, the creamy yogurt and pumpkin pie flavor is something we always look forward to. It takes no time at all to make, because I know feeding your kids can easily become a full time job.
And, this is probably different from the yogurt you usually serve your kids. Sometimes it takes a new recipe to get them excited about a food again, if they seem to be a little tired of the same old yogurt. I swear, the pumpkin spice flavor really makes you feel like you're having a little bit Thanksgiving dessert!
Homemade Pumpkin Pie Yogurt
I like to use plain, full fat yogurt in this recipe. I tried it with Greek yogurt and it was okay but I preferred the texture of the non-Greek yogurt. Definitely don't use fat-free Greek yogurt, if you can avoid it. Without the fat you lose out on the richness.
You can definitely serve this yogurt on its own for a snack. Serve it with some graham crackers crumbled on top or chocolate chips to make it more of a treat. We also like to use apple slices to make it a pumpkin yogurt dip!
For breakfast, or a heavier snack, I would pair it with some granola or chopped nuts on top.
Ingredients Needed for Pumpkin Pie Yogurt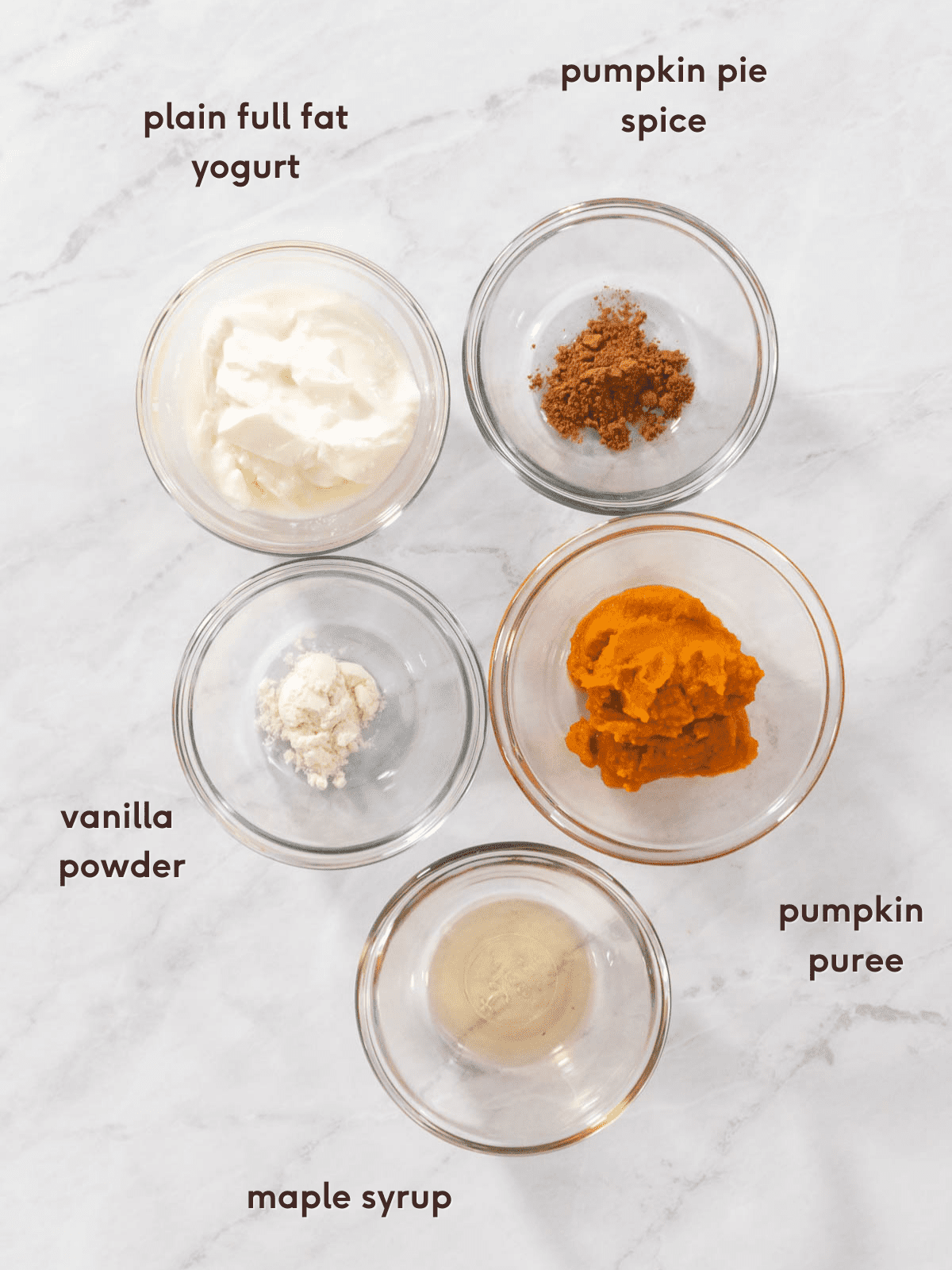 Make sure to just get pumpkin puree, NOT pumpkin pie filling. The cans look similar!
How to make this recipe
Step 1: Add all ingredients to a medium bowl.
Step 2: Stir well.
Step 3: Top with your favorite granola.
Step 4: Or serve with apple slices!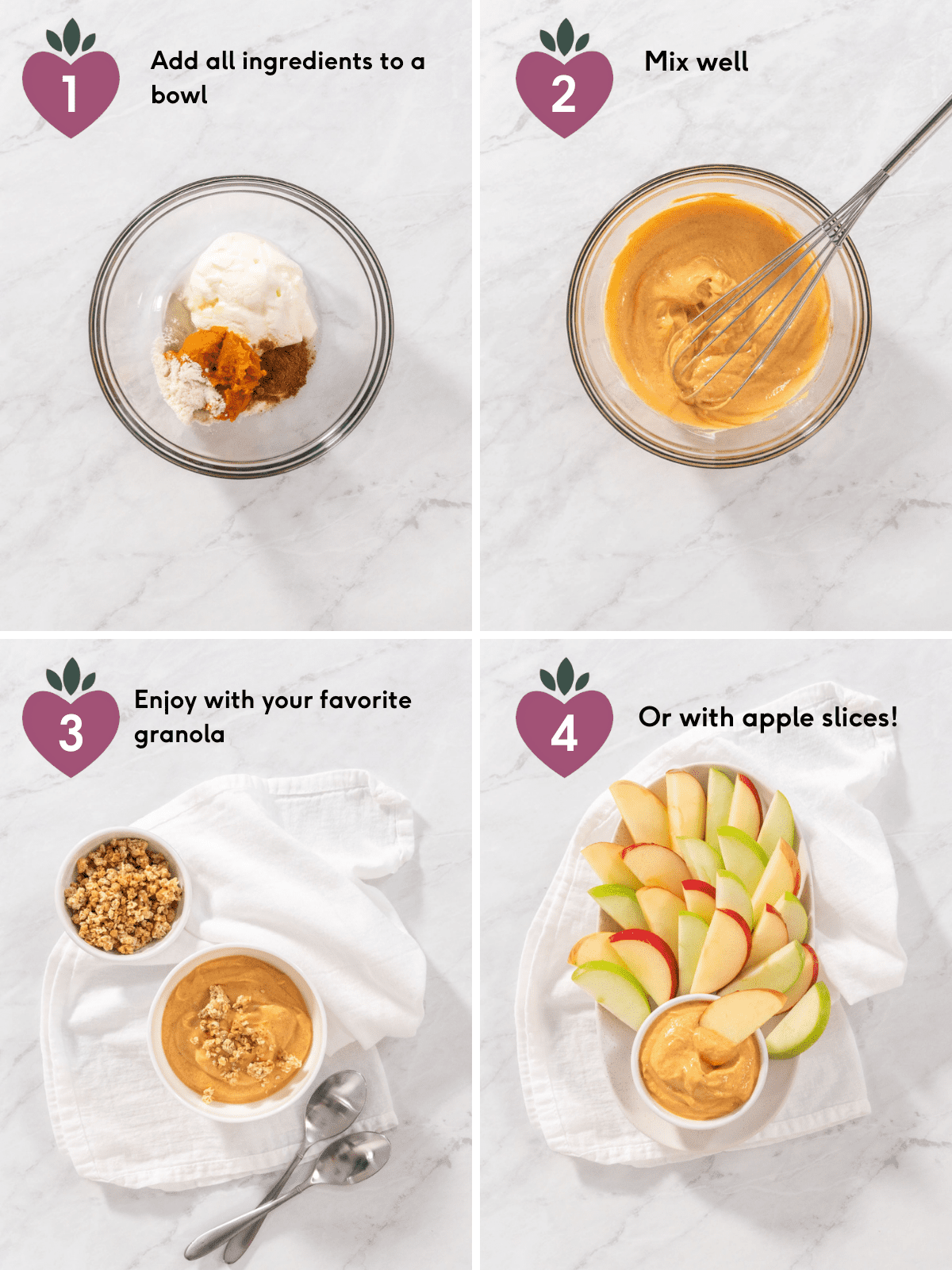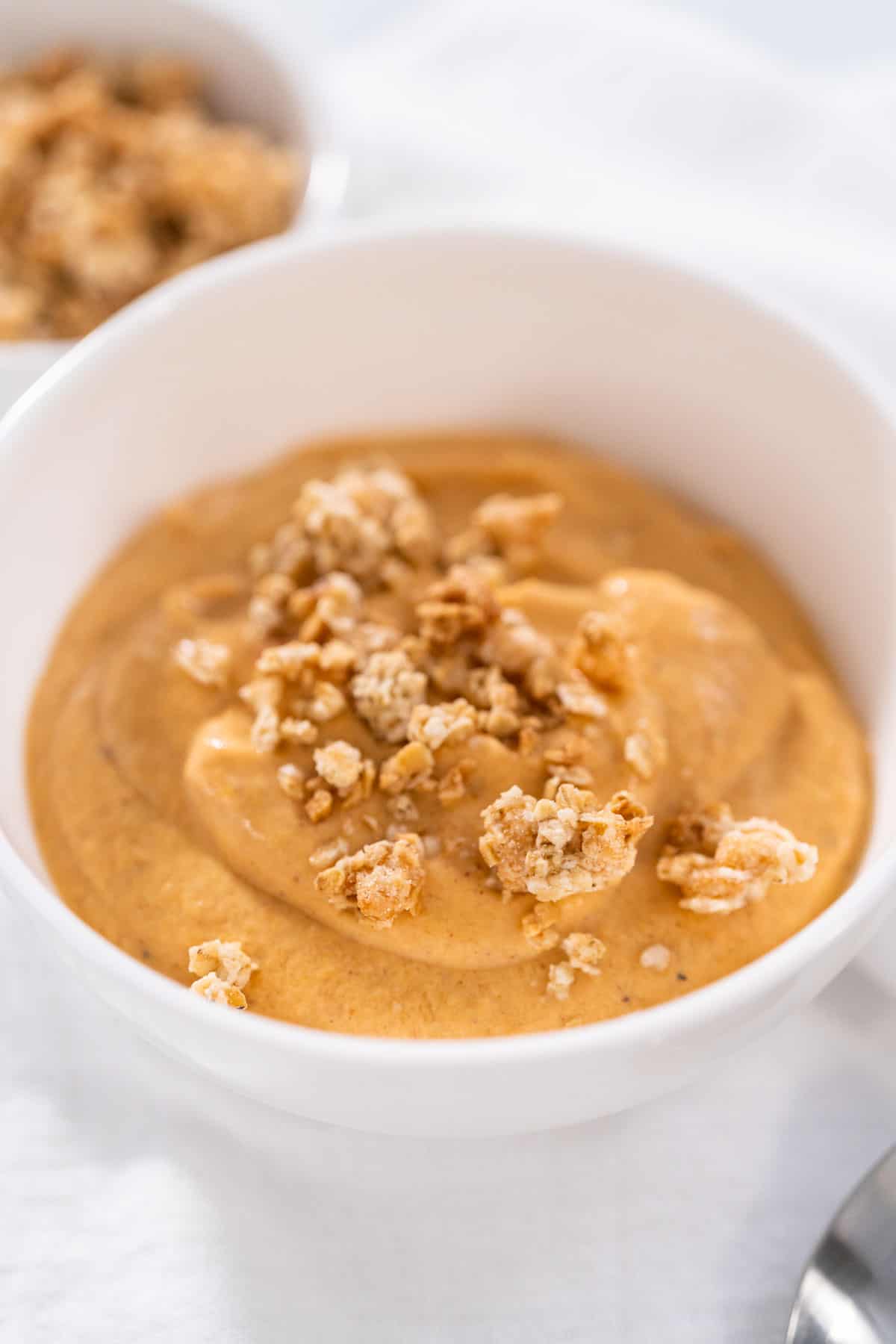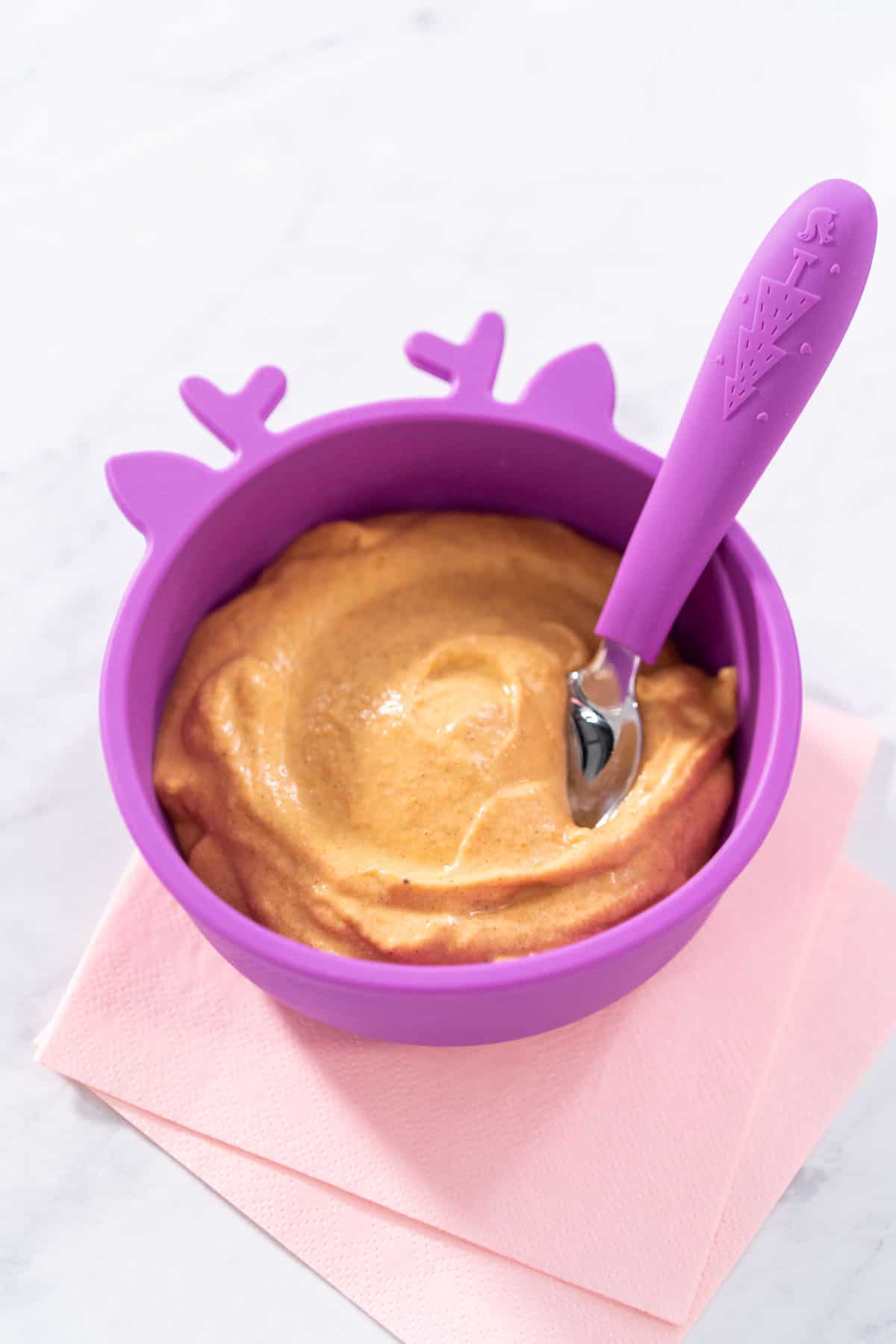 Recipe FAQs
What is vanilla powder? It's not protein powder, it's essentially like vanilla extract but in powdered form. I prefer using it in foods that you're not cooking or baking so there's no alcohol flavor. Here is one. You could omit this or use a dash of vanilla extract in its place.
What kind of granola do you like? I don't typically make homemade granola, though I'm sure that would be delicious. Lately we've been buying the Cascadian Farms no added sugar granolas.
Want to turn it into pumpkin pie parfaits?
In a small bowl or mason jars add a layer of crumbled graham cracker, then a layer of the pumpkin pie yogurt, a layer of vanilla yogurt (I like Chobani less sugar vanilla or Siggi's whole milk vanilla), then repeat the layers until you reach the top!
Or, make an overnight oats pumpkin parfait, layering your favorite overnight oats recipe with the pumpkin yogurt.
Other pumpkin recipes you might like
Healthy Pumpkin Pasta for Toddlers
Not pumpkin, but if they like the smooth, creamy texture of yogurt, you have to try my healthier pudding recipe!
Secretly Healthy Chocolate Pudding [Dairy Free]
Pumpkin Pie Yogurt Recipe
Pumpkin Pie Yogurt
This pumpkin pie yogurt could not be easier to make, is full of protein and kids love it!
Ingredients
4

oz

plain full fat yogurt

2 to 3

tbsp

pumpkin puree

(not pumpkin pie filling)

½

tsp

pure maple syrup

½

tsp

pumpkin pie spice

¾

tsp

vanilla powder
Instructions
Add all ingredients to a bowl.
Video
Nutrition
Calories:
80
kcal
Carbohydrates:
7.8
g
Protein:
5.9
g
Fat:
2.9
g
Saturated Fat:
2
g
Cholesterol:
7.1
mg
Sodium:
20.2
mg
Sugar:
2.8
g
Here are some other ways to serve yogurt to toddlers and babies and how to choose
6 Ways to Serve Yogurt to Babies
Healthy Greek Yogurt Popsicles for Kids
Healthiest dairy free yogurt (that actually taste good)