Jump to Recipe
If you're looking for a healthier alternative to mac and cheese, that still tastes amazing, this healthy pumpkin pasta for toddlers is going to be your new favorite!
It can be really hard to get veggies in your little one, I know. If you're really struggling on the veggie front, check out this post for help.
This is one of my favorite recipes of all time because it is SO easy to make, everyone in my house will eat it, and it packs in lots of nutrients. It's just as delish and comforting as a bowl of mac and cheese, but thanks to the chickpea pasta, there's a lot more protein than your typical mac and cheese!
And let's acknowledge the canned pumpkin – yes, this totally counts as a veggie! Thanks to the delicate, mildly sweet flavor, I find this one goes over well, even with toddlers who are refusing veggies more often than not.
Canned has just as many nutrients as fresh, so I wouldn't worry about that. You can basically feel like you harvested the pumpkin from the farm yourself. Good job, mom. 😆
Hack to Make Pasta Even Quicker
I'm all about little hacks to make cooking even quicker for you. Because when you have a hangry toddler, or a baby on your hip, or a preschoolers saying, "is dinner ready yet?" over and over again…you want all the help you can get!
I learned this trick recently —
Use a large sauce pan (instead of a big pot) when cooking pasta. Cover with a lid and bring to a boil. Using the pan instead of the pot means the water heats up quicker! It really does cut a few minutes off dinner prep time. I do this every time I cook pasta now!
How to Make Healthy Pumpkin Pasta for Toddlers
I love that these are easy ingredients to always have on hand for a quick weeknight meal!
In fact, this recipe is included in my Dinnertime Survival Guide — it's a 6-week meal plan with healthy, toddler-friendly weeknight dinners you can get on the table in 15 minutes.
We often make this pumpkin pasta instead of mac and cheese on nights that I just need something that takes no thought to make, and I'm craving pasta.
It's honestly so simple to throw together — boil the pasta, and heat up the sauce (a mix of pumpkin puree, butter (or vegan butter alternative), garlic powder, and onion powder).
I use a large glass bowl to heat the sauce ingredients so I can just dump the pasta right in there after draining it.
And I do add some salt but I didn't when Emilia was still a baby. If you have a baby under 1, just salt your own portion separately and give them the unsalted portion.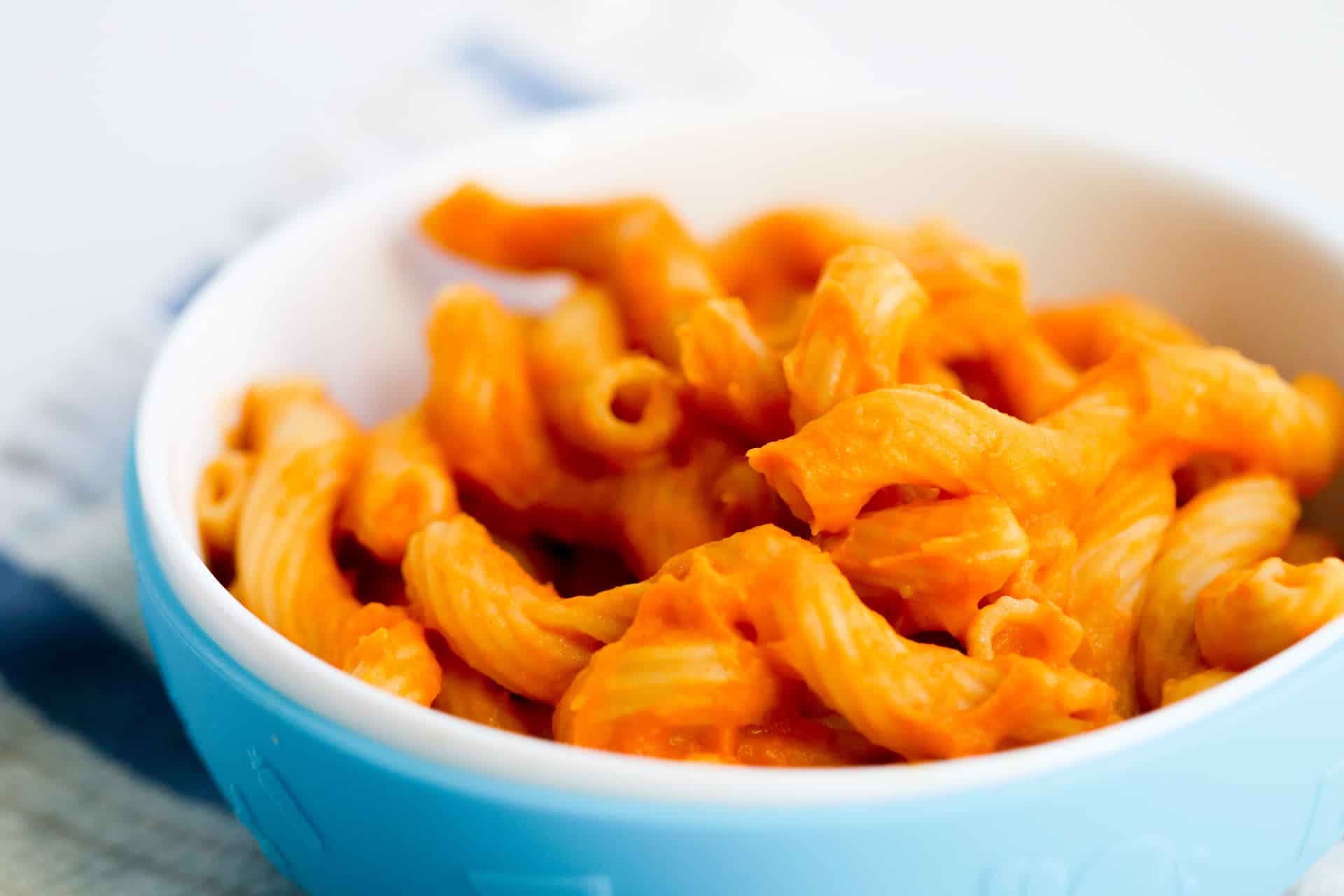 It's sooooo creamy and delicious!
Sometimes I add chopped spinach (if my husband isn't around…he hates green things in his food 🙄).
When I was breastfeeding Emilia, I had to eat dairy free for a bit (she was allergic to milk as a baby but grew out of it) and I missed cheese SO MUCH. But this pumpkin pasta? It makes missing out on mac and cheese way more tolerable. (I used Earth Balance vegan butter when I had to be dairy free.)
Promise me you'll give this recipe a try??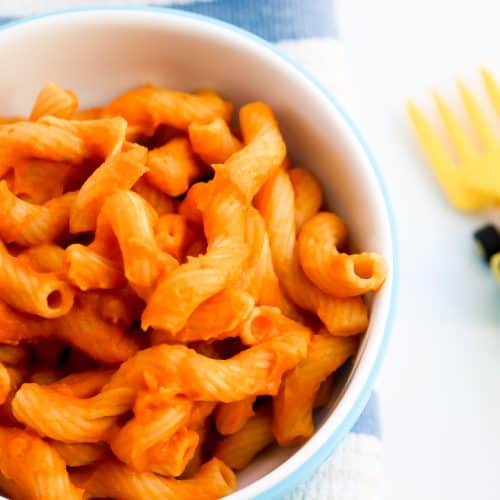 Healthy Pumpkin Pasta for Toddlers
This healthy pumpkin pasta is just as easy as making a box of mac and cheese, but packs in a lot more nutrients, and more protein, too!
Ingredients
1

8 oz box

chickpea pasta

3/4

cup

canned pumpkin puree

1/4

cup

unsalted butter (or plant based butter if dairy free)

2

tbsp

water

1/4

tsp

garlic powder

1/4

tsp

onion powder

1/4-1/2

tsp

salt

salt to taste – do not add any for baby under 1
Instructions
Cook pasta according to package instructions.

While pasta cooks, in a large, microwave-safe bowl, heat 3/4 cup canned pumpkin puree, 1/4 cup butter, and 2 tbsp water for 30-60 seconds, or until butter is melted. Stir together, then add garlic powder, onion powder, and optional salt.

Drain pasta when cooked, and toss well with pumpkin sauce.
Notes
Nutrition information calculated using unsalted butter.
Nutrition
Calories:
310
kcal
Carbohydrates:
30
g
Protein:
13.5
g
Fat:
15.2
g
Fiber:
6
g
Sugar:
3.8
g
Need more easy, fast, and healthy toddler-friendly dinner ideas?
You neeeeed to grab a copy of the Dinnertime Survival Guide! It also includes frozen product suggestions for nights that you need to do ZERO cooking. Let's take the pressure off dinnertime!