OMG OMG OMGGGG I can't wait to tell you about my friend Heather Staller's N-E-W cookbook! And I have a sneak peek with her Pumpkin French Toast Sticks recipe below!
I believe Heather wrote this book because she truly takes pity on us moms of toddlers 😂.
She knows the struggle of trying to get a meal on the table while a tiny human pulls on your leg, screaming nonsense at you. You're like, "IT'S ALMOST READY!!!!!!!!!!!!!!!!!!!!!"
At toddler age, they are capable of actually helping us in the kitchen! (Not just whining that we're not cooking fast enough.)
I don't know about you, but I often find it challenging to think of what they can do to help me at that moment. Or even to remember that they CAN help me.
Here's where Heather's book, "Little Helpers Toddler Cookbook: Healthy, Kid-Friendly Recipes to Cook Together," saves you in the kitchen!
I should probably first tell you that the recipes are GOOD. Everything Heather creates is delicious (if you have our e-book, "No Sugar, Still Sweet," then you know this firsthand!). She's an accomplished recipe developer and kids cooking instructor.
But what makes this cookbook so much more valuable to me than just getting recipes on the internet is that it very clearly and simply shows you EXACTLY what your toddler can do to help while you make the recipe.
Reasons why you should have your toddler help you:
They are learning eaters. Cooking with you helps them learn about and get comfortable with healthy foods! They're more likely to eat healthy foods if they help with preparing them.
They want to be entertained. I mean, I've never seen my kids want my attention more than when I'm trying to get something done! So yes, there's more of a mess when we cook together. But it transforms it into a learning activity that entertains and engages them. And they get to be with mom!
Life skills. The sooner they learn, the sooner they can make their own meals while you sit and relax. (A mom can dream.)
Selfishly, I mostly do it for my own benefit. 1, I like to have healthy meals to eat. 2, I like to cook without my kids screaming at me. 3, having them help me means I can actually accomplish that.
PLEASE do yourself a favor and gift yourself this book! If you are tired of frantically throwing a meal together while your toddler whines, or if you just want to get your toddler involved in the kitchen but don't know a good way to start- this book has everything you need.
And while you're at it– do yourself another favor and get this kitchen helper stool to keep your toddler safe while at the counter with you. You will both LOVE it. We use it daily!
Pumpkin French Toast Sticks from Little Helpers Toddler Cookbook
Note: All the steps in PURPLE are ones your toddler can help with!
For toddler-safe knives, these are the ones I have from Amazon.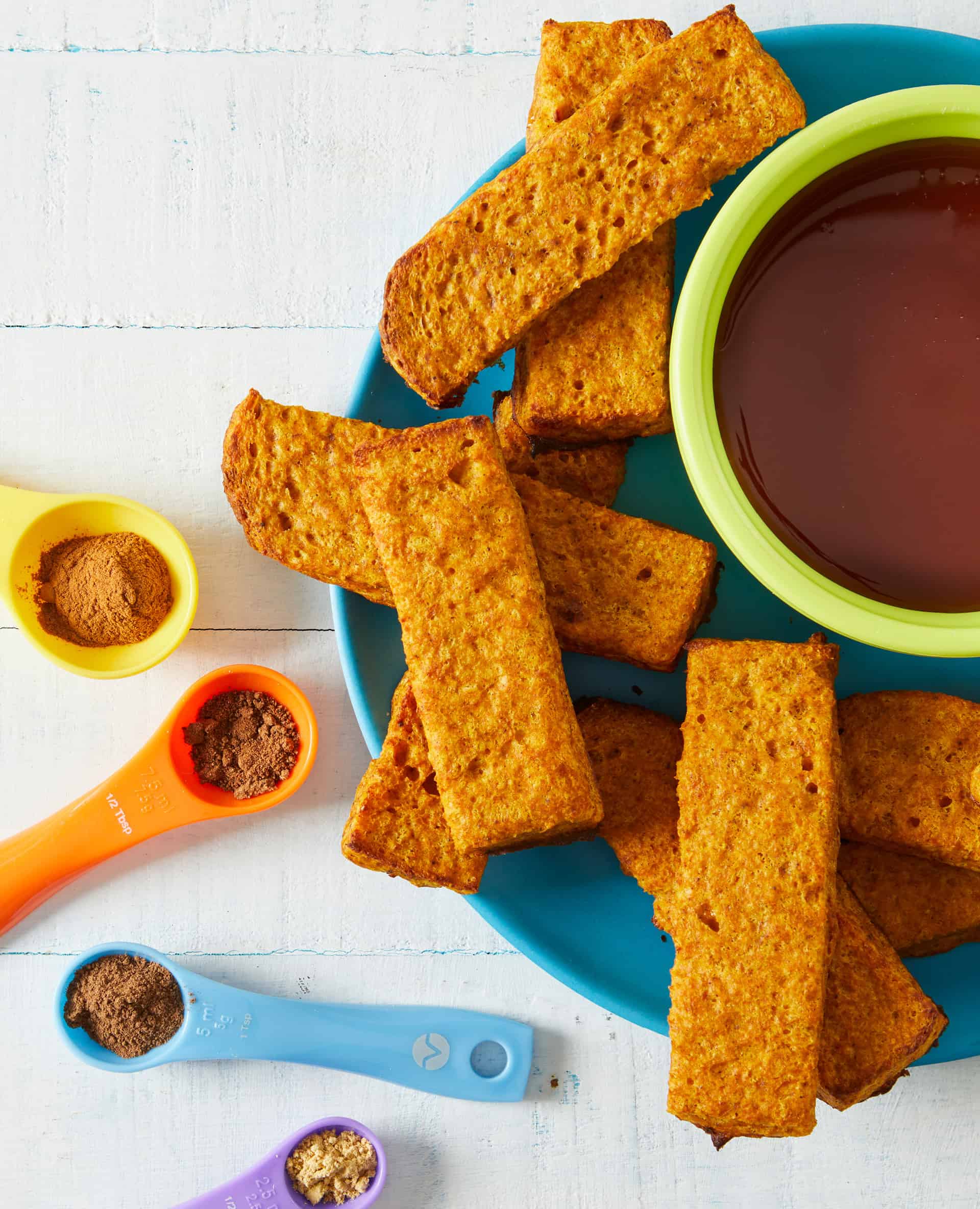 Nutrition info per slice (based off 5 slices): 157 kcal, 7.5g protein, 26g carbs, 6g fat, 2.5g fiber, and 3.8g sugar. This breakdown is calculated using unsalted butter and 2% milk. The sugar content reflects preparation only and will change based on if how much maple syrup you include for dipping.
[Pictures and recipe reprinted with permission from Callisto Media]
Note: this post contains affiliate links.
---
For more ideas on how your toddler can help in the kitchen:
10 Simple Kitchen Tasks for Toddlers
---