Make mealtime easy for you AND your toddler with these top toddler feeding supplies.
Disclaimer: this post contains affiliate links. As an Amazon Associate, I earn from qualifying purchases.
I never knew a truly messy kitchen until I had a toddler. I think my absolute least favorite food to serve (which of course, my son loves) is shredded cheese. It ends up EVERYWHERE.
I have tried a lot of different products over the past several years to find feeding supplies that work the best. This way my kids get more in their mouth and less on the floor, making both of us happier!
Not only are these products ones I've personally used, many are also recommended by pediatric occupational therapists and speech language pathologists who specialize in feeding. They know what's best for your toddler's development!
Favorite Toddler Feeding Supplies
Best Toddler Cups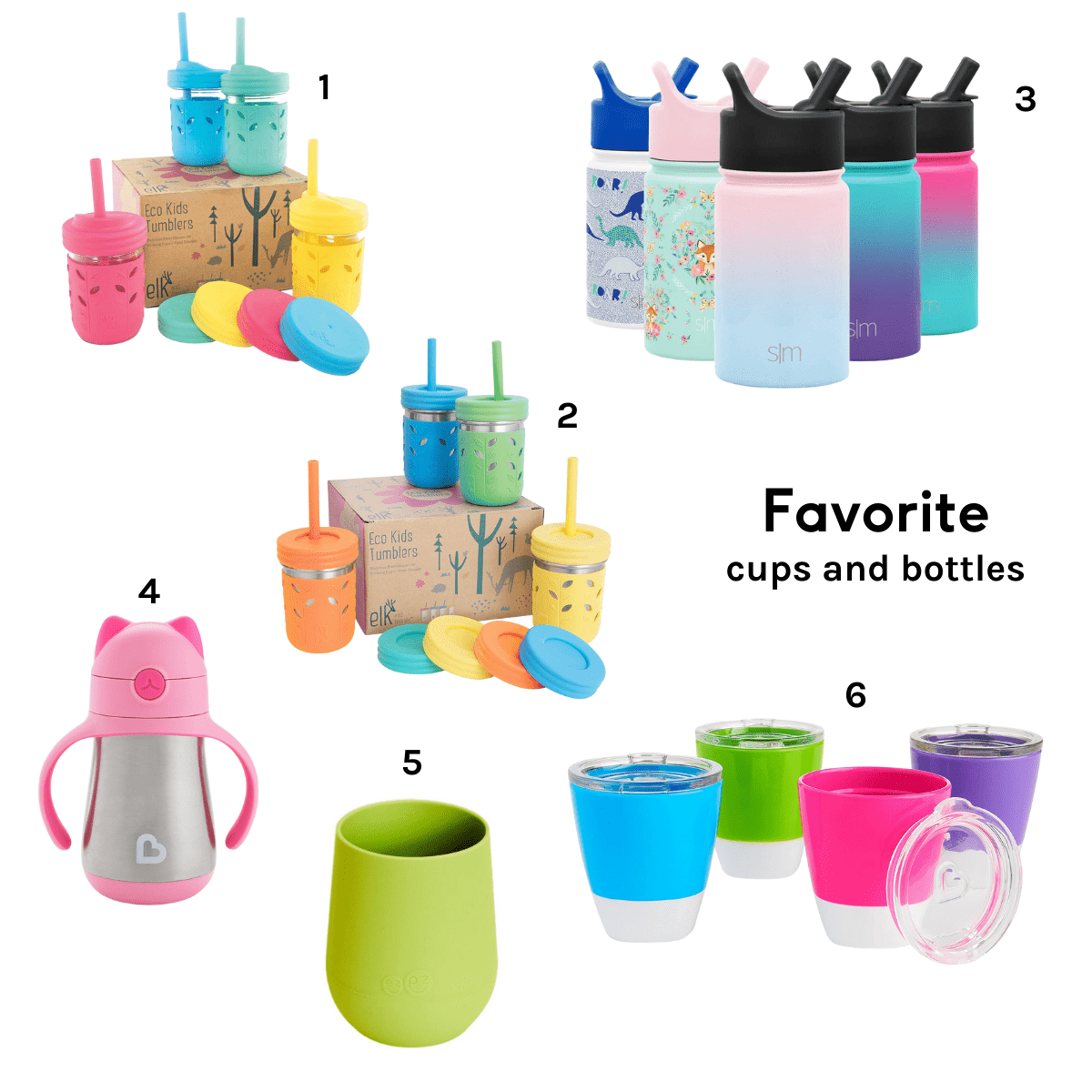 Best Toddler Straw Cups
The Elk and Friends is my favorite toddler straw cup for when you're at home. It works for water, milk, kefir or smoothies, and anything else your toddler might be drinking. These are dishwasher safe AND have a straw stopper so your little one can't pull the straw out. These are best for at home vs. on the go because they are not spill-proof.
Choose from stainless steel or glass! Now that my kids are a bit older we use the glass ones, but if I had a 1 or 2 year old I'd choose stainless. While I've definitely purposely thrown the glass jars on the floor several times to test their durability (they pass with flying colors)… I still think it's best to wait on the glass, if you think they might throw it often. Mostly so you don't hold your breath every time you see them chuck it!
The Simple Modern stainless steel water bottle is my top toddler cup choice to send to school or to daycare. It's also a great cup to take in the car anywhere you are going, really. It's a great size and fits in the carseat cup holder. I only use water in these. Btw they are easy to clean!
I also love that the straw is not one of those biteable ones, because while my first kid never bit on his straws, my youngest ALWAYS does. So she just chewed the camelbak straws right up! These ones aren't getting chewed up even if she bites on them.
The Munchkin stainless steel straw cup is a great cup for your toddler to carry around, since you can close the lid and avoid spills. I like the size for 1 and 2 year olds especially. With two handles, it helps reinforce using two hands to drink a cup (which we want them to do with an open cup). At 8 ounces, it's not too heavy for them to carry around. Plus, it's dishwasher-safe!
Best Open Cups for Toddlers
A toddler who is beginning to practice using an open cup will have good success with the ezpz mini cup. (They have a baby version, too!) It has a non-slip silicone grip, so they are more likely to actually get it to their mouth before spilling.
Training your toddler on an open cup at a young age is such a game changer. With practice, they really will get good at it! Then you don't need to worry about *always* having a kids cup with you when you leave the house.
I also love this cup for juice. It's the perfect size! 4 oz is the maximum amount of juice they should have daily (the size of this cup), so it's a good guide. Plus they will be happier when their cup is all filled up, vs. using a bigger cup and only filling it half way. If you have a toddler, you know what I'm saying!
These are also a top pick! These splash cups are what I'd recommend moving to after they have mastered using the ezpz mini cup.
Minimize spilling with the lid while promoting open cup drinking practice. Then as they get more practice, you can even go lid-free. These are great for milk, juice, or water.
You'll notice I don't recommend the Munchkin 360 cups. This is because I learned from an SLP child feeding specialist that it promotes improper jaw and mouth muscle usage. While it's okay to use these cups sometimes, avoid using it as their main everyday cup.
I just got these last week, so they are not an official recommendation yet. But so far I am really liking these because they don't leak or spill and they are just a regular straw cup that your toddler can drink out of. They are great for around the house.
Toddler Snack Supplies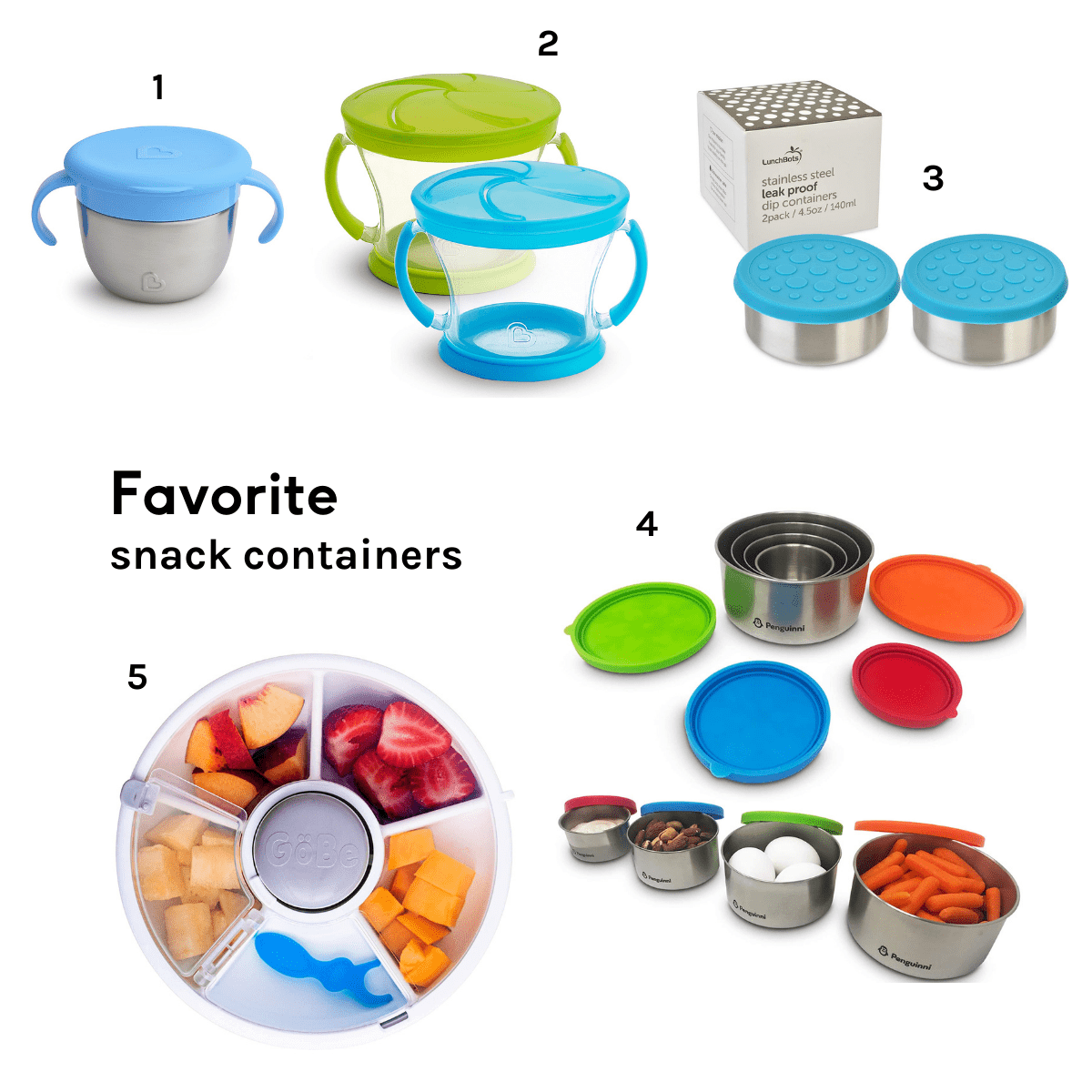 Best Toddler Snack Cups
I love the Munchkin brand cups – choose from stainless steel or plastic. I like that toddler hands can fit in and out easily, with minimal mess!
Both versions hold about 1 cup of Cheerios – plenty for a toddler snack!
If you want to know my favorite picks as a dietitian for what to put IN the snack cups, check out this healthy toddler snack guide!
The LunchBots containers are marketed as dip containers, but they are perfect little snack cups for smaller portions of foods. I like using these in lunchboxes, too!
This is also a fantastic set of snack cups of various sizes! I love these when we're going to the pool, park, or playground and I just want to pack a few snacks.
This is SUCH a helpful tool for picky eaters. What is more fun to a toddler than spinning some snacks around?? Fun and novelty go a long way in getting toddlers to branch out from their favorite foods.
Best Toddler Utensils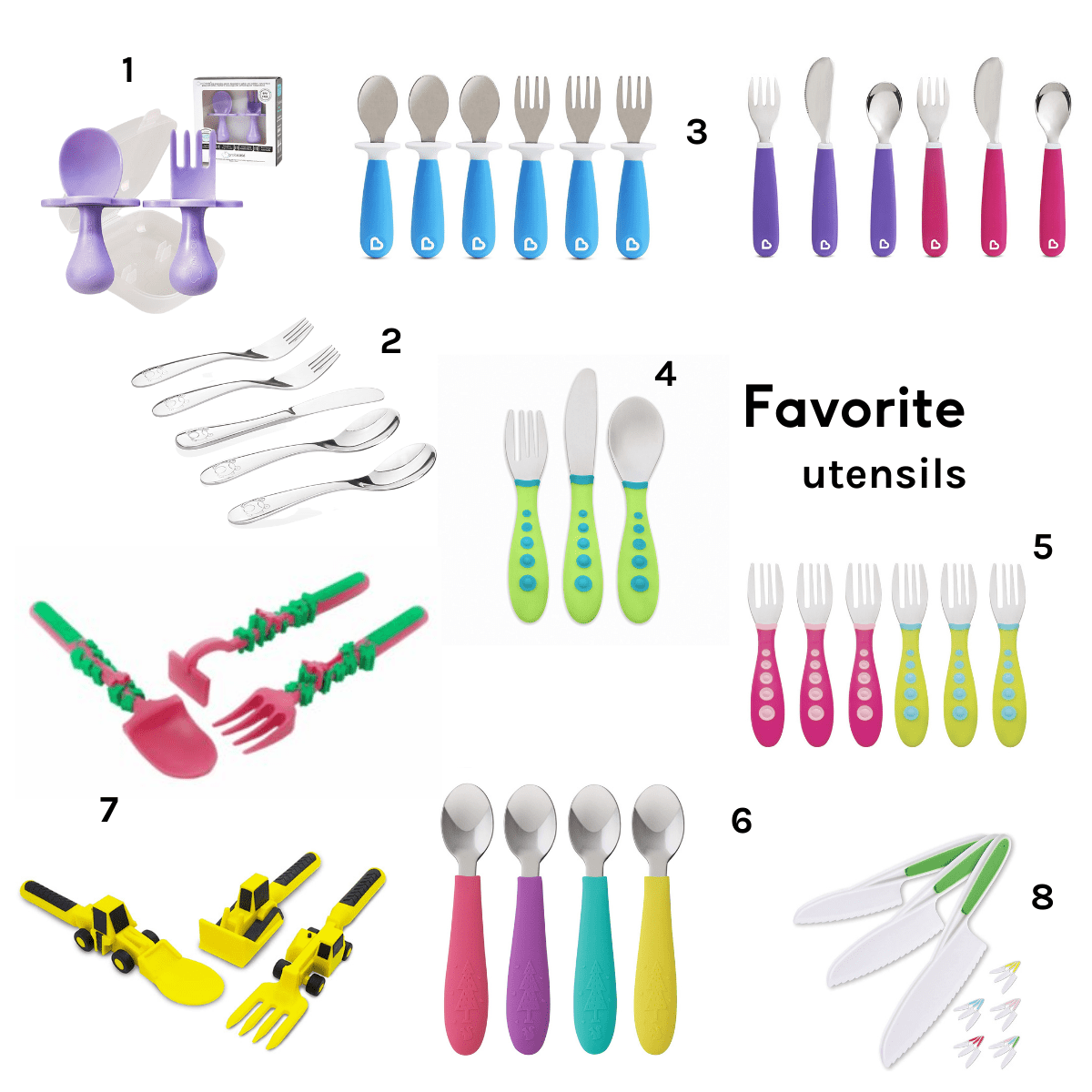 I have tried SO MANY types of silverware. One of the main problems I come across is too small of a spoon. It's so hard for them to get the food on it when the spoon head (is it called a head??) is tiny.
I prefer these spoons and these spoons for babies just starting out. But once they graduate to semi-proficient utensil use, I would switch to grabease. They have both a silicone and plastic spoon. I like their forks, too! The plastic version comes in a spoon/fork set.
These fit PERFECTLY into their tiny hands. And, since it's short, it's easier for them to coordinate getting the food ON and getting the food to their mouth.
After that, I have a few favorites that we like. The shape and size have allowed my kids to get a good amount on the fork or spoon, and get the food into their mouth without spilling it all down their shirt.
Around age 5 or 6 they can be ready to move to adult utensils, but may prefer to keep using the smaller ones. That's totally okay!
Toddler Utensils for Ages 2 through 5
They have two sets, the baby size is great for a 1 year old. It comes with a food pusher/butter spreader which is good pre-knife practice. The larger set is slightly bigger than the other utensils I mention below. My 6 year old still uses these ones. They are the best choice if your little one wants to use grown up utensils but can't handle them well! They look just like grown up forks and spoons. I really like the knife that comes with this set.
These are great everyday forks and spoons. I much prefer forks with metal tines to plastic. The metal does a much better job of spearing food, in my opinion.
The Gerber and Nuk utensils are essentially the same product so I'm listing them together. The handle is a little flatter than the Munchkin handle, but still does well in toddler's hand.
These are my daughter's favorites, I think purely because of the color options! The spoon head is a little on the smaller side, so while she still does use it at 4 years old, I would say it's best suited for a 2 to 3 year old.
These are purely for fun! For the picky eater who is getting more challenging at meals, these are a great way to get them to have fun and interact with the food, even if they're not eating it. These are not as easy to use as the others mentioned, but the fun factor is strong enough that I still would recommend them! They just probably wouldn't be your main everyday set.
Toddler Cutting Knives
I like this set so your toddler can choose which knife feels best to them. Start with soft foods, like banana, to begin practicing!
Best Toddler Plates and Bowls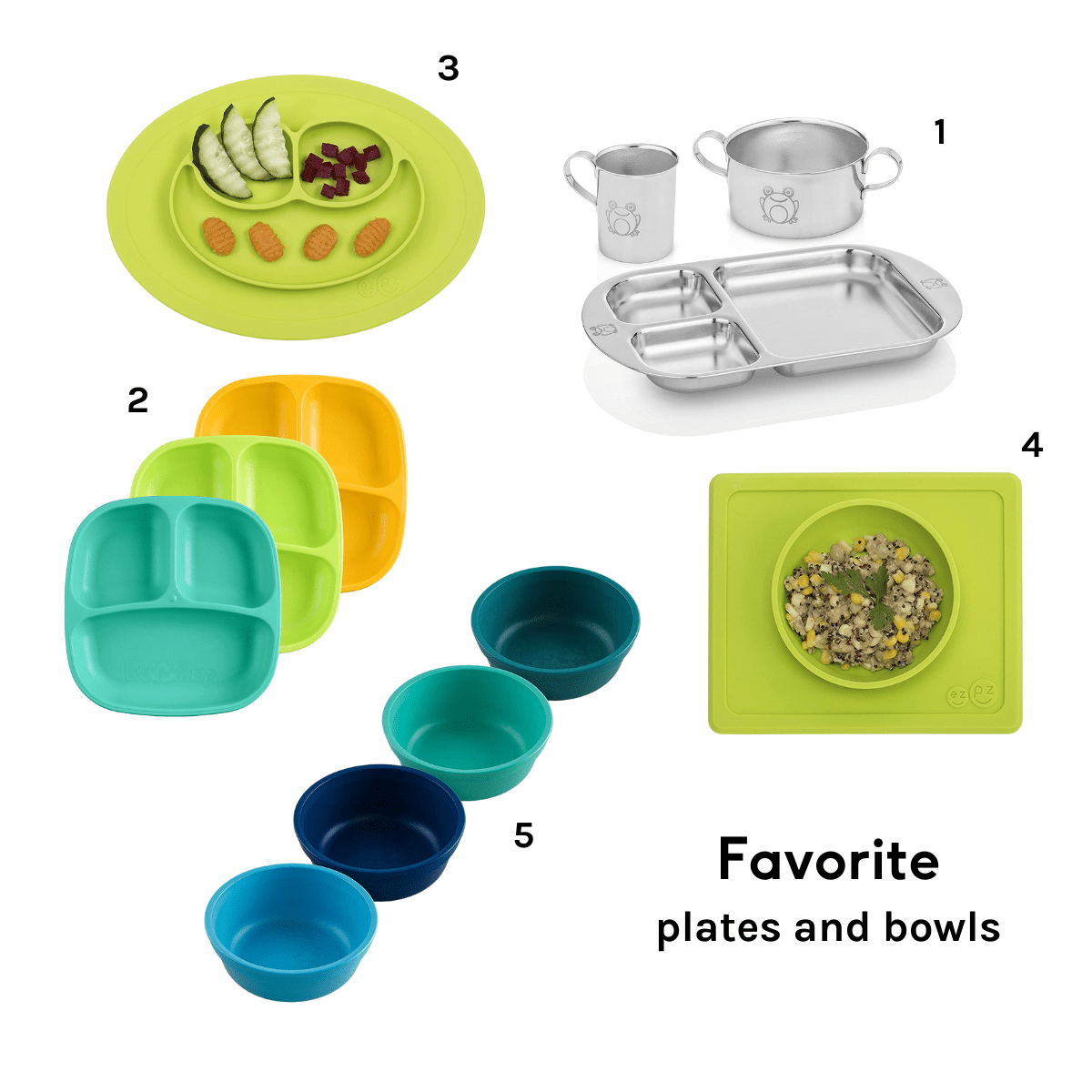 Favorite toddler stainless steel plates and bowls
Kiddobloom has this gorgeous stainless steel dinnerware set, that includes a sectioned dinner plate, a bowl, and an open cup. This is a great Montessori style feeding set!
Favorite Toddler Plates
Re-Play is my favorite every day brand for toddlers who are not throwing plates. Not only are the dishes sturdy, they are the perfect size for toddlers, and BPA-free. We use the divided plates for most meals. The sections are deep enough that you can even serve things like oatmeal or stew in them. When we don't have any foods that are liquidy, I use the regular non-divided ones. I do not heat or microwave anything in these plates, because I do not like to microwave plastic. So I always plate after heating. Also these are stackable! I love when storage is easy.
For toddlers who DO throw plates, or if you just prefer a silicone option, the ezpz mini mat is the best silicone plate for 1 and 2 year olds! It fits most high chair trays and is BPA, BPS, PVC, lead, latex and phthalate free. Dishwasher-safe, too!
Favorite Toddler Bowls
Ezpz Mini Bowl – Ezpz tops my list again! Their bowl is great for foods like soups, stews, curries, grain bowls, yogurt, oatmeal, cereal, the list goes on.
Replay Recycled Bowls – I don't know about you, but I feel like we go through so many bowls a day with random snacks, or a side of fruit with a meal. I like having a bigger set of bowls since we are always using them. Bonus – these are stackable! Your cabinets will thank you.
Toddler Feeding Supplies – Extras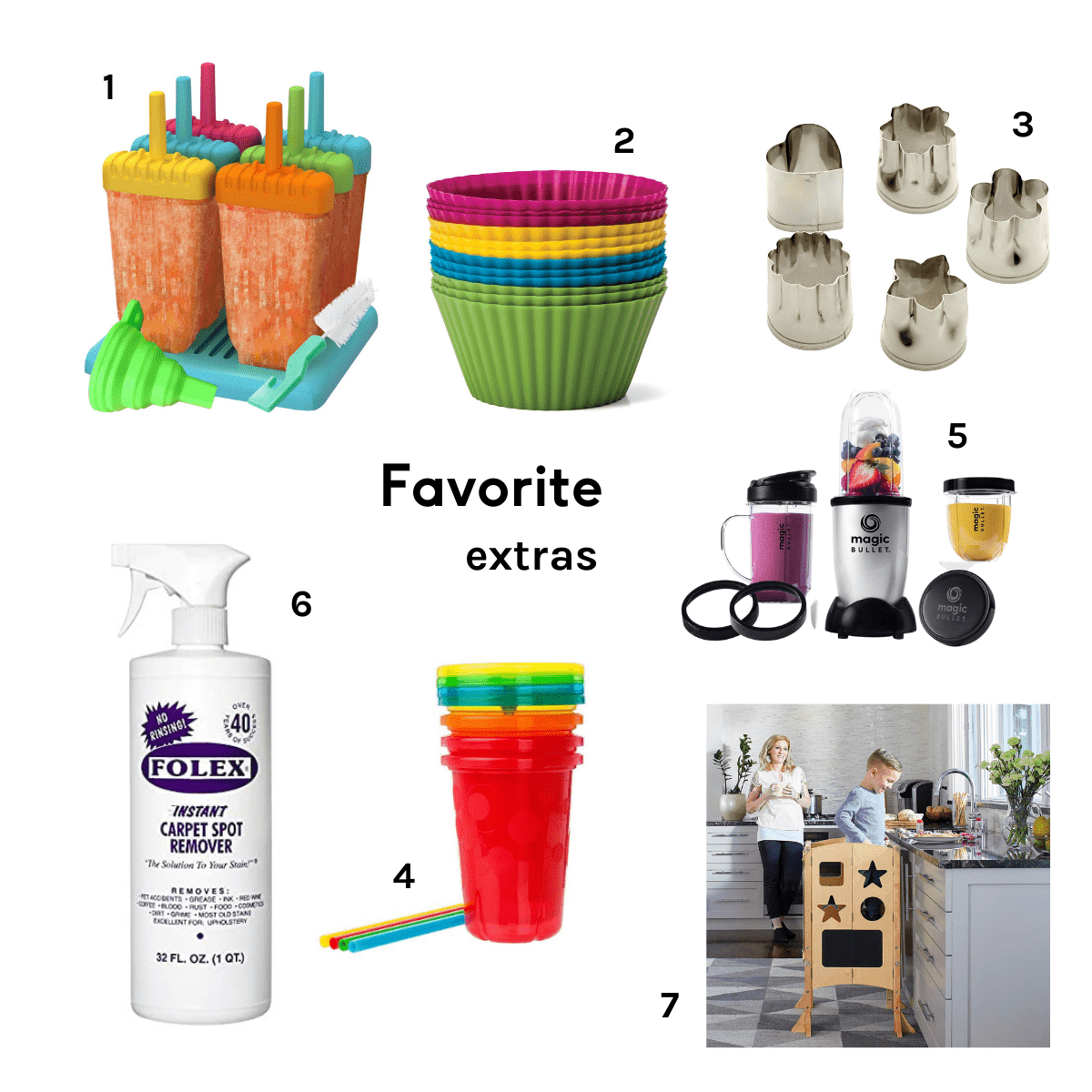 These popsicle molds are awesome! I usually just fill them with leftover smoothie and pop them in the freezer for a snack later. My kids can hold onto these easily, and they are dishwasher safe.
I don't know if I'd bake as much as I do without silicone options! Nothing sticks to them. We've made tons of different muffins, baked oatmeal cups, mini frittatas, and more. I tend to use the muffin "tin" most often for baking, and the individual silicone baking cups for condiments, small snack items, and yogurt "cupcakes" more often. (Yogurt cupcakes are just plain yogurt in a baking cup with sprinkles on top. My kids get so excited for it.)
There are tons of cookie cutters out there, so find shapes that you think your toddler would love! We have these as well as a set of dinosaur shapes. I am partial to these because they are fairly small, and great for making shapes that are bite-size.
I love these cups when we're on the go or traveling. On busy mornings I'll pour a smoothie in one of these cups, because the last thing I want to do when we get home at the end of the day is clean a dried, caked-on smoothie out of one of our reusable cups. I also like to bring these to outdoor playdates where I think I might lose track of things, since I won't be disappointed to lose one of these.
I also have a fancy blender (a Vitamix), but I just LOVE having the Magic Bullet on my counter. It does a great job blending up smoothies, does not take up much counter space, and prevents me from lugging out my giant Vitamix in the mornings when I just want to make a quick smoothie. Plus you can just throw the cup in the dishwasher when you're done.
If they do happen to spill on carpet, this is the BEST cleaner. You will praise the lord you have it! Make sure you spot test on something that's not carpet.
Last but not least, a learning tower! This kitchen helper tower is the most-used item in our kitchen. I have it in gray. My son started using it around 18 months, and my daughter was even younger.
I originally got one because I was so tired of my son whining at my feet while I was working in the kitchen. In his tower, he was in a safe place where he could "help" me or just be next to me while preparing food.
Emilia uses it all the time! She loves watching me and helping in the kitchen. She also just eats standing in it sometimes. I love the mesh side panel so when she was younger I wouldn't worry about her falling out.