These allergy-friendly Zucchini Banana Bread Muffins for Kids have been a staple in my house for pretty much as long as I've had kids! If you're looking for a way to get some more green veggies into their diet – this is it.
Keep reading for the recipe, my top tips on how to make baking easier on yourself, and my thoughts on making veggies kid-friendly.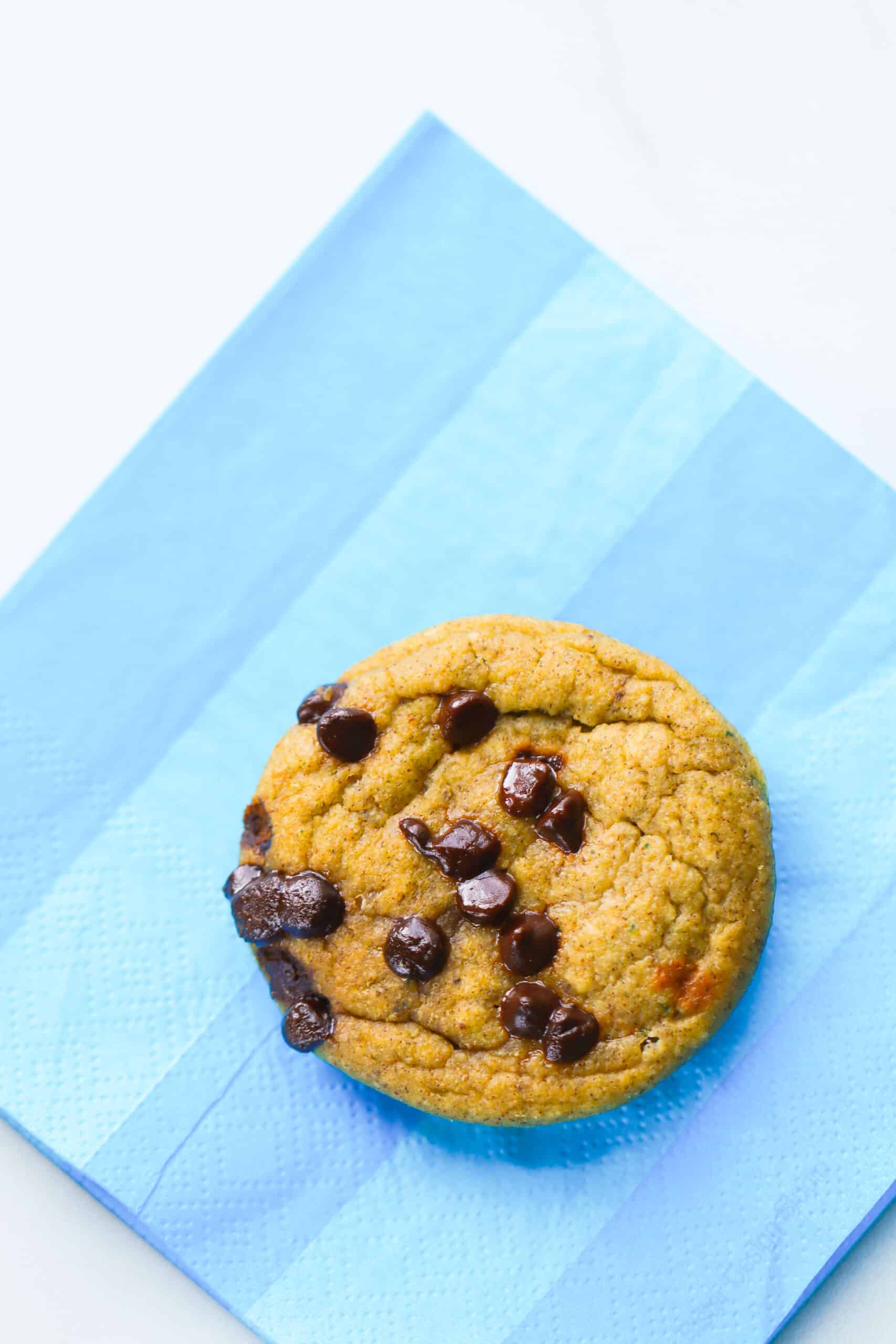 The Baking Struggle Is Real
It's not easy to bake for your kids, especially if they're around while you do it! It takes time, focus, and planning, and those are all hot commodities when you're busy with, well, life! I know for me, before I had kids, I actually looked forward to and loved getting into the kitchen. But now with two kids underfoot, it's not exactly the relaxing experience it once was.
Because it can be a struggle, when I bake for my kids (which is honestly pretty rare these days) I make it count, doing my best to pack in some extra nutrients in the batter. Sometimes that means adding chia seeds, flax seeds, or hemp seeds, and sometimes it means getting some veggies in there, like zucchini, carrots, or pumpkin. (Check out these pumpkin packed oatmeal bars!)
And, when I do get the perfect combo of energy, time, and motivation to bake, I do my best to make things as easy as possible on myself. That's why I adore this muffin recipe– Everything goes right into the blender– no sink full of dirty bowls to deal with when they're done!
How To Make Baking Easier On Yourself
Sneaking Veggies into your Kid's Food
Since this recipe has veggies in it (that you literally cannot taste or detect at all!), let's talk about the idea of sneaking veggies into your child's food.
I never want you to lie to your little one about what's in their food, because it's more important for them to trust you than for you to get some extra veggies in them. But, you can absolutely mask the taste of veggies to get them more comfortable with the idea of eating them!
For example, my son would never in a million years eat spinach on its own right now, and that's totally fine. But when I add spinach to a smoothie, he sees it going in there, he may help me put it in (if he's feeling cooperative that day), and he'll ultimately drink the smoothie in the end. This is really helpful exposure for him, seeing and knowing that a food he doesn't like can go into a food that he does like, even if he can't actually taste it.
I actually have a whole blog post on sneaking in veggies, and you can read it here.
Why I Love These Muffins So Much
Okay, so now back to the best zucchini banana bread muffins for kids in the world! Why do I love them so much? Easy:
They're easy and low-mess.
They let me get more veggies into my kids.
They're allergy-friendly! No eggs, gluten, dairy, nuts, or peanuts to be found, so it should work for most kids (even those with multiple allergies).
They're easy to customize. You can use either rolled oats or quick oats and still get great results. (You could probably also use a different flour altogether, but I haven't tried that, so I'm not necessarily recommending it. If you give it a go, I'd love to know how it works! Leave a comment below this post letting me know the type of flour you tried and whether or not you'd recommend it.) Oh, and if you'd rather omit the maple syrup, I'd just increase the banana by ¼ cup OR add ¼ cup of any type of milk. I haven't tried this yet though, so I can't guarantee results.
Do you want another muffin recipe to try?
Try these healthy strawberry muffins for kids, and especially for picky eaters! Click here for the recipe!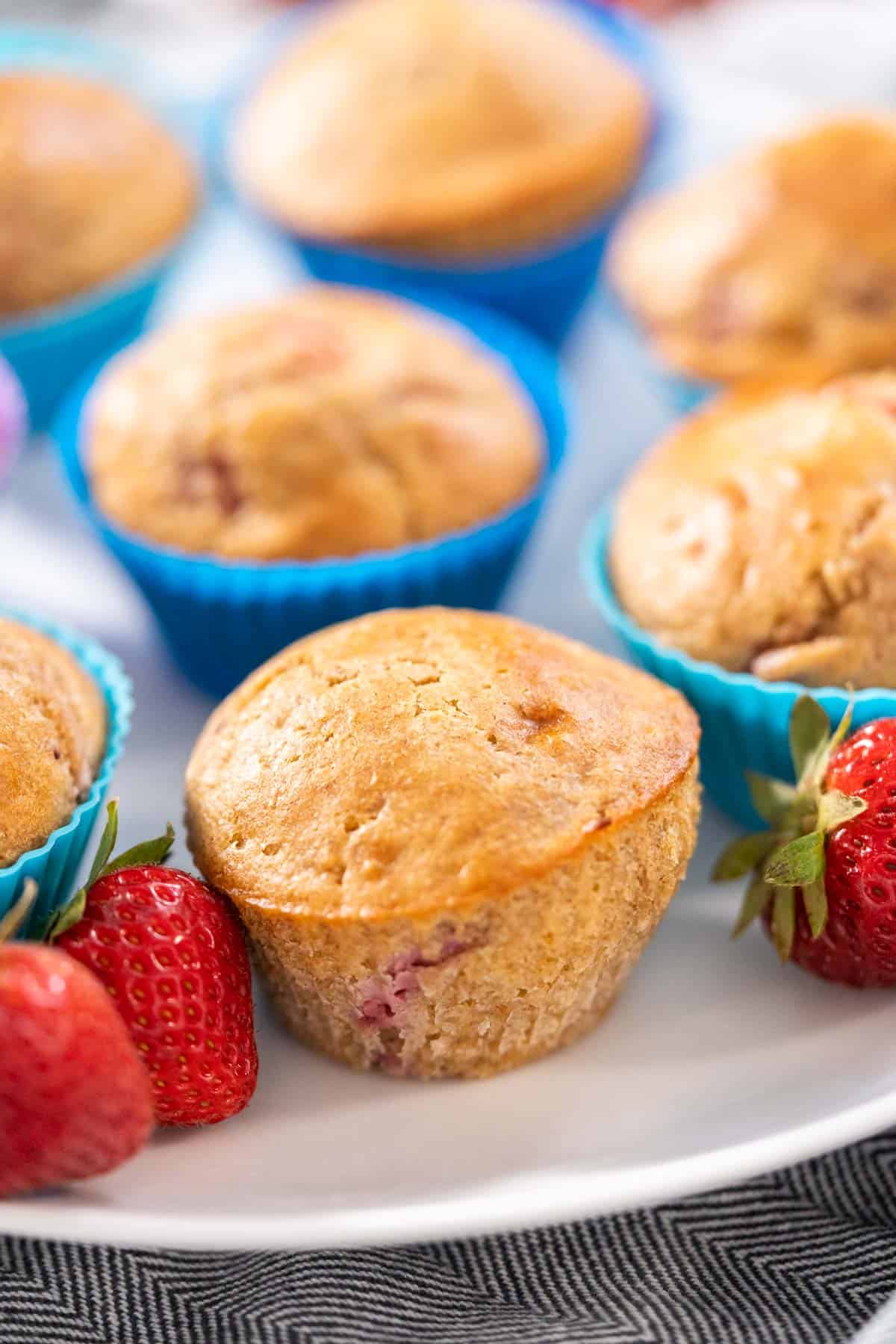 Or try these healthy toddler muffins. If you have a picky eater who doesn't like big flavors or chunks of fruit in their muffins, this is the recipe for you.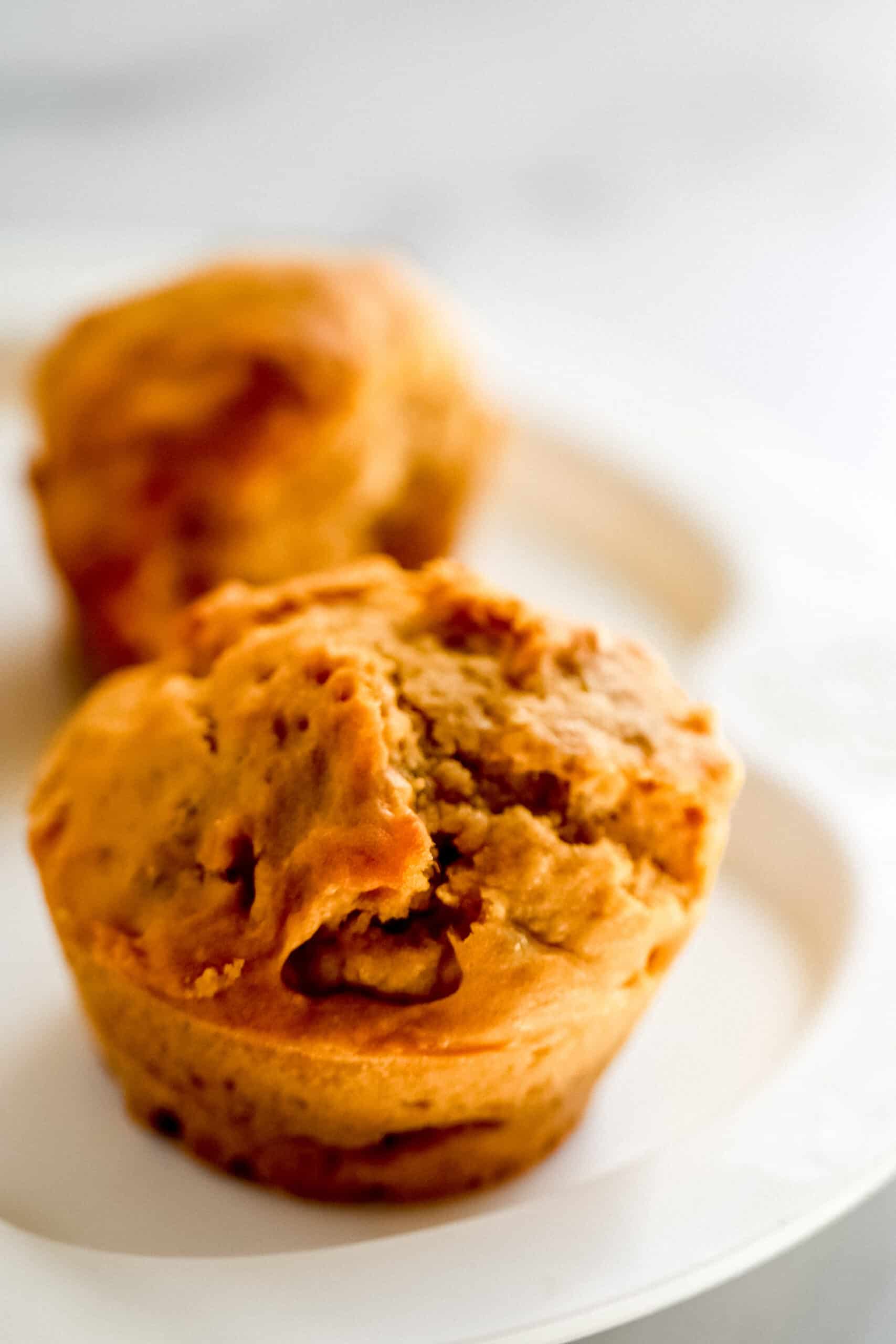 Zucchini Banana Bread Muffins for Kids
The only allergy-friendly zucchini banana bread muffins that you'll ever need!
Ingredients
2½

Cups 

Rolled Oats

(200g)

1¼

Cups 

Mashed Banana

(300g)

1

Cup 

Zucchini

(200g)

1

tsp 

Baking Soda

½

tsp 

Cinnamon

¾

tsp 

Baking Powder

¼

tsp 

Salt

1½

tsp 

Vanilla Extract

⅓

Cup 

Avocado Oil

¼

Cup

Pure Maple Syrup

1½

Tbsp

Apple Cider Vinegar

Mini Chocolate Chips

(Optional)
Instructions
Preheat oven to 375 F, and prepare 2 muffin tins (regular or mini muffins).

Spray with oil if you don't have liners or a silicone muffin tin.

Put the oats in a blender and blend until a fine powder forms.

 If you don't have a high powered blender, grate the zucchini.

Add all other ingredients to the blended oats (except optional chocolate chips) and blend until smooth.

Sprinkle chocolate chips on top.

Bake! For regular size muffins, bake 16-18 mins. For mini muffins, bake 10-13 mins.
Video
Notes
This recipe contains 3g added sugar per serving.
Nutrition
Calories:
128
kcal
Carbohydrates:
15.5
g
Protein:
2
g
Fat:
5.8
g
Fiber:
2
g
Sugar:
5.6
g
Want more sugar-free, kid-friendly recipes?
Grab your copy of my Ebook No Sugar, Still Sweet! You (and your toddler) will love trying them all. And don't forget to leave me a comment below if you try any new substitutions!
This recipe has been included by Twinkl among their top picks for 10+ Healthy (and delicious) lunch ideas for the whole family.