This is the only list of easy and healthy toddler breakfast ideas you'll ever need! It's sure to get you (and your little one) out of the breakfast rut. Plus, every single one is Registered Dietitian approved– so you can count on them being a good, balanced, nutritional start to your toddler's day.
Side note: This post contains affiliate links. If you buy through one of my links, I get a kickback.
Have a picky eater?
Then especially for them, you're going to keep things simple. Your goal is to at least get them to rotate between two breakfasts, and then slowly work on expanding to include other choices. Even if you need to include some breakfast choices that you don't consider healthy– that's okay. Our #1 goal with a picky eater is to increase variety. You can work on the nutrition piece over time.
Is your little one VERY opinionated about what they eat for breakfast?
Been there! Download a copy of my free Breakfast Choice Cards if you're in this boat right now.
I created these when my son was 2 and firmly in the "NO!" stage. We got into arguments every morning because he ONLY wanted to eat Cheerios, and I wanted him to get some more variety. When we started using the breakfast choice cards, it made mornings more enjoyable again. We weren't butting heads over what was going to be for breakfast, and I felt good about him getting some more variety in his diet!
That Breakfast Rut
Ooof. The breakfast rut. I get in it sometimes too– especially when I'm worn down and flat out exhausted. It's like, "Here. Cheerios. Eat." (While I shuffle towards the coffee maker with my eyes halfway open.)
So, don't worry. I get it, I've been there, and I'm not proposing any sort of gourmet breakfast situation, especially on weekdays.
With all that said, now that we're on that mama-to-mama level, let's jump in to some healthy toddler breakfast ideas that are ACTUALLY doable:
Toddler-Friendly Egg Breakfast Ideas
Scrambled eggs (with or without veggies or cheese added)
French toast
Eggs cut into fun shapes with a cookie cutter
Hard-boiled eggs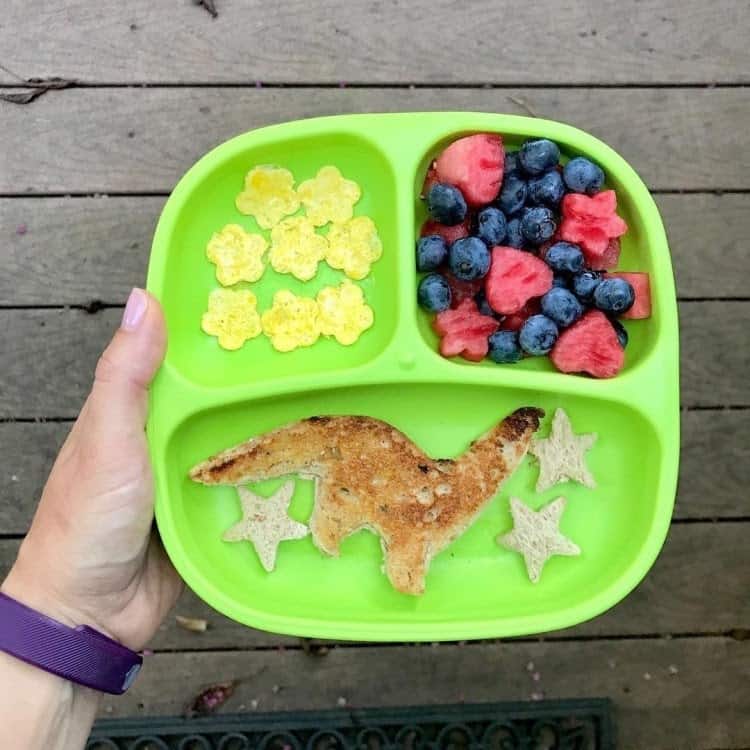 Toddler-Friendly Smoothie Ideas
Smoothies are some of the best healthy toddler breakfast ideas out there! I always try to build my smoothies strategically– to make them a complete meal for my little one. This means I include some protein, fat, and plenty of fruit/veggies! They need to have enough calories to keep them full for a few hours, too.
Looking to add a protein boost? It's not a bad idea, but know that young kids actually don't need as much protein as we tend to think. I love the Nutrikid nutritional shake instead of adult protein powders because they have just the right amount of protein for littles. (Get 15% off with my affiliate code MAMAKNOWSNUTRITION15. Chocolate and vanilla are our favorites!)
I've got my two favorite smoothie recipes listed here, and tons more toddler-friendly smoothies in this post.
My Go-To Toddler Smoothie Recipe
1.5 cups whole milk
1 frozen banana
A big handful of frozen blueberries
A handful of spinach
1 tablespoon of chia seeds.
Blend & Serve!
Cocoa Banana Peanut Butter Smoothie
This smoothie has been hugely popular with toddlers! So many moms have started making this after I posted it on Instagram.
Healthy Frozen Waffles for Toddlers
The key to picking healthier frozen waffles for your toddler is to look for whole grains, and if nothing else, check the nutrition facts to make sure there are at least 2 grams of fiber per serving.
My Favorite Frozen Waffles for Toddlers:
Kashi 7 Grain (egg-free)
Nature's Path Ancient Grains
Kidfresh Homestyle or Blueberry
Kodiak Cakes Power Waffles (I find these at Costco)
For Gluten-Free: Kashi Gluten-Free Waffles
Serve waffles with a topping or a dip to round out the meal. I like some fruit on the side, a cup of milk, and/or one of these easy topping/dip ideas:
Peanut butter or nut butter spread on top
Peanut butter or other nut butter stirred with mashed banana (Easiest if you microwave for a few second before stirring together)
Plain, whole milk Greek yogurt with a little maple syrup mixed in
Low-Sugar Cereals for Toddlers
It really doesn't get much easier than cereal! Our go-to's are plain Cheerios, Kix, and Nature's Path Heritage Flakes, but my Ultimate Guide to Low-Sugar Breakfast Cereals has a whole list of kid-friendly options (plus, it's totally free!).
Serving Cereal to Toddlers
It's okay if your toddler eats their cereal dry, or with milk, so no stress there. Just make a few adjustments to your serving style depending on what they like.
If your toddler likes their cereal dry, serve milk in a cup on the side. Also, serve some fruit, or add raisins in with the cereal. You can also add sliced almonds for some extra protein and fat!
If your toddler likes their cereal in a bowl with milk, choose whole- or low-fat cows milk, soy milk, or pea milk. These options have the most nutrients compared to most of the other non-dairy milks. If you have another one your little one prefers (like almond milk), add some things to the cereal to boost the calories and nutrients, like sliced almonds or hemp seeds.
Oatmeal for Toddlers
My trick to make oatmeal extremely easy is to make it the night before. You can either serve it right from the fridge in the morning, or heat it for 30 seconds in the microwave and it's ready! Our favorite make-ahead oatmeal bowls are:
Cherry Banana Hemp Oatmeal
⅓ cup quick oats (my kids prefer the texture of quick to rolled oats, but the nutrition is the same)
5 frozen cherries, chopped
½ banana
1 teaspoon hemp hearts
¼ c whole milk
Mash the banana and stir everything together. Refrigerate overnight. Serve as-is, or microwave for 30 seconds to warm it up.
Apple Cinnamon Protein Oatmeal
⅓ cup quick oats
1 pouch apple cinnamon applesauce (I use GoGoSqueez)
½ cup Greek yogurt (I used Chobani less-sugar Madagascar vanilla cinnamon, but use plain unsweetened Greek yogurt for babies and toddlers under 2)
Stir everything together and refrigerate overnight. I prefer this one cold, but your little one may like it warmed up. These oats come out pretty thick, which is perfect for a baby or young toddler to get on their spoon. If the thickness is too much for your toddler, just add a bit of milk.
Microwave Baked Oatmeal
1/2 cup quick oats
1/2 ripe banana
1/3 cup whole milk
1 tsp ground flaxseed
1 tsp maple syrup
1 tsp vanilla extract
1/2 tsp baking powder
small pinch of salt
Mix all ingredients together well (and mash banana); or blend everything together in a blender. Pour batter into a microwave safe bowl that has been sprayed well with cooking spray. Microwave for 2-3 minutes or until cooked through – a toothpick should come out clean. It will be the texture of a muffin, it's so good and different from a regular bowl of oats!
I like it with nut butter and raspberries on top, but my kids like it with some sprinkles!
Toast for Toddlers
Toast is an amazingly easy healthy toddler breakfast idea that you can pump up with the toppings or sides! Add some healthy toast toppings to one of these great bread options to make toast a well-rounded breakfast option for babies and toddlers.
How To Make Toast More Balanced
Serve whole-grain bread if your toddler will eat it, and depending on how your toddler likes their toast, add sides or toppings! If they like:
Plain toast → Serve it with a smoothie or yogurt on the side.
Buttered toast → Serve it with a cup of milk and a piece of fruit on the side.
Peanut butter toast → Serve fruit on the side (or add it on top!).
Avocado toast → Add hemp hearts on top and/or serve milk on the side.
Final Tips for Making These Healthy Toddler Breakfasts Ideas Stress-Free
A few closing thoughts on all these healthy toddler breakfast ideas:
#1 Keep It Simple for Your Peace of Mind.
Please don't feel like you need to reinvent the wheel or go above and beyond at breakfast time! Having 2-3 items in your breakfast rotation is really enough. Easy swaps like switching up the fruit you serve based on what's in season and more affordable at the time will naturally add some nutritional variety without you doing much extra work.
#2 Include Most Food Groups for Nutrition & Satiety,
At the very least, make sure to at least include a protein and/or a fat along with a carb. Plain toast, plain cereal, or a plain bagel is just not going to keep them full for very long. AND, they miss an opportunity to get more nutrition in the meal! This can be as easy as adding a cup of milk or some peanut butter.
#3 Grab My Free Low-Sugar Cereal Guide for Easy Shopping!
Before you hit the grocery store, make sure to grab your free copy of my healthy cereal guide for kids. It'll save you the time and confusion of trying to read all those dang nutritional labels while your baby is fussing in the cart and your toddler is aggressively negotiating for the sugary stuff!