Jump to Recipe
This canned salmon salad is a high protein meal that's sure to be filling! It's a perfect substitute for tuna salad if you want to switch things up AND get the health benefits of salmon.
I know it's not the prettiest meal around. But this has been my go-to Saturday lunch for my kids since they were 1 year old, and I'm telling you, they LOVE it and ask for it frequently. I just like to make it at home instead of packing it in their lunchboxes so that their friends don't say their lunch is smelly!
Don't even ask me what got me started on canned salmon in the first place…it does feel kind of random, right? I know I gave both kids sardines as babies (a huge hit, oddly enough) that I usually mashed up with some avocado.
So I think I just expanded from that to canned salmon, since it's such an easy, pre-cooked protein that is FULL of health benefits.
Disclaimer: this post contains affiliate links. As an Amazon Associate, I earn from qualifying purchases at no extra cost to you.
Why I love this recipe
A protein-packed meal OR snack that can be prepped in LESS THAN FIVE MINUTES? I'm in! There's nothing not to love about the simplicity of this recipe that packs in the nutrients and keeps your kids (and you!) full. 
Making canned salmon is great, because you can pair it with whatever you have in your refrigerator or pantry to serve a great meal – crackers, pretzels, cherry tomatoes, snap peas, cucumbers, peppers – whatever your family likes to eat!
And mayo is pretty universally liked by kids, so I find it a great way to get them interested in fish. My personal favorite choice for mayonnaise is Sir Kensington's Classic Mayo. They also make an avocado oil mayo, and a vegan version, too. And I know a lot of people enjoy the Primal Kitchen brand! I prefer these because they use oils that have more benefits than the typical Hellmann's or Duke's.
Canned Salmon Salad
This is a high protein, filling meal. I find that it keeps my kids really satisfied. I usually make 2 cans at a time and the three of us split it. My kids love to eat it with Triscuits or toast cut into squares. I really like pairing it with a whole grain, whether that's whole grain crackers (like Triscuits) or whole wheat toast. This makes it even MORE filling!
Salmon is so beneficial for toddlers and kids because of the omega-3 healthy fats. This type of fat is particularly important for their brain and central nervous system development. While I'd love to cook fresh salmon weekly, that does not always happen!
Ideally, I recommend serving fish to your kids about twice a week.
Check out this post, Seafood for Toddlers, for a list of low-mercury, safe options for toddlers and young kids.
Ingredients Needed
All you need is:
1 6-oz can of salmon or tuna (I buy Kirkland Signature Wild Alaskan Pink Salmon)
2-3 tbsp Mayonnaise of choice (I use Sir Kensington's Classic Mayo)
1-2 tbsp Plain Greek yogurt (optional)
1 tsp Dijon mustard
Salt and pepper, to taste
How to make this easy canned salmon salad recipe
Drain canned fish well.
Add to a small mixing bowl.
Start with 2 tbsp mayo, 1 tsp Dijon mustard, and a sprinkle of salt and pepper. Mash together well with a fork.
At this point, you may want to add more mayo, or a tablespoon of plain Greek yogurt to make it creamier.
Serve with crackers if desired – my kids like Triscuits… the Triscuit thin crisps are easier for toddlers. That's what's pictured below!
Canned Salmon FAQs
Can I use this recipe with other canned fish?

Yes, try canned tuna! I prefer Safe Catch brand, or make sure to get "chunk light" of a brand you like. Avoid albacore tuna for babies, toddlers, and young kids, due to the higher mercury content.

What kind of canned salmon should I get?

I'm actually kind of picky about this. Here are a few considerations:

BE SURE to get SKINLESS AND BONELESS. I accidentally bought a can the other day that did have skin and bones and I ended up throwing it away, sadly! It's all about the texture, and the skin is weird, and the bones are crunchy, and there's not a chance in heck my kids would have eaten it with all that.
Our favorite is the Kirkland brand at Costco. It's a wild Alaskan pink salmon, boneless and skinless.
The Wild Planet brand is another option, but does have a somewhat stronger taste.
Safe Catch brand is another one that has boneless, skinless canned salmon that I'd recommend!
How I serve Canned Salmon Salmon to my kids
This recipe is great with any food you want to use as a carrier – or even just with a fork! I love serving it with crackers, cucumbers and sliced peppers to make this dish look pretty (let's be honest, canned fish isn't the prettiest food) as well as tasty!
You can also try mixing canned salmon with canned tuna if your kid has tried one but not the other. I will sometimes do one can of tuna and one can of salmon mixed together (just for nutritional variety) and my kids don't notice anything.
Want even more lunch ideas? Check out 32 Toddler Lunch Ideas You'll Love!
Other protein-packed recipes you might like
Turkey Meatballs (with "hidden" veggies!)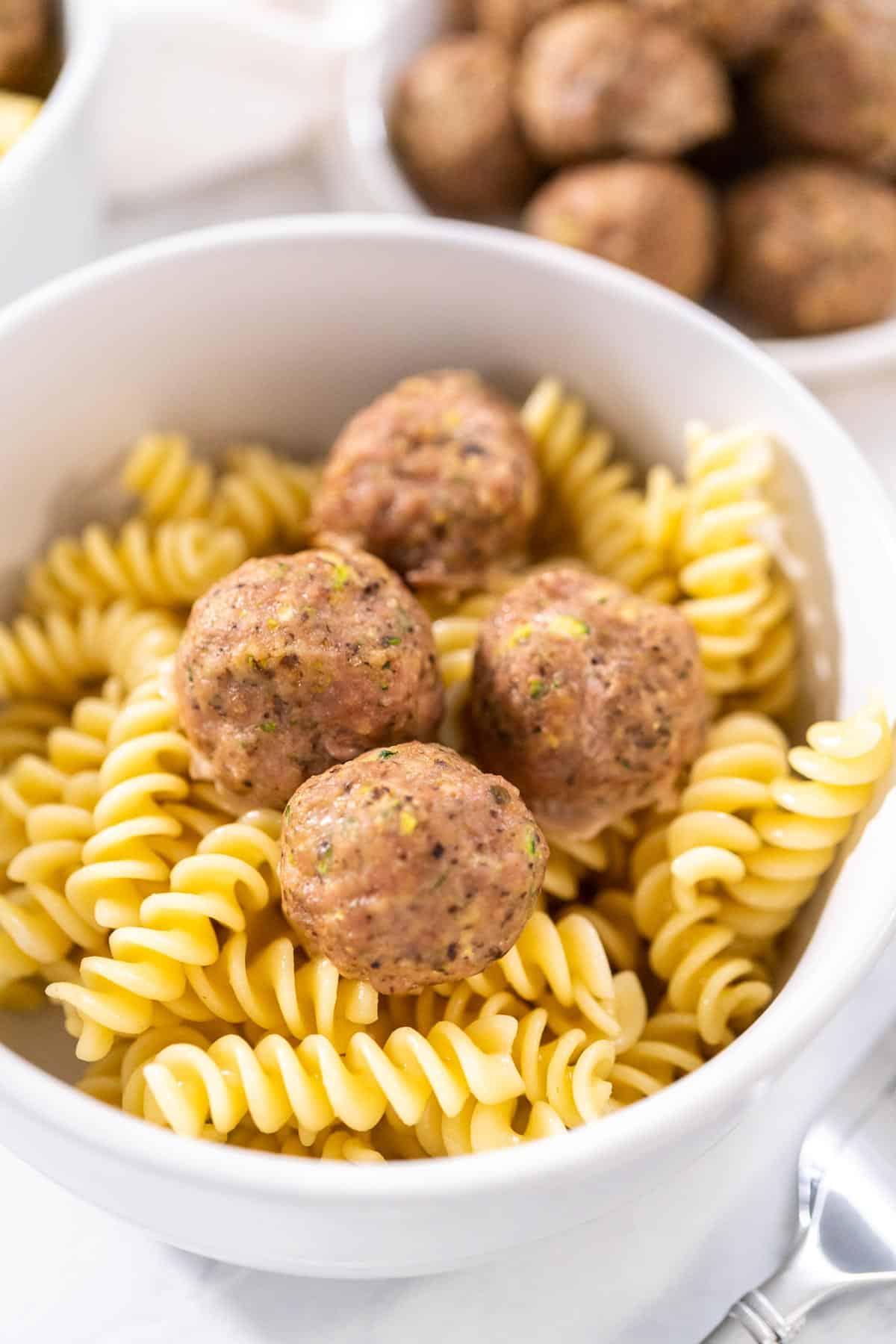 Baked Pineapple Chicken (so good for kids who love pineapple- you can absolutely leave off the sriracha for their portion)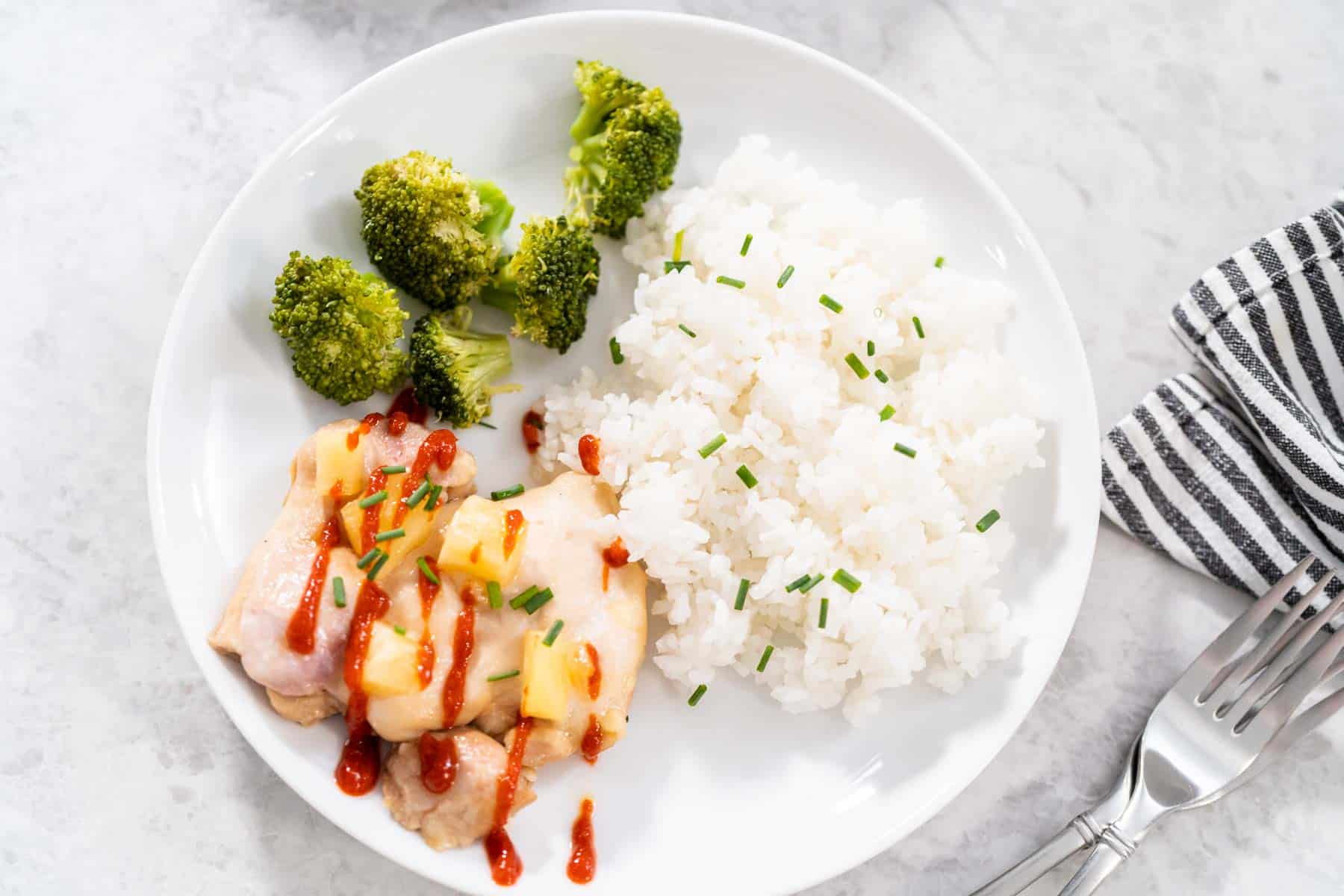 Mini Meatloaf with Roasted Green Beans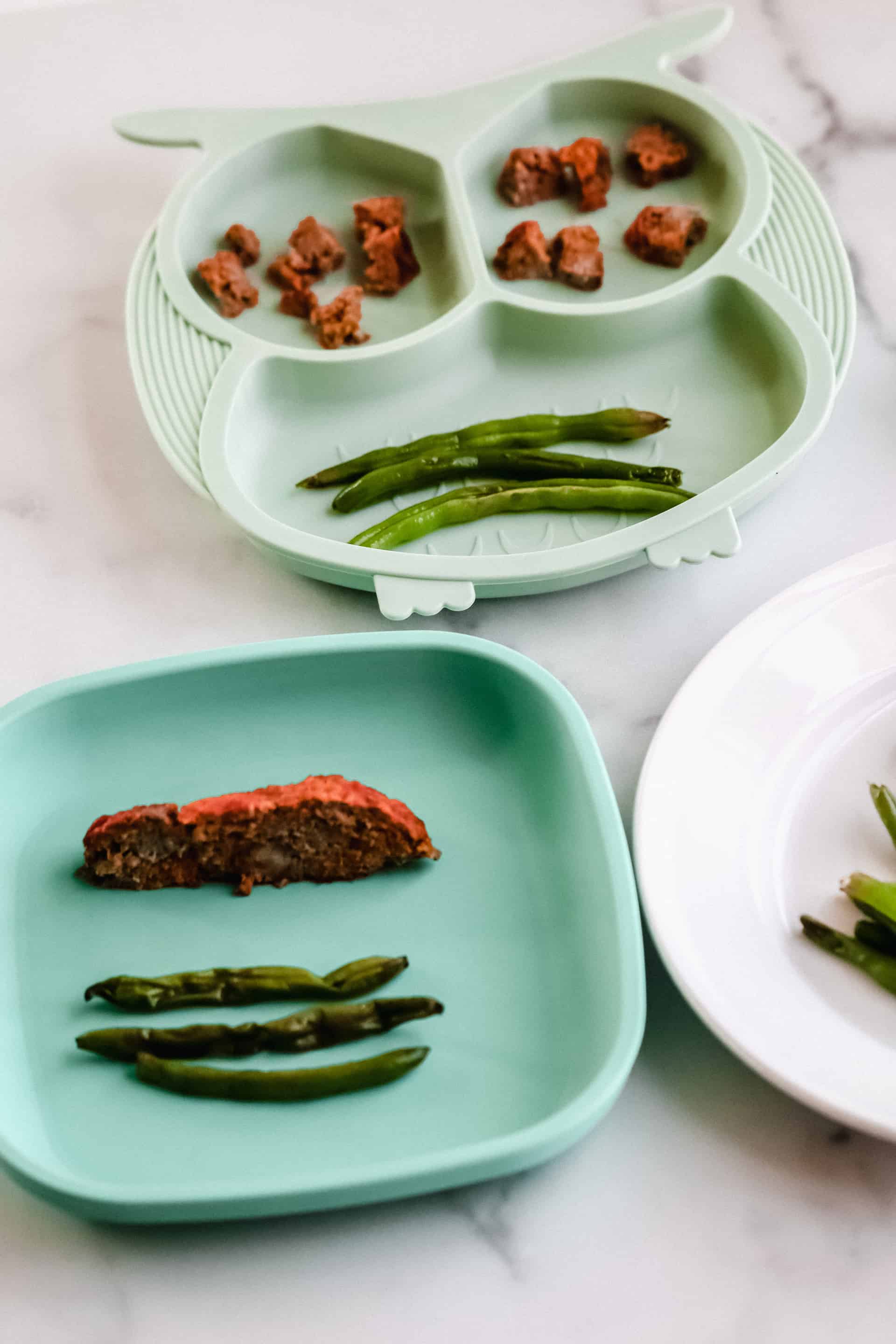 Black Bean Veggie Burger (my kids devoured these as toddlers before they turned picky)
Reminder for you!
I couldn't help but share a reminder with you to clean your dishwasher! I recently cleaned out my filter and ran a wash cycle using Refresh Dishwasher Cleaner and my dishwasher looks amazing. I didn't realize how dirty it was until I saw how great it can look clean! If you're not regularly cleaning your dishwasher, this is your reminder. I usually remember about every 3 months and that seems to be fine!
Canned Salmon Salad Recipe
Canned Salmon Salad
This canned salmon salad recipe is quick, delicious and works well as a snack or lunch for my kids, and is an omega-3 rich alternative to tuna salad!
Ingredients
6

oz

Canned salmon (or tuna)

1 can

2-3

tbsp

Mayonnaise of choice

1-2

tbsp

Plain Greek yogurt

optional

1

tsp

Dijon mustard

Salt

to taste

Pepper

to taste
Instructions
Add to a small mixing bowl.

Start with 2 tbsp mayo, 1 tsp Dijon mustard, and a sprinkle of salt and pepper. Mash together well with a fork.

At this point, you may want to add more mayo, or a tablespoon of plain Greek yogurt to make it creamier.

Serve with crackers if desired – my kids like the Triscuit thin crisps!
Notes
Nutrition facts calculated

using 2.5 Tbsp Mayo and no Greek yogurt.

Sodium can vary based on salmon brand and salt to taste, I used 1/8 tsp for 2 servings to calculate the nutrition information.

Nutrition facts are only for the canned fish recipe, they do not include nutrition information for crackers or veggies served with recipe.
Nutrition
Calories:
233
kcal
Protein:
20
g
Fat:
17
g
Sodium:
625
mg
Does your kid eat enough fish and seafood?
They may not be getting the recommended amount of omega-3 fats, and more specifically, DHA.
There are DHA omega-3 supplements for kids, but honestly, I haven't found one that tastes great. Most of them have a fishy taste that can't be masked. And we know kids won't take it if it doesn't taste good!
My top recommendation would be to purchase milk with DHA if they are under 3 years old, when the benefits of DHA are most needed. You'll see it say DHA on the front of the container!
I would also suggest using ground flaxseed often. It doesn't have DHA, but it is high in other omega-3 fats that are still highly beneficial. This post explains how much flax you should aim to serve, and how to serve it to kids.
Pro tip – I love adding ground flaxseed to smoothies! Check out some of my favorite smoothie recipes here: 6 Healthy Smoothies for Kids