Jump to Recipe
This Greek yogurt ranch dip is perfect for kids who love to dip, and parents who want some nutrition to come along with all that dipping!
This post is sponsored by Veggies Made Great; all opinions are my own!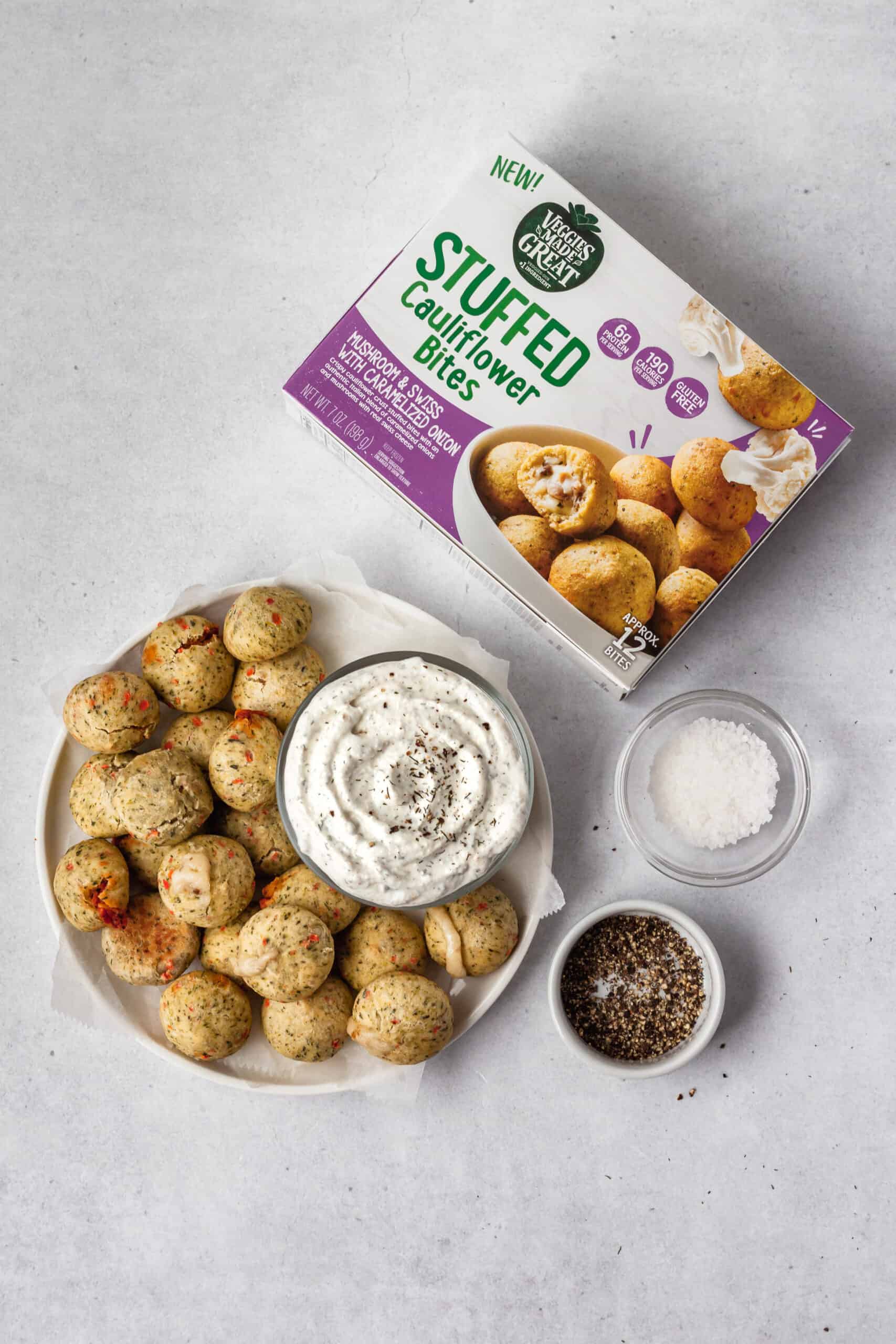 Why I Love This Greek Yogurt Ranch Dip
I know for a lot of kids, ranch dressing is basically its own food group. And to be honest, I could personally eat ranch dressing every day and love every second of it. There's something special about the flavoring that's perfectly delicious, yet not too bold for kids (including lots of picky eaters).
I did my Registered Dietitian thing with this recipe and swapped out the sour cream, replacing it with low fat Greek yogurt. This has become a standard swap in my house, with basically anything that calls for sour cream. A dollop of plain Greek yogurt tastes even better than sour cream, in my opinion, on tacos, fajitas, chili, baked potatoes, and more!
Serve the Dip With Stuffed Cauliflower Bites
I mean, what's better than serving this healthy ranch dip with some veggie packed bites??
These Stuffed Cauliflower Bites from Veggies Made Great are a healthier take on a pizza roll, and got thumbs up votes all around in my house!
Serving this as an afternoon snack would definitely earn you a gold medal for best parent ever.
Made with a crispy cauliflower crust, the bites are stuffed with a delicious blend of veggies and real cheese. And, there are several flavors to choose from! My 4 year old's favorite is the Margherita flavor. There's also Spinach & Ricotta, Mushroom & Swiss with Caramelized Onions (YUM), and Roasted Veggie (has a kick).
If your kid is not super into veggies, you NEED to try these Cauliflower Bites. Your little one would never guess that they are so veggie rich, and it won't take any convincing or bribing them to eat these up!
Ingredients Needed for Greek Yogurt Ranch Dip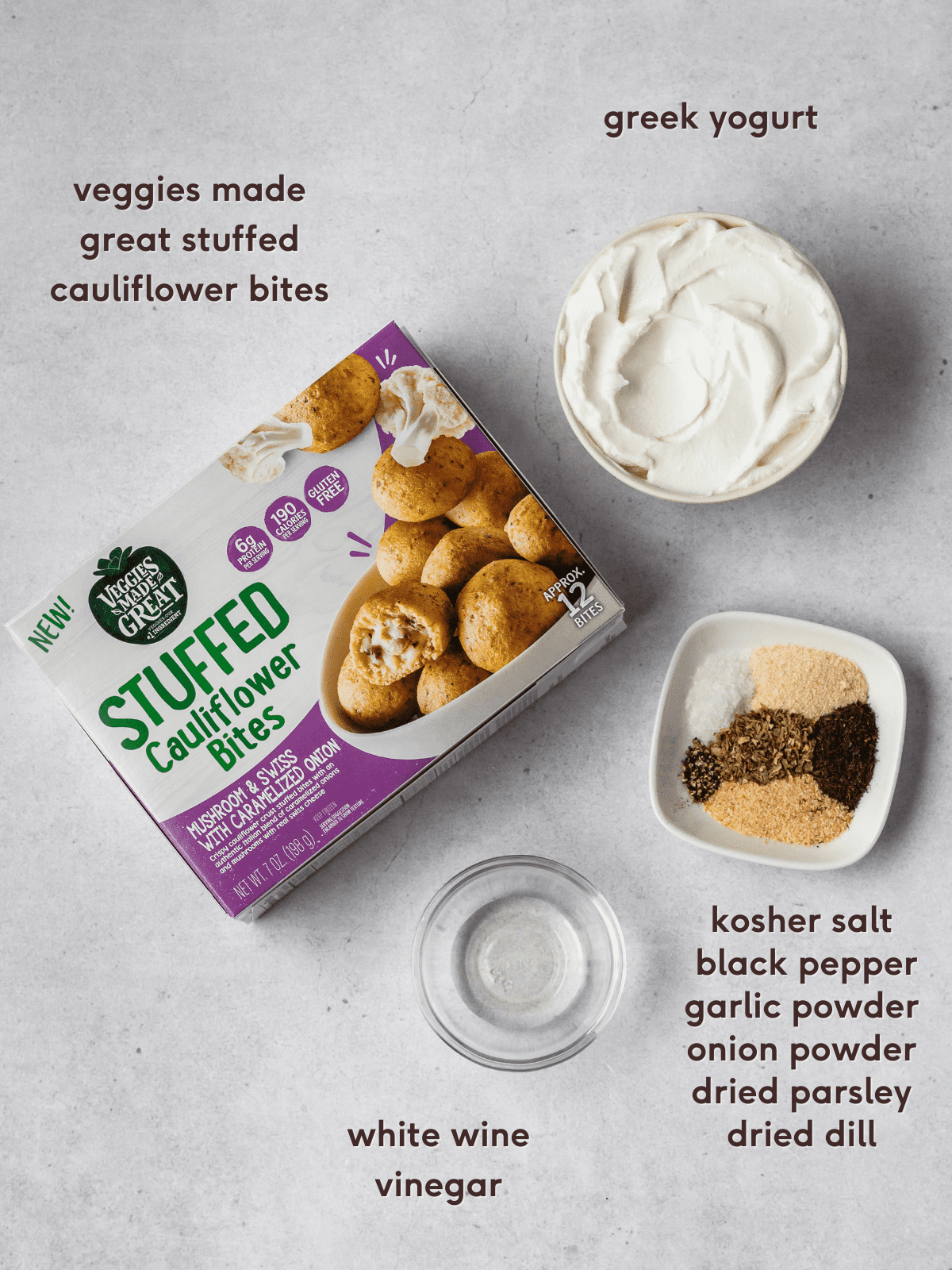 You probably already have most of these on hand! All you need is:
Low fat or full fat Greek yogurt (2% or 5%): I used 2% because that's what I usually have on hand, but it would be even creamier with full fat Greek yogurt!
½ teaspoon kosher salt: don't have kosher salt? Just use a fine grain sea salt.
¼ teaspoon black pepper: this is on the conservative side but you can still omit it if you think your little one won't like any hint of pepper.
1 teaspoon garlic powder
1 teaspoon onion powder
1 teaspoon dried parsley
½ teaspoon dried dill
1 tsp white wine vinegar: you could substitute apple cider vinegar, red wine vinegar, or probably even lemon juice in a pinch.
How to Make this Recipe
First, grab a small bowl and stir together the Greek yogurt with all the seasonings for the ranch dip. Set it aside.
Prepare the Cauliflower Bites according to package directions. My personal favorite method is using the air fryer! No oven preheating time wasted, and they get perfectly crispy every time.
No air fryer? No worries. You can absolutely use the toaster oven, regular oven, or even the microwave in a pinch. Sometimes it's a snack emergency and the speed of the microwave is the only solution. I've been there.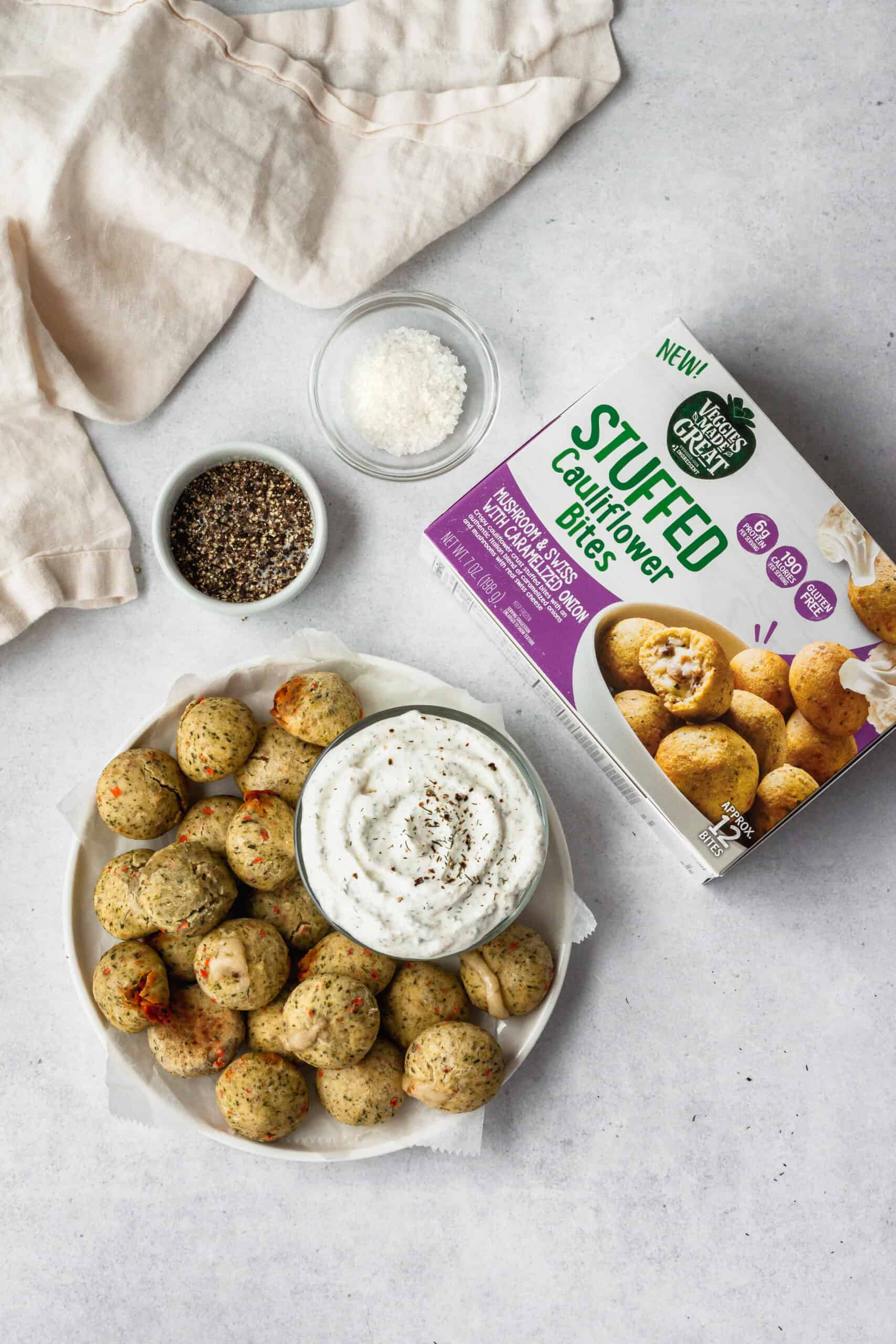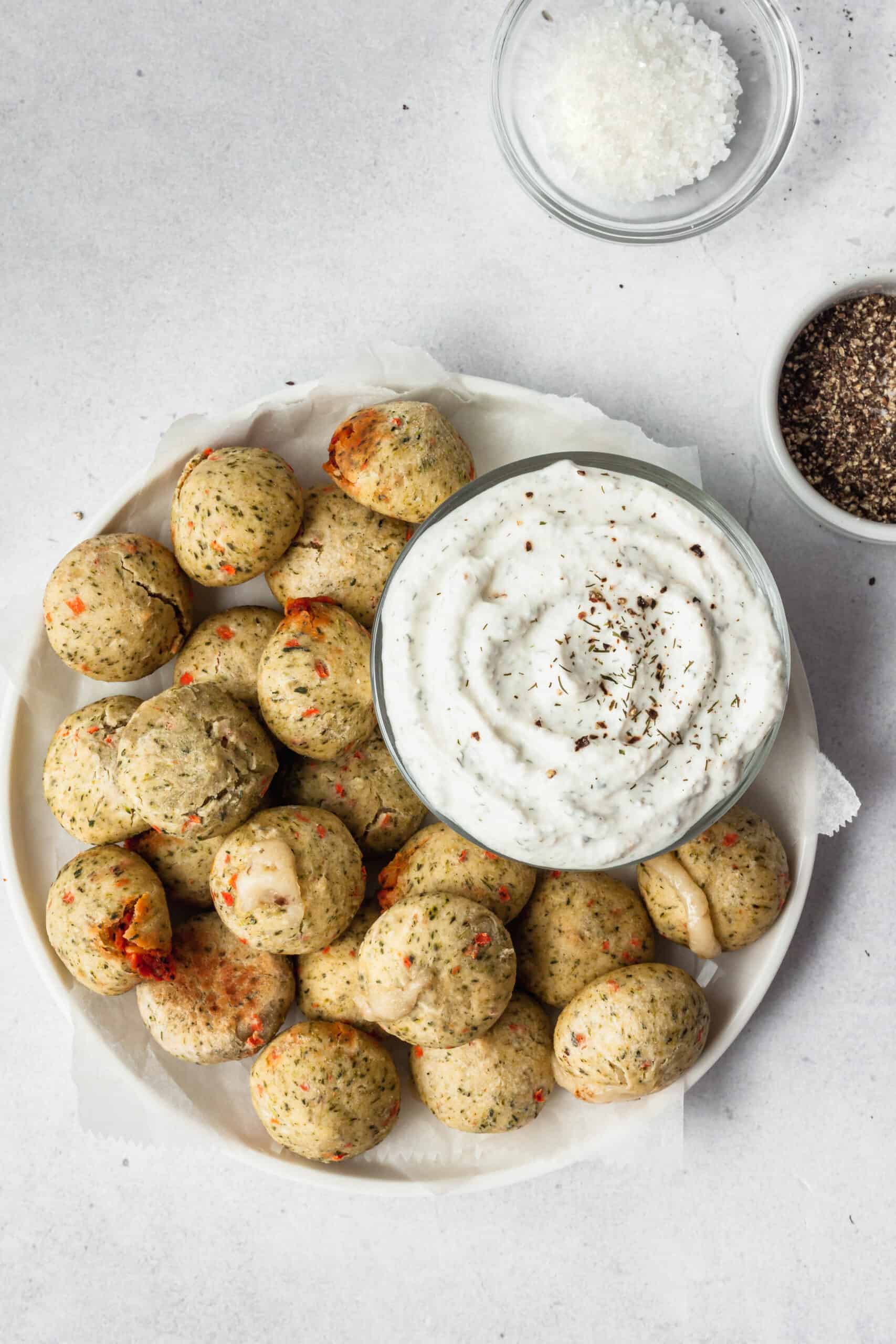 Recipe FAQs
Where do you buy the Cauliflower Bites?

Find these Stuffed Cauliflower Bites in the freezer section at Giant Food, ShopRite, Fresh Thyme and Big Y.

Is there a specific brand of Greek yogurt that's best?

You can get whatever your store carries, just check that the ingredients only say milk, cream, and live active cultures. You don't want to get one that's sweetened or flavored.
Expert Tips
Have any extra Greek yogurt ranch dip leftover? Store in an airtight container in the refrigerator for up to 3 days.
Greek Yogurt Ranch Dip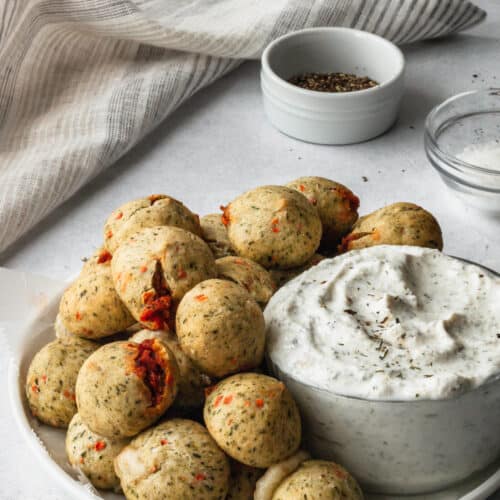 Greek Yogurt Ranch Dip
This Greek yogurt ranch dip is perfect for kids who love to dip, and parents who want some nutrition to come along with all that dipping!
Equipment
small bowl

measuring spoons
Ingredients
1

cup

plain low-fat or full-fat Greek yogurt

(2% or 5%, your preference)

½

teaspoon

kosher salt 

¼

teaspoon

black pepper

1

teaspoon

garlic powder

1

teaspoon

onion powder

1

teaspoon

dried parsley

½

teaspoon

dried dill

1

teaspoon

white wine vinegar

1-4

tbsp

water 
Instructions
Add Greek yogurt to a small mixing bowl. Stir in all seasonings. Stir in white wine vinegar

Add water, 1 tbsp at a time until you reach the desired consistency

Add additional salt to taste, if preferred

Let sit in the refrigerator 2-4 hours before serving for flavors to fully develop
Nutrition
Calories:
41
kcal
Carbohydrates:
3.9
g
Protein:
6.3
g
Cholesterol:
3.3
mg
Sodium:
616
mg
Fiber:
0.7
g
Sugar:
1.7
g