Jump to Recipe
These healthy Banana Chocolate Chip Muffins are a must-try for your kids. I swear to you, a few chocolate chips on top of just about anything will get even picky kids interested! These are rich in healthy fats and fiber from the almond butter and ground flaxseed.
The flavor is pretty mild – just a nice natural sweetness to them.
Muffins are one of the easiest ways to get good nutrients in your little ones. Muffins and smoothies are basically what keeps my son getting great stuff in every day!
Note: This post contains affiliate links. As an Amazon Associate, I earn from qualifying purchases at no additional cost to you.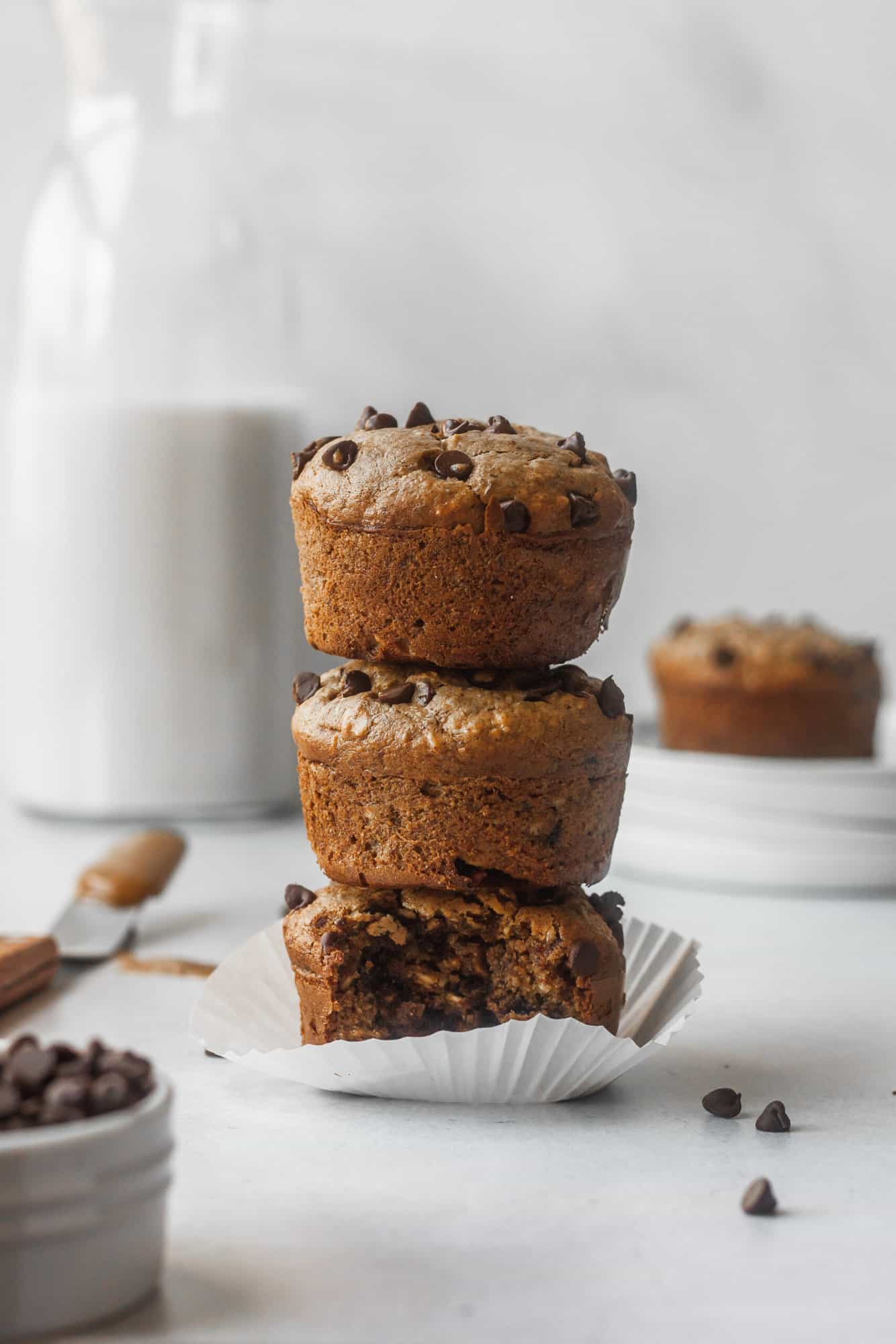 Why I love this recipe
Every recipe I create has picky kids in mind – and this one is definitely picky eater friendly! You can also make it nut free by substituting sunflower butter or granola butter in place of the almond butter.
Muffins are always quicker to make than I think they're going to be. I'm all about maximizing your time and effort in the kitchen. I love that you can have enough to serve them for a couple days!
Healthy Banana Chocolate Chip Muffins with Oats
Store bought muffins have SO much added sugar. These aren't nearly as high in sugar, and also have a good balance of protein, fiber, and fat to help keep them full and prevent a sugar spike.
If you have a 1 or 2 year old, you could definitely skip the chocolate chips. We don't use a ton in the recipe, but if they haven't started eating them yet, I would just leave them off.
Ingredients Needed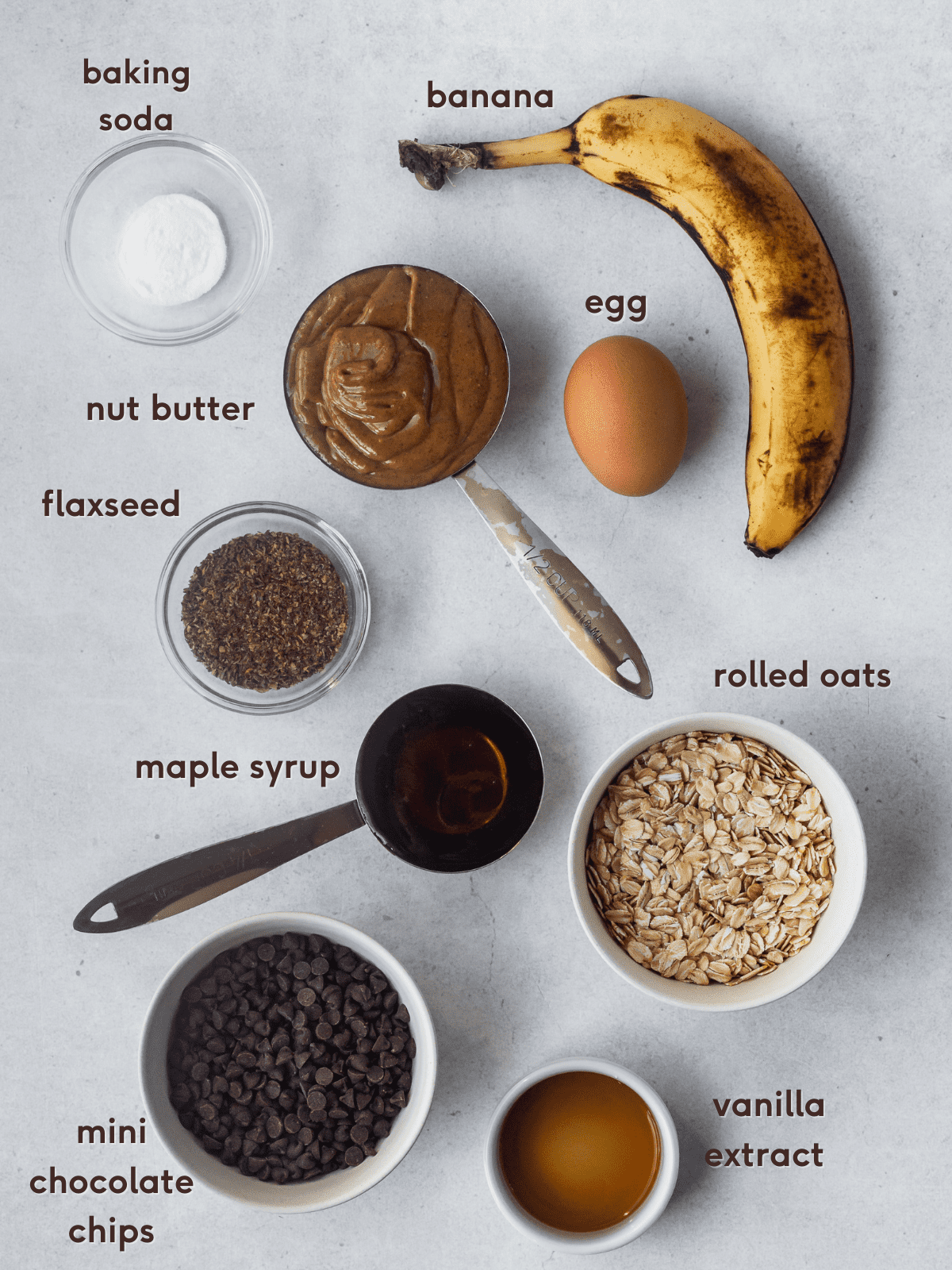 All you need is:
1/2 cup (128 g) unsalted almond butter or cashew butter
1 medium ripe banana (100g or 1/2 cup)
1 large egg
1/4 cup (60 g) maple syrup
1/2 cup (40 g) rolled oats
2 Tbsp (14 g) finely milled flaxseed (optional)
1 tsp vanilla extract
1/2 tsp baking soda
1/4 cup (60 g) mini chocolate chips, plus more for sprinkling
How to make this recipe
Line muffin tin with silicone liners
Add all ingredients except choc. chips to blender
Blend on high until oats are fully ground and batter is smooth
Pour batter into muffin tin, each 3/4 full
Sprinkle choc. chips on top of each muffin
Bake for 10-12 min
Let cool in pan ~10 min before serving
Keeps in refrigerator 2-3 days; frozen 2 months.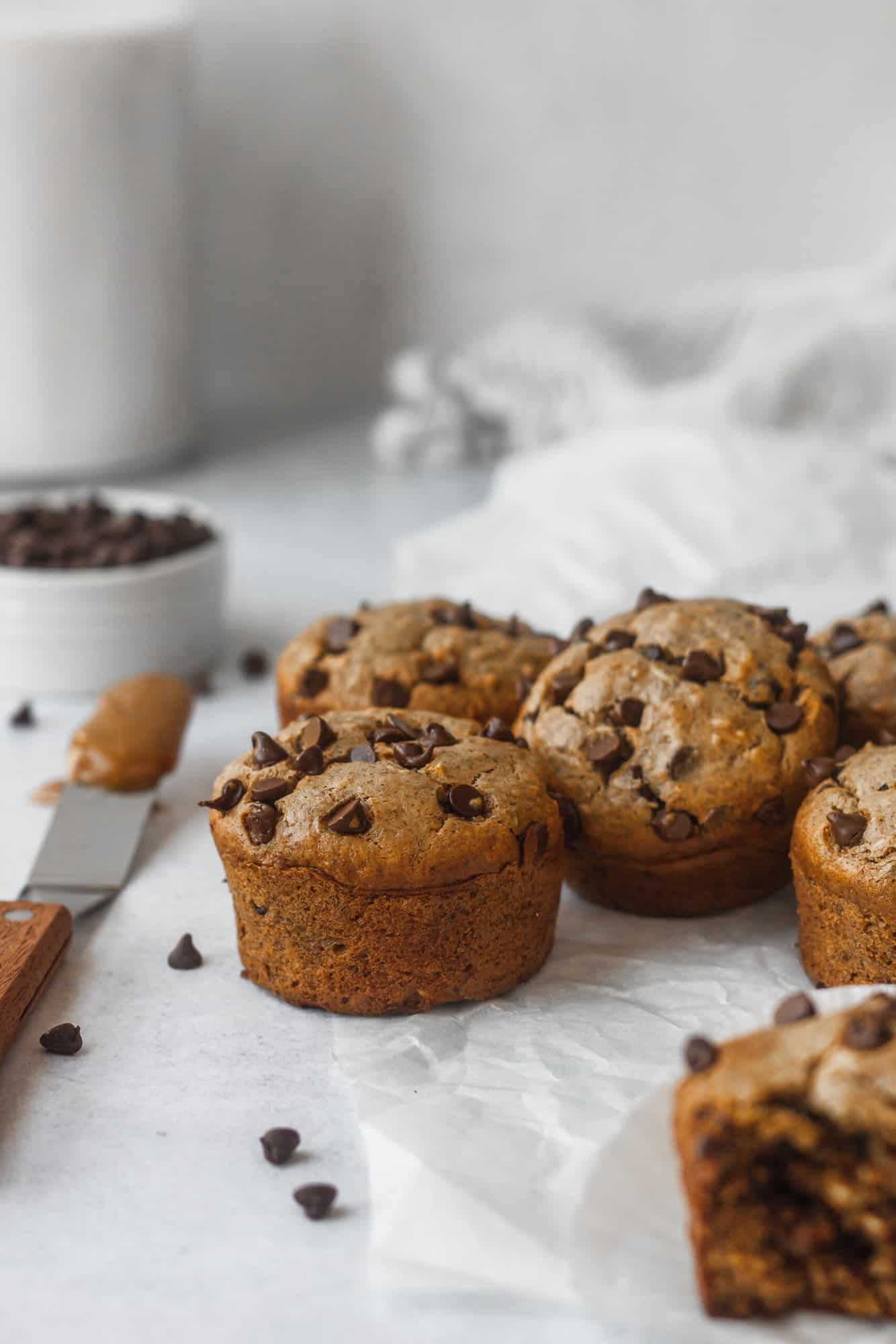 Recipe FAQs
Can I omit the banana?

I haven't tried without so I don't have a surefire answer to this. There's not a strong banana flavor since we only use one banana. However, you can try it with 1/2 cup applesauce.

Can I omit the egg?

Yes, make a flax egg with 1 tbsp milled flax and 2.5 tbsp water. Stir together and let sit about 10 minutes to thicken.

What kind of flaxseed do you recommend?
Expert Tips
Get yourself a kitchen scale! I love to weigh my ingredients to take a step out of the process…especially sticky ingredients like nut butter. That's why you see the amount in grams in the recipe in parenthesis.
Other recipes you might like
The Best Zucchini Banana Bread Muffins for Kids
Easy Blender Banana Oat Pancakes for Babies
For you
Silicone muffin liners are great, and silicone muffin pans are even better! They're nonstick and the soft material makes it so easy to pop your muffins out once they cool. If you bake muffins regularly, get these today!
Healthy Banana Chocolate Chip Muffins with Oats Recipe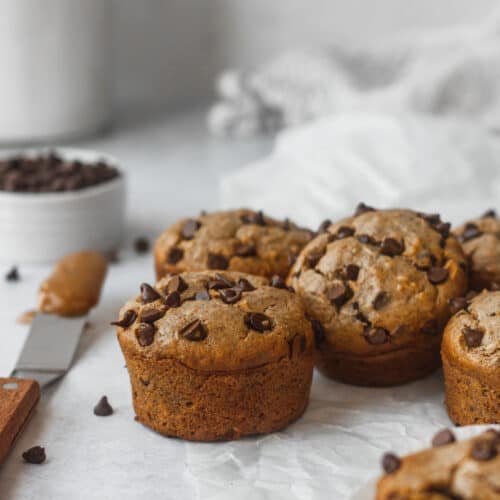 Healthy Banana Chocolate Chip Muffins with Oats
These delicious muffins are perfect for your kids (and you!) for breakfast, lunch or snack time!
Equipment
High Power Blender

Muffin Tin

Muffin Liners

Measuring Cups or Scale

measuring spoons
Ingredients
1/2

Cup

Unsalted Almond Butter or Cashew Butter

(128 g)

1/2

Cup

Medium-Ripe Banana

(100 g)

1

Large Egg

1/4

Cup

Maple Syrup

(60 g)

1/2

Cup

Rolled Oats

(40 g)

2

Tbsp

Finely Milled Flaxseed (optional)

(14 g)

1

Tsp

Vanilla Extract

1/2

Tsp

Baking Soda

1/4

Cup

Mini Chocolate Chips, Plus More for Sprinkling

(60 g)
Instructions
Preheat your oven to 375F (190C) and prepare a muffin tin. I like to use a silicone muffin tin or silicone muffin liners. Alternatively, spray a regular muffin tin well with cooking spray. Set aside.

Add all ingredients except for chocolate chips to a high-speed blender and blend on high until the oats are fully ground up and the batter is smooth and creamy. Stir in chocolate chips by hand. If the batter seems too thick, stir in milk (any kind) one tablespoon at a time.

Pour the batter into your prepared muffin tin, filling each about 3/4 full. Sprinkle some mini chocolate chips on top of each muffin.

Bake for 10-12 minutes, until the tops of your muffins are set and a toothpick inserted into the middle comes out clean. Allow muffins to cool in pan for ~10 minutes before serving.

Cool before storing. The muffins will keep in the refrigerator in a sealed container for 2 to 3 days. They can also be frozen for up to 2 months.
Nutrition
Serving:
12
g
Calories:
153
kcal
Carbohydrates:
13.7
g
Protein:
3.8
g
Fat:
9.25
g
Sodium:
60.6
mg
Sugar:
9.9
g