One of my go-to meals for starting solids is easy, healthy, pancakes for babies. Baby-safe pancakes are a sanity-saver because the whole family loves them, they're a weekend tradition you don't have to sacrifice for baby's sake, and they can be made in batches and thawed for easy meals all week long!
I know that a lot of parents have concerns about serving up pancakes for babies, so I wrote up this post to answer FAQs, dispel myths, and basically bring you over to the pancakes-for-babies side! It's a total game changer, especially if you're new to solids. (You can thank me later!)
Jump to Recipe
Can babies eat pancakes?
Yes, babies can eat pancakes, as long as the ingredients are baby-safe and any choking hazards have been addressed.
Ingredients To Watch For
Honey is 100% off limits for babies.
Not to sound scary or anything, but honey can make babies very sick. This is because it can be contaminated with bacteria, which could cause infant botulism. To be safe, just avoid it completely until your baby turns 1.
Keep added sugar low.
We want to keep added sugar low for babies, and avoid it as much as possible. I prefer to steer completely clear of sweeteners like maple syrup and sugar when making pancakes for babies.
Watch for added salt.
Babies should only have 400mg sodium or less per day, so avoid it when possible.
Avoid adding protein powders.
Baby's little body is more sensitive to protein than old kids' and adults' bodies are. It's best to avoid added protein (i.e. those not found naturally in foods) for baby.
Pancakes & Choking Safety
Pancakes can be choking hazards for babies, but there are some easy workarounds that make them a great option.
For babies between 6 and 9 months old, cut pancakes into strips the size of your index finger. When they're older and can use the pincer grasp (like to pick up a cheerio, for example). you can cut pancakes into smaller, bite-size pieces.
Oh, and just make sure your pancakes aren't too dry, because when they're dry they're harder to swallow. If you make them and they turn out drier than you wanted (it's not like we ever get distracted while cooking or anything), just add something on top like butter or yogurt to make them easier for baby to swallow!
At what age can you give babies pancakes?
Pancakes are safe for babies ages 6 months and up who are safely able to feed themselves.
If you'd like a step-by-step guide and expert advice from yours truly on making sure your baby is ready to eat (and figuring out how to serve baby foods other than purees!), grab a copy of my Simply Solids Guide! (It's only $10!!)
Can my baby eat pancakes made with milk?
Yes, it's totally okay for baby to have a bit of milk added into pancakes (or whenever you're baking), you just want to avoid serving milk as a beverage. It should not replace breastmilk or formula for babies under 12 months old.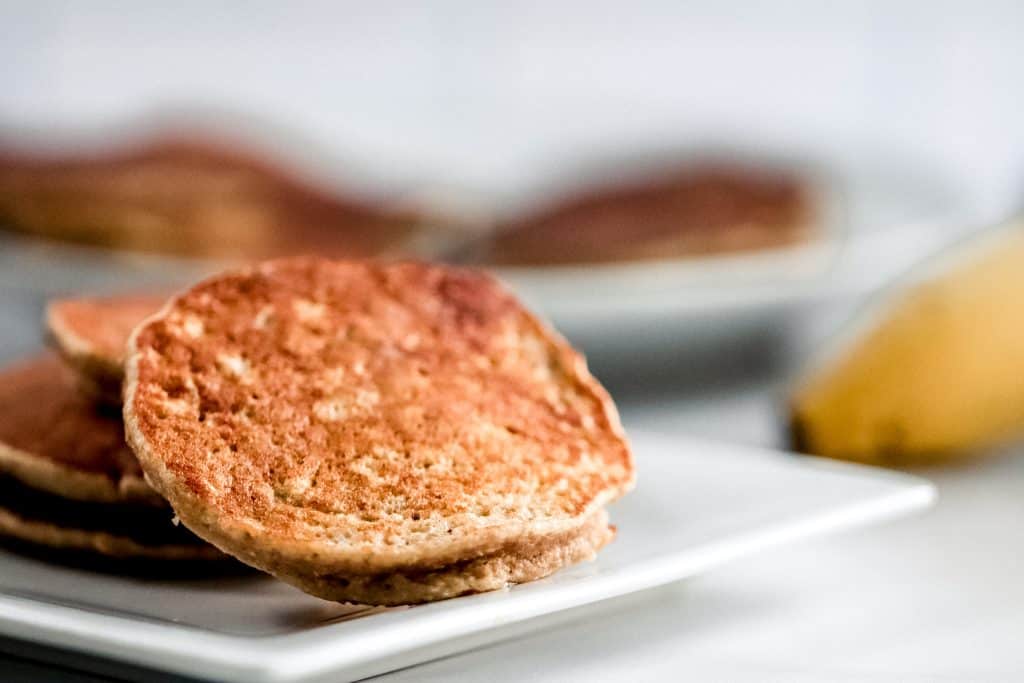 What can I put on pancakes for my baby?
Here are some fun topping ideas for the next time you make pancakes for baby:
Mashed strawberries
A thin smear of peanut butter topped with mashed banana
Whole milk Greek yogurt (Add any mashed fruit to this for more flavor. I like doing this with peach or mango!)
Prune puree (Especially if they're constipated)
How do you make pancakes for babies?
The best way to make pancakes for babies is to use the recipe below! These Banana Oat Pancakes are my favorite ones to serve to babies!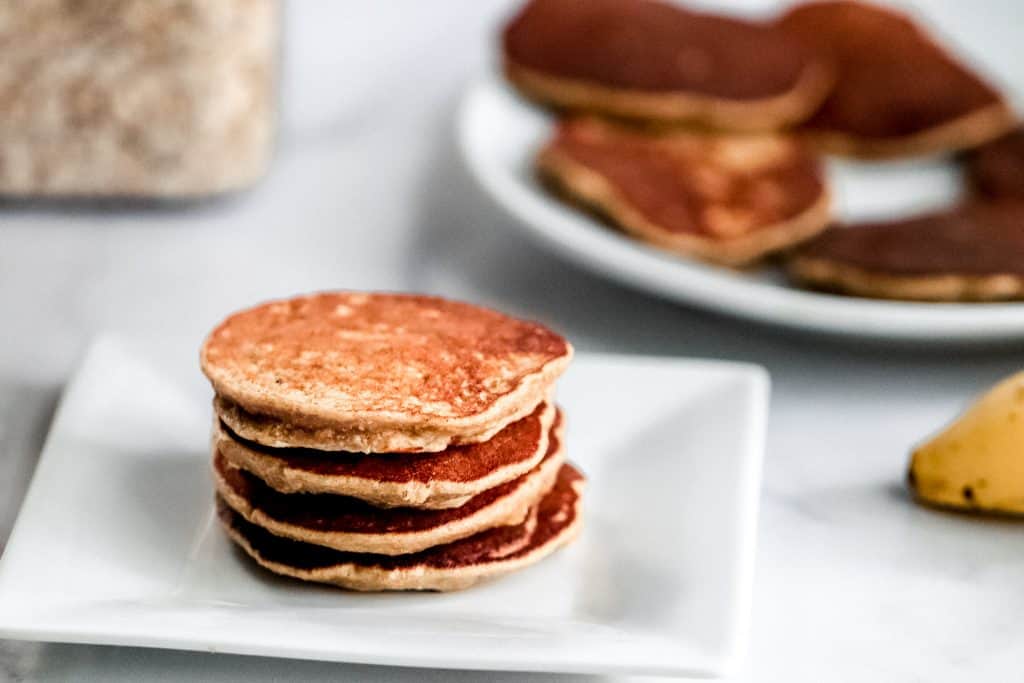 Banana Oat Pancakes for Babies
These pancakes are made with simple and healthy ingredients, and one batch makes enough that you can make and freeze several extras to serve later or serve them to the whole family. I LOVE freezing baby food so you always have homemade options easily available. To defrost, you can leave 1 or 2 pancakes out on the counter for about an hour, or microwave straight from the freezer for about 30 seconds.
Note: I don't recommend using baby oatmeal in this recipe because it doesn't absorb enough liquid to be able to form the pancake!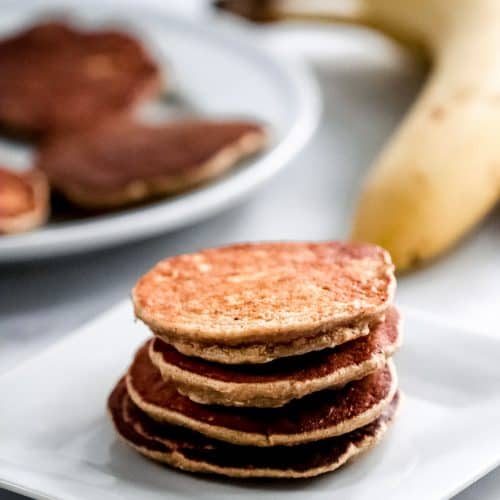 Easy Blender Banana Oat Pancakes for Babies
Baby and toddler friendly healthy pancake recipe
Ingredients
1

Cup

Rolled Oats

3

Large Eggs

3

Medium Bananas

1

Tbsp

Chia Seeds

¼

Tsp

Cinnamon
Instructions
Add all ingredients to your blender or food processor and blend until smooth.

If your bananas are on the larger side, start with 2 bananas, and see how thick the batter is. If it's too thick, add another ½ banana and blend again.

If the batter seems too thin, stir in 2 to 4 tablespoons of oats, and let sit for 5 minutes to thicken.

Cook like you would any pancake recipe!
Notes
This recipe has no added sugar!
Nutrition
Calories:
226
kcal
Carbohydrates:
30
g
Protein:
8.75
g
Fat:
6.25
g
Fiber:
5.3
g
Sugar:
11.5
g