Try these toddler snack recipes for your family this week!
A few months ago, I started a little tradition of making a snack recipe every week to pack for my son to have at daycare. I'm not 100% consistent, but I make it happen most weekends! I used to love baking, and it's kinda fallen by the wayside (like many other things in my life) since having T. Some weeks are total fails, like the time I decided to wing it with a baked oatmeal snack cup without a recipe, and you know how baking without a recipe typically turns out. Total gloppy failure. But I've also come away with a few favorites, so my ego can handle a few fails every now and then. 😉
I'll post another time about some of my favorite packaged snacks, since we use those plenty often as well.
The great thing about a lot of these recipes is that I can freeze part of the batch to pull out on a day when I don't have anything fresh on hand.
Here are some of our recent faves!
5 Favorite Toddler Snack Recipes from Around the Web
Lentil Granola Bars

by Fannetastic Food
Ummm yes, lentils in baking. People do it with black beans in brownies so I figured how bad can it be? T absolutely loved these, and I did too. I thought they were a little on the sweet side, but I think the sweetness helps hide the fact that you're eating a bunch of lentils.
2. Vegan Zucchini Banana Bread Muffins by Chocolate Covered Katie
I'm a big fan of this recipe — you throw all the ingredients in your blender to mix them up. It's soooo quick and easy! The recipe is designed to make a loaf bread, but I just shorten the baking time by about 10 minutes and use silicone muffin liners in my muffin tin. They're vegan, aka dairy-free, egg-free, and also gluten-free.
3. Maple Cinnamon Oatmeal Breakfast Bars by Iowa Girl Eats
Make these now! I just tried them recently for the first time and I'm not even lying that I prefer these to donuts. They're not really donut substitutes, but we took my son out for donuts one morning and I decided I didn't even want one since I had a batch of these back home. And of course, my son loved them too. These are great for either a quick breakfast or an afternoon snack!
4. Chocolate Paleo Bars by Chocolate Covered Katie
A great no-bake recipe. I love not turning on my oven in the Texas heat! These call for raw nuts but I've made them with roasted nuts. I'm sure they'd be delicious either way.
5. Healthy Trail Mix by Mom Spotted
You can buy trail mix easily, but I love making a big batch with my son's favorites and portioning it out into baggies for the week. This version by Mom Spotted looks great. Ours looks a little different every time based on what I have on hand. I typically do a cereal or popcorn, 1-2 types of nuts, and a dried fruit. I typically skip out on chocolate just to avoid the melt factor.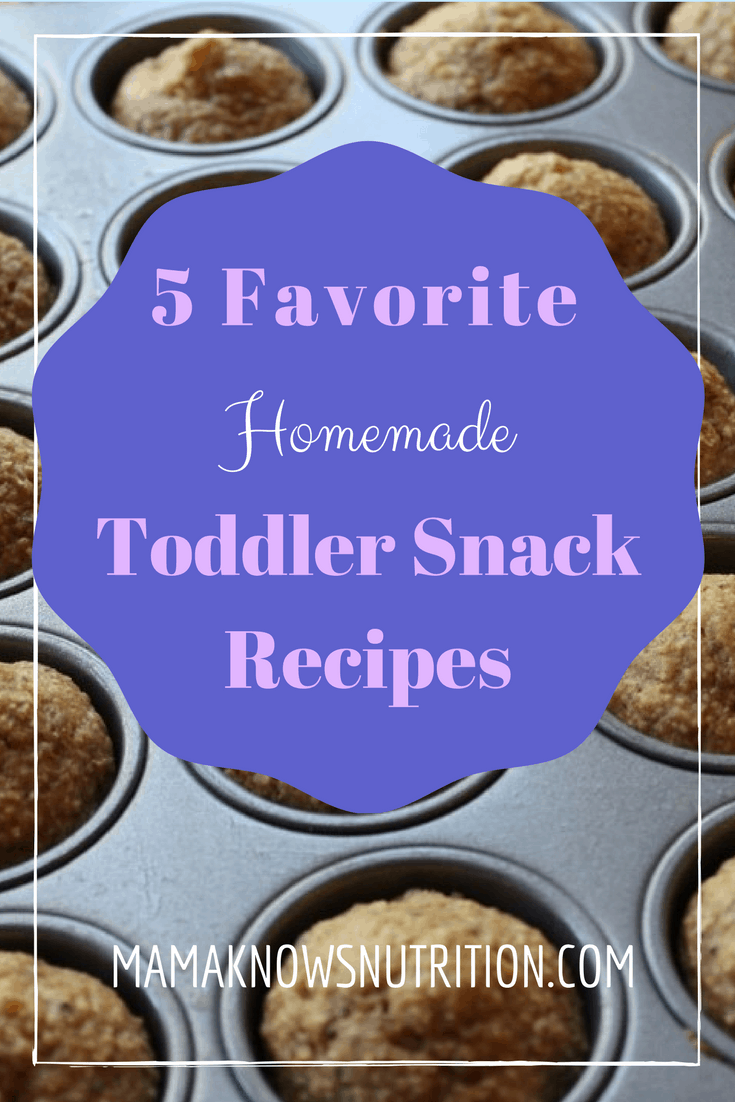 —————————
Which one of these recipes do you want to try?
What are your favorite toddler snack recipes (or snacks for older kids)?