These healthy toddler muffins are great for breakfast or snacks (or even in a packed lunch). If you have a picky eater who doesn't like big flavors or chunks of fruit in their muffins, this is the recipe for you.
I wanted Emilia to bake with me the other afternoon, and when I asked her what kind of muffins she wanted to bake, she said, "plain!"
Jump to Recipe
What is a plain muffin?
I didn't really know what a plain muffin was in her mind, but I decided on no mix-ins, no banana, and no cinnamon. Kind of like a corn muffin, you know? Delicious but simple.
But I always like to add some good nutrition to our muffins to know they will be filling and more than just flour, sugar, and butter. While there is nothing wrong with a classic muffin from time to time, I know we feel our best when we go lower on the sugar and higher in protein and fiber. Especially if we will be enjoying muffins for breakfast — I want to make sure my toddler has good fuel for a (hopefully) tantrum-free morning.
What do they taste like?
These healthy toddler muffins turned out so tasty! There are no strong flavors, but they have a really nice sweetness to them. If your little one tends to like sweet flavors the most, this will definitely be a hit with them. But you can feel good knowing there is not a lot of added sugar here.
Important to note, they are NOT dry or rubbery. I feel like sometimes, when you make a recipe for healthy muffins, they come out too dry or dense or just not flavorful. But this healthy toddler muffin recipe uses a good balance of ingredients that naturally adds moisture to keep these muffins from being dry.
And bonus, we even got a vegetable into these! My kids will tell you they don't like sweet potatoes, but they do love it in these muffins.
Do you want another muffin recipe to try?
My allergy-friendly Zucchini Banana Bread Muffins for Kids is a great option! These will help you get some more green veggies into your kids. Click here to view the recipe!
Or try these healthy strawberry muffins for kids, and especially for picky eaters! Click here for the recipe!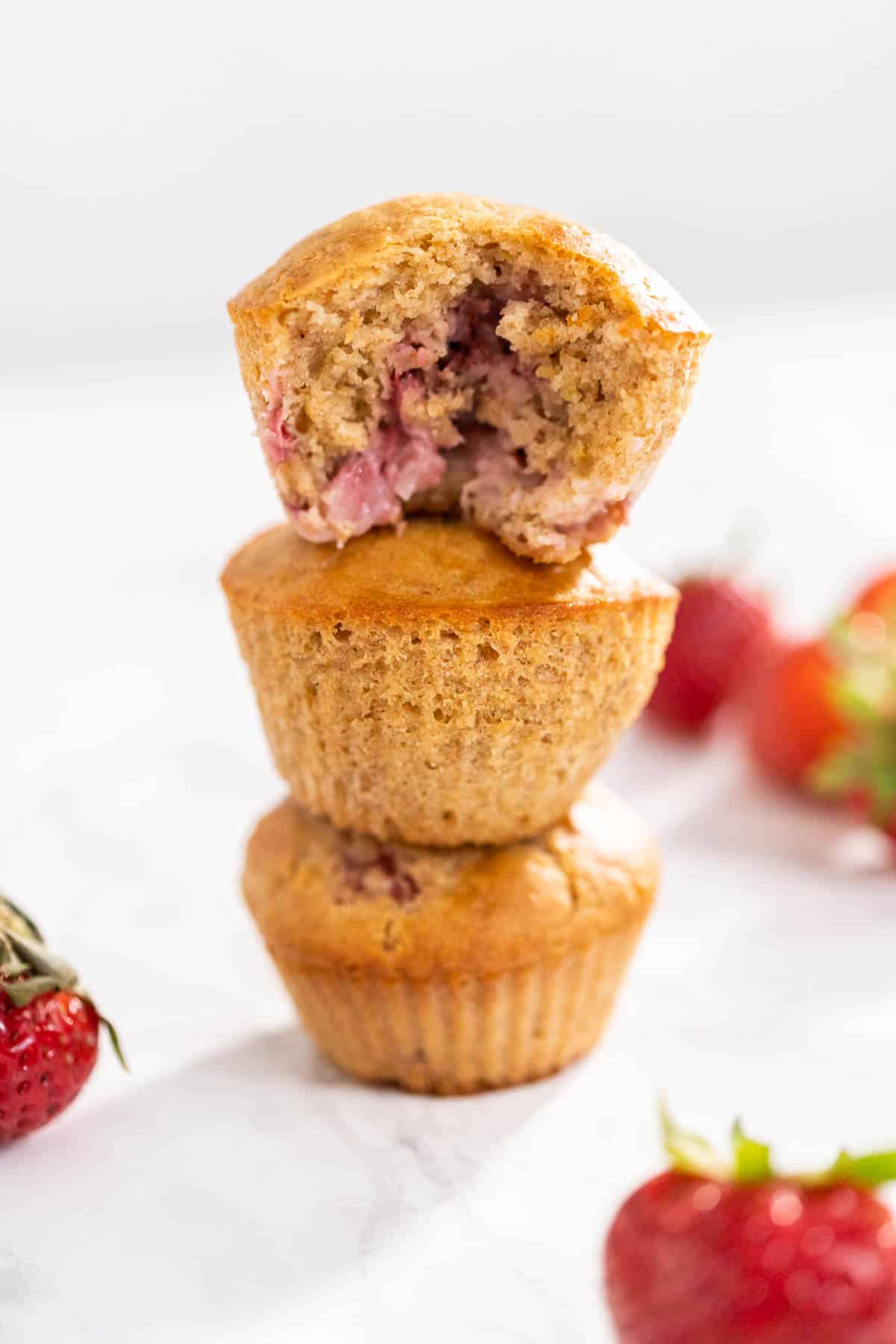 Here's how to make the healthy toddler muffins
So here are our "plain" sweet potato muffins that came out very tasty!
We ate them as-is, warm from the oven, but they would be great with some butter, nut butter, or cream cheese spread on top too!
"Plain" Sweet Potato Muffins
Picky eater friendly muffins that are healthy, too!
Ingredients
2.5

cups

All-Purpose Flour

(or 1.5 cups all-pupose and 1 cup whole wheat flour)

1/2

tsp

Baking Soda

1

tsp

Baking Powder

1/4

tsp

Salt

1

tbsp

Hemp Hearts

(optional)

1/4

cup

Maple Syrup

3/4

cup

Plain low-fat or whole milk yogurt

3/4

cup

Canned sweet potato puree

1/3

cup

Avocado oil

1

Egg
Instructions
Mix dry ingredients in large bowl, set aside.

Mix wet ingredients in medium bowl. Add wet to dry. Stir together fully.

Scoop batter into muffin tin (makes 12 muffins) and bake 18-20 minutes.

Store leftovers in the fridge 3-4 days or in the freezer for 2-3 months.
Notes
Nutrition facts calculated using all purpose flour and low-fat plain yogurt. This recipe includes 4g of added sugar from maple syrup.
Nutrition
Calories:
210
kcal
Carbohydrates:
26
g
Protein:
3.8
g
Fat:
9
g
Fiber:
1.2
g
Sugar:
10
g
Substitutions for the Healthy Toddler Muffins
I haven't personally tried any of these yet, but these are my best suggestions if you need to make substitutions.
Flour: an all-purpose gluten free flour would likely work well if needed. Someone asked me about almond flour on instagram, and all I can say is that it would be an experiment! Almond flour typically needs more of a binder so you may want to substitute 1 tbsp milled flaxseed for the hemp hearts if you're going to test the almond flour route, or add a second egg. But again, I'm honestly just guessing here and am not sure how they would turn out.
Maple syrup: you could substitute granulated sugar or honey. Again, I haven't tried it, but I think they'd still turn out well, just slightly different flavor!
Yogurt: if you need to use dairy-free yogurt, I would try it with coconut yogurt. You might also be able to use a dairy free milk in place of the yogurt.
Sweet potato puree: you can substitute canned pumpkin or butternut squash puree, or mash a sweet potato and measure it out. If you decide to mash your own sweet potato, you may need to thin it out a little with some milk, you want it to be a little bit runny in texture.
Avocado oil: you can use vegetable oil, canola oil, or extra light (NOT extra virgin) olive oil instead.
Egg: I haven't tried it with this recipe yet, but I would make a flax egg if you need to make these egg-free.
Want lots of easy & healthy meal and snack ideas?