Jump to Recipe
These Healthy Orange Popsicles are embarrassingly easy to make. They are the perfect summer treat! My kids could live on popsicles in the summertime. As a dietitian, I like to make sure they are filled with goodness, including protein. And, I like to make them without added sugar.
Note: this post contains affiliate links. As an Amazon associate, I earn from qualifying purchases.
Healthy Orange Popsicles
Most store bought popsicles are primarily just sugar and water. Kind of disappointing! (But I do have a list of my favorite popsicles in grocery stores here!)
I love to make these orange juice pops with 100% juice and no added sugar. Such a great option for a hot day!
Believe it or not, juice actually counts as a serving of fruit. So you can get your kids closer to the daily recommended 2 to 3 cups of fruits/veggies. But they will just think they're having a treat! Win/win.
It's always a good idea to increase hydration when there's warm weather. My kids get sick of drinking water, so a popsicle helps with extra hydration.
Plus, we're adding in some protein — 4.5 g protein per popsicle — so it is more filling. And, it's a good way to get in some protein if they're not big protein eaters.
No Added Sugar Popsicles
First, most storebought popsicles have added sugar. And it can be a shockingly high amount of sugar in a small popsicle! It's just not necessary. 100% juice is already delicious. There's no reason to add extra sugar.
The classic Popsicle brand popsicles have 7g added sugar in 1 popsicle. That means it's basically just a sugar bar, to be honest.
Quick nutrition lesson – 1 teaspoon of sugar is 4 grams. So we have almost 2 teaspoons of sugar in one 40 calorie popsicle. 1 teaspoon of sugar is about 16 calories. So 32 out of 40 calories come from pure sugar. We can do better than that!
Even the Outshine Fruit Bars, which look like they're mostly fruit, have added sugar too.
I don't mean for this to be the grocery store popsicle hate parade. I totally buy these sometimes. There's nothing that you should feel like you can NEVER eat or NEVER buy.
I'm just saying, it can be a great nutrient dense snack when homemade. If you've got the time and motivation to make homemade popsicles, why not?
I like the flexibility of choosing exactly what ingredients to include. Plus, popsicles seriously couldn't be any easier to make!
And it's a great way to get your kids to try new flavors.
But if you do want to find a healthy storebought option, I have my favorites listed here.
Bonus – Constipation Fighter
Are you dealing with constipation in your house?
Apple juice, prune juice, and pear nectar juice are helpful in fighting constipation. So if you want a snack that's going to help, give one of those juices a try in your popsicles!
Popsicle Molds
I've tried a couple different kinds of popsicle molds over the years. These are what I always choose to use now.
I like them because they are:
Easy to fill
Inexpensive
Easy to hold and eat
Easy to clean
The only downside is that the stick part, which is the lid, doesn't firmly attach. So you have to be careful to keep it upright in the freezer. Also don't let your 3 year old load them into the freezer because they WILL SPILL. Cleaning sticky juice out of the freezer is not fun.
Prefer to avoid plastic? There are silicone sets, too. I have these. But you need to use a clip on the bottom to keep the popsicle up. (And so your little one doesn't just squeeze the whole thing right out).
They also make silicone ones with popsicle sticks, like these:
Or these ones by Nuby. Great size and shape for tiny hands!
Don't have any popsicle molds?
Use small disposable drinking cups or a muffin tin instead!
Fill with juice mixture.
Top with aluminum foil.
Poke a popsicle stick through the foil in the middle.
The foil is what keeps the stick in place. Alternatively, you can freeze the popsicles for 1-2 hours until semi-frozen, then add sticks at that point.
No popsicle sticks? Use a plastic spoon instead!
Easy orange popsicle ingredients
We're using VERY simple ingredients here. So the only two ingredients you'll need are:
I don't recommend using orange juice concentrate for this recipe. Choose 100% fruit juice or 100% fruit and veggie juice. I like using an orange carrot mixture. Not only for the vibrant orange color, but also to get a veggie in there. And the vitamin C boost is great, too.
I used the RW Knudsen Carrot Orange juice which also has pineapple juice and grape juice mixed in.
Use any juice that your little one likes! You can squeeze fresh oranges and use fresh orange juice, too! Just would be some extra time and work.
Any flavor of popsicle is the perfect summer treat!
Orange Dreamsicle or Creamsicle
People call it different things, but you know the creamy orange frozen treat I'm talking about? If you want to go in that direction, I would use Greek yogurt to add creaminess. Greek yogurt is thicker and has less water than regular yogurt. So it's going to be creamier in the popsicle and less watery. I would blend together:
1 banana
1 cup plain whole milk Greek yogurt
1/2 cup orange juice
1 tsp orange zest
1 Tbsp maple syrup
1/2 tsp vanilla extract
These do taste best with some sugar added. But I would use maple syrup or honey to keep it refined sugar free. And if you need dairy free, I would try full-fat coconut milk in place of the Greek yogurt. Orange creamsicles are such a refreshing treat!
Recipe for the Easiest Orange Popsicles Ever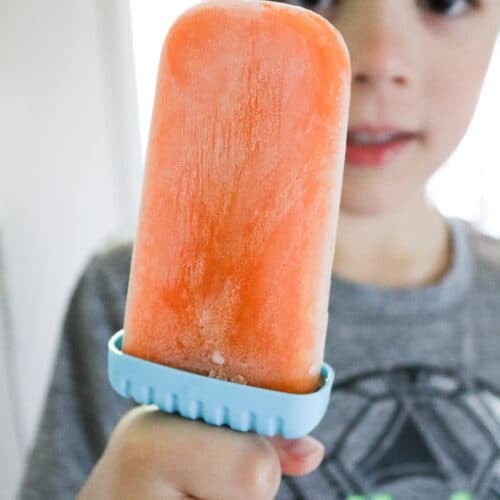 Healthy Orange Popsicles (with protein)
Easy homemade pops with no added sugar
Ingredients
2

cups

100% juice

 (I used a carrot orange blend)

2

scoops

(20g) unflavored collagen protein powder

 (I used Vital Proteins)
Instructions
Pour 2 cups juice into a large measuring cup or mixing bowl.

Pour in collagen powder and whisk very well. Make sure no clumps remain. Pour evenly into 4 popsicle molds.

When fully frozen and ready to serve, run popsicle under hot water for a few seconds to loosen the mold. Then remove the popsicle and serve.
Video
Notes
The popsicle molds I use hold 4 oz juice each.
You can adjust the recipe to make more popsicles by adding ½ cup (4 oz) juice for each additional popsicle. The ratio is 1 cup of juice per 1 scoop collagen powder.
If you use different popsicle molds, they may hold a different amount of liquid.
Nutrition
———–
Want even more healthy recipes for no added sugar snacks and treats for your kids?
I have 20 more recipes waiting for you in the No Sugar, Still Sweet ebook! These recipes are sweetened only with fruit, no added sugar. They are so tasty and perfect for toddlers.