Jump to Recipe
The reason I can tell you these are the BEST Healthier Cinnamon Rolls is because I tested SO MANY VERSIONS of this recipe before landing on "the one." My stress level was super ultra high trying to get these right!
I made this recipe for NBC DFW for a segment on healthier holiday baking. And when you're sharing a recipe on the news, you really don't want it to be bad. And by you, I mean me. I'm a perfectionist, what can I say.
And then my husband promptly made fun of me for announcing in the segment, "UGH the smell alone is reason enough to bake these." But aren't I right??? The smell of cinnamon rolls baking is one of the BEST smells that will ever come out of your kitchen.
I also take offense to him making fun of me because he himself proclaimed these healthier cinnamon rolls to be amazing and he typically rolls his eyes at my healthier baking endeavors. So he can thank me for coming up with such a delicious recipe that is wayyy lighter than traditional cinnamon rolls. 🙂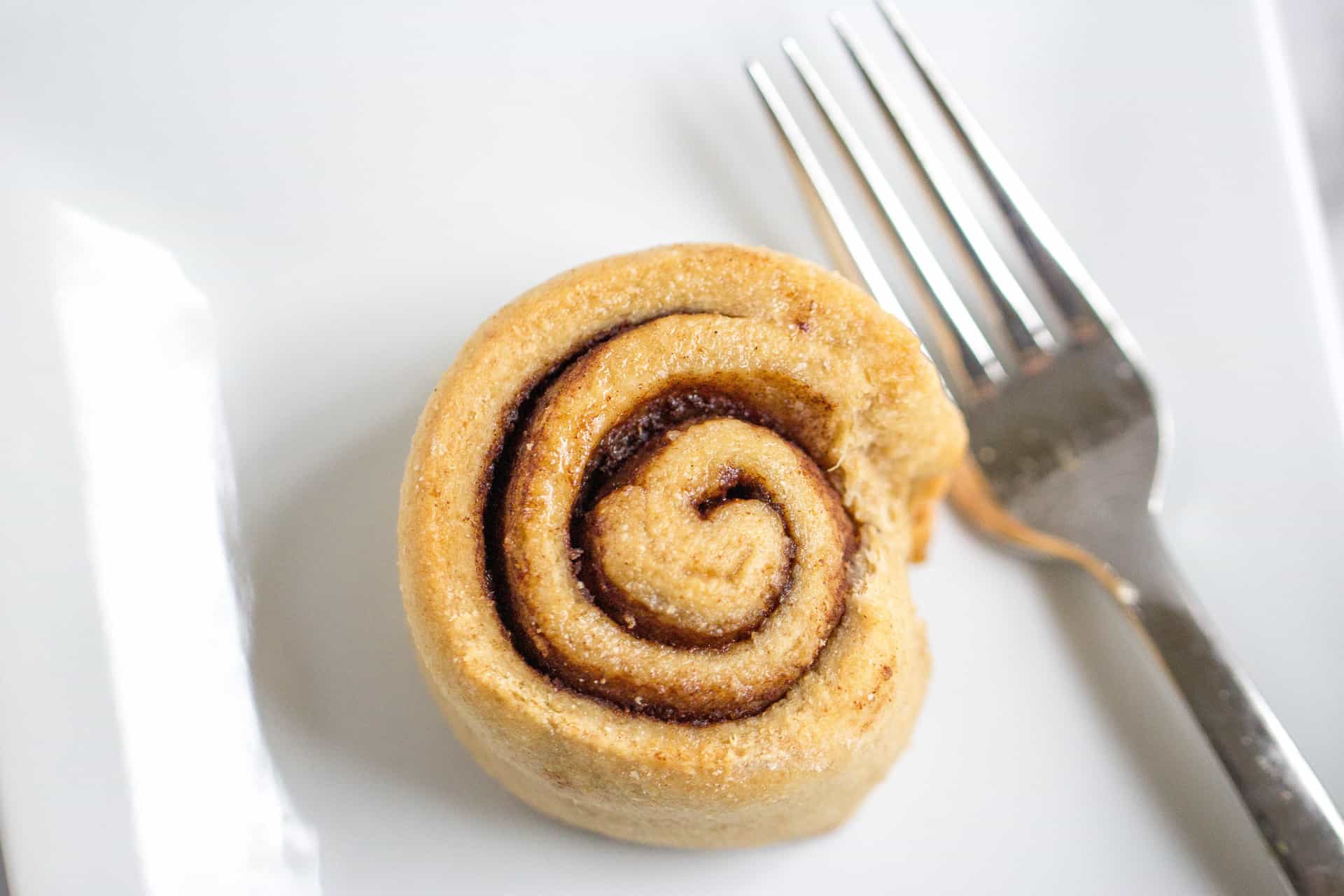 What makes these cinnamon rolls healthier
White whole wheat flour: this is different than regular whole wheat flour – make sure your package says "white whole wheat flour" because if it just says "whole wheat flour," the cinnamon rolls won't taste as good. White whole wheat flour comes from a milder tasting (and lighter in color) grain. But, it's a more healthful choice than regular white all-purpose flour because it contains the WHOLE grain. This means it has fiber! And fiber is typically missing from baked goods like this. Fiber is a MAJOR player in preventing constipation (if your little one is struggling with constipation, read this post.) And if you want other ideas for high fiber foods for toddlers, read this post!
Less sugar: Traditional cinnamon roll recipes add a bunch of sugar both to the dough and to the filling. I cut it down significantly in this recipe for Healthier Cinnamon Rolls. These still have a sweet taste (especially with the frosting on top) but are not so over the top. (Of course, there's nothing wrong with going for the "real deal" sometimes! But I like having lower sugar options for when I'm in the mood for something lighter.)
Less butter: Butter is delicious. It adds moisture, flavor, and richness – but I found that even just a few tablespoons of butter still give that richness, without adding quite so many calories.
Greek yogurt icing: I used plain, whole milk Greek yogurt as the base for the icing to add a little protein and probiotic action! You may not want to use the full amount of powdered sugar called for; I would add half a cup to the yogurt and then add 1 tbsp at a time until you get the desired sweetness.
P.S.- if you want yogurt recommendations, check out this post.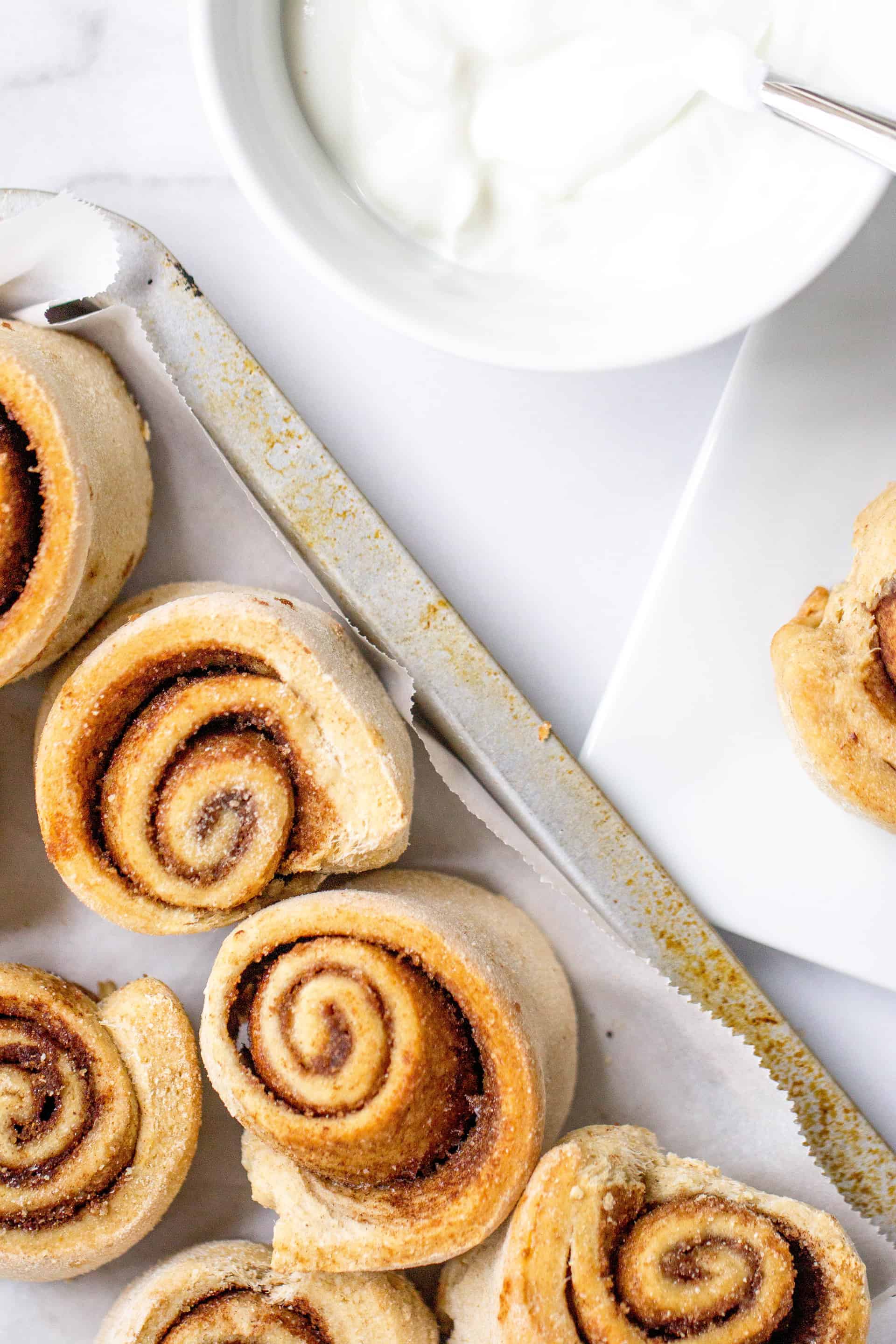 Notes for Baking
Depending on the brand of white whole wheat flour you use, you may not get all the flour to mix in when you first mix the dough. That's okay. Just dump any that's left over out onto the dough when you're kneading it.
Another option to make these a little fluffier is to use 1 cup regular all purpose flour at the beginning of the recipe, and then use white whole wheat for the remaining flour called for in the recipe.
I ended up skipping a rise for these rolls, which is why they include both yeast and baking powder. I tried with just yeast and it just wasn't as good, so that's how we got here. If I were a real baker I could probably explain better, haha.
I haven't tried letting them rest overnight in the fridge before baking, but I bet you could do it if you want to make the cinnamon rolls in the evening, then take them about about 30-60 minutes before baking to return to room temperature.
These WON'T spread much in the pan, so don't be sad when they come out of the oven and don't all touch each other like a traditional recipe would. You didn't mess up.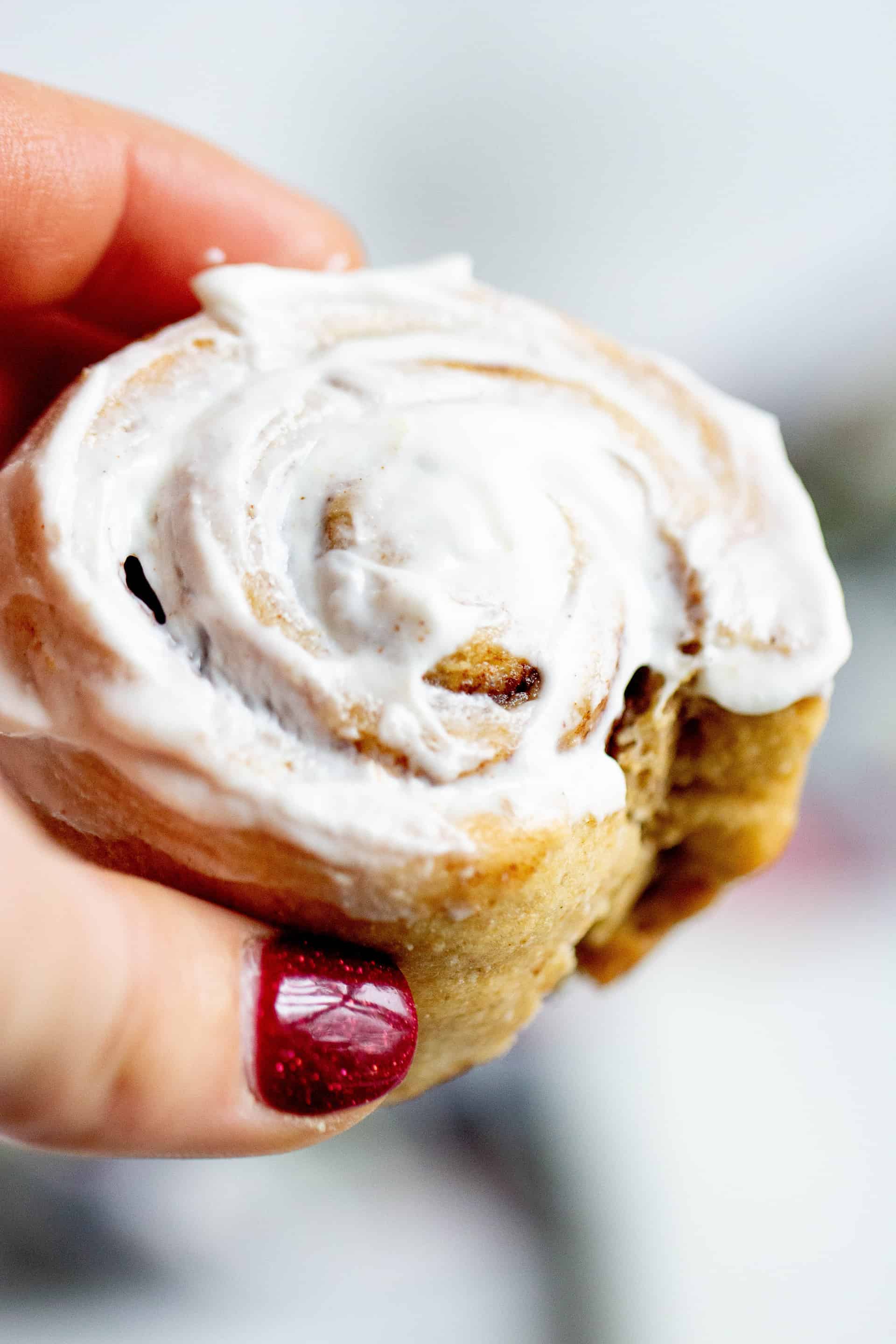 The BEST Healthier Cinnamon Rolls
Healthier Cinnamon Rolls
These Healthier Cinnamon Rolls use way less butter and sugar than traditional recipes. The addition of white whole wheat flour adds fiber – a nutrient often lacking in baked goods!
Ingredients
Dough
2

cups

white whole wheat flour

plus more for flouring surfaces

1

¼-oz package

quick rise dry yeast

2

tsp

baking powder

½

tsp

fine grain sea salt

¾

cup

warm milk (100-110°F)

½

tbsp

unsalted butter, melted

(7 grams)

1

tbsp

granulated sugar
Filling
2

tbsp

brown sugar

(packed)

3

tbsp

granulated sugar

2

tsp

ground cinnamon

1

tbsp

unsalted butter, melted
Topping
1

tbsp

unsalted butter, melted
Icing
1

cup

plain Greek whole milk yogurt

1

cup

powdered sugar

1

tsp

pure vanilla extract
Instructions
Preheat the oven to 350°F, and lightly coat a 9"-round cake pan with nonstick cooking spray.

Prepare the dough: whisk together 1 cup of flour, yeast, baking powder, and salt in a medium bowl. In a large bowl, stir together the milk, butter, and sugar. Add the dry ingredients to the wet. Continue to mix in the remaining flour, 2 tablespoons at a time.

Turn the dough out onto a well-floured surface, and knead for 3 minutes or until the dough springs back most of the way when you gently press your index finger into it. Let the dough rest while preparing the filling.

Prepare the filling: stir together the brown sugar, granulated sugar, and cinnamon in a small bowl.

On a well-floured surface, roll the dough out into an approximately 16×10" rectangle. Brush with 1 tablespoon melted butter, leaving a 1" border on the two longer sides. Sprinkle evenly with the cinnamon sugar, leaving a 1" border on the two longer sides again. Carefully roll up the dough into a long log, starting at one long edge and rolling tightly towards the other edge. Brush the free edge with water then pinch onto the roll to seal.

Carefully slice the log into 10-12 pieces using a very sharp serrated knife. Place the rolls into the prepared pan. There will be space between the rolls; they won't fill up the pan completely.

Brush the tops of the rolls lightly with the 1 tbsp butter listed as "topping" in the ingredients.

Bake the cinnamon rolls for 17-20 minutes or until the filling is bubbling and the sides feel firm. Cool in the pan for at least 10 minutes. Top with icing and serve.
Notes
Nutrition info calculated for 12 servings and using 2% milk. Recipe contains 12g added sugar.
Nutrition
Calories:
165
kcal
Carbohydrates:
26
g
Protein:
5
g
Fat:
4
g
Fiber:
2
g
Sugar:
14
g
Pin it!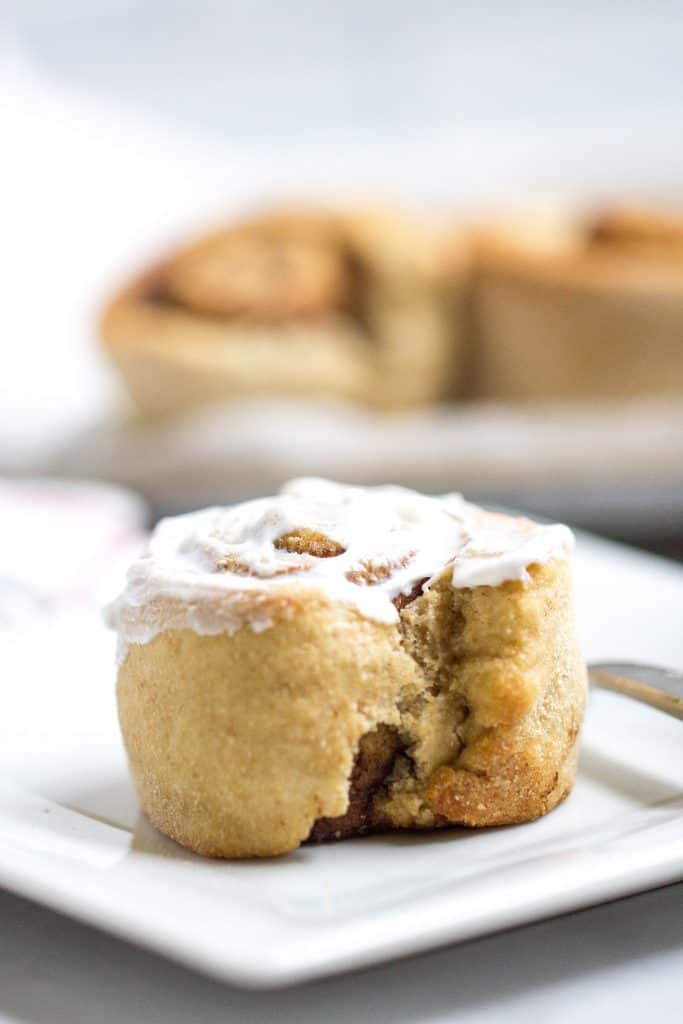 You've got healthier cinnamon rolls, but do you need more ideas for breakfasts, snacks, and treats for your baby, toddler, or preschooler?
Check out my ebook, No Sugar, Still Sweet, for 20+ deeeelicious recipes that have NO added sugar – only fruit! These are recipes that your little one will love (my kids do!). And you can feel like super mom giving them such nutritious treats!
You may also LOVE these pumpkin baked oatmeal bars – they have been a go-to in my house for years! And while we're on the topic of pumpkin – these pumpkin french toast sticks are SO fun to make with kids.