If your kid is so impatient like mine, you're going to loveee this recipe for healthy cookie dough dip! Instead of listening to them whine, "ARE THE COOKIES READY YETTTTTTTT??" for the entire afternoon… you can whip up this dip in a few minutes and serve it immediately! Wins all around.
Jump to Recipe
(note- as an amazon associate, I earn from qualifying purchases.)
If this is your first time adding chickpeas to something sweet, congrats! You're opening up a new world of adding extra nutrients to foods that your kids will *actually* eat.
Seriously, if I put a lone chickpea on my son's plate, he would just look at me like, lady, don't you GET IT. Get that crap out of here.
I mean, I still try, because that's what you do when you're a dietitian who works with picky eater families every day and tell them to keep serving foods their kids won't eat. It's still not always a joy and a pleasure at my own house.
You will need a high powered blender to make this. (I have a 10 year old Vitamix that was worth every penny…still works just as well after heavy use.) A food processor will work, too. I've just heard it takes awhile to get everything to blend together, so be patient!
I originally set out to make a cookie dough hummus, but then decided to add in a few other ingredients to make it more like an actual cookie dough. Amazing choice, if I do say so myself.
Sometimes you just want to eat some cookie dough, right? But not worry about getting sick from eating raw eggs, or how you're going to feel after eating a load of butter and sugar. It's not like I never do that, but my stomach was thankful for this healthier cookie dough.
The original recipe calls for 3 tbsp of maple syrup. To be honest, you can taste a little chickpea action at this low level of sweetener. But my kids had zero complaints. So if you have a little one who is used to "healthier" and less sweet tasting stuff, you can get away with it. If not, I would recommend adding another tablespoon of maple syrup, OR add a packed tablespoon of brown sugar. I've tried both ways, both are good!
How to make healthy cookie dough dip
The ingredients you'll need are:
chickpeas (canned is what I used)
dry oats (quick or original, NOT steel cut)
raw, unsalted cashews
maple syrup
vanilla extract
salt
milk, of choice
chocolate chips
Let's talk substitutions.
Chickpeas
If you don't have chickpeas or don't want to use them, I'd probably try banana, but I haven't done it and can't guarantee anything there.
Oats
If there's an oat allergy in the house, I would suggest trying a combo of ground flax and coconut flakes. It'll change the flavor but I think texture-wise it would be okay. I haven't tried this though, so substitute at your own risk.
Cashews
I would try a nut butter, either unsalted almond butter, unsalted peanut butter, or granola butter.
If none of these are an option, I would do half oats and half mashed banana in the 1/3 cup that is called for.
Maple Syrup
You could try date paste!
Milk
I used unsweetened vanilla almond milk because I like that it adds an extra hint of vanilla, but you can use any type of milk you have on hand!
Chocolate chips
You could use regular size instead of mini, but I love using mini chocolate chips because you can get away with using less but it still feeling like a good amount! You could substitute a chopped chocolate bar, or even do sprinkles.
RECIPE: Healthy Cookie Dough Dip
Healthy Cookie Dough Dip with Chickpeas
Edible cookie dough recipe, egg-free, vegan, no refined sugar, kid-friendly, no-bake
Equipment
Blender or food processor
Ingredients
1

cup

chickpeas

canned, unsalted or low sodium, rinsed

1/3

cup

raw unsalted cashews

whole or pieces

1/4

cup

oats

original or quick cooking

1

tsp

vanilla extract

1/8

tsp

salt

3 to 4

tbsp

maple syrup

to taste

1

tbsp

milk of choice

+ 1-2 tsp to thin as needed

4

tsp

mini chocolate chips

divided
Instructions
Rinse chickpeas thoroughly and drain.

Add all ingredients except chocolate chips (chickpeas through milk) to high powered blender or food processor.

May need additional 1 to 2 tsps milk to get the blender going and/or thin the consistency to your liking.

Blend until smooth and creamy.

Use spatula to scrape contents out into a bowl. Stir in 2 tsp chocolate chips. Add remaining 2 tsp chocolate chips on top.

Serve as a dip or spread onto apple slices, bananas, graham crackers, or pretzels!
Notes
Serve immediately; or refrigerate for up to 2-3 days, and serve cold from the fridge.
Contains 11g added sugar from maple syrup and chocolate chips.
Nutrition
Calories:
210
kcal
Carbohydrates:
24
g
Protein:
5.7
g
Fat:
8.5
g
Fiber:
4.5
g
Sugar:
-2
g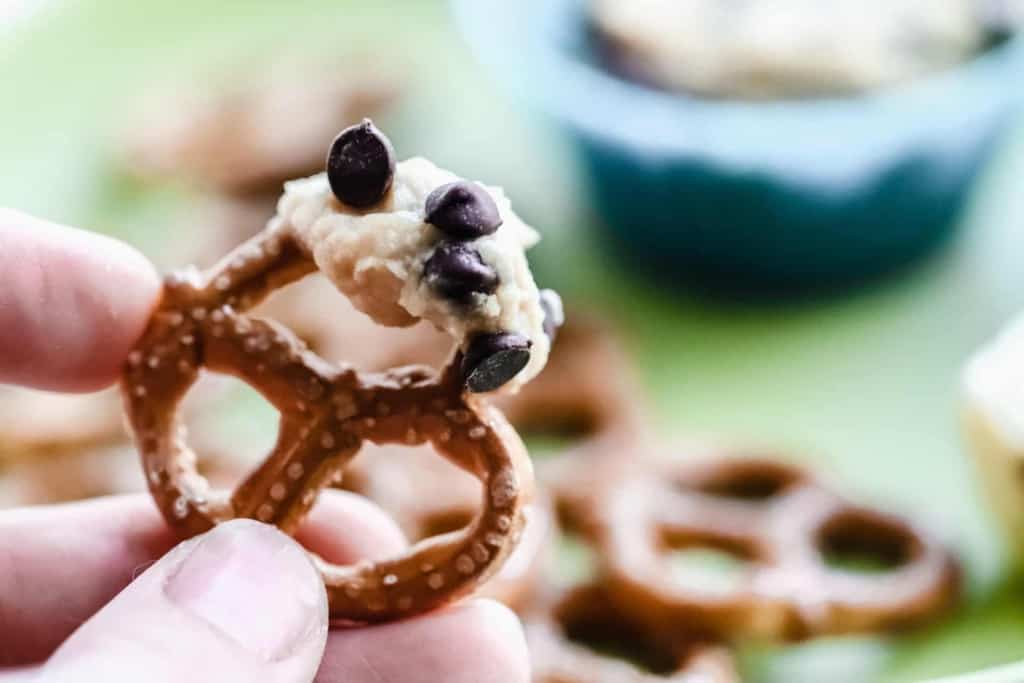 Tips for serving
I love these silicone baking cups for portioning out kid food. They can pick the color they want, and I swear they get so excited to just do that! It also helps them scoop it up more easily.
I served the dip with pretzels, and bananas (I ended up spreading it onto the bananas). Other ideas for dippers:
apple slices
graham crackers
try these if you want to go dunkaroos style
ritz crackers for sweet & salty
a spoon (this is how I ate it!)
I also really liked it after it sat in the fridge for a few hours. You can serve it immediately after baking, but it's great cold from the fridge, too! It should last about 2-3 days in the fridge.
Want more healthy snack recipes?
You have got to check out No Sugar, Still Sweet! It's an e-cookbook filled with recipes that are sweetened ONLY with fruit- no added sugar.