Is all day toddler snacking a thing in your house?
I do a Q&A every week or two on Instagram, and I cracked up at a question I got from a mom recently. She asked, "How much should a 1 year old eat in a day? He's wanting to eat ALL day? His first word was PUFFS!"
It's super common to have a toddler who would rather eat a snack than a proper meal, but it's also one of those things that as parents, we want to gently help them to get over.
In this post I'm sharing why all day snacking isn't the best thing for them, how you can start to break the snacking cycle, and my favorite healthy toddler snack ideas that you can use when it's actually snack time! I'm also answering all of the toddler snacking FAQs that you sent in.
Basically, I'm giving you everything you need to know if your toddler has decided to make snacking their full-time job!
Why All Day Toddler Snacking Isn't So Great
Grazing isn't the best because it can interfere with some of the goals we have for helping our toddlers and preschoolers develop healthy eating habits.
It can have a not-so-great effect in a couple of ways:
It Messes With Their Appetite
Hunger is a really good thing! It's what signals us that our body needs to fuel up. When a toddler is eating little snacks all day long, they're never truly experiencing an empty belly or real hunger. Instead, they feel a little snacky, tide themselves over for a little while, and then want to eat again a short while later.
Some parents get nervous about their little ones feeling hungry, but remember, it's not an emergency! In fact, we want kids to be hungry when they come to the table for a meal. That's because when they come hungry, they're more likely to try new foods and eat a full meal.
It Can Mean More Choking Hazards
Snacks are often picked at while kids are simultaneously doing something else, like walking around or playing with their toys, instead of sitting down to eat, and this makes them more likely to choke. If you've fallen into the habit of serving snacks "to-go", this is a good reason to break the habit. (Also see this post if you want to know more about choking hazards for toddlers.)
It's Impractical!
You and your toddler will both do better with a predictable schedule.
Your day is easier when you can put an end to one activity and move on to another, and when you are the one deciding when to serve meals and snacks throughout the day (vs. waiting for your child to ask you for food).
When our kids are young, we don't want them to be the ones in charge of deciding when it's time to eat, because they're just not developed and sophisticated enough for that yet. It's best for you to take responsibility for the feeding schedule because as a parent, you're so much more capable of picking appropriate eating times than they are.
What To Do About All Day Toddler Snacking
Break The Snack Cycle
Parents of grazers always tell me their child is hungry ALL THE TIME which is why they're snacking ALL THE TIME.
I know in these cases that it seems like the hunger is causing the snacking, but actually it's the other way around. Having snacks constantly available is making it so that your child never has an empty belly, and because they're never fully hungry, they never want to eat a full meal. When you break the cycle, you'll likely see that the snacking was 'creating' the perpetual hunger, and not the other way round.
Although toddler appetites are always somewhat variable, switching to a regular schedule of planned meals and snacks allows your child to re-adjust and adapt.
Of course, they won't always be hungry for a meal or snack when you want to serve one, and they won't always eat a full meal. But, with a schedule in place, you're more likely to see them eating really well for at least 1 or 2 meals a day (and they won't be constantly asking for snacks in between!).
Help Them Tune Into Their Hunger & Satiety Cues
Another important elements of eating is mindfulness around food.
I think we've all experienced mindless eating, right? It's basically what happens when your favorite show gets really good, and you look down and see that your popcorn totally disappeared inexplicably. (How'd that happen?!)
We want our kids to experience the opposite of that at meal and snack times!
When our kids sit down to a meal or snack, instead of running around and playing while grabbing some food on the fly, they get the opportunity to tune into their inner cues of hunger and fullness. This intuitiveness around food is an essential skill that will serve them well for life! By allowing them to tap into these cues and decide for themselves when it's time to eat or stop eating, you're giving them the building blocks of a healthy relationship with food.
Stick to A Food Routine
I don't know about you guys, but I personally find it WAY easier to say no to random snack requests when I have a schedule in place. When I have a plan for the day, I can say something like, "Sorry, it's not snack time yet! We will clean up our blocks first, read a book, and then it will be snack time."
Like us, toddlers will eat out of boredom, and a LOT of times when they ask for snacks, it's because they have nothing to do or they're having trouble transitioning to the next part of their day.
Instead of winging it, here's an example of what a typical day would look like with a meal and snack schedule in place. Feel free to use this schedule to get yourself started!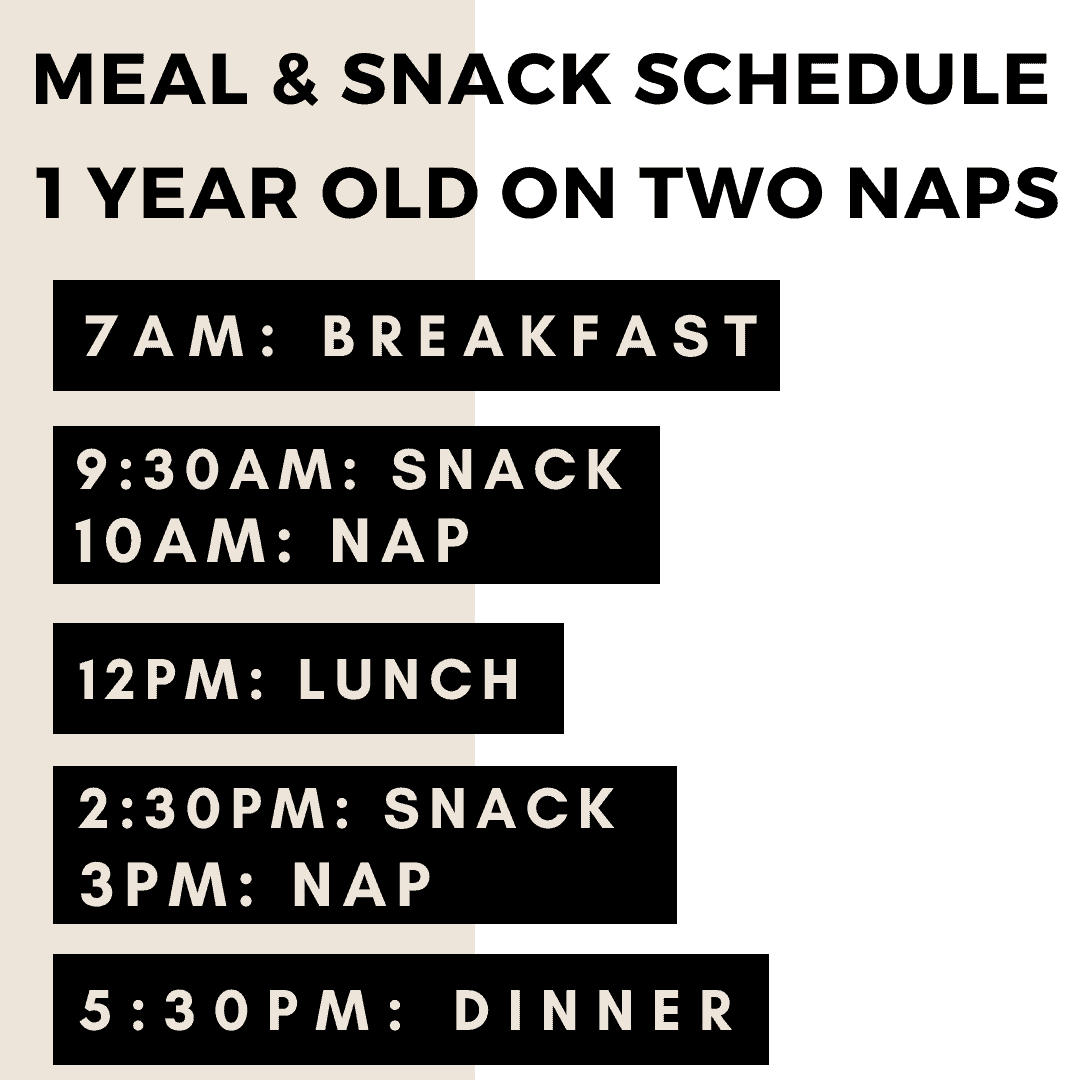 Once they move to one nap a day, it will look more like this:
7:30am – Breakfast
10am – Snack
12pm – Lunch
—NAP—
3pm – Snack
6pm – Dinner
Related: Download the Teddy Bear Hunger and Fullness Guide
Toddler Snacking FAQs
Q: Should I limit snacks for my 21 month old? Especially with fruit and crackers, he always wants more!
A: You can allow your little one to have more, but I would also suggest adding in a protein or fat at snack time to help fill their belly. Try peanut butter or hummus with the crackers, or whole milk yogurt or cheese with the fruit.
Q: Can a 3 year old boy eat too much? Breakfast rolls into snack time into lunch most days.
A: I would put time limits on each meal/snack so that you have more of a set routine, and less of a grazing type of day. 20 minutes per meal or snack is plenty. That way, he'll start to learn to fill up at the designated time, and then build up an appetite for the next snack.
It could also be that his meals and snacks aren't filling him up enough. If he's not getting a good amount of fat, he may be eating more in an attempt to fill himself in. In that case, add in some avocado, oil/butter, nuts/seeds, or whole milk dairy, and see if that helps.
Q: Are snacks okay before breakfast? My kids are awake 1-2 hours before school breakfast. Suggestions? She hungry!
A: Ha, ha! Yes, that's fine! Everyone's schedule will look a little different, and 1-2 hours is too long for her to wait to eat in the morning, so go ahead and offer her something. Ideally, you'd be offering something different than the school breakfast to give her some variety, but you may not know what they are going to offer in advance. Some ideas:
Milk + fruit
Waffle with butter or nut butter
A Smoothie
Yogurt
I also like to bake and freeze things to grab and go, from my ebook No Sugar Still Sweet.
Q: How can I break the habit of not having set snack time?
A: Start with the schedule examples I shared above, and just tweak them if needed to fit into your day better. Ideally there should be about 2-3 hours in between meals and snacks but remember that you can be flexible. It doesn't have to happen at EXACTLY the same time every single day. Your schedule changes and that's normal. The habit and the routine is more important than sticking to the same exact time.
It may help you to plan out the night before what you're going to serve so that you're not caught off guard when the meal or snack time comes.
One other thing: It may help to explain to your little one that there will be a change to your daily routine. This will reassure them that they'll still have one morning snack and one afternoon snack.
Q: What age (how many months) do you start snacks? What age do you consider to be a toddler?
A: I consider 1 – 4 year olds to be toddlers, and will typically start giving snacks around age 1. But this will vary, depending on when they started solids and where you are at in your weaning journey.
If they're still nursing, you may be doing breast milk instead of snacks, and that's fine. But in general, around 1 year old they will drop bottles, and switch to a routine like the one I showed above. (This means milk will be served with meals instead of on its own.)
My Favorite Toddler Snacks (you know, for when it's actually snack time!)
Are you a DIY mom or would you rather go with store-bought? I can be either depending on the day and the busyness of whatever season we're in. So I thought I'd share my two favorite toddler snacking resources: No Sugar, Still Sweet for if you want to try some new recipes at home, and my Target Snack Guide if you just want to buy them!