If you follow me on Instagram, you've probably noticed that I share a day of healthy toddler meals and snacks every once in a while. They're usually a hit with my community, so today I'm rounding them all up for 19 days of meal inspiration!
A Few Notes Before We Get to the Healthy Toddler Meals
I show you these so you can see what I offered my kids in a somewhat typical day, but know that they often eat more or less than what you see here. This amount is just what's photographed, so please keep that in mind.
If there are days when your child seems like a bottomless pit- it's okay! They're growing so their appetite will change and fluctuate. Some days they need a lot more calories than others. Try to roll with it!
I try to make healthy eating fast and EASY, so you'll rarely see meals here that are very complex or time consuming. But still, there are nights when even these meals are too much– nights when my 4 year old eats popcorn for dinner– and that's fine. The world won't end!
Use these posts as inspiration, and don't feel bad if you're not serving the type of meals you want to all of the time. Not serving perfect meals each day makes you normal! You're still doing a great job.
Day 1: Brought To You by the Letter 'M'
Has your little one tried cottage cheese? What do they think of it? My three year old LOVES cottage cheese, and I love it as a protein-packed food for him!
BREAKFAST: 2% cottage cheese with leftover sautéed diced cinnamon apples.⠀
AM SNACK: A banana
LUNCH: Cashew butter and 1 tsp of jam on Dave's Killer Bread White Bread Done Right, with cantaloupe, carrot and cucumber stars.
PM SNACK: Triscuits and Monterey Jack cheese (cut with an M cookie cutter since that was the letter of the week at school).
DINNER: Super Healthy Kids butternut squash Alfredo with whole wheat pasta and broccoli, one slice deli ham, and roasted Brussels.
Full disclosure- Teddy ate none of this dinner. He ate a piece of bread and drank some milk. Emilia (14 months) loved it all though!
Day 2: Kid Friendly Meals & Bars
Bummer- we loved these Matt n Mikes bars but they don't make them anymore! Try Dino Bars instead!
BREAKFAST: 7 grain waffle topped with almond butter, with blueberries and milk on side.
AM SNACK: Clementines
LUNCH: Hummus on wheat bread, with carrots, cucumber, strawberries.
PM SNACK: .
DINNER: Kid Friendly Meals spaghetti squash chicken lasagna and apple slices, plus milk.
Notes: I try my best to serve both kids the same meals to make my life easier. These pictures are of Teddy's plates, and he's almost 4 yrs old. If your child is younger, you'll need a few modifications (slice strawberries, slice cucumbers into strips, cook carrots til soft, and peel & thinly slice the apple.)
Day 3: Simple Mills For The Win!
Simple Mills is one of my favs because they make my toddler's dream AND mine come true in one meal.
Their dream: carbs allllllllllll day.
My dream: a nutritious, well-balanced diet with a mix of carbs, protein, and fat.
Simple Mills has a full range of grain-free products that will convince your toddler that they're just eating carby deliciousness, BUT they're actually getting a wholesome blend of nuts and seeds which adds a whole lot more nutrition! I actually became a Simple Mills parter because I love them so much and tell you about them all the time anyway!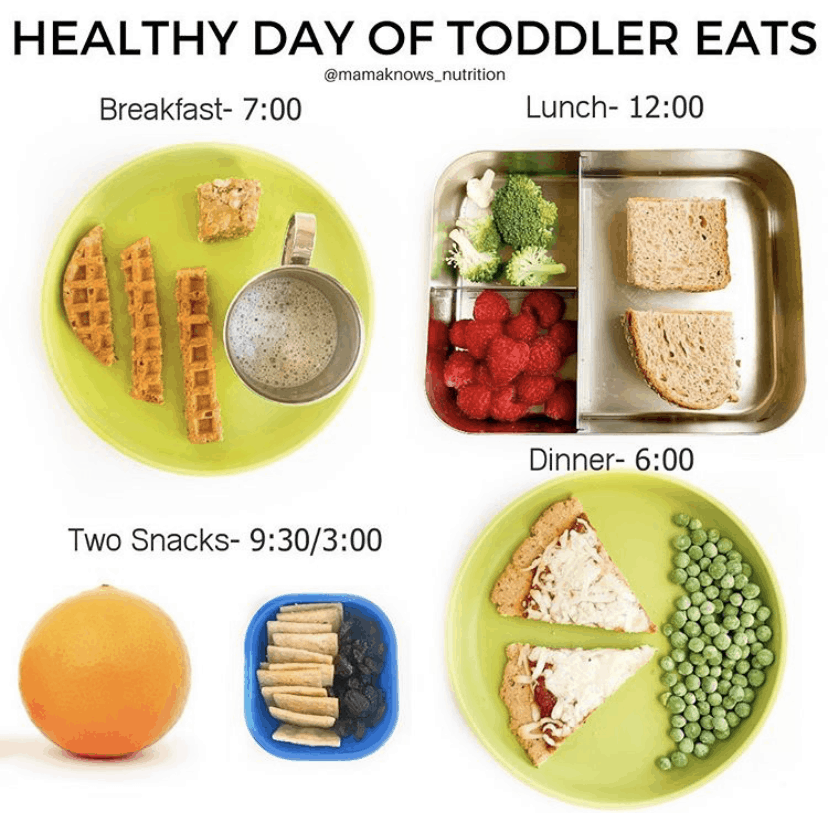 BREAKFAST: Waffle strips, a smoothie (milk, frozen cherries, frozen banana), and my 5-ingredient no-bake nut butter bars.
AM SNACK: Orange on the go.
LUNCH: Roasted turkey breast and cheddar on whole wheat brea, with raspberries and broccoli.
PM SNACK: Simple Mills Fine Ground Sea Salt Almond Flour crackers + raisins.
DINNER: Simple Mills Pizza Dough with tomato sauce and mozzarella, frozen peas.
Day 4: Apple Pie, Chocolate Muffins, and a Mountain of Cheese
Reminder: The amount I show is just an example. Totally okay if your little one eats less or more than this! I serve milk with breakfast and just water the rest of the day, sometimes milk again with dinner.
BREAKFAST: Microwaved apple slices with cinnamon, with plain whole milk yogurt on the side for dipping. I tell my kids these are "apple pie" apples!
AM SNACK: RW Garcia Snacks sweet potato crackers. (I was taking a picture of these and Emilia dumped out the box and ate them off the floor. #reallife)
LUNCH: PB&J on Alpine Valley Bakery bread (I get it at Costco), with raspberries, and 1 chocolate butternut squash muffin from The Natural Nurturer.
PM SNACK: Spinach peach smoothie. (I didn't measure but I'm working on a smoothie Ebook coming for you guys!)
DINNER: Pieces of hamburger, steamed frozen broccoli, carrots, and cauliflower, roasted potato, and a "mountain" of shredded cheese (her request). And yes, she only ate the cheese.
Day 5: A Day in the Life
This is a pretty standard day of eats at our house!
BREAKFAST: Fage total 5% topped with some Safe and Fair birthday cake granola crumbs (sooo good!).
AM SNACK: Avocado.
LUNCH: Leftovers- rice, green beans, mini mozzarella balls, peaches, and grilled chicken with shredded carrots.
PM SNACK: Quaker Kids organic strawberry whole grain bar.
DINNER: Chicken nuggets, avocado (yes, again), cucumber, strawberries, and chopped, unsweetened dried mango.
Day 6: New Foods & Old Favorites
Is your little one far from eating meals like these? I'll be honest, my 4 year old is! But, I still serve him foods I know he's probably not going to try. Here's why:
If I don't serve it, he doesn't even get a chance to try it, let alone get more comfortable with it. I make it a rule to serve foods every day that I want him to eventually eat (even if that's realistically a few years down the road).
To balance that, I also always serve foods I know he does like. You'll have the most success if you always include a liked food at a meal.
The plates pictured are my 21 month old daughter's, but for my hesitant 4 year old, he just gets a bite size portion of a new food on his plate. (Like green beans- not technically "new" since he's seen it a billion times, but he usually says, "I don't like that!" when he sees one.)
BREAKFAST: Leftover pancakes made with Hodgson Mill mix, topped with almond butter; side of plain whole milk yogurt, and canned pears packed in 100% juice. (My kids had to be with a sitter on this day, so I packed this the night before.)
AM SNACK: A banana
LUNCH: Leftovers – Rice, sautéed green beans, and chicken with shredded carrots, with halved mini mozzarella balls, and a nectarine.
PM SNACK: Bitsy's Brain Food smart crackers while out.
DINNER: Chicken nuggets, avocado, cucumber, strawberries, diced dried mango.
What my son actually ate: pancakes and milk at breakfast, banana + milk for snack, rice and nectarine at lunch, crackers for snack, and everything for dinner (3 chicken nuggets, plus about a serving of each of the others).
Just wanted to tell you what he actually ate since he usually skips about half the things I serve. And that's okay! We can only what control what we put on the plate, not what they actually put in their mouth.
Day 7: Healthy Day of Vegan Toddler Meals
I've gotten requests for a vegan day of eats, so here it is! Remember, this is just the amount I photographed, not what was eaten, so it's normal if your little one eats more or less than this!
Note: On a vegan diet, your child may need supplements. Nutrients that are harder to get include vitamin B12, iron, and calcium. Talk to an RD (like me!) if you need guidance with that.
BREAKFAST: Kashi 7-grain waffles (cut in circles by request), topped with earth balance buttery spread, chopped cashews (opt for nut butter for younger toddlers) and blueberries.
I offer milk at breakfast. A vegan alternative would be pea milk or soy milk.
AM SNACK: Banana muffin (sweetened only with fruit), from my No Sugar, Still Sweet Ebook.
LUNCH: Leftover spaghetti with earth balance and Manitoba Harvest hemp seeds, carrots roasted in olive oil and garlic powder, clementines, and Hippeas vegan white cheddar chickpea puffs.
PM SNACK: Raisins and Barbara's Bakery multigrain spoonfuls (eaten on the playground).
DINNER: Black beans, corn, canned tomato, and enchilada sauce mixed together with triscuits and avocado. (My son only ate the crackers and avocado, plus milk).
BEDTIME SNACK: Not pictured but my youngest has been staying up late (she never adjusted from daylight savings) so I've been offering a pre-bed snack of yogurt or peanut butter on a banana.
Day 8: The Rice is Right
What stands out to you about this day of eats?? If you look at this and immediately think, "my little one eats WAY more" or you think, "mine eats way less!!" — know that both can be very normal.
BREAKFAST: Banana muffin from No Sugar Still Sweet, topped with peanut butter and berries, and served with whole milk.
AM SNACK: Half tortilla with avocado.
LUNCH: Hummus sandwich, cucumber, and more berries.
PM SNACK: Chopped dates and Muenster cheese cut with little star shaped cutters.
DINNER: Avocado, mango, Right Rice, and sautéed green beans.
My son ate one bite of rice and one bite of avocado at dinner and decided he was done. Very normal for their appetite to be low at dinner time and be fine until morning! They often front-load their calories earlier in the day.
Day 9: Another Day of Vegan Toddler Meals
Drinks only include water and I typically serve milk with breakfast and/or dinner. Stick with soy or pea milk for non-dairy options.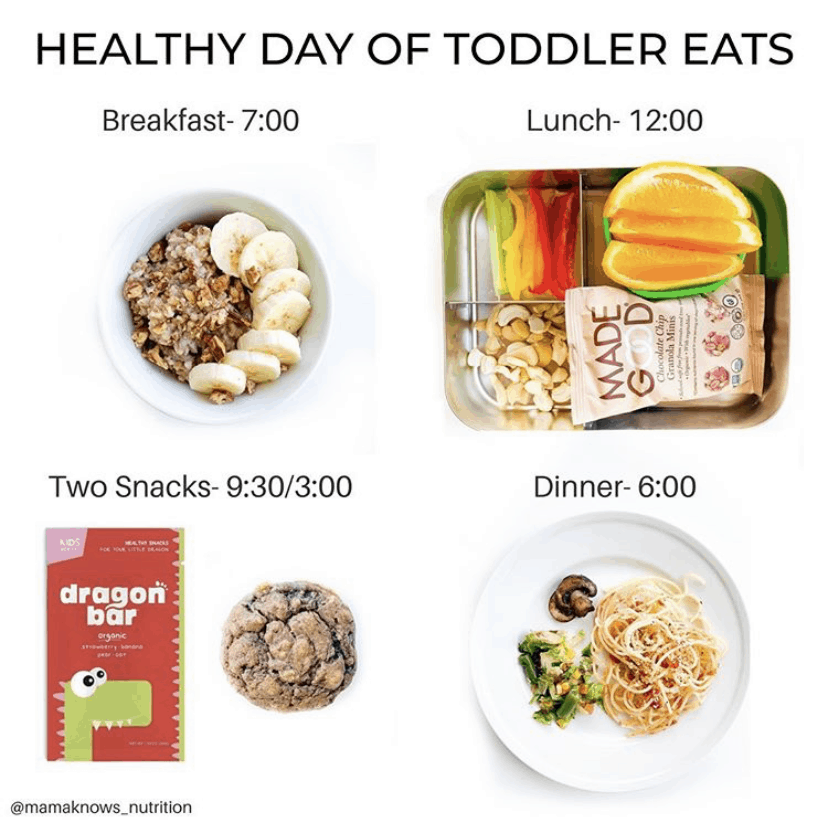 BREAKFAST: Quick oatmeal on the stove top (can cook it in water or milk of choice); topped with sliced banana and finely chopped candied pecans.
AM SNACK: Dino Bars.
LUNCH: Chopped mixed nuts (this was for my 4 year old; you'll want smaller pieces of nuts for a 1-2 year old); Made Good chocolate chip granola minis, orange, bell peppers. This was a "throw the only foods I can find into a container" kind of day!
PM SNACK: No added sugar banana muffin from No Sugar, Still Sweet.
DINNER: Spaghetti with tomato sauce, olive oil, and hemp seeds. Sautéed frozen mixed veggies, sautéed mushrooms.
My son didn't want any of this dinner. He ate a banana and milk. I offered the banana because none of these foods are safe/accepted foods for him.
Day 10: Standard Day of Eats
BREAKFAST: 2 scrambled eggs in butter, sautéed shredded potatoes (Simply Potatoes brand), and avocado.
AM SNACK: Whole milk organic yogurt blended with frozen berries and vanilla.
LUNCH: Canned green beans with olive oil, Eat Banza rice, shredded cheddar, raspberries.
PM SNACK: Zucchini Oatmeal Raisin Cookies.
DINNER: Crockpot chicken stew over orzo with oranges. (4 year old had oranges and bread, he refused everything else.)
Day 11: Burgers… ish?
Does your little one like burgers? My kids are not big fans, so they just choose what they like from the burger ingredients.
BREAKFAST: Eggs and potatoes (we buy the refrigerated Simply Potatoes brand and cook in some butter), plus raisins and milk.
AM SNACK: New Dino Bars!
LUNCH: Whole milk plain yogurt with a drizzle of honey for my son, (no honey for my daughter- she prefers it plain), unsweetened applesauce, RW Garcia Snacks crackers, and cucumber.
PM SNACK: Bananas.
DINNER: We had burgers with avocado, but my kids are not into burgers so they had their rolls with just avocado, carrots, some cashew pieces (to get some protein), pineapple, and a cup of milk.
Full disclosure- Teddy ate none of this dinner. He ate a piece of bread and drank some milk. Emilia (14 months) loved it all though!
Day 12: Keepin' It Simple
This was a quarantine day of eats for us– and while we're at home so much, I'm feeling like my kitchen is a disaster zone. So even though we're home more, I'm making simple meals and snacks so that I don't have to spend my whole day cooking and cleaning.
BREAKFAST: French toast (whole wheat bread dipped in a milk/egg/cinnamon mixture) with apples, maple syrup to dip, and a cup of milk.
AM SNACK: Raisins and Hippeas puffs.
LUNCH: Canned salmon salad (I mix 1 can salmon with about 2-3 tbsp mayo and a tsp Dijon mustard), with whole grain crackers.
PM SNACK: Sliced carrots and ranch.
DINNER: Crockpot short ribs, mashed potatoes, spinach leaves (we had salad), plus bread, and milk.
I served the bread because I knew there was a low chance of my kids eating anything else that I had made for dinner!
Day 13: No Sugar Added
Here is an easy day of toddler meals with NO added sugar, and can easily be made dairy-free by subbing dairy-free milk.
BREAKFAST: Oatmeal made with whole milk and diced banana, topped with @manitobamilling ground flax and coconut butter.
AM SNACK: Smoothie with whole milk, lots of frozen blueberries, frozen cauliflower rice, one date, and a spoonful of cashew butter.
LUNCH: Baked sweet potato chips, lightly steamed carrots, and sardines mixed with a little mustard and mayo. (I guess it's weird, but we all love sardines!)
PM SNACK: Whole grain crackers with avocado flowers (used little cookie cutters).
DINNER: Frozen brown rice heated with canned black beans, with a spoonful of mild salsa stirred in. Cucumber sticks and freeze-dried raspberries on the side.
Day 14: No Sugar Added Day 2
Quick check in: I do my best to get healthy, balanced meals on the table, but I'm also a real human. It doesn't happen all the time.
BREAKFAST: Scrambled egg, buttered sourdough, and a pear.
AM SNACK: Kiwis.
LUNCH: Pretzel sticks, avocado, clementine, and prunes (for my 4 year old– the 1 year old and I ate dinner leftovers).
PM SNACK: Bebe and Bear no sugar added oatmeal banana muffins.
DINNER: "Nachos" with shredded cheese, black beans, corn, blueberries, sweet potato, and mild salsa served on our @ezpzfun mat.
Day 15: No Sugar Added Day 3
BREAKFAST: Organic plain whole milk yogurt with a tsp ground flax, and apple slices for dipping (shred apples for young toddlers/babies).
AM SNACK: Mini Larabar
LUNCH: Mashed avocado with hemp seeds on a wheat roll, and reheated leftover roasted sweet potatoes.
PM SNACK: No added sugar banana muffin (from my Ebook!).
DINNER: Baked "chicken nuggets" (chicken tenders cut into pieces, dipped in butter and bread crumbs and baked), steamed cauliflower and green beans, shredded carrots (and some chopped pieces you see here for my 4 year old), plus oranges. Oh, and I served a cup of whole milk with dinner!
Day 16: 5 Minutes or Less
Who else is in the "if it takes more than 5 mins I'm not doing it" club of food preparing these days?? With the exception of already having rice pre-cooked made, everything here really only took like 5 minutes to do, and that's how I like it!
BREAKFAST: Original Cheerios and whole milk.
AM SNACK: Frozen banana and mango "ice cream" whipped up in the food processor with a splash of canned coconut milk.
LUNCH: Ak-mak crackers, canned salmon mixed with mayo and mustard, hummus, cucumbers, and raspberries.
PM SNACK: Rice cake with almond butter.
DINNER: Cheddar cheese, peas, and leftover white rice.
I served the bread because I knew there was a low chance of my kids eating anything else that I had made for dinner!
Day 17: Freezer Friendly
Do you take advantage of your freezer? I do! This day of eats may look time consuming, but a lot of it came from my freezer.
BREAKFAST: Whole wheat sourdough biscuit from the freezer that I made a week or two ago, canned pumpkin mixed with coconut cream (the solid part from the can of coconut milk), pears, and cashews (omitted these for 1 year old).
AM SNACK: Raisins.
LUNCH: Modern Table Meals pasta mixed with canned pumpkin, diced sautéed onion, carrot, and celery from the freezer, pre-chopped, butter and dried sage, with SeaSnax and strawberries
PM SNACK: Hard Boiled Eggs.
DINNER: Iowa Girl Eats cheddar meatloaf (from the freezer, made a few weeks ago), baked potato, and sautéed artichokes (from the freezer).
Day 18: Meal Prepped & Ready
So, this day was kind of like a "best case scenario" for us. I actually had time and energy to make everything, plus I served some stuff I had pre-made earlier in the week. A lot of days our food is much less glamorous!!
Just letting you know I can't pull this off every day, but I wanted to share since this is what I aim for. But most days have more convenience foods thrown in there!
BREAKFAST: Baked frittata with shredded zucchini and Parmesan (made earlier in the week) & leftover roasted butternut squash.
AM SNACK: Energy bites I made, that were similar to a Larabar. You can find a few of my favorite energy bite recipes here.
LUNCH: Pancakes made with leftover mashed sweet potatoes and an egg whisked together, with blueberries on the side.
PM SNACK: Pineapple, cara cara orange, and blueberries mixed in a bowl with organic plain whole milk yogurt (not pictured).
DINNER: Turkey meatball, a roll, a slice of provolone cheese, and roasted cauliflower. (Both my kids just ate the roll and drank about a half cup of milk.)
I served the bread because I knew there was a low chance of my kids eating anything else that I had made for dinner!
Day 19: FAST Prep Meal Ideas
BREAKFAST: Kashi 7-grain waffle (with Kerry Gold USA butter for my 17 mo old, plain for the 4 year old), avocado chunks, and whole milk.
AM SNACK: Plum Organics carrot, bean, spinach and tomato pouch for my 17 mo old while at Target, plus unwashed blueberries straight from the carton. (What are you gonna do?)
LUNCH: More blueberries (washed this time), and Alpine Valley Bakery honey sprout bread toasted with melted mozzarella and rotisserie chicken.
PM SNACK: Half of a PB sandwich on the same bread, with @crazyrichardspb peanut butter.
DINNER: Rotisserie chicken again, Eat Banza rice with olive oil, steamed snap peas and potatoes.
Need even more mealtime inspiration?
Grab a copy of my healthy packed lunch guide. It's full of ideas for at home or on the go. I think you'll love it!